Chandratal
Lake
is considered to be one of the most incredible lakes in Himachal Pradesh, India. It is a high-altitude lake located in the Lahaul and Spiti district of India. The name of the lake originates from its crescent shape. The name Chandratal translates to 'The Moon Lake' in Hindi language (Chandra = Moon; Tal = Lake). The beautiful lake is surrounded by plenty of snow-capped mountain peaks. We read about
Chandratal Lake
a couple of years ago and since then it had always been in the top of our travel bucket list. The lake was the last destination of our trip to Spiti Valley. In this blog, we provide you with a travel guide to visit Chandratal Lake.
Location of Chandratal Lake:
Chandratal Lake is located at an altitude of 13,940 feet from the sea level in Spiti district of Himachal Pradesh. It is a freshwater lake and is 2.5 km long in terms of circumference. Chandratal Lake is the source of the Chandra river – a source river of Chenab that flows from India to Pakistan. The lake is in a remote setting where even the roads do not reach. Chandratal Lake is situated 12.5 kilometres off the route from the Gramphu-Batal-Kaza road.
The Chandratal Lake can be accessed either from Manali or Shimla-Kaza route. However, it is closer to Kaza (90 kilometres) than to Manali (125 kilometres). The motorable road ends 2 kilometres before the Chandratal lake and you will have to walk the remaining distance to reach the lake. The walk to reach the trek is not particularly difficult and can be done with anyone having basic fitness.
How to reach Chandratal Lake:
Locating Chandratal Lake on the map is not difficult, but reaching the lake is sure difficult. As discussed above, the lake can be reached either from Manali or from Shimla-Kaza.
Manali to Chandratal Lake:
From Manali, Chandratal Lake is a weekend or a long-weekend destination. It can be visited as a standalone trip or can be clubbed with sightseeing in Shimla and Manali.
The route to reach Chandratal Lake from Manali is as follows:
Manali – Rohtang Pass – Gramphu – Chhatru – Batal – Chandratal
Although this route can be easily covered in a day, the altitude gain is huge and if you are not fit, your body will not be able to acclimatize to the low oxygen levels. Hence, we recommend travelling to Chandratal Lake from Shimla-Kinnaur-Kaza side. If that does not suit your travel plan, halt for a night at Solang Valley (north of Manali) or Batal, before planning an overnight stay at Chandratal.
Note that not everyone who travels by this route feels signs of AMS (Acute mountain sickness). However it is suggested you take your own precautions and plan your trip.
Shimla-Kaza to Chandratal Lake:
From Shimla, Chandratal Lake is a week-long or a 10-day destination. It is highly advisable that you also visit Kinnaur Valley (Nako, Sangla, Chitkul, Kalpa) and Spiti Valley (Tabo, Dhankar, Pin Valley, Key, Kibber, Komik, Hikkim, Langza) before heading to Chandratal Lake.
The route to reach Chandratal Lake from Shimla is as follows:
Shimla – Narkanda – Karcham – Nako – Tabo – Kaza – Kunzum Pass – Chandratal
This route passing through Kinnaur district ensures that you ascend gradually and slowly acclimatize to the higher altitude. We chose this route for the same reason.
Note that time shown in google maps in this region would not hold true. The roads are extremely bad and non-existent. And not to forget quite dangerous. For example, you can assume that if you start from Kaza at 9 AM, you may take few halts at Chicham bridge, Kumzum pass and for lunch, and reach Chandratal lake only around 4-5 PM giving you couple of hours before it goes dark.
Read our previous blogs on Spiti Valley by clicking on the links or images below:
1. Introduction to Spiti Valley
2. Plan your trip to Spiti Valley
3. Travel guide to Kinnaur Valley
4. Travel guide to Gue and Tabo
5. Travel guide to Dhankar Lake and Monastery
6. Travel guide to Langza and Buddha statue
7. Places to visit around Kaza (Key, Kibber, Chicham, Hikkim, Komik, Langza)
8. Travel guide to Pin Valley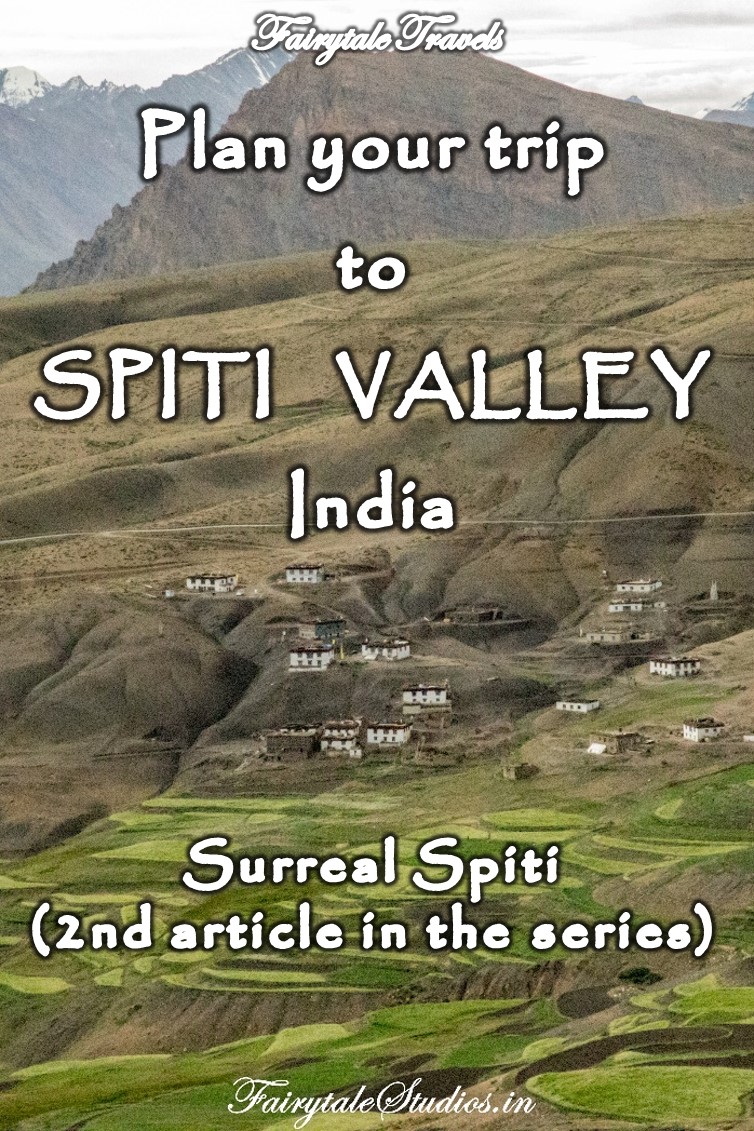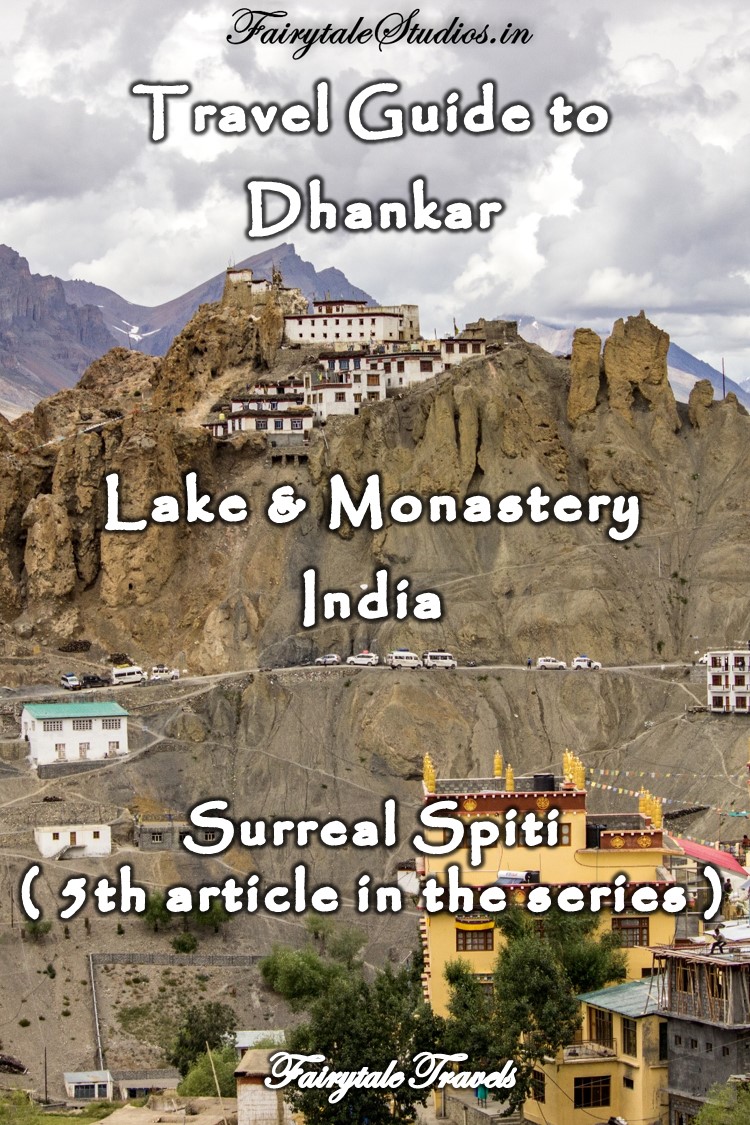 Road conditions from Kaza to Chandratal Lake:
The road conditions from Kaza to Chandratal Lake are not so good. The roads are nothing more than a dirt track. The road conditions further worsen after Kunzum Pass. Even despite all the hardships, one has to face on the road, the landscape that these roads run through are breath-taking.
Kunzum Pass:
Kunzum Pass or Kunzum La is a high-altitude pass that connects Spiti Valley to Lahaul Valley. India has many high altitude mountain passes and Kunzum pass is amongst India's highest motorable mountain passes at an altitude of 15060 feet above sea level. It offers an awe-inspiring view of the Chandra-Bhaga mountain ranges. The Kunzum Pass remains closed most of the year due to heavy snowfall. It opens only for 3-4 months (June-September) during the summer season.
Kunzum Pass is broad and is easily crossable. There is a temple dedicated to Goddess Durga at the top of the pass. All the tourists, as well as the drivers, perform a parikrama (clockwise circumambulation) of the temple. Several stupas are also located at the top that is considered to be holy. Colourful Buddhist prayer flags decorate the entire pass and are a sight to behold.
We visited Kunzum Pass while on our way to Chandratal Lake from Kaza in August. The weather was cloudy, chilly and extremely windy. It started pouring when we got down at the pass to see the temple and most of the views were covered in clouds. And then suddenly the winds cleared the clouds and we were offered a stunning and clear view of the Bara-Shigri glacier. Bara-Shigri glacier is considered to be the second-highest and longest Himalayan glacier in India. This massive glacier is 30 km long and is aptly named as Bara means big and Shigri means glacier in Lahaul dialect. The entire surrounding valley was covered by a carpet of yellow flowers giving us perfect photography opportunities.
Chandratal Lake:
As per local folklore and tales from Mahabharata, Chandratal Lake is the place from where Yudhisthira (eldest Pandava) was taken to heaven by Lord Indra (God of rains, heaven and storm) in a chariot. The locals still believe that the lake is blessed and revere it with high spiritual relevance.
When travelling from Kaza, a right turn before Batal and a curvy ride for 12 kilometres will take you straight to Chandratal. Chandra River flows parallel to the roads till the lake. The roads are extremely treacherous and hostile. One needs extremely good driving skills and heart to drive on these roads. Also hope there is no vehicle coming from opposite direction as the roads are narrow and right on edge of the cliff.
As you near the lake, you will first come across the camping site set up by various tours and travel agencies. Camping beside the lake used to happen few years ago but is prohibited now and all the campsites are as far as 3-4 kilometres from the lake. The motorable dirt track road will take you only till the parking lot from where you will have to trek for 2 kilometres to reach Chandratal Lake. One can trek to Chandratal Lake from Batal or from Kunzum Pass as well.
The trek to Chandratal Lake can be ranked as an easy trek with not many steep ascents or descents. Chandratal Lake is literally in the middle of nowhere. The trek is through vast meadows covered in grass with wildflowers blooming here and there. The almost treeless rolling hills against clear blue skies made a picture-perfect setting. Such landscape was vast and went on for miles and miles. We walked at a slow pace, grasping in everything that nature had to offer and it took us about 20-30 minutes to finally reach the Chandratal Lake.
We were speechless at the first sight of the emerald coloured water of Chandratal Lake nestled between hills. It seemed unreal like mysteriously hand-painted by some unknown power in the middle of nowhere. There was a white coloured stupa at the banks of the lake covered with Buddhist prayer flags that fluttered with strong wind. The beauty of the Chandratal Lake sure had a calming effect on us as we sat there, truly mesmerised by the sight and listening to heavy wind and the sound of the water as small waves hit the banks.
We started walking around the path circling the Chandratal Lake, also referred to as 'Parikrama', and marvelled how at every turn, the water changed colours, from emerald to turquoise blue to deep green. The lake water was absolutely chilling and we did not dare to even dip our feet. We did not complete the entire parikrama, as the clouds suddenly started engulfing the landscape and it slowly started drizzling. But we will never forget those 2-3 hours that we spent beside the Chandratal Lake – our much-awaited destination for years.
Stay facilities or camping near Chandratal Lake:
As mentioned earlier, camping at the banks of Chandratal Lake is banned since past 4-5 years. The entire area now falls under Chandratal Lake Wetland Reserve, which is a protected site under the Wildlife Act. The camping site is 3-4 kilometres away from the lake. You can either pitch your own tent or opt for staying at one of the existing camping facilities. We highly recommend booking your tent stay before taking the trip to Chandratal Lake. If your stay plan falls on weekend it might be difficult to get a tent.
Spiti Valley Tourshelped us in organising our stay near Chandratal Lake. Our tents were quite modern and spacious with a double bed and an attached bathroom. The facilities though basic were adequate and cosy. The kitchen tent was where we spent most of our time playing games and exchanging travel stories. Since there is no electricity in this area and everything runs on generator, we would recommend carrying power banks and fully charged mobiles/cameras. The generators might be turned off in night. This also gives great opportunity to do some astro-photography. Since it rained the night we were in Chandratal, we could not click the sky or tents.
Things to keep in mind before visiting Chandratal Lake:
Whether you are visiting Chandratal Lake from Manali or Kaza, start early in the morning to reach the lake in daylight.Do not rely on Google Maps for distance and time calculations. With such high altitude and rough terrain, your speed will be way slower than what any app would suggest.To avoid Acute Mountain Sickness (AMS), make sure that you are absolutely fit before taking the trip to Chandratal Lake, especially if you are travelling from Manali.Keep yourself well hydrated at all times to protect oneself from AMS. Carry your own water and energy bars on the trek.Keep the environment in and around the Chandratal lake clean, kindly do not litter. Do not carry plastic bags, bottles and trash. In case you do, bring your own trash back to the cities.Wear comfortable attire and sports shoes for the trek to Chandratal Lake. Carry warm clothes and dress up in layers.Always carry an extra pair of socks in case the ones you're wearing get wet. It is also advisable to carry a poncho with you.
We highly recommend not to self-drive unless you are used to driving on notoriously dangerous and winding roads. We hired experienced drivers from Spiti Valley Tours for our entire trip.
Make your stay arrangements at Chandratal in advance. In case you reach Chandratal and do not find any campsites ready to accommodate you, the closes accommodation you can find is near Batal at a famous dhaba called - Chacha-Chachi Dhaba. An old couple has been running this place since almost 50 years and having helping bikers and travellers during normal and difficult weather conditions in this remote place. They have a beautiful story and a legendary status amongst those who frequent this region.
Have you been to Chandratal Lake? How was your experience? Please feel free to add your tips and recommendations for fellow travellers in the comment section below. We would love to hear back from you.