Our trip to
Spiti Valley
in state of Himachal Pradesh, India has left us with picture-postcard memories of pristine lakes, dry desert, barren mountains, stunning landscapes and precariously perched monasteries. Not only did we visit the highest post-office in the world, the highest motorable village in the world and highest suspension bridge in the world, we also got to see some of the oldest monasteries of the valley that survived floods and earthquakes. Spiti Valley is probably the most peaceful places in India like Rudyard Kipling once described it – 'A world within a world'. In our last blog 'Introduction to Spiti Valley', we wrote about the valley's location, its history, its culture and the best time to visit to Spiti. In this blog, we will brief you on how to reach Spiti Valley, places to visit in Spiti Valley, ideal itinerary and some important tips and recommendations that will help you plan your trip to Spiti Valley. Happy reading!
How to reach Spiti Valley:
Kaza is a major town and administrative headquarter of Spiti Valley. When one talks about visiting Spiti Valley, they are usually talking about visiting Kaza or some nearby village. You can reach Spiti via road only. There are no airports or railway stations in Spiti due to high altitude and rough terrain. There are two different routes to reach Spiti Valley i.e Kaza – one from Manali and the other from Shimla-Kinnaur.Both the routes are scenic, beautiful and full of adventure. You could decide which route you want to opt for depending on the time of travel and the number of days you have in hand. You can get state transport bus to reach Spiti from Shimla or Manali but we would suggest taking a private taxi so that you can visit many other scenic places on the way.
Reaching Spiti Valley via Manali route –
From Manali, Spiti Valley can be reached by taking the Rohtang Pass – Gramphu – Kunzum Pass – Kaza route. The total distance is just 200 kilometres but it takes around 10-12 hours of travel due to bad road conditions.
Remember: Manali route stays open only from mid May - October. The route to Spiti Valley is cut-off from Manali side for rest of the months as the high-altitude passes (Rohtang pass and Kunzum pass) are covered with heavy snow.
Pros of taking Manali route to reach Spiti Valley:
It will take you just 2 days to reach Spiti Valley i.e. Kaza – One day to reach Manali from your base and another day to reach Kaza from Manali. Hence, this route is shorter.
Cons of taking Manali route to reach Spiti Valley:
You have to start very early from Manali to reach Spiti Valley as the snow from the high passes (Rohtang and Kunzum pass) starts melting post 10 AM and leads to slushy and slippery roads. You should cross the passes before it is too hot and before the snow melts.The road from Gramphu to Kunzum Pass is in extremely bad condition. There are some areas where no road exists at all and you will have to get down from the vehicle and walk through the water-crossings on foot. This makes the journey tiring. Once you pass Kunzum Pass, the road conditions become better.You gain an altitude of 6000 feet in a day on this route, which is massive. If you are not healthy and fit or if this is the first time you are going to such high altitude, there's a big chance that you may suffer from Acute mountain sickness (AMS).You need an entry permit from the Manali administration to cross Rohtang Pass from Manali side that has to be obtained from Manali town, either online or in-person a day or two before your trip, which is a troublesome task if you are travelling on your own.
Reaching Spiti Valley via Shimla-Kinnaur route – From Shimla, Spiti Valley can be reached by taking the Sarahan – Sangla – Nako – Tabo - Kaza route. The total distance is 450 kilometres and it takes around 3 days of travel to reach Spiti Valley.
Remember: This route is open throughout the year (except during heavy snow/rains and landslides)
Pros of taking Shimla-Kinnaur route to reach Spiti Valley:
The roads to Spiti Valley from Shimla side are much better in condition than those from Manali side. You will feel less tired of travelling on this route.No permits, whatsoever are needed while travelling on this route.The day-wise altitude gain is gradual; hence the body gets time to acclimatize better. Hence, there are fewer chances that you suffer from Acute mountain sickness (AMS).
Cons of taking Shimla-Kinnaur route to reach Spiti Valley:
It will take you minimum 3 days to reach Spiti Valley – One day to reach Shimla (or nearby areas) from your base, second day to reach Sangla from Shimla and the third day to reach Kaza from Sangla. Hence, this route is rather long.
Nearest railway station to Spiti Valley – Shimla railway station is the closest from Spiti Valley. However, the rail-line to Shimla railway station is a narrow-gauge line from Kalka which is located 30 kilometres away from Chandigarh. Chandigarh railway station is the second closest from Spiti Valley. From Chandigarh, you can either reach Shimla or Manali and then make an onward journey to Spiti Valley.
Nearest airport to Spiti Valley – Bhuntar airport (also called Kullu - Manali airport) in Kullu district is the nearest from Spiti Valley. From the airport, you can reach Manali (50 kilometres away) via road and then make an onward journey to Spiti Valley. The second closest airport to Spiti Valley is Jubbarhatti airport, which is 24 kilometres away from the town of Shimla. Both Bhuntar and Jubbarhatti airport are connected with regular flights from Delhi and Chandigarh. However, the frequency of flights from these airports are less and the airfare is high. Chandigarh airport is the third closest airport from Spiti Valley and is well connected by flights from major airports across India.
How did we reach Spiti Valley?
We chose Chandigarh airport as our starting base to travel to Spiti Valley. We wanted to experience the perks of both the Shimla-Kinnaur route and the Manali route, hence we planned to enter Spiti Valley via Shimla-Kinnaur and exit via Manali completing a round circuit. From Chandigarh airport, we travelled via road on Narkanda – Sangla – Nako – Tabo – Kaza route. We also visited Kalpa and Chitkul in Kinnaur valley on the way. While returning, we took the Kaza – Chandratal – Kunzum Pass – Rohtang Pass – Gramphu – Manali route. This way we avoided the acute mountain sickness (AMS) to kick-in by gradual altitude gain and got an opportunity to visit some beautiful places in Kinnaur valley/ district as well.
Note: Sangla, Chitkul, Kalpa, Reckong Peo and Nako lie in the Kinnaur valley/ district. In our upcoming blogs, we will highlight places to visit in Kinnaur valley as well as Spiti valley.
Places to visit in Kinnaur Valley:
Kinnaur is a separate district in Himachal pradesh that lies on the way while travelling to Spiti Valley from Shimla. As we travelled, we saw a stark difference between the Spiti and Kinnaur valleys. Kinnaur valley is full of forest-covered mountains and lots of greenery while Spiti Valley is the opposite. The Kinnaur belt is less frequented by tourists, and that's what makes it so raw and serene.
Sangla (Altitude: 8600 feet) – Sangla is a tiny valley surrounded by evergreen forest slopes and green mountain peaks. It is located right on the banks of Baspa River and thus has very fertile soil. If you visit Sangla from June to August, you will find the entire valley laden with red cherry trees and apple orchards. The picturesque snow-cladded mountain peaks in the distance add to its charm. Kamru fort and Bering Nag temple are the top tourist attractions in Sangla valley.
Chitkul (Altitude: 11320 feet) – Chitkul village is located 28 kilometres away from the Sangla valley. It is the last inhabited village in India before the India-Tibet border. Again, located on the banks of Baspa River, Chitkul village overlooks the snow-clad peaks of Nee-La Himalayan range. Typical Himachali architecture in the houses of the village, Mathi temple and Chitkul fort are the major tourist places to visit in Chitkul.
Kalpa (Altitude: 9710 feet) – Kalpa overlooks the Kinner Kailash Himalayan range and is known for its spellbinding views of the sunrise. As soon as you will enter Kalpa, you will be welcomed by captivating views of a high rock formation resembling a Shiva Linga. Kalpa is popular for some scenic viewpoints and a couple of Tibetan monasteries. The town is also known for various small trail and treks.
Reckong Peo (Altitude: 7510 feet) –Reckong Peo is the main headquarter of Kinnaur district and is located 8 kilometres away from Kalpa. Reckong Peo is a Buddhist hub and is known for ancient monasteries. As it is a major headquarter, it has a big market from where you can buy all your Spiti Valley tour necessities like medicines, clothes, winter wear, trekking gear and electronics. This is also the last point where your phone signals will work.
Nako (Altitude: 11890 feet) –Nako village is located almost at the border of Kinnaur and Spiti Valley and you will see a stark contrast in the topography of the region once you enter Nako. The hills and mountains slowly turn barren and the terrain becomes rough and dry with no to negligible vegetation. Sightseeing options in Nako includes Nako lake and old as well as a new monastery.
Places to visit in Spiti Valley:
Gue (Altitude: 10500 feet) – You will find the monastery in Gue village intriguing. There's a fascinating supernatural story attached to the monastery which houses a 500-year old mummified body of a Tibetan monk. It is said to be the only mummy in India. The monastery is certainly worth visit as it also offers a panoramic view of the Gue valley and the village surrounded by colourful patterned mountains.
Tabo (Altitude: 10760 feet) – T
abo is a town located on the banks of Spiti River. The 1000-year-old Tabo monastery is the main sightseeing attraction in Tabo. It is now a UNESCO World Heritage site and is maintained by the Archaeological Survey of India. The monastery complex is big and dotted with several small and big mud stupas. You can also opt for a short hike to Tabo caves.
Dhankar (Altitude: 12780 feet) –Dhankar literally means 'fort on a cliff'. Dhankar monastery, sitting on a hilltop cliff right above Dhankar village, can be seen from a distance. The mud-walled monastery overlooks the confluence of Spiti and Pin River. It is one of the most endangered sites in the world. Another attraction in Dhankar village is Dhankar Fort and an hour hike to the strikingly pleasing Dhankar Lake.
Demul (Altitude: 14170 feet) – Demul is a small village that roughly has 40 odd houses spread out over a hill. Each house takes a turn to host guests for a night stay that economically benefits everyone in the village. There is a beautiful monastery at the highest point of the village that provides beautiful landscape views of the valley.
Lhalung (Altitude: 12000 feet) –The monastery in Lhalung village is supposedly the oldest monastery of Spiti Valley. The monastery is adorned with colourful sculptures of deities, thangkas, mandalas and coffered ceilings. It is said that the hills and mountains surrounding the monastery change colour based on the mood of the deity residing in the monastery.
Pin Valley (Altitude: 12530 feet) – Pin valley is the largest valley located in Spiti. The valley is dotted with lush green pastures and each curve on the road offers majestic views of the surrounding mountains. Mudh village lies at one of the ends of the valley and acts as a base for the trek to Pin-Parvati Pass or Bhaba pass. Also, visit Kungri monastery and spend time at the banks of Pin River on the way to Pin Valley.
Kaza (Altitude: 12470 feet) –Kaza is the major headquarter and the biggest town of Spiti Valley. It is often used as a base to visit nearby villages like Dhankar, Demul, Lhalung, Pin valley, Ki, Kibber, Hikkim, Komic and Langza. Kaza town is the commercial hub of Spiti valley and has a big market and a few quaint cafes. Sakya Tangyud monastery is one of the most sought-after destinations in Kaza.
Hikkim (Altitude: 14440 feet) – Hikkim is a small village that houses the world's highest post office. It is located 15 kilometres away from Kaza. The post office is a steeply inclined walk down a hill. Writing postcards to friends and family and posting them in an old-fashioned way will be a highlight of your trip.
Komik/ Komic (Altitude: 15050 feet) –Komik is the world's highest village connected with a motorable road. It is located at a distance of 19 kilometres from Kaza. Komik village is housed in a bowl-shaped depression. Tangyud monastery is a major tourist attraction in Komik. Also, do not forget to stop and eat at the world's highest restaurant situated on a hill in Komik.
Langza – (Altitude: 14500 feet) –Langza is a remote village located 16 kilometres away from Kaza. It houses a giant, colourful statue of Lord Buddha overlooking the breathtaking valley and mountains. Langza is also popular for the remnants of marine fossils and the spellbinding view of the Chau Chau Kang Nelda (CCKN) mountain peak.
Ki / Key / Kee (Altitude: 13670 feet) –Ki village is located 14 kilometres away from Kaza. Ki monastery is considered one of the most iconic buildings in Spiti Valley. The 13th century-built monastery overlooks the Spiti River and has been featured in several Bollywood movies. The monastery has various temples inside that are adorned with beautiful murals and paintings.
Kibber (Altitude: 14010 feet) – Kibber is a scenic village that is located 20 kilometres away from Kaza. The village houses a local monastery and a wildlife sanctuary. The small village has around 100 houses – all painted in white with red rooftops. Kibber is the base for hiking, trekking and adventure activities. You can also go to highest suspension bridge in the world at Chicham near Kibber.
Chandratal (Altitude: 13940 feet) – Chandratal Lake is a 2.5-kilometre-wide fresh-water lake located 90 kilometres away from the town of Kaza. The emerald-coloured lake is surrounded by snow-covered Himalayan mountains. It takes 30 minutes of an easy hike to trek to the Chandratal Lake.
Ideal Itinerary for Spiti Valley trip:
Itinerary for your Spiti Valley trip would be purely based on the amount of time you have in hand. While we felt a month is less to cover Kinnaur-Spiti region and absorb what it has to offer, a minimum of 10 nights and 11 days is recommended to cover the most popular attractions if you fly in and out of Chandigarh.
Day 1 – Arrive Chandigarh and drive to Narkanda. Night stay in Narkanda
Day 2 – Narkanda to Sangla. Night stay in Sangla
Day 3 – Sightseeing in Sangla, visit Chitkul and drive to Kalpa. Night stay in Kalpa
Day 4 – Sightseeing in Kalpa, visit Nako, visit Gue and drive to Tabo. Night stay in Tabo
Day 5 – Sightseeing in Tabo, visit Dhankar, Lhalung and drive to Kaza. Night stay in Kaza
Day 6 – Day trip to Pin Valley, Kungri and Mudh village. Night stay in Kaza
Day 7 – Day trip to Key, Kibber and Chicham. Night stay in Kaza
Day 8 – Day trip to Hikkim, Komik and Langza. Night stay in Langza
Day 9 – Kaza to Chandratal Lake. Night stay in camp near Chandratal
Day 10 – Chandratal to Manali / Mandi. Night stay in Manali / Mandi
Day 11 – Manali / Mandi to Chandigarh. Fly back or night stay in Chandigarh and fly back the next day
Add a few more days to your itinerary if you plan to visit Lahaul valley as well. The above itinerary can be shortened based on the number of days you have in hand and choose to take Manali route while going towards and returning from Spiti Valley.
Permit for Spiti Valley:
Indian, as well as foreign nationals, do not require to obtain any permits to visit Spiti Valley. Special permits were required to enter Spiti Valley from 1962 to 1993 due to Chinese Aggression. The permit rules have been abandoned since 1993 and now there are no permit requirements to visit Spiti Valley.
Note: The permit mentioned earlier in this article was to cross Rohtang pass from Manali and not to enter Spiti valley.
Important things to remember while travelling to Spiti Valley:
Mobile and Data connectivity –You will not have any mobile or data connectivity (Airtel & Vodafone) beyond Kalpa/ Reckong Peo. BSNL SIM carriers would get some connectivity in Kaza but not in nearby smaller villages or Chandratal. But BSNL too would only have network connectivity. Data connectivity would be close to non-existent. We heard that Jio network towers were being erected in Kaza and may be ready by end 2020.
ATM/ Money withdrawal - The
last ATM that you will come across will be in Reckong Peo/ Kalpa. Though Kaza and Tabo have SBI ATM, they are not reliable. Credit cards are not accepted by any shopkeepers or hotel owners in the Spiti region.
Fuel – The last petrol pump is in Reckong Peo/ Kalpa. There is only one fuel station in Spiti valley in Kaza which is the world's highest fuel station. This petrol pump may or may not be functional and tends to have long queues, hence you are recommended to tank up at Kalpa.
Shop –Apart from postcards, magnets, warm clothes and souvenirs, do buy sea buckthorn jam, juice and slush from Spiti Valley. You can buy all the souvenirs at a cheaper rate from Kaza. In other villages they are a bit expensive.
Spiti Valley Tours:
As you may have noticed, planning a trip to Spiti Valley is not very easy. There are plenty of places to visit and the roads are not very good in condition. Road to Spiti Valley is considered one of the most dangerous roads in the world. Also you will have to spend a lot of time identifying the right hotel / homestay / guesthouse. Not every accommodation is listed on travel websites and it is difficult to contact via phone as network is poor. We also read about experiences other travellers had where they booked hotels online and upon reaching were refused accommodation as they had no information about any bookings. Having looked into all these hassles, we decided to book our tour with Spiti Valley Tours.
Spiti Valley Tours is a travel agency located in Kaza and is owned by a Spitian. They offer customised itineraries based on the number of days of travel and budget. They have a fleet of experienced drivers and a network of hotels and homestays. Mr. Lara and Mukesh from Spiti Valley Tours helped us design our trip to Spiti Valley ensuring our specific needs are met. Their efforts in sustainable and responsible tourism echoed our values. We highly recommend booking your trip with them. You can book your trip to Spiti Valley with Spiti Valley Tours through their official website.
PIN THESE IMAGES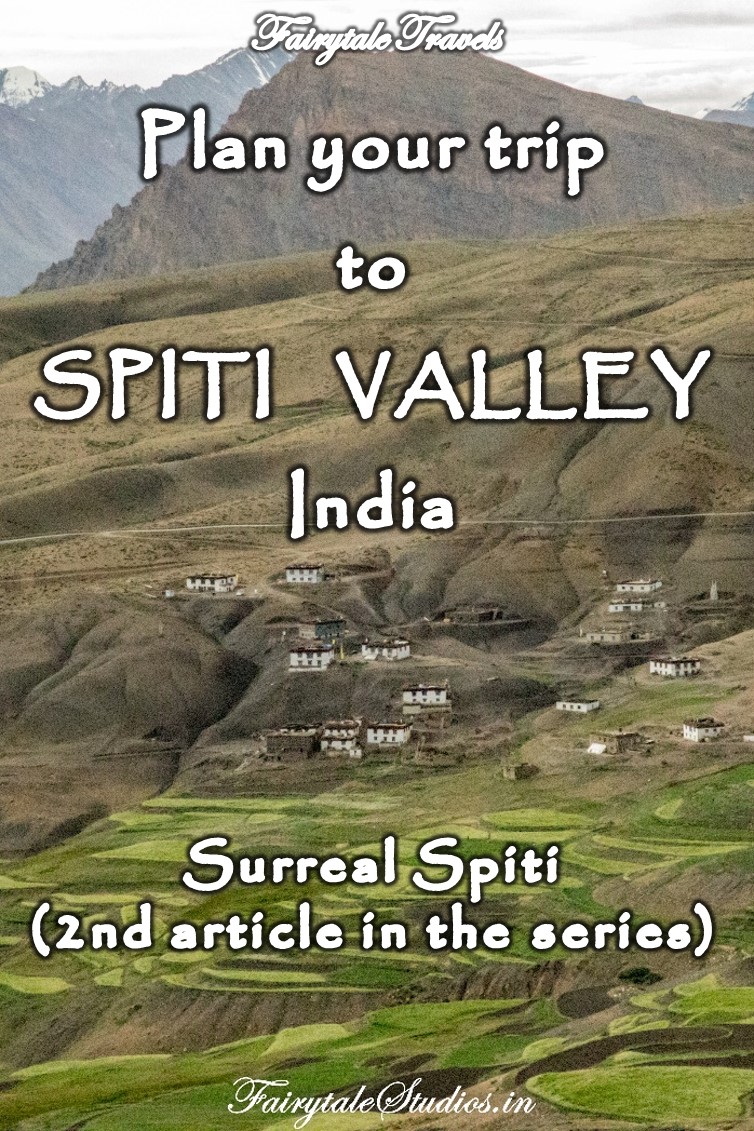 In the last few years, infrastructure in Spiti Valley has improved a lot from roads to bus services. Spiti now has enough facilities to have a comfortable trip. And it is still a decade or so away from commercialization as seen in Leh. It is hence the right time to plan a trip to Spiti before it loses its rawness and purity. Hope this article helps you plan a trip to Spiti Valley. If you need any further information, feel free to ask us in the comment section below or you can directly contact us via mail. In our upcoming articles, we will detail out places to visit in Kinnaur and Spiti Valley. Stay tuned!