It's Valentine's already and you haven't picked a single gift to express your Love. Don't worry there's still time to choose a small token of your appreciation whether it is flowers, candy cards or even a greeting card to gift your loved ones. What happens if you cannot gift him or her? Does that mean you don't love them?
Well, if ads around 14th February will make you believe just that. Yet, Valentine's is not about expressing love on a single day in the year, it is about articulating love. You can do that all year through small gestures and planning Chota break with your loved ones. That's what long weekends are for, isn't it?
Going on a holiday during the Valentine week may not fit your budget, however, we at Kesari Tours have picked a few weekend holidays just for you.
Munnar Kumarakom:
Get away from the heat, stress, and fast life of the city with a short rejuvenating trip to Munnar Kumarakom. A stunning hill station in Idukki district, Munnar lies 5200 ft above the sea making for a wonderful respite from the scorching heat. You can plan a Visit between September to November and January to March. Enjoy a speed boat ride on the Mattupetty Dam in Munnar. For nature lovers, there's the dense Rajamalai National Park you can explore together.
Visiting Kerala without going to the backwaters is a crime. Kumarakom is one of the best places to enjoy Kerala backwaters. Dance the night away with others at the small party Kesari organizes. Take a relaxing longboat ride on the backwaters, enjoy the local food and the calm soothing waters. If you'd like to see birds then the Kumarakom Bird Sanctuary is just the place to see owls, egrets, herons, and the Siberian cranes. If you haven't chalked out a holiday yet, plan one now.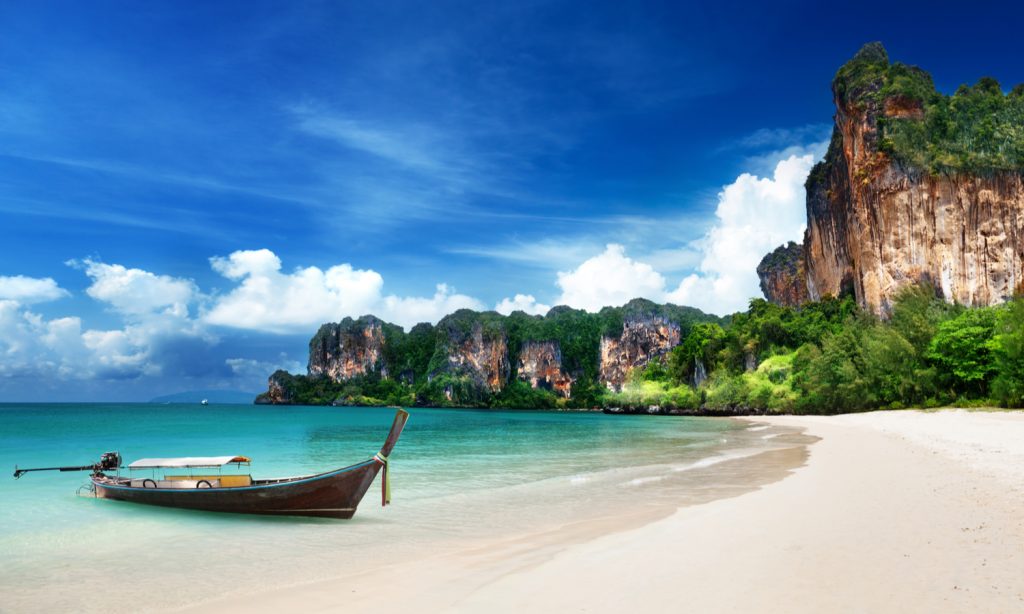 Thailand Chota Break:
If you'd love to holiday in a friendly country that loves food as much as you do, then Thailand is just the place for you. A country that toes the fine line between historic and decadent with aplomb offering a treat for the cultured and the curious. Thailand draws visitors with a smile to its golden azure beaches, glittering temples, coral reefs, floating markets and so much more. On your Chota break visit both Bangkok and Pattaya.
In Pattaya, take a glass-bottom boat ride and see rainbow-hued coral formations. If you are adventurous, then parasailing is a must-try. A couple's Thai massage is what you need after a morning spent sightseeing. Don't forget the spectacular Alcazar show in the evening. Visit the Gems Gallery and the largest Buddha statue in the world en-route to Bangkok. If you didn't get a chance to shop in Pattaya, then the Indra square in Bangkok is just the place. Have you seen an Orang Utan box? If you haven't then a visit to the Safari world to watch the boxing show, sea lion show, cowboy stunts, and dolphins is a must. Want to know more click here.
Bali Chota Break:
For a beautiful offbeat experience away from the crowds plan a short break to Bali with Kesari Tours. This 4N/5D tour will take you on a journey through the land of the Goddess Serene in Bedugul, the preserver Visnu and the stunning land in the sea Tanah Lot in Bali. Catch glimpses of Bali's rich and diverse culture everywhere you go from its friendly people, stunning music, and dance shows on the island to lush forest and cerulean waters that you may hate to get out of. To enjoy several water sport activities the Tanjung Benoa beach is the best place. You can try jet-skiing, parasailing, kitesurfing, or take a banana boat ride. We are sure this holiday will give you the chance to relax and just spend time together.
Rovaniemi With Glass Igloo
What if you can gift your loved one a weekend trip to Arctic Circle? Seems interesting, isn't it? The Rovaniemi short break takes you to the Finnish capital Lapland. Rovaniemi is just the place that can get you a peek at Santa's home, enjoy the icy Arctic and an introduction to the latitudes. If you've wondered what a sled ride would feel like, then experience it in Lapland with huskies pulling your sled. Explore the touristy Santa Claus village with its own post office and meet the man himself.
See the reindeer farm and meet the Sami natives. Experience the thrill of riding a snowmobile if you want to at Rovaniemi. Have you always wanted to stay in an igloo? Now's your chance to stay in a glass igloo that gives you a stunning view of the beautiful night sky. If you're lucky you may see the gorgeous Northern lights too. To know more visit the website.
These short trips are just a few of the Chota breaks you can pick from. To see all the available breaks click here
How can we forget the newlyweds looking for honeymoon options? Well, we haven't forgotten and here are some trips they can plan for what with the marriage season underway.
Shimla Manali
For a snowy, wintry, and cozy honeymoon opt to honeymoon on the mountains of Shimla and Manali. Looped near a 12km ridge, with sheer forested mountainsides, this capital city of Himachal is India's most popular mountain resorts, bustling with newlyweds looking for a snowbound holiday. For some checking out the relics from Shimla's earlier avatar as the summer capital of British India is a must. Since the town centre is traffic-free, walking is not a chore but a pleasant pastime where you can enjoy the town, weather, and each other's company. The long, winding main street, the Mall, stretches from east and west just beneath the spine of the hill. To its south, the labyrinth of lanes, and the crowded bazaar stairways drop sharply down to the crowded Carter Road.
Enjoy a visit to the beautiful Sukhana Lake, explore the Rose Garden, Rock Garden, and Pinjore Garden, the Kufri fun campus for rides and amusement activities. If you love adventure sports, then a visit to Kufri-Winter Sports Capital is the best. See the beautiful rivers Beas, Sutlej, not from the movie Mohenjo-Daro but the historic Indus Valley and Mohenjo-Daro civilizations fame. Want to know more check here
Swiss Paris Honeymoon:
Can there be anything more romantic than stunning Switzerland and the city of love Paris? We don't think so. Indulge the child in you with a visit to Disneyland in Paris and see stories from childhood come to life in exquisite detail. A romantic evening at the Eiffel Tower is just what you need on your honeymoon. A trip to the observation deck on the tower will offer fantastic views of Paris. Want to be on top of Europe then Jungfraujoch is the place to be. Offering a stunning panorama of snow and ice the Trummelbach Glacial Waterfall is a sight to see. Would you like to know about the other honeymoon tour options? If yes, click here
Is a Valentine's day celebration meant for youngsters and honeymooners only? We believe love is ageless and anyone can celebrate it. Would you need a special day to do so, really? You don't need a day, just need an excuse to celebrate love and what could be better than taking your beloved on a tour after retirement or planning a second honeymoon.
Well, here's a look at a few Second Inning Tours that will let you spend time and appreciate each other some more.
Sri Lanka Second Innings
The land of Lord Ravana from the epic Ramayana to Sri Lanka of today there is so much you can explore and experience. Never-ending beaches, everlasting relics, friendly people, lots of elephants, rolling waves, cheap prices, exciting trains, legendary tea, and appetizing food will make your Sri Lankan tour memorable. Not as popular as other South Asian countries, this stunning country is just the place for plenty of rest and relaxation.
A visit to the first capital of the country since 3rd century BC, UNESCO listed Anuradhapura is just the place to start off your journey. See the world's oldest archaeologically verified Sri Maha Bodhi tree, the stunning Brazen Palace, Dagobas, Ruwanwelisaya, Abeygiri, and Jetawana Monasteries that house well-preserved rock-cut statues of Lord Buddha. Don't miss a visit to the Sigiriya rock fortress to see the Lion rock and murals of Heavenly Maidens. From a rock temple, tallest Buddha statue, a botanical garden, lakes in Kandy, spice gardens to Sri Lankan dance shows, ancient temples, unspoiled sandy beaches, and magnificent sea turtles you can enjoy it all together. Need more info click here.
Dubai Abu Dhabi With Dubai Park
Have you always wanted to visit the land of Sheikhs, Dubai? Well now, is the best time to go to the land of excess. From the tallest building Burj Khalifa, largest theme park, to the man-made marina and the stunning Abu Dhabi there is so much to explore and experience. Get a whirl at the Ferrari World and enjoy your car go from 0 to 100 in less than a minute. It's also the shopping capital so don't be stingy, buy something special for him or her. Enjoy a sunset dinner cruise on a Dhow in Dubai and visit the typical ancient old souks especially, the gold souk. Bollywood Park gives you a chance to get romantic, adventurous, sing and dance too. To get more information click here.
Europe Second Innings
Have you promised a tour to Europe and still haven't fulfilled it? Well, now you have the time and the resources to do so. This 12N/13D tour will take you to London, Paris, Brussels, Amsterdam, Rotterdam, Den Hague, Cologne, Munich, Zurich, Lucerne, Engelberg, Vaduz, Wattens, Innsbruck and Salzburg. An impressive tour of 8 European countries' homes to some of the best panoramic vistas, beaches, ancient rivers, and stunning picturesque castles.
Not to forget the charming bistros, cafes and cobblestoned pathways and spectacular gardens and parks. The city of love Paris beckons, and you must make the most of the desserts available. Don't forget to get a taste of the apple pie. Hyde Park, Westminster Abbey, Piccadilly Circus, Big Ben, River Thames, Trafalgar Square, Tower Bridge, Eiffel tower, the Palace of Versailles, Louvre museum and others are places you can look forward to seeing. Experience a canal cruise in Amsterdam and wonderful Mount Titlis in Switzerland. To get a better idea click here. There are other tours that you may want to explore. To know which tours are available click here
We believe love can be expressed anytime and not just on Valentine's day in February. However, that doesn't mean you must forget the day entirely. Make sure you do something memorable for your loved one. If you are planning a holiday and need help connect with Kesari Tours and let them do all the work for you.
The post Valentine's Day – Celebrate not only on 14th Feb but throughout the year appeared first on Best Travel Blogs.