As most of the world is in lockdown due to the Covid-19, we can at least take advantage of having more time. Check-out these armchair Travel books to feed your wanderlust.
Inspirational travel books
I was born in between the Baby Boomers and Generation X. I witnessed changes in how we travel, which likely seem incredible to the younger generations. Many things which we now give for granted, like credit cards, smartphones, the internet, low-cost airlines, and the almost ubiquitous connections, are rather new. Only 30 years back, traveling was much more difficult, and… adventurous.
Here are a few books which I find truly inspiring.
Around the World in 50 Years
by Albert Podell
Podell, an American journalist previously employed in the editorial staff of Playboy magazine, has visited all 196 countries in the world. For 50 years, he has traveled far and wide on all continents.
He ate barbecued mice in Malawi, was interrogated by the secret police in Cuba, and parked in the middle of a minefield in Morocco, risking to die on multiple occasions.
His philosophy is "the worst of the things happen, the better the story is going to be," as Podell shared on a BBC Video.
It all started with stamps, which Podell began to collect from the age of six, fascinated by exotic animals and the landscapes depicted. He came from a poor family who could not afford to go on vacation, but he decided that one day he would be able to travel around the world.
Podell's adventure began with a road trip, back in 1965. He traveled around the world for 19 months and broke the record at the time for traveling and driving the longest route around the world. It was just the beginning of his adventurous journey.
In March 2015, he published the book Around the World in Fifty Years: My Adventure to Every Country on Earth, the fascinating and inspiring account of his 50 years of travel.
Buy on Amazon
Much as I love my traditional paper books, and I have hundreds, I grew increasingly fond of my Kindle. Especially when I travel for a long time, it's so good to have several books stored in a small and light device. If you're considering buying a Kindle, this might be the right time since the prices are currently down more than 25%.
Buy Kindle Paperwhite on Amazon
The Great Railway Bazaar
by Paul Theroux
In 1972 American travel writer Paul Theroux started an epic train journey. He traveled from Great Britain to Japan and back. He published the account of this incredible trip in the book The Great Railway Bazaar. The book was published in 1975 and became a classic of travel writing.
In the Great Railway Bazaar, Theroux recalls iconic train rides of the past, shares his experiences, and explores central themes like colonialism and poverty. An enriching read to follow a real adventure.
Buy on Amazon
Full Tilt: Ireland to India with a Bicycle
by Dervla Murphy
A few years ago, I attended the Traveller's Tales Festival in London, one of the best events ever. Dervla Murphy was one of the speakers, and I felt enthralled by the stories from her solo travels.
Born in Ireland in 1933, Dervla Murphy embodies the female adventurer. Her passion for travel and adventure started when she was only 10 years old. As presents, Dervla got a second-hand bicycle and an old atlas. A few days after, she decided that one day she would have cycled to India.
In 1963, she finally set off to make her dream come true. Full Tilt is the story of her exceptional journey across Europe, Iran, Afghanistan, Pakistan to Delhi.
Buy on Amazon
Armchair travel books for adventure lovers
A Voyage For Madmen
by Peter Nichols
Pushing the limits to the extreme. Accomplish a feat that no-one dared before. A Voyage for Madmen is the chronicle of one of the most incredible and dangerous sailing races. It was 1968. Nine sailors were ready to set off on an incredibly daring race: a single-handed nonstop circumnavigation of the globe.
No technology at the time. Only the willpower of nine men willing to defy the sea. The race took ten months, and only one man crossed the line.
Buy on Amazon
K2: Life and Death on the World's Most Dangerous Mountain
by Ed Viesturs, David Roberts
Everyone knows, and maybe dreams, of Everest, the world's highest mountain. Reaching the top of the world is undeniably one of the ultimate goals (if not THE one) for every mountaineer. However, the highest achievement is climbing K2, the second-highest mountain, and also one of the deadliest. Way more dangerous than Everest.
In Life and Death in the World's Most Dangerous Mountains Ed Viesturs, one of the best mountaineers, explores the challenges of conquering the mighty K2. He recalls the seven most dramatic expeditions to summit the deadliest mountain in a compelling book.
Buy on Amazon
Books for nature and hiking lovers
Whether it's an easy day hike or a long-distance trek like Scotland's West Highland Way, few things make me feel better than a full immersion into nature.

I feed my passion by collecting guides on hiking trails and maps. And to me, the most rewarding armchair travel books are photography books showcasing the most scenic mountain views in the world.

National Parks of America: Experience America's 59 National Parks (Lonely Planet)
I visited a few of America's National Parks years ago, and my trip across Arizona, Utah, and California still makes for one of the best travel memories. Sadly, I had limited time and only managed to visit a few National Parks. But I know I'll be back.
Lonely Planet's book on National Parks of America makes me dream of future travels and is an incredible source of inspiration. The publication is an introduction to the USA's 59 National Parks, highlighting spectacular landscapes and unique natural treasures, and provides practical information to help plan your future trips.
Buy on Amazon
Fifty Places to Hike Before You Die: Outdoor Experts Share the World's Greatest Destinations
by Chris Santella, Bob Peixotto
Hiking lovers, this book is for you! Fifty Places to Hike Before you Die will let you discover some of the most rewarding hikes around the world. Some of them are challenging multiweek treks at high altitudes, such as the Kangshung Valley Trek in Tibet. Others are leisurely hikes, one of them being the walk along beautiful Italy's Amalfi Coast. And the unique climb of the Rwanda mountains to view mountain gorillas is one of the most exciting adventures one can imagine.

Plenty of ideas for future unforgettable hiking trips.
Buy on Amazon
Books for travel and food lovers
Food culture is an essential experience when traveling. And some countries have been historically more blessed than others. For the time being, you may not be able to travel. But you can have a journey from home through local dishes and flavors. Italian cuisine and French cuisine are considered some of the best in the world. Due to their popularity, it's become easier to find the proper ingredients. So… Get ready to cook memorable dishes.
Lidia's Favorite Recipes: 100 Foolproof Italian Dishes, from Basic Sauces to Irresistible Entrees: A Cookbook
by Lidia Matticchio Bastianich, Tanya Bastianich Manuali
If you don't like Italian food, please raise your hand (or leave a comment)!
Discover Lidia Bastianich's 100 favorite Italian recipes to cook some of the most delicious Italian dishes. Whether it's veal ossobuco or Tiramisù, you'll be able to give yourself and your loved ones a real culinary treat.
Buy on Amazon
Tasting Paris: 100 Recipes to Eat Like a Local
by Clotilde Dusoulier
There's an undeniable rivalry between Italian and French cuisine, with both of them claiming to be the best in the world. I'm Italian, and therefore partial. I do consider Italian cuisine the N. 1. However, I recognize that French have amazing dishes and that in several cases, the cooking technique is different.
Tasting Paris features 100 recipes, including some of the best French dishes. You may not be able to travel to France right now, but you can bring France on your table.
Buy on Amazon
Travel books to inspire your next journeys

1,000 Places to See Before You Die
by Patricia Schultz
The world is so big, and there are so many amazing places to discover that one life is certainly not enough.
1,000 Places to See Before You Die is a goldmine to find inspiration for your next travels. Discover fabulous destinations and unique travel experiences that will fuel your wanderlust. Continent by continent, you'll find out about fantastic treks such as the one in the Morocco Atlas Mountains, sacred festivals in Bhutan, fairy-tale castles, and lots more.
A fantastic book for armchair travel.
Buy on Amazon
---
Bonus: Adult coloring books
Being on lockdown due to the Coronavirus is hard when not straight stressful. For the time being, we can only dream of the time when we'll all be able to travel again, no matter if far away or in our own backyard. Meanwhile, coloring books are an excellent option to cope with stress.

Here are a couple of adult colouring books which you might like.
Ocean Life: Adult Coloring Book
by Blush Design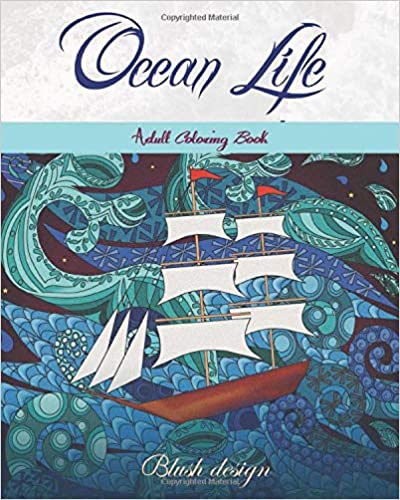 I love scuba diving, and I often recall the breathtaking marine life and biodiversity in Bunaken Marine Park.
As you wait for your next underwater adventure, this coloring book might just be the right way to relax while waiting for your next dive.
Buy on Amazon
Hardcover
Color Minneapolis – Adult Coloring Book
by M. Funk
When you're born in Italy, like I am, it's hard not to be passionate about art and architecture. Color Minneapolis is a lovely adult coloring book that will allow you to express your creativity.
Buy on Amazon
Hardcover
_____
Wild About Travel is a participant in the Amazon Services LLC Associates Program, an affiliate advertising program designed to provide a means for sites to earn advertising fees by advertising and linking to Amazon.com
Original article: Beautiful Armchair Travel Books to Feed your Wanderlust
©2020 Wild About Travel. All Rights Reserved.
This post Beautiful Armchair Travel Books to Feed your Wanderlust was first published at
Wild About Travel.