What to see in Rome in 3 days? If you have only 72 hours to visit The Eternal City, you're probably wondering if this is a "mission impossible."
Well, it is not – provided you have a good Rome 3 days itinerary.
This will make a difference between poor travel experience and the perfect one you wish for. Since there's so much to see in Rome, all you have to do is keep reading. This itinerary is full of things to do in Rome in 3 days.
Enjoy!
1. Take a guided tour of the city
No matter if on foot, by bike, or on a Vespa, there's no better way to get an introduction to Rome and its many beautiful sights. A guided Tour of the city will give you an overview of the main landmarks.
Afterward, you can go back to your favorites sites and further visit at your own pace.
I selected some of the most interesting Rome guided tours for you. As you can see, the offer is varied – and original, too (take a look at the Golf Cart tour or the Vintage Fiat 500!).
Angels and Demons Official Tour
3-hour Segway tour, to cover most of Rome highlights
Rome Driving Tour By Vintage Fiat 500
Discover Rome by Golf Cart
3-hour bike tour of Rome historic center
Vespa Tour (with optional driver)
4-Hour Private Tour with Driver, for a personalized experience
2. Go sightseeing in Rome and discover the most iconic sites
Most of Rome must-see locations are concentrated in the historic center and some of them at a near distance. Good news when you have to optimize the time of your visit!
I suggest you to start your Rome itinerary from the right bank of the Tiber River, where most of the best Rome attractions are located.
Piazza del Popolo
On a bright day, there is nothing more fascinating than starting your walk from Piazza del Popolo.
Admire the beautiful symmetry of this huge scenographic square, with the Egyptian Flaminio Obelisk at the center. Look at the twin baroque churches of Santa Maria dei Miracoli and Santa Maria di Montesanto. They define the so-called "tridente", the trident, a three roads span with Via del Corso at the center.
Via del Corso, Via Condotti, and Via Frattina
Keep wandering and take a look at some of the most iconic fashion brands' shops along Via Frattina and Via Condotti for a luxurious shopping experience.
Tip: celebrities and VIPs gravitate towards this part of Rome's Centro Storico, so it is not rare to see them. Be ready for an autograph or a selfie with your favorite star (but ask gently!).
Piazza di Spagna and the Spanish Steps
Piazza di Spagna and the Spanish Steps (Scalinata di Trinità dei Monti) are just a stone's throw away. Slowly climb the 135 steps to get a stunning view of the square and the surroundings. In Spring, you'll see the Spanish Steps in full bloom, with the large pots of beautiful pink azaleas that Rome Municipality places on the steps. In June, the steps are the (tricky!) catwalk for "Donna sotto le Stelle", the event that closes Rome's fashion week.
Tip: until last year, locals and tourists enjoyed sitting on the steps to relax, chat, or eat a gelato. From 2019 this is no longer permitted to protect the decorum of the monument.
Fontana di Trevi (Trevi Fountain)
The sound of the splashing waters of the Trevi Fountain (Fontana di Trevi) will capture your ears before you get sight of this astonishing Baroque masterpiece. The fountain is huge, and the location is always crowded, day and night – sometimes to the point you almost cannot walk.
The best moment to see it at your own pace is (probably) early in the morning. As they say, "The early bird catches the worm"!
Tip: don't forget to toss a coin in the fountain, since tradition says this will guarantee your return to Rome. In case you are wondering, all the coins are regularly collected by Municipality to be given to charity.
Pantheon
You can reach the Pantheon with a short walk from Trevi Fountain. Enter this former pagan temple and raise your head to admire the 2.000-year-old dome, with its astonishing "hole" (in Latin "oculo") filled with natural light.
Tip: enjoy an Italian ice-cream or an expresso at Giolitti. This traditional Italian ice-cream shop is active since 1900!
Piazza Navona
From the Pantheon to Piazza Navona, it's only a short stroll. The particular ovalish shape of the square is because the piazza was built on the former Stadium of Roman Emperor Domitian. Ancient Romans went there to see the games ("agones") and have fun.
Today you'll find here street performers, artists, fortune tellers, and a traditional Christmas market, depending on the period of the year and on the decisions of the Municipality regarding permissions.
To me, Piazza Navona is one of the most beautiful squares in Italy, on par with San Marco square in Venice, the Duomo square in Milan and a few others.
Colosseum, Roman Forum, and Palatino
Nothing compares to ancient Rome's archeological heritage. Start with a visit to Colosseum, the world's largest amphitheater.
The monument was a symbol of the Roman Empire's political power: up to 80,000 spectators at a time gathered here to watch gladiator's matches to the death. Today the Colosseum is one of Rome's most popular attractions. On Good Friday, the Pope's procession celebrates the Stations of the Cross (Via Crucis). Just nearby, you can visit the ruins of the Roman Forum, the ancient Rome's market and business district, and of Palatino, one of the city's seven hills.
To save time, book a tour to skip the ticket line and see them in a row. Not only you'll avoid the likely long queues, but you'll discover the history of one of the most famous landmarks in the world.
Check out the most popular tours:
Skip-the-Line Colosseum and Arena Floor Guided Tour.
If you're traveling to Rome with kids, have a look at the Colosseum and Ancient Rome Family Tour for Kids.
Colosseum Underground, Arena, Roman Forum & Hill Tour.
Fun Facts – Cats among the ruins
Did you know there is a place in Rome where you can see stray cats sunbathing among ancient ruins? It is the Torre Argentina Cat Sanctuary, right in the plaza where Julius Caesar was stabbed to death on the Ides of March (44 BC).
Jewish Ghetto
The Jewish community of Rome is probably the oldest in the world, with a presence that goes back (at least) to 139 BC. However, the ghetto was established only in 1555.
Although it's now a charming spot, this was an area full of poverty, often flooded by the river Tiber. While strolling around, take a look at the Fontana delle Tartarughe (Fountain of the Turtles), the Theater of Marcellus, and the Portico of Octavia.
Tip: Need a quick snack during your wandering? Try one of the traditional kosher bakeries that sell delicious pizza, cakes, and bread.
Capitoline Hill
Located between the Forum and the Campus Martius, Capitoline Hill (or Capitolium) is one of Rome's Seven Hills. Its name derives from the Temple of Jupiter Capitolinus (Temple of Jupiter Best and Greatest on the Capitoline). That wasn't the only temple built on the hill in ancient times, however.
The Capitolium held an essential sacred function for ancient Rome and, in its history, was also a place that resisted several attempts to invade the city. In the Middle Ages, the hill became the center of the civic government of Rome, located in the Basilica di Santa Maria in Aracoeli. This church was built in the VI century, on the ruins of the Juno Moneta's temple, adjacent to the Piazza del Campidoglio. The huge stairway in the front (124 steps!) was added in the XIV century.
The Piazza del Campidoglio is one of Michelangelo's masterpieces. Pope Paul II commissioned the Renaissance's genius a monumental civic plaza, to celebrate Rome's new political power. The task was tricky. Michelangelo combined the oval shape with a diamond pattern to solve the problem of obtaining classical symmetry in a space otherwise chaotic.
Villa Borghese
This huge public park (approximately 80 hectares) is one of the most popular in the city. Besides the green areas, perfect for a relaxing walk or a ride by bike, the park includes several historical buildings, fountains, and a romantic lake. Don't miss the opportunity to visit the stunning art collection of Galleria Borghese, in the "Villa Borghese Pinciana" built by architect Flaminio Ponzio.
Some years ago, Villa Borghese Park was also enriched with the Silvano Toti Globe Theatre, a reconstruction of the famous Globe Theatre of London.
To visit Villa Borghese, you need to actually go back to the starting point, Piazza del Popolo. From there, you can climb up the Pincio terrace (a great sport for sunset watching) and then leisurely stroll in the park.
It's now time to move to the left bank of the Tiber River, to complete your 3-day itinerary in Rome.
Castel Sant'Angelo
This monument was built as a mausoleum for Emperor Hadrian (76-138 AD). It was then neglected until a legendary episode at the end of the 6th century changed everything. A horrible plague hit Rome and Pope Gregory the Great decided to lead a procession through the city, to ask God for mercy. When he saw the old mausoleum, he had a vision: on the top of the building stood a shining angel, returning his sword to the sheath. Rome was saved!
The bronze statue of Archangel Michael on top of Castel Sant'Angelo still commemorates this episode.
The monument underwent several other changes in its long history and at some point, became a papal fortress, with dungeons to imprison evildoers and opponents. Today it is a museum with a charming sight on the city.
You can either visit on your own or book a guided tour of Castel Sant'Angelo and St. Peter's Square.
Tip: To optimize your time, it makes sense to visit Castel Sant'Angelo on the same day you discover St. Peter's Basilica, the Vatican Museums, and the Sistine Chapel.
Trastevere
Trastevere (meaning "Across the Tiber River") is the ideal place to feel the bohemian vibe of Rome. In the daylight, you'll enjoy strolling in the maze of beautiful alleys, dotted with quaint little boutiques, the handicraft shops, and the ateliers.
At night, tourists and locals mingle in the area to have fun in a bar or a restaurant. An ideal meeting point to start your visit is Piazza Trilussa. Drink a coffee or sip a drink and then follow the wave.
3. St. Peter's Basilica, Vatican Museums, and the Sistine Chapel
Without a doubt, one of the best things to do in Rome is visiting St. Peter's Basilica, admire the Vatican Museums, and marvel in front of Michelangelo's Sistine Chapel. The concentration of so many masterpieces in such a small area is mind-blowing. Thus, get ready for a full immersion into some of the most beautiful artworks in the world.
Being one of Rome's main attractions, it's not hard to figure out it's crowded, and therefore, you need to plan your visit in advance. If not, you're most likely wasting a lot of time queuing, and by the time you'll get there, you'll feel tired and spoil your experience.
You can choose between several options, from simple skip-the-line tickets to guided tours. The advantage of a visit with a guide? You get to learn a lot about the history of the Vatican Museums and of their beautiful art collection.
An excellent option is the Skip-the-Line Vatican, Sistine Chapel, St. Peter's Tour, for a guided visit with a group of maximum 20 people.
If you prefer to discover the Vatican Museums and the Sistine Chapel on your own, I strongly advise you to book your fast track ticket as soon as possible.
I'm planning to get back to Rome soon, and my first choice would be, without a doubt, the Early Morning Vatican Tour. It's more expensive, but I know that getting there before the official opening and the huge crowd, and having a tour with a small group, is a totally different experience.
4. Romantic places in Rome
It is said that the name "Rome" hides a secret. A secret that will last till the end of the world. Do you want to know about it?
Anagram "Rome", and you'll get "Amor". Love, in Latin. No wonder every corner of The Eternal City is potentially ideal for a proposal or just a romantic walk. Some places are more popular than others, but this doesn't mean you have to conform.
I'm sure you'll collect beautiful memories with your loved one every minute of your visit, regardless of the importance of the location. But in case you are wondering where locals go as a couple, the "garden of the Pincio" is probably one of the most popular choices. Go there at sunset, to admire the glorious colors of the Roman sky and the beautiful view of the city's roofs. The skyline is simply gorgeous. You'll never forget its beauty.
An alternative to Pincio is the Gianicolo Hill. Here, the panorama will leave you breathless. And you'll see the city skyline from a different perspective. I advise you to visit them both since it is impossible to decide which one is the best (please, don't even try!).
Fun Fact: At the highest point of the Gianicolo hill, you'll see Giuseppe Garibaldi equestrian monument. This Italian general was known as the "Hero of the Two Worlds" because he fought for national independence and republican ideals in South America and Europe. He also played a crucial role in the Italian unification. At his side, on the battlefield, he always had his wife, Anita Garibaldi, a strong and independent Brazilian woman. She lost her life during a tragic retreat near Ravenna. A romantic (and sad) love story.
For more romance in Rome, take an evening walk along the Lungotevere, lined with the massive XIX century walls that protect Rome from the floods of River Tiber.
Reach Ponte Sant'Angelo, the famous bridge of angels. Beautiful white marble statues will watch over you, while the gentle sound of the river caresses your ears. You'll wonder if paradise is really as beautiful as walking on this bridge, which leads to Castel Sant'Angelo.
5. Rome food and Street Food
Every region in Italy (and even small areas) has its own traditional food specialties, and Rome is no exception.
One of the most famous dishes is Spaghetti alla Carbonara, although a lot of restaurants outside Rome don't follow the traditional recipe. Another roman specialty is Carciofi alla Romana or alla Giudìa, local artichokes cooked in a particular fashion. And there are the Supplì al Telefono, a sort of fried dumpling made of rice seasoned with meat sauce and with some mozzarella in the middle.
There are a lot more specialties, and one of the best ways to discover local food is by taking a tour. One of the most popular is the Rome Street Food Tour with a local guide. For a more comprehensive experience, check out the 4-Hour Food Tour by Night, where you'll get to enjoy over 20 different tastings.
6. Day trips from Rome
You could spend one month in Rome, and still discover something new. However, you may only want to visit Rome's main landmarks and then explore beautiful nearby locations. In that case, Rome is a perfect location for beautiful day trips.
Villa D'Este & Hadrian's Villa in Tivoli – One of the most beautiful and overlooked sites near Rome and a UNESCO World Heritage Site.
Tuscany Taster Tour – A full day tour to enjoy the smooth hills of Tuscany, visit a couple of charming towns, and savor delicious local food and wine.
Pompeii & Amalfi Coast – Discover two gems of Italy: the archaeological site of Pompeii and the scenic Amalfi Coast.
*****
Practical Information to Plan your Rome Trip
How to get to Rome
By air: Rome Leonardo da Vinci international airport is the biggest airport in Italy. It has many domestic flights and a multitude of international connections.
By train: thanks to the high-speed trains, it's now fast and easy to travel between Italy's main cities. Getting from Rome to Florence by train only takes 90 minutes. You can reach Milan from Rome in as little as 3 hours, and Venice is less than 4 hours away. Check-out the schedules and buy your tickets (the earlier you purchase them, the better prices you might score).
How to get around in Rome
Public transport is the cheapest and more effective way to get around in Rome. It is not as bad as it is depicted by the media, so give it a try. However, please consider that the typical hours when people go to and back from work are the worst for surface public transport. Traffic jams are still a big issue in Rome, so always try to avoid the rush hours moving early or afterward.
Tickets are available at vending machines at Metro stations, newsagents, tobacconists, and bars. You can purchase a one-way ticket (lasts 75 minutes from validation, Euro 1,50) or a day-pass ticket (6 Euro). Another option is to buy the 48h or 72h Roma Pass, for unlimited travel on all public transport, free access to one or two museums, and additional discounts on other Rome attractions.
Tickets are valid for metro, buses, trams, and urban trains within Rome.
Where to stay in Rome:
There's no better way to discover Rome's historic center than walking. Therefore, I suggest choosing your accommodation in Rome close to the main landmarks. You won't be able to fully avoid public transportation, but you won't need it that much.
Budget
Vatica B&B Roma is a charming small bed & breakfast less than 1 km from St. Peter Square and close to the Ottaviano Metro Station
Temple View features rooms with a classic décor and is only a stone-throw from the Pantheon.
Medium
The stylish Parisii Luxury Relais Rome is only 500m from the famous Trevi Fountain, in Rome historical center.
MyNavona features modern and stylish rooms and is located 100m from the beautiful Piazza Navona.
Luxury
Hotel Vilòn – Small Luxury Hotels of the World is a delightful boutique hotel close to Piazza di Spagna.
Villa Spalletti Trivelli – Small Luxury Hotels of the World is set in a beautiful historic building in the heart of Rome.
Check out more accommodations in Rome.
Last but not least…
Don't forget travel insurance to cover any potential unforeseen adverse event. With peace of mind, your visit to Rome will be all the most memorable. Check World Nomads for a quote. I've been using them for years, and was always happy.
Wrapping things up…
Spending 3 days in Rome may seem a lot, but the truth is that even if you rush, you won't be able to see all Rome's main attractions. You can still experience a lot, though, especially if you plan your 3 days in Rome itinerary beforehand and decide which are the sites you don't want to miss.
I wrote this article in collaboration with Annarita Triarico, who not only provided a good portion of the content but also valuable insights as a local.
_________
Note: This post contains affiliates links to carefully selected products and services. This means that if you make a purchase, I earn a little commission at no extra cost for you.
Pin for later!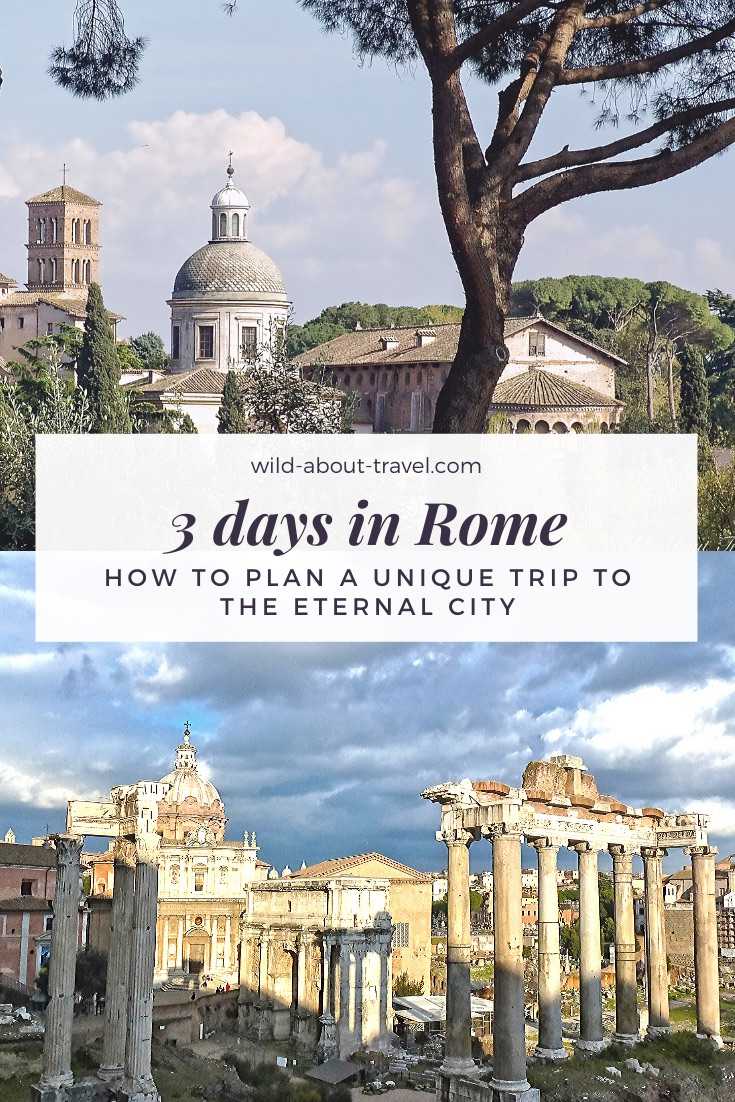 Original article: 3 days in Rome: How to Plan a unique trip to the eternal city
©2019 Wild About Travel. All Rights Reserved.
This post 3 days in Rome: How to Plan a unique trip to the eternal city was first published at
Wild About Travel.