Brazil is the 5th largest country in the world, and a 2 weeks trip is barely enough to scratch the surface. Expecting to see it all in a short time is unrealistic. You have to decide beforehand which are Brazil attractions you don't want to miss. And from there, build your Brazil trip. Read about my itinerary to some of the most beautiful spots in Brazil.
I usually like to leave a considerable amount of
improvisation
in my travels, but when I eventually decided to visit
Brazil
, I soon found out that accurate
planning
was more than an option. It was a necessity.
Brazil is a vast and diversified country, and since I had only a limited time, I did a lot of background research. First, I read the Lonely Planet Brazil Guide and the Rough Guide to Brazil. Then I studied the itineraries of good tour operators. At that point, I wrote down a list of the places that were on the top of my wishlist. From there, I looked into how to hop from one spot to the other, how much it would take as well as the costs.
Once gathered all the preliminary information, I started to draw my Brazil itinerary, trying to find the right balance to see as much as possible of Brazil in 2 weeks without rushing too much.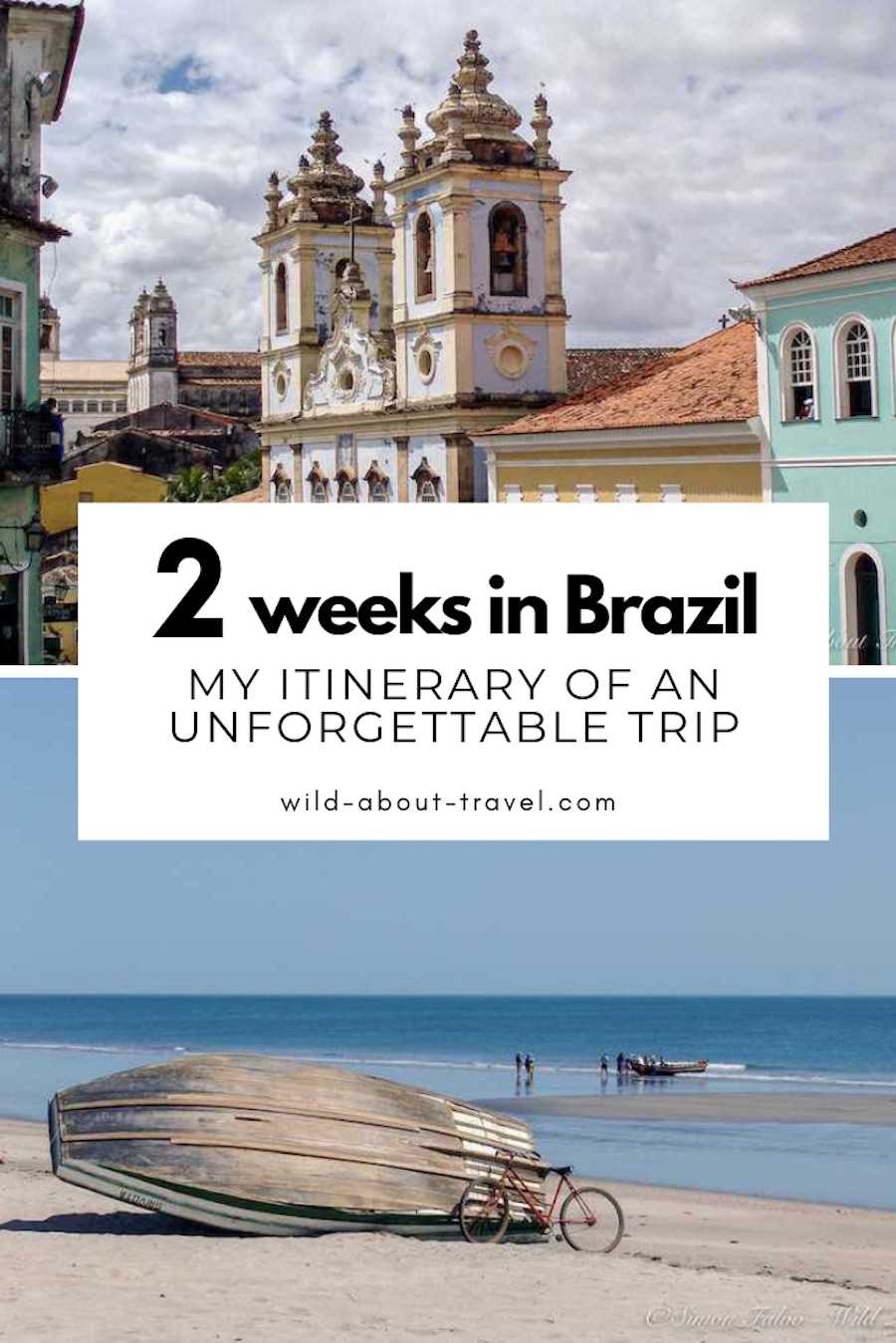 Getting to Brazil
Whatever the country you're traveling from, you're likely to take a flight to Sao Paolo or Rio de Janeiro. The flight cost can vary significantly depending on the season, and I generally check the schedules and prices on Kiwi.com to find the best bargains.
Travelers from the EU and many countries in South America don't need a Visa. Brazil has recently granted access also to citizens from the United States, Canada, Australia, and Japan without a Visa.
That means that it's now easier to travel to Brazil, and as a result, many airlines increased direct flights. Having said that, since things can change over time, it's always better to check what are the latest requirements on an official source.
Getting around in Brazil
Brazil is incredibly vast, and rain forests cover a good portion of the country. Like in most countries in Latin America, there's virtually no railways, and getting around in Brazil by bus is an option only if you have a lot of time. Therefore, if you can only spend 2 weeks in Brazil, flying is the most effective way to visit the country.
Having to catch many flights to get around is one of the main reasons why you need to plan your itinerary carefully. With only a couple of weeks, you don't want to get stuck because there are no seats left.
Best time to visit Brazil
Spanning from the equator to under the tropic of Capricorn, and occupying a wide surface inland, Brazil climate varies widely depending on the geographic area. In general terms, a good portion of the country has a tropical climate. Meaning that the most significant differences are in terms of humidity and average rainfalls.
Furthermore, since differently from Argentina or Peru, there are no high mountains in Brazil, temperatures never get very low. There are only a few areas where the temperature gets to freezing levels, and not often. Hence, you likely won't need ultra-warm clothes in Brazil, even if you visit during the local winter months!
While Brazil is a year-round destination, in broad terms there are a few tips you might want to take into account when planning your trip to Brazil:
Rio de Janeiro: the months from December to February, which is Summer in the Southern hemisphere, are the hottest months. Temperature can reach 40°C (104°F), and January is quite wet, with frequent and possibly abundant rainfalls. Summer is also high season and Carnival time. Subsequently, it's more crowded and expensive. Winter is mild, and while you might not be able to sunbathe and swim, it's enjoyable. Winter is the best time to visit Rio if you want to avoid the crowds and don't want to endure scorching heat.
Salvador de Bahia: generally hot and humid, the temperature in Salvador de Bahia is warm almost all year. However, if possible try to avoid April to June, the months with the most abundant rainfalls and a high level of humidity.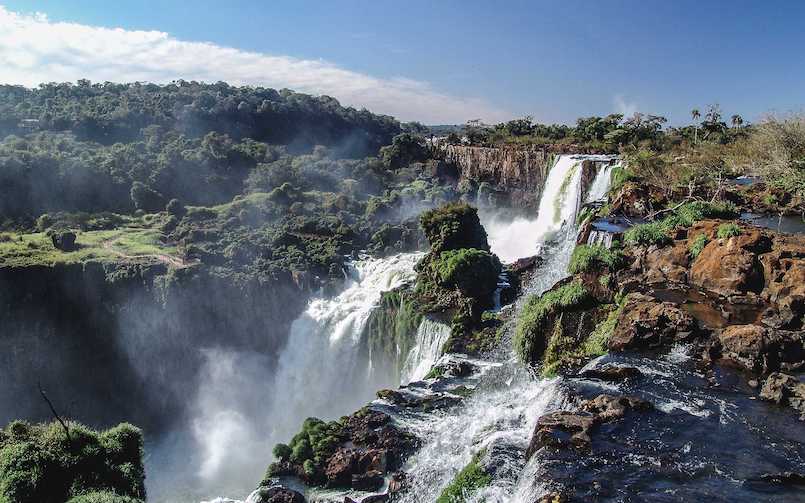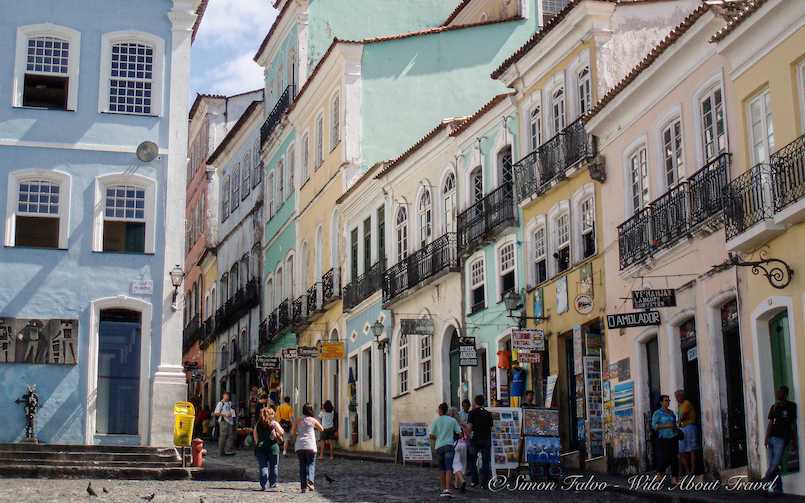 Iguazu falls: you can visit the Iguazu falls all year round. However, you should keep in mind a few factors. Summer, from December to February, is when the water levels are at their peak. While this certainly promises gorgeous views, it's also peak season (meaning more crowded and pricey).
Furthermore, these are the rainiest months. Seeing the falls at full capacity comes at a price! The best time to visit Iguazu is generally from March to the end of September. Temperatures are more comfortable, there are fewer rainfalls (although I had a few short showers in August), and it's less crowded.
Cearà, Maranhao and Lençois de Marnhenses: although the northeast of Brazil is hot all year, it has a typical tropical climate. That's why the best time to visit Cearà, Maranhao, and discover the fantastic Lençois de Marnhenses is from May to August. After that, the beautiful lagoons will dry, and you'll miss all of their charms.
Brazil rainforest: due to the equatorial climate, with constant rainfalls throughout the year, you can visit the Brazil rainforest all year round. However, keep in mind that the most torrential rains usually occur from December to May.
Independent travel or organized tour?
Whenever possible, I favor independent travel, and I planned my Brazil itinerary on my own. If you think of independent travel vs. organized tours, there are pros and cons in both. In the end, you have to choose what you feel more comfortable with.
For sure, Brazil is one of those destinations where a guided tour makes sense. It will indeed make your trip to Brazil easier and smoother. Especially if you don't have much time, it will take long research off your shoulder. Someone else, more experienced, will take care of that, and you'll focus on having the time of your life.
Brazil is a popular destination, and there are plenty of tour operators organizing beautiful trips. If I were to go back to Brazil with an organized tour, I would travel with either GAdventures or Intrepid Travel. They're the tour operators that better reflect my travel style: small groups, responsible travel, nature, adventure, and cultural immersion.
Cost of travel in Brazil
Without a doubt, traveling to Brazil is expensive. There are many reasons for that. First, you'll have to fly to get around. Then, the prices fluctuate quite often, depending on the political and economic situation at the time of your travel. Furthermore, since Brazil is beautiful but indeed not the safest country, you need to choose the areas where to stay carefully. In short, you'll have to arrange accommodations in touristy areas, which are safer but also more expensive.
Even if you travel independently, you'll undoubtedly book a few guided tours to visit the cities, as well as to explore areas which you can't reach on your own. Whether you go on a full-day tour of Rio de Janeiro's main attractions or want to visit Iguazu falls, including a boat ride, it all adds up.
Brazil is a beautiful country, and I loved every moment and corner, but it's also one of the most expensive trips I ever did.
Safety in Brazil
There's a high rate of poverty in Brazil, and as a consequence, petty crime is common, especially in the big cities. For that reason, you need to be extra cautious and aware of your surroundings. Here are a few tips that can help you stay safe in Brazil:
Keep a low profile appearance and avoid wearing jewelry, expensive watches, and other costly items.
Don't show off your camera
Never leave your stuff unattended, especially when on the beach
Beware of locals approaching you. They might have the best intentions, but that's not always the case.
Do some research, and stay in areas that are safe for tourists, even if they're more expensive.
Bring with you only the cash you need. Leave your passport at your hotel and carry a photocopy.
Don't walk around after dusk. If you plan a night out, catch a taxi.
Stick to official taxis.
Upon arrival, consider booking a private transfer from Rio de Janeiro airport to your hotel.
Travel Insurance
Purchasing proper travel insurance, protecting you against possible adverse events (illness, theft, injury, cancellations, and more) is a must. I've been using World Nomads for years, and they were incredibly efficient whenever I needed them.
What to pack for a trip to Brazil
How to pack for a trip to Brazil depends on your itinerary and the time of the year. Keep in mind that it never gets frigid so that you won't need anything too warm. Generally speaking, the best thing is to travel light and pack comfortable clothes and shoes, plus something more nice-looking if you fancy a night out.
Since it rains regularly, I strongly recommend comfortable, quick-dry pants and shirts, as well as a lightweight rain jacket with a hood. And don't forget to pack an all-in-one universal travel adapter with USB ports to recharge your devices.
To avoid buying countless bottles of water, I strongly recommend you to buy a filtered water bottle and a water purifier. It's an excellent way to reduce plastic usage, and it won't take long to write off the expense. I used them when I traveled to Pakistan, and they work like a charm.
2 weeks in Brazil: my itinerary
Brazil is such a vast country that it's just impossible to visit it all in only 2 weeks. Hence, I focused on the areas which most attracted me, knowing that I needed to make choices. First, I was curious to visit the lively Rio de Janeiro and experience the charm of Salvador de Bahia. I also wished to explore some wilder, off the beaten track places like the Parque do Lençois and Fernando de Noronha. After having studied the distances and the flights, I was able to draw my 'perfect' itinerary, resulting in one of the most beautiful trips I made in recent years. Here's how my Brazil itinerary looked like.
1- Rio de Janeiro
I didn't have much luck in Rio de Janeiro, and it's a city where I would without double like to go back. Due to a delay, I missed my connection in Madrid and ended up arriving one day later than planned. Furthermore, the weather was not very good, preventing me to fully enjoy the Rio iconic view of the bay from the Corcovado. Notwithstanding, I liked Rio de Janeiro a lot and managed to visit the main attractions.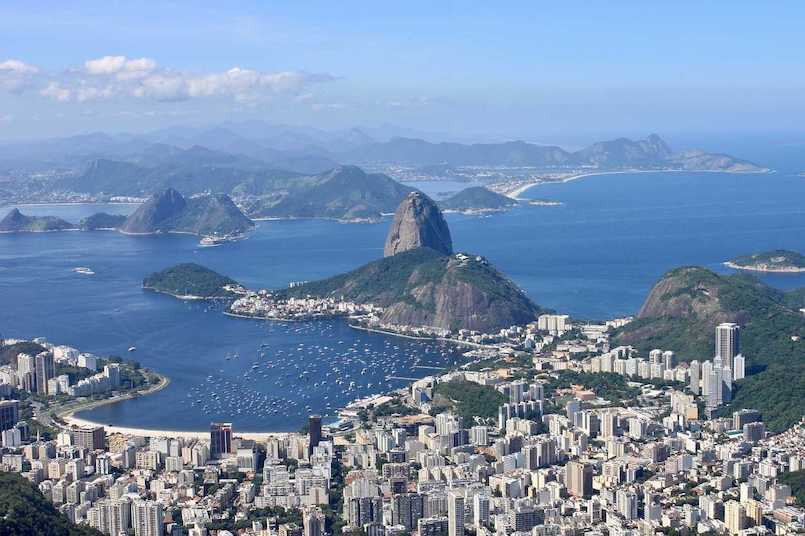 Don't miss to visit the bohemian neighborhood of Santa Teresa, which retained its colonial charm. Have dinner at one of the local restaurants, and end the night listening to live music at one of the lively bars.
For sure, if you're short of time, there's no better way to discover Rio de Janeiro than a guided tour. All the most since the city is enormous, and getting around not always easy.
Here's a selection of great Rio guided tours:
Full-Day Tour with Christ, Sugarloaf, Selaron and BBQ Lunch
Christ the Redeemer & Sugar Loaf Small Group Guided Tour
Christ the Redeemer Early Access with Sugarloaf Mountain
Rio de Janeiro: Sugar Loaf & Corcovado Private Day Tour
Corcovado, Sugarloaf Mountain, and Selarón Steps 6-Hour Tour
Santa Teresa & Lapa With Tram Ride And Selarón Steps
4-Hour Street Art Walking Tour
Rio de Janeiro 30-Minute Highlights Tour by Helicopter
Rio: Historical Walking Tour
Favela Santa Marta Tour with a Local Guide
If you'd like to combine sightseeing with exciting activities, here are some suggestions for you:
Rio de Janeiro: Half-Day Bike Tour
Tijuca National Park 5-Hour Small-Group Hike to Pedra Bonita
Pedra do Telégrafo Hike and Beach Full-Day Tour
3-Hour Sailing Trip on Guanabara Bay
Vidigal Favela and Two Brothers Hike
Rio de Janeiro Hang Gliding Adventure
Paragliding Tandem Flight
Where to stay in Rio de Janeiro
[$] Casa da Santa is a lovely B&B in the charming Santa Teresa neighborhood (budget)
[$$] Miramar Hotel by Windsor is a beautiful hotel overlooking Copacabana (medium)
[$$$] Janeiro Hotel features contemporary design and is at Leblon Beach (luxury)
Check more accommodations in Rio de Janeiro
2 – Iguazu waterfalls

Although quite a detour from the rest of the itinerary, which was heading me to explore the North-West of Brazil, I wanted to see the world-famous iconic Iguazu waterfalls. I couldn't even imagine visiting Brazil and not getting to one of the most famous natural wonders in the world.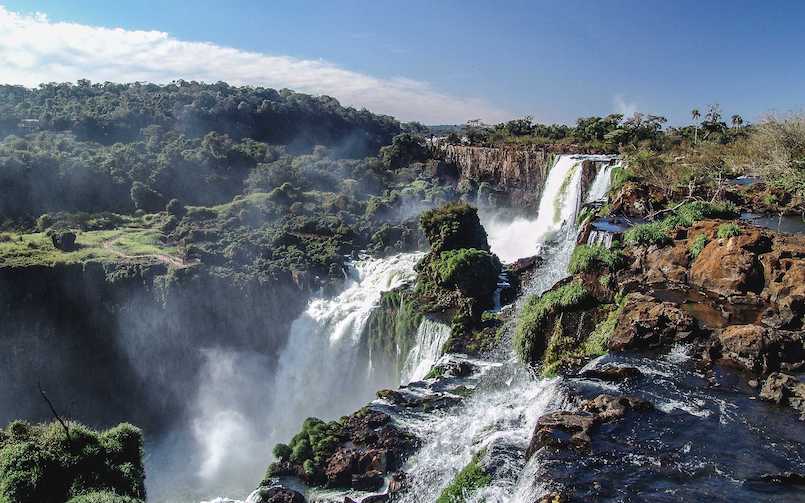 A UNESCO World Heritage site, the Iguazu falls stretch between Argentina and Brazil, providing two different experiences and places. For that reason, I decided to visit both the Brazil and Argentina sides of Iguazu National Park, and I heartily recommend you do the same if you get the chance.
Iguazu is a consolidated, well-organized tourist spot which you can easily visit independently. However, a guided tour might be the right choice if you're only spending one day and still want to visit both sides.
Even if you decide to focus on one of the two sides (and in that case, I recommend Argentina), a tour will save you the hassle of reaching the National Park by public transportation. As a matter of fact, there's only one luxury hotel inside Iguazu National Park. Therefore, you're most likely to overnight in Foz de Iguazu, some 13 km (8 mi) from the entrance of the Park. In case you book a guided tour, they'll pick you up and drop you off at your hotel.
Aside from walking around, don't miss to take a boat tour to admire the waterfalls from a different angle. I also had a bike tour, which I loved and really recommend, if cycling is your thing.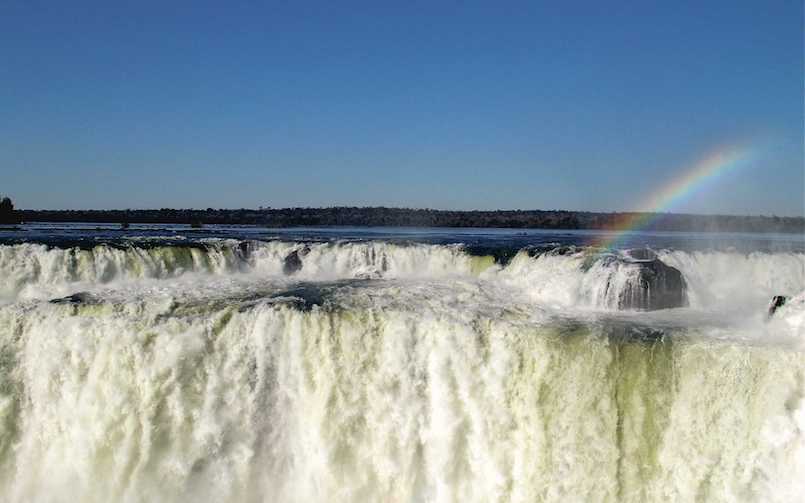 Here are a few selected guided tours to Iguazu you may want to check:
Brazilian Side
From Foz do Iguaçu: Brazilian Iguazu Falls with Boat Ride
Helicopter Ride Over the Iguazu Falls – Admission Ticket
Brazilian Falls, Bird Park and Itaipu Dam from Foz do Iguaçu
Argentina Side
From Foz do Iguaçu: Argentine Falls Small Group Full-day Tour
Argentinian Falls Full-Day Trip from Foz do Iguaçu
From Foz do Iguaçu: Argentinian Iguazu Falls with Boat Ride
Argentina+Brazil Sides
From Foz do Iguaçu: Brazil & Argentina Falls Small Group
Iguazu Falls: Visit Argentinian and Brazilian Side in two days
Don't forget to bring with you a waterproof poncho since sooner or later you'll get more or less wet. Also, I strongly advise using a dry bag to protect your camera from water.
Where to stay in Iguazu
[$] Maricá Bed & Breakfast is a lovely guesthouse tastefully decorated.
[$$$] Belmond Hotel das Cataratas is a unique luxury hotel, right inside Iguaçu National Park.
Check more accommodations in Foz do Iguazu.
3 – Salvador de Bahia
In Salvador de Bahia, I found everything I had imagined about Brazil after reading Jorge Amado's 'Dona Flor and her two husbands.'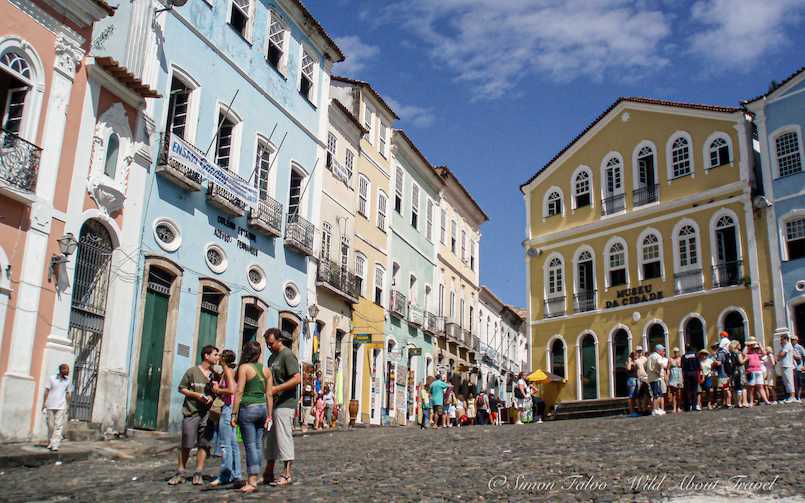 My time in Rio de Janeiro was indeed way too short, but I have to admit that Salvador de Bahia stole my heart. In a matter of minutes, I fell in love with the pastel-colored houses of the Pelourinho – the historic center of Salvador de Bahia and a UNESCO World Heritage Site. I liked to listen to the ubiquitous music. And I could never have enough of the incredible local cuisine. Every dish is indeed delicious, but one specialty you can't miss is the traditional Moqueca Baiana. I guess it's impossible not to love this mouth-watering fish stew which, in Salvador de Bahia, is mixed with African influences.
There's no better way to discover Salvador de Bahia than getting lost in the alleys and enjoy the unique vibe of this fascinating city. Once you have explored the Pelourinho, I suggest you visit Mafro, the Museum of the Afro-Brazilian culture, to learn about the different influences that shaped the area of Salvador de Bahia.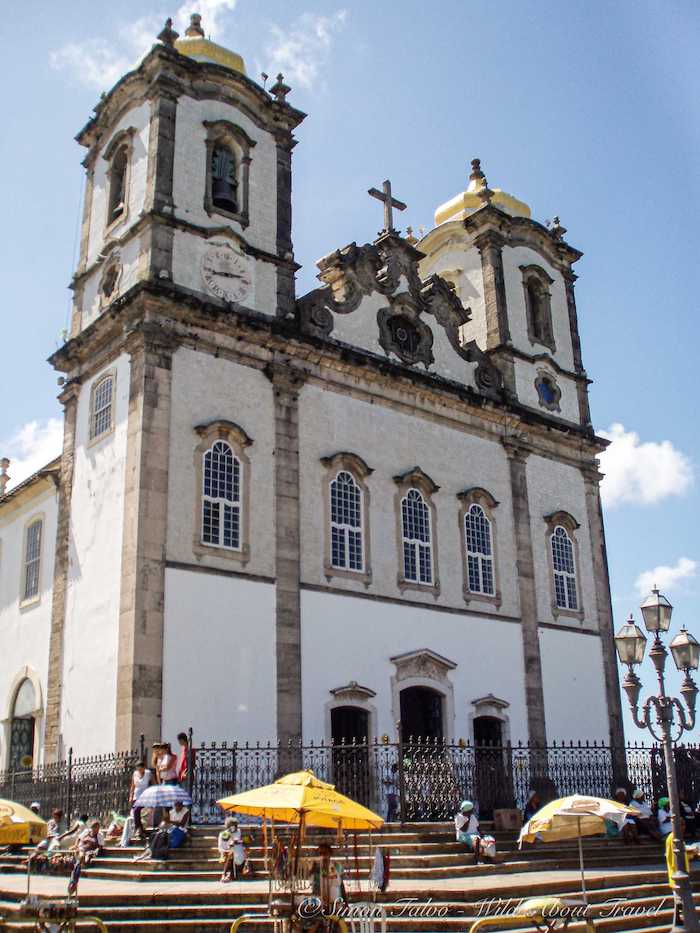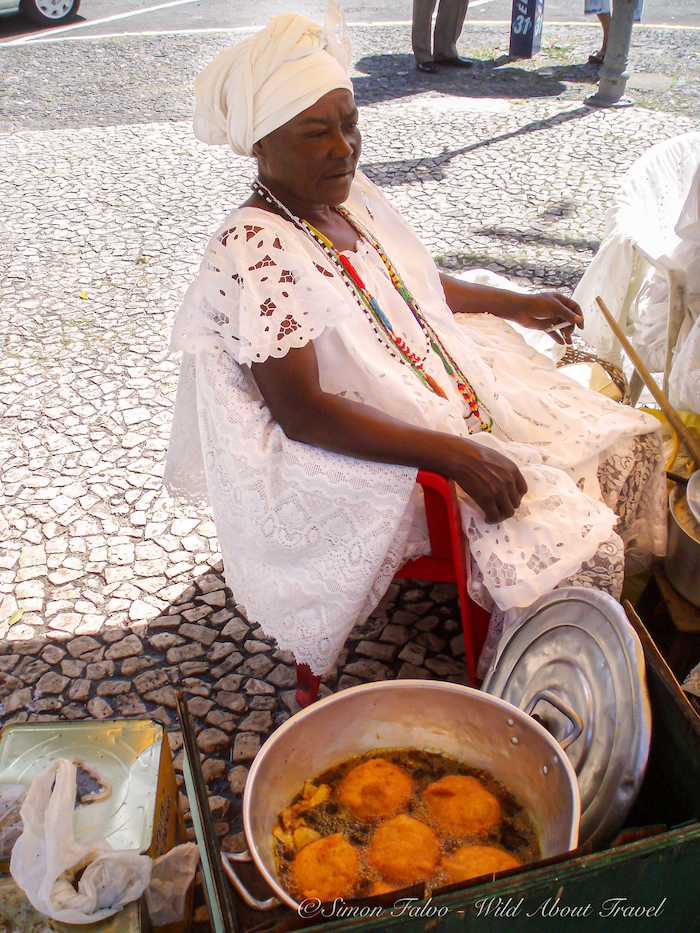 Take also the time to go and visit the church of Nosso Senhor do Bonfim. Even if you're not a fan of religious buildings, Bonfim is quite a unique experience. The veneration surrounding this church is incredible and palpable already outside, where you'll see towering stacks of colorful bracelets, sold as amulets. But it's indeed inside the church, in the Chamber of Miracles, that you'll fully get a sense of Bonfim. Hanging legs, arms, and other organs, made of plastic and walls entirely covered by passport photos tell stories of hope for a miracle. I never experienced a place like this, and it will long stay impressed in my memories.
The city is so rich in history and local traditions that it's worth taking a guided tour of Salvador de Bahia, and then continue to explore on your own. One thing I regret is not having taken a cooking class, to learn more about the delicious food.
Where to stay in Salvador de Bahia
[$] Pousada Bahia Pelô is a lovely guesthouse within walking distance to the Pelourinho.
[$$] Pousada Solar dos Deuses is a beautiful boutique hotel right in the heart of Salvador old town.
[$$] The stylish Aram Yamí Boutique Hotel is only 15 minutes from the Pelourinho and boasts beautiful views of the bay.
[$$$] The luxury Hotel Fasano Salvador features numerous amenities, including a swimming pool overlooking the bay.
Check more accommodations in Salvador de Bahia.
4 – Jericoara and Cearà

My endless quest for wild landscapes and off the beaten track destinations led me to Jericoacoara. Once a fishing village, it became a National Park back in 2002. "Jeri", as the town is affectionally nicknamed, is one of those happy places where you could stay for weeks.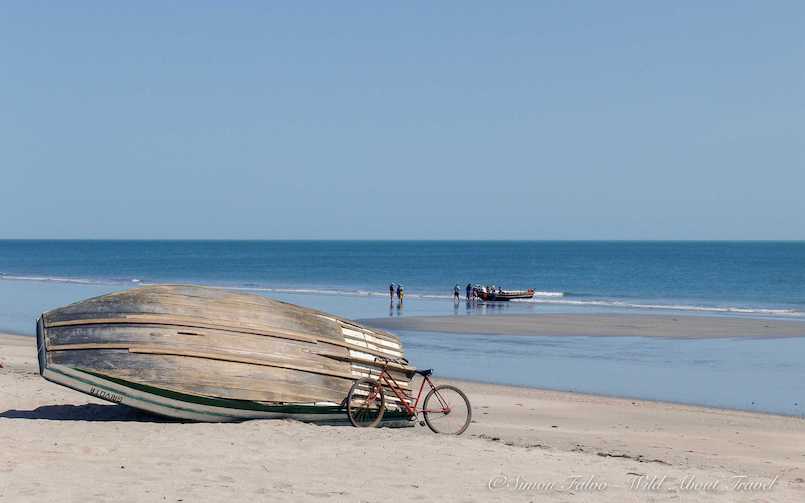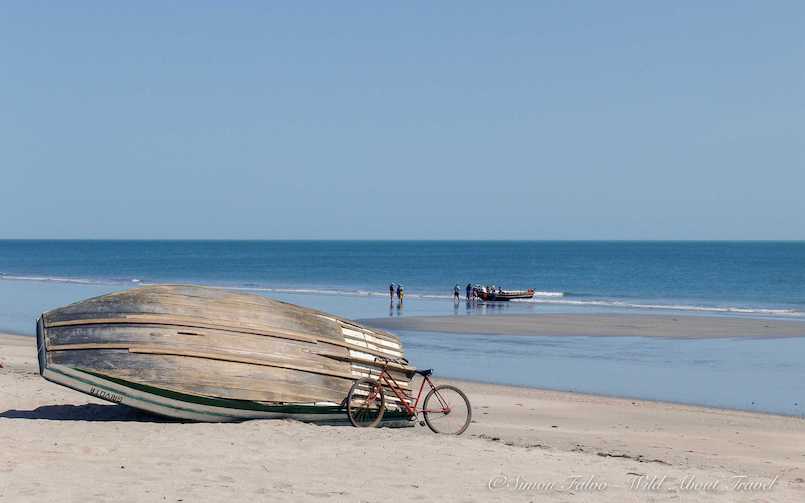 It takes at least 4 hours by private transfer, a large part of which off-road, by 4×4 to reach Jericoacoara from Fortaleza. The journey itself is, indeed, an adventure. The town has no roads, only sandy pathways, and no street electricity. On the other hand, there are plenty of lovely pousadas, cute cafes, and music everywhere. Jeri has a unique vibe which I loved.
From there, aside from windsurfing, kitesurfing, or having long walks along the beach and up the dunes, you can also explore more of Cearà on day trips. I took a buggy tour of the lagoon, which was a lot of fun and drove me to stunning deserted beaches. And there are more excursions you can arrange directly on site.
Where to stay in Jericoacoara
[$] Pousada Jeri Dunas has simple but cozy rooms and hammock overlooking the patio
[$$] Pousada O Refúgio features rooms decorated in a lovely rustic style and is only steps from the beach.
[$$$] Modern and stylish, Villa Jomael is a small guesthouse beautifully decorated, close to the beach.
Check more accommodations in Jericoacoara.
5 – Parque Do Lençois de Maranhenses
The surreal Parque do Lençois de Marnhenses was the real highlight of my Brazil itinerary, the place I had dreamed of and which I was so looking forward to seeing.
It all started when I saw a photography of mesmerizing dunes filled with water. That landscape looked so insanely beautiful that I knew I wanted to get there. It's certainly not the most accessible place, and you need a guide to explore the Parque do Lençois. But I didn't regret the effort – and the cost – for a single minute.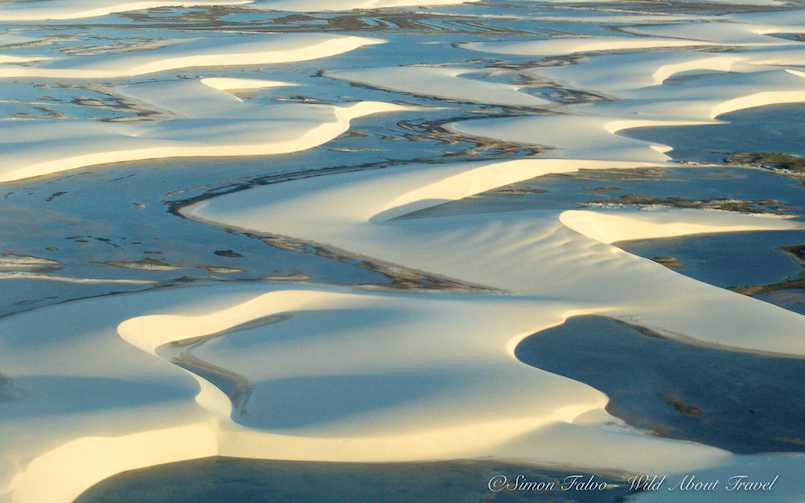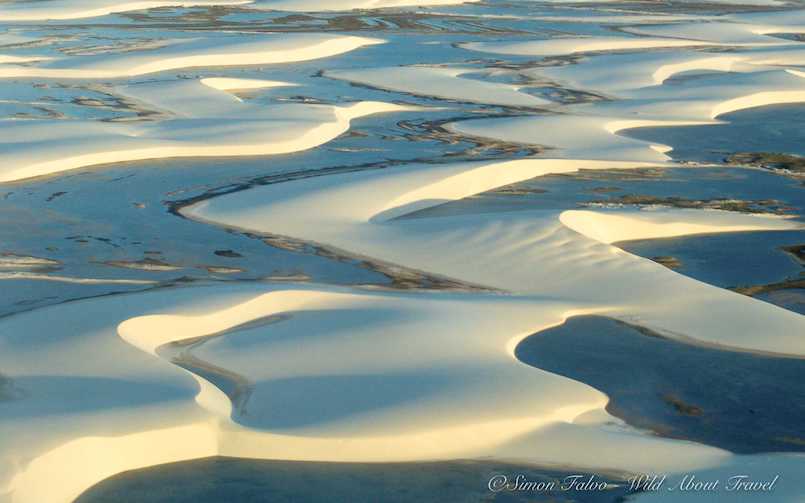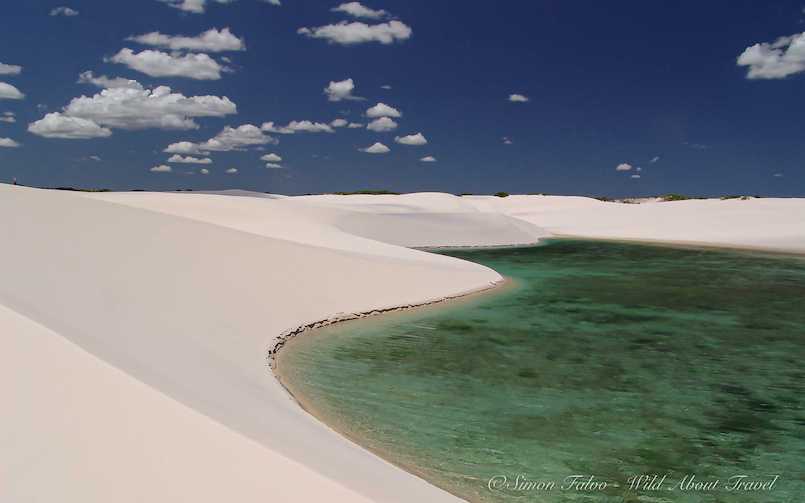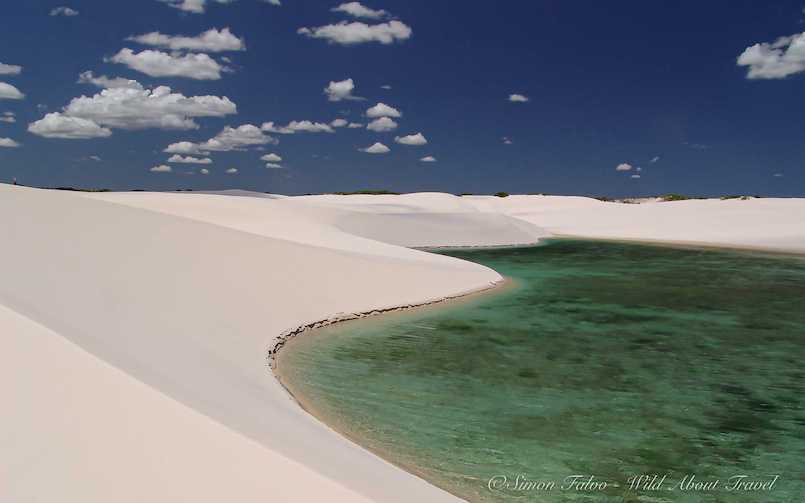 I fell in love with the small pousadas on the wild beach and the endless white dunes with their deep blue or green pools. As I walked on the undulating dunes, bathed in the emerald green water of the lagoons, I sometimes had to pinch myself. Was this happening for real? Or was it only a dream?
Finally, I headed for the ultimate experience: flying over the dunes. There couldn't have been a better way to end a perfect day than admiring the Parque Do Lençois from above. As the sun was now low on the horizon, the white dunes became shaded in gold, and the shadows made their shapes crispier.
To visit the Parque Do Lençois, you need to book a guided tour, most likely from Barreirinhas. There are several local tour operators you can get in touch with while you're in the area. Alternatively, you can book your tour of Lençóis Maranhenses National Park in advance.
6 – São Luís
From the Lençois Maranhenses National Park, we continued our journey in northeast Brazil to reach São Luís, from where we would catch our next flight.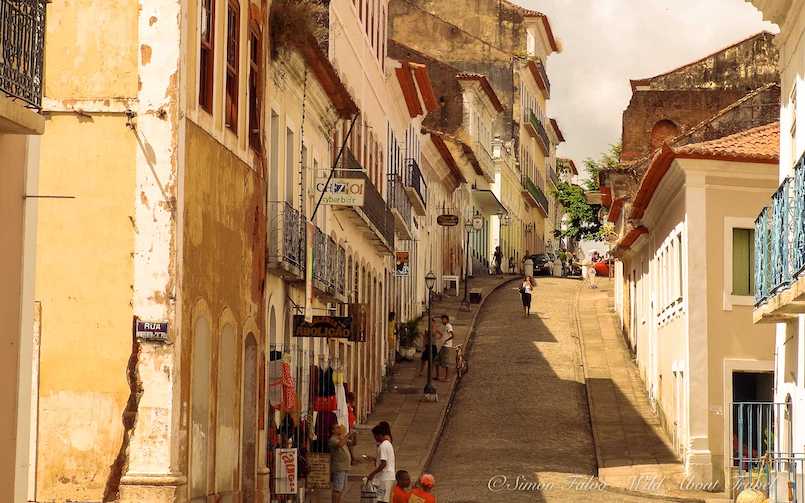 There was only a short time to explore the city, but the only evening I spent in São Luís was a blast. As I walked around in the evening, I stumbled into street musicians at every corner. People were chatting and dancing. And the music was so enthralling that I joined the crowd and started dancing too.
In the morning, there was just enough time for a stroll in the old town. While I didn't have high expectations, I ended up liking a lot the old colonial houses, many of them decorated with colorful tiles, as a sign of the past Portuguese influence.
Where to stay in Sao Luis
[$] Casa Frankie is a simple but cozy pousada in the historical center.
[$$] Casa Lavinia is a tastefully decorated guesthouse within walking distance from Sao Luis old town.
Check more accommodations in Sao Luis.
Wrapping things up
Undoubtedly, spending 2 weeks in Brazil is a very short time for such a vast country. There's much more to discover in Brazil besides this wild journey, primarily focused on northeastern Brazil. As I planned by Brazil itinerary, I knew that these were the places I was longing to discover.
To me, these are some of the best places to visit in Brazil. But of course, I know that there's much more to this incredible country, and I only got a taste of how much there still is to explore.
Original article: 2 Weeks in Brazil: My Itinerary of an Unforgettable Trip
©2019 Wild About Travel. All Rights Reserved.
This post 2 Weeks in Brazil: My Itinerary of an Unforgettable Trip was first published at
Wild About Travel.