It's one of the most interesting cities in Switzerland, but Zurich is often overlooked. One day in Zurich is undoubtedly not enough. With a short time, you'll want to focus on the best things to do in Zurich.
Zurich is one of the busiest airports in Europe, and if you're flying from overseas, it will most likely be your entry and exit point.
In a way, Zurich is similar to Milan. Lots of travelers drive and depart from there, but most of them directly continue their journey to other spots. Venice, Florence, Rome, in Italy. In Switzerland, it's usually the mountains, Lucerne, and Interlaken.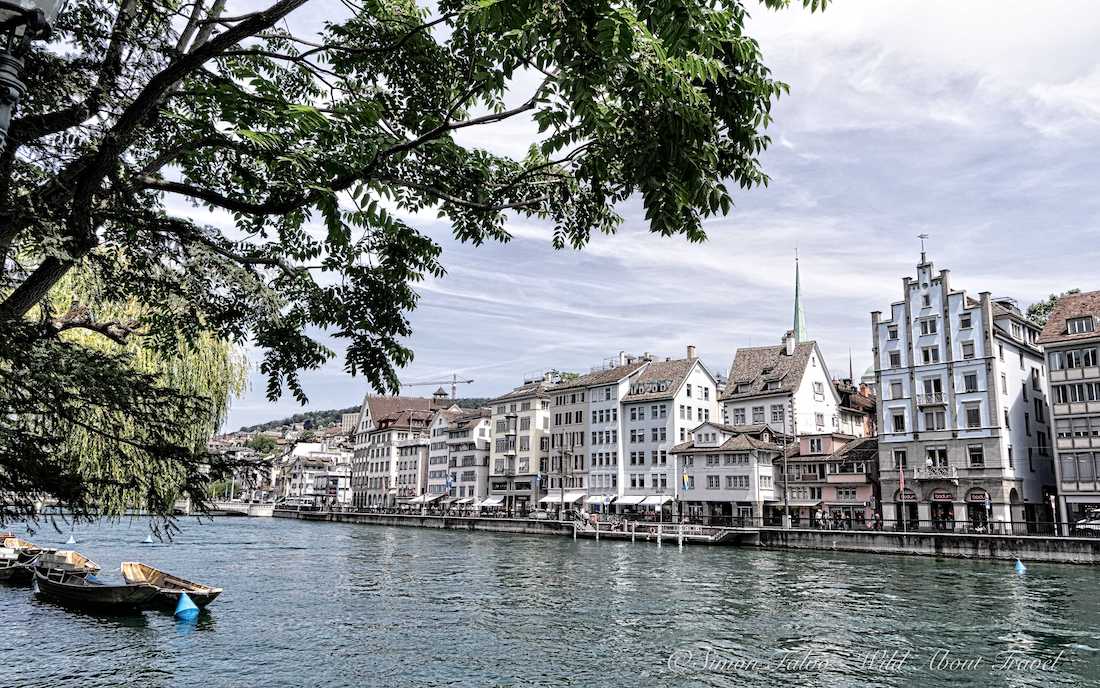 However, in Zurich like in Milan, you would miss out not visiting the city before heading further. Both have a lot to offer, and you won't regret spending one day in Zurich.
A little background on Zurich
Switzerland is a small country, and since the Alps dominate the southern part of the country, the cities are overall tiny, when compared to other European countries. Even Geneva, the second-largest, has a population of little more than 200,000 while Bern, Switzerland capital, has about 140,00 inhabitants. Zurich is Switzerland largest city and has close to 410,000 inhabitants. As you see, compared to London, Paris, and Rome, Zurich is rather small.
Zurich is at the end of Lake Zurich and stretches along the river Limmat, which flows out from the Lake. The city is surrounded by hills and boasts its own mountain: the Uetliberg, at 869 m (2,851 ft), a favorite spot by locals. As a matter of fact, Zurich is a great place to live and is consistently considered one of the cities in the world with the best quality of life.
Best things to do if you only have one day in Zurich
Even though the city is small, there's a lot to do, and you can easily spend a couple of days in Zurich, if not more. However, the fact is that most people traveling to Switzerland have limited time and want to visit Switzerland main attractions. Thus, here are a few ideas on how to spend 24 hours in Zurich.
Visit the old town
If you only spend one day in Zurich, you can't miss visiting the old town. It's charming. The Altstadt develops on both sides of the river Limmat, and at a slow pace, you can discover it in 3 to 4 hours. Everything is within walking distance, but if you don't feel like walking too much, you can rely on Zurich extensive public transport network.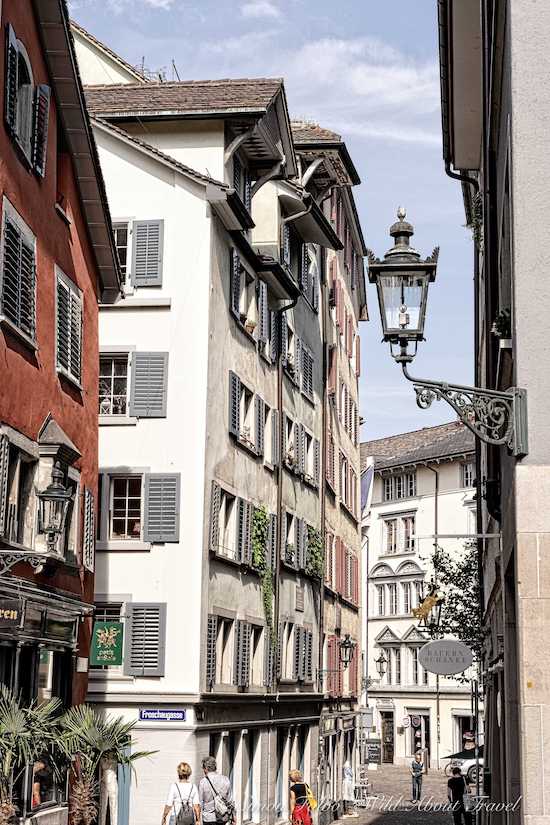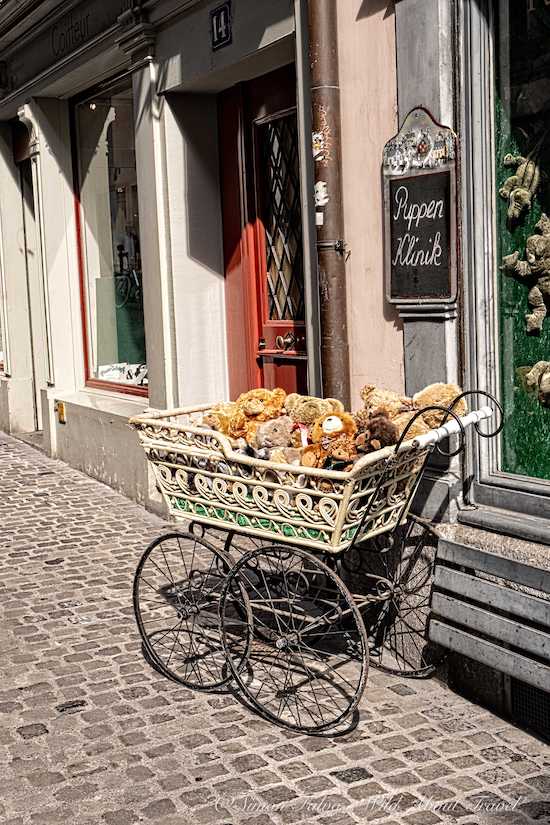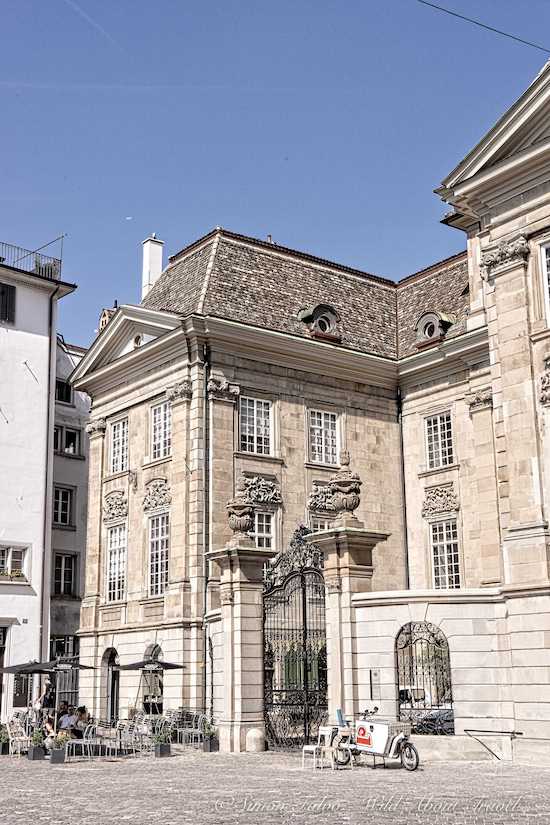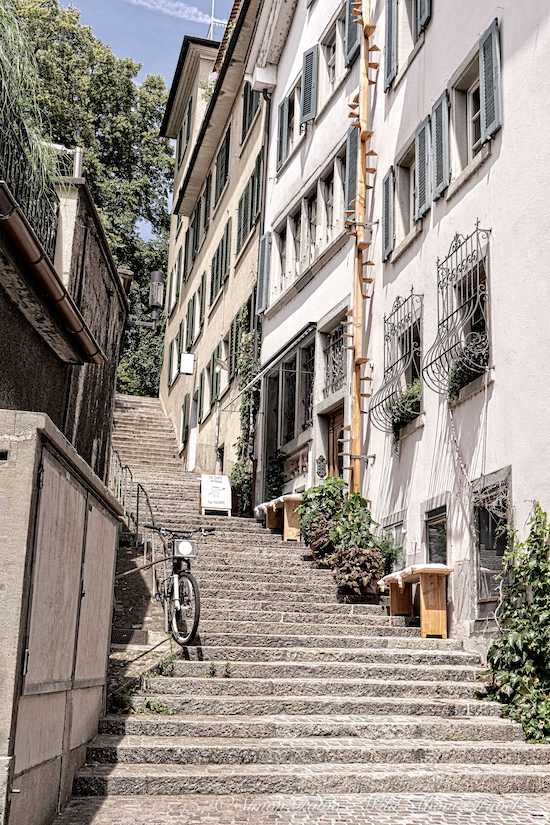 I suggest you start from the Central station (Hauptbahnhof) since it's in between the two sides of the Limmat. If you like art, have a look at the ceiling in the station, where you'll spot Guardian Angel, a beautiful sculpture by Niki de Saint Phalle. It reminded me of other works of art by de Saint Phalle in Naoshima, the unique art island in Japan, although the one in Zurich is outstanding.
Start exploring the city on the right side of the river (keeping the station at your back), cross the Quaibruecke (Quai bridge), and walk on the opposite side back to the station. Zurich old town is nothing short of picturesque. I love the narrow streets lined with pastel-colored houses, the lovely tiny squares, the countless fountains, and the elegant houses overlooking the river.
While the best way to discover Zurich is getting lost in the charming alleys, there are a few spots in Zurich old town you shouldn't miss.
Let's start from the right side of the Limmat River, assuming you're leaving the Main Train Station behind you.
Lindenhof
A charming small hill offering beautiful views of the city, Lindenhof is one of the preferred spots in Zurich by locals. You'll see people sitting and chatting on the benches and others playing on the large chessboards.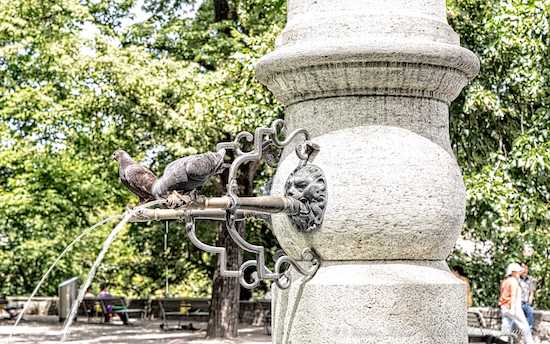 Schipfe
The minuscule quarter of Schipfe, running along the Limmat below Lindenhof, is one of Zurich oldest. Once an area where fishermen laid their boats, the Schipfe today houses artisans and their cute tiny shops.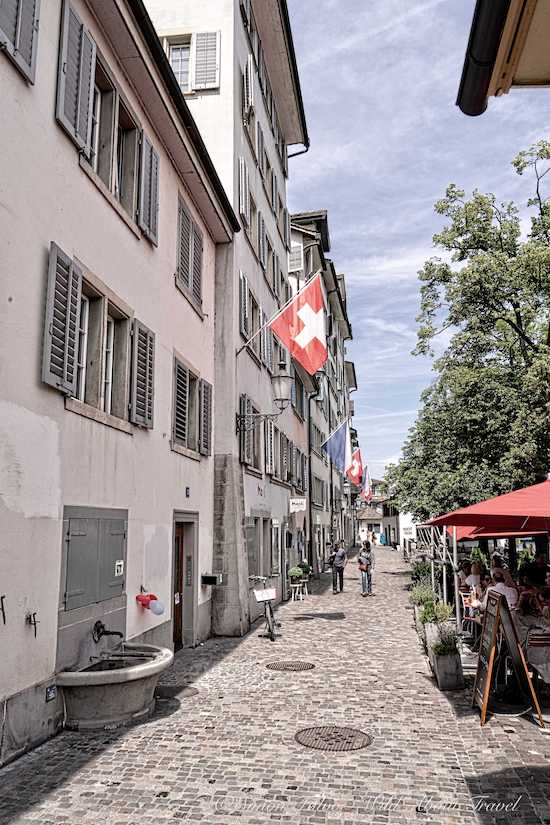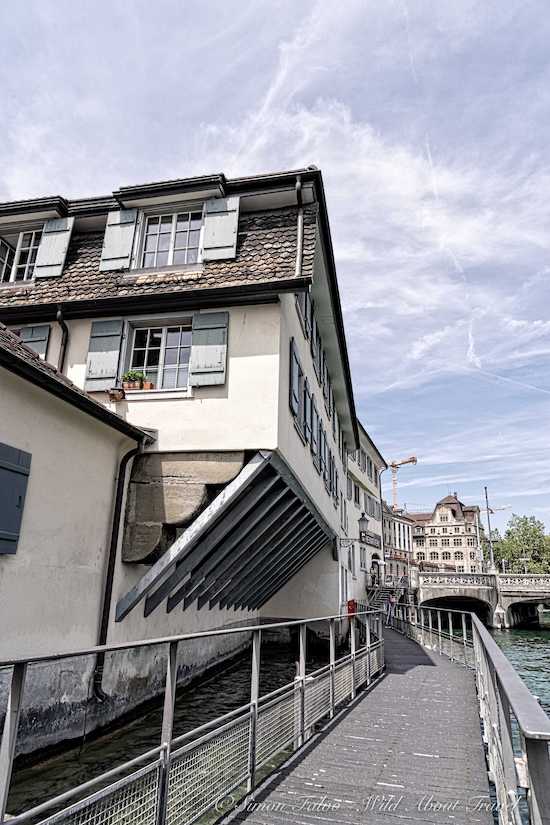 Augustinergasse
One of the oldest and loveliest streets in Zurich, Augustinergasse sparkles with colors and flapping flags. Look up at the beautiful bay windows, often well preserved and tastefully decorated. In the past, bay windows held a double purpose: allowing more light and being able to see who was at the door. A brilliant way to avoid unwelcome visits!

St. Peter Church
You're likely to stumble into Zurich oldest church while strolling in the old town, and St Peter Church is only minutes from the Lindenhof. The bell tower, visible from many areas of the city, has Europe's largest clock face. In the country famous for its watchmaking, that makes sense, right?
Bürkliplatz and Quaibrücke
The lakeside area and promenade, and the bridge crossing to the opposite bank of the Limmat date back to the end of the 19th century. This zone is a popular gathering place and hosts many events. If you plan to take a boat tour on Lake Zurich, which I recommend, you'll see the docks where the boats depart and arrive.
Once crossed Quaibrücke, you'll walk on the right bank of the river.
Oberdorf and Niederdorf
This area is as charming as the one on the opposite side of the Limmat, if not even more. Possibly my favorite quarters in Zurich, Niederdorf and Oberdorf are a maze of lovely narrow streets, dotted with quaint shops and cafes. To fully appreciate this area, you have to walk taking twists and turns. As you stroll, be sure not to miss enchanting alleys like Obere Zaüne, Brunn Gasse and Froschau Gasse.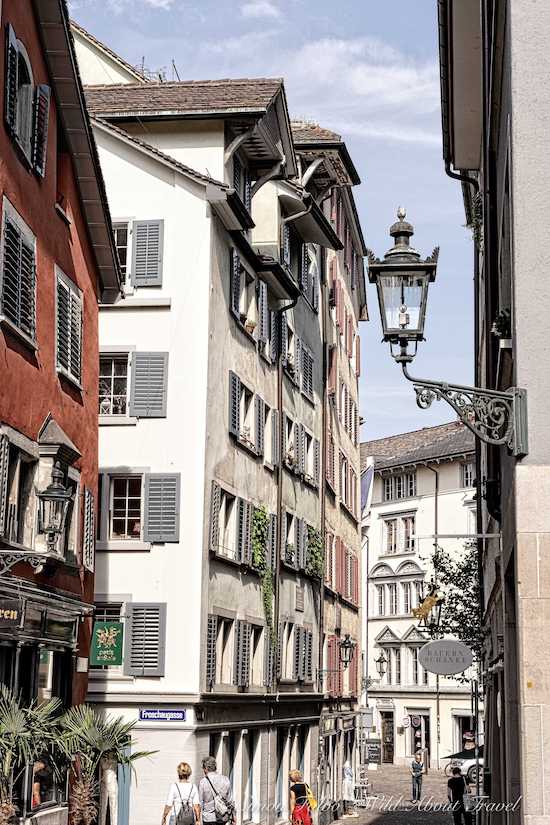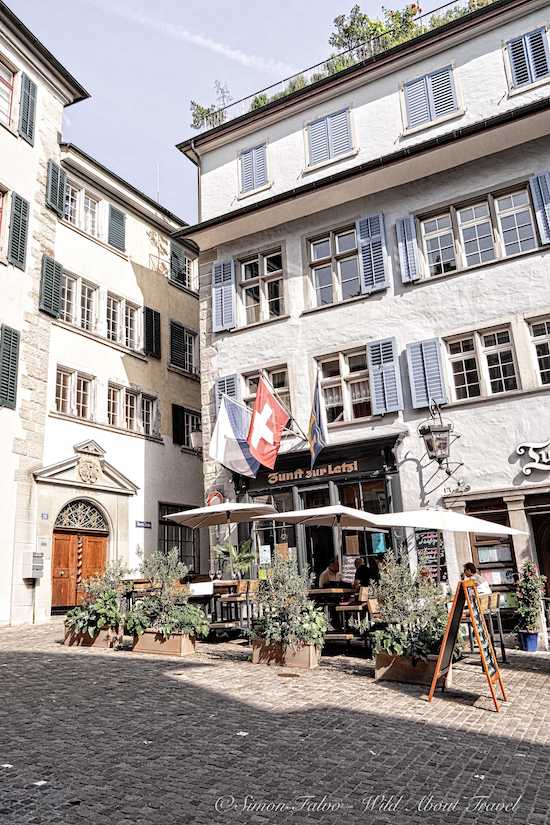 In Oberdorf, don't miss to visit Grossmünster
With its twin towers, the church of Grossmünster is one of Zurich main landmarks. The church was built starting in 1100 where a Carolingian church previously stood. According to a legend, Charlemagne would have commissioned the older religious after the discovery of the tombs of Felix and Regula, the patron saints of Zurich.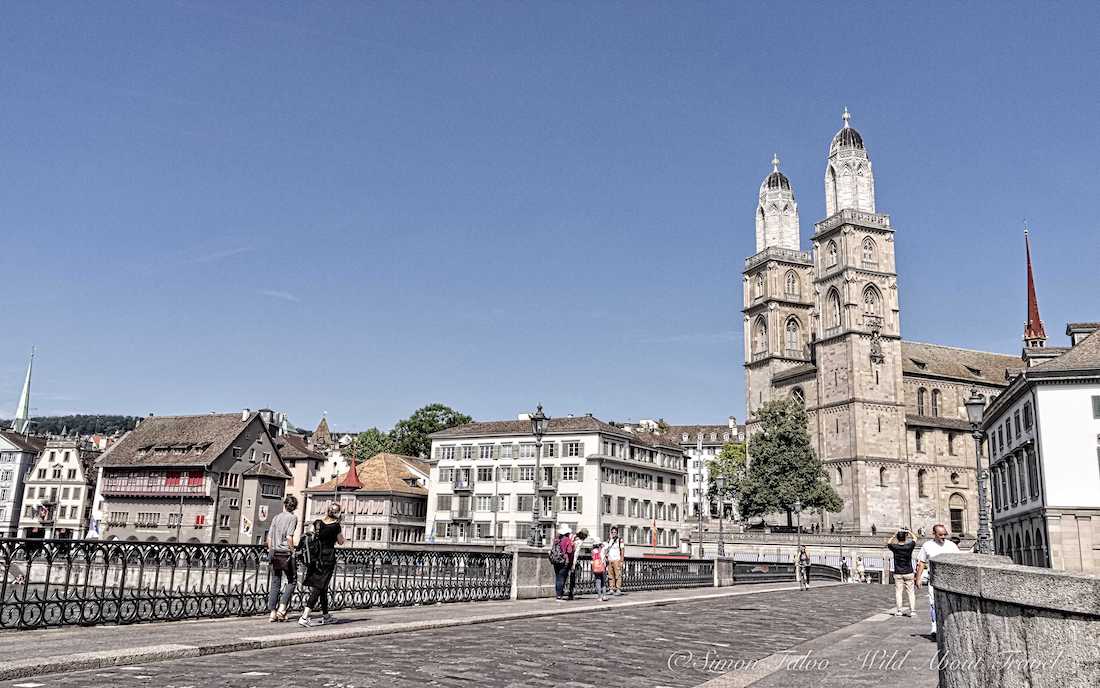 Grossmünster played a significant role in the diffusion of the Reformation in Swiss-German Switzerland. It was Ulrich Zwingli, after becoming pastor of Grossmuenster in 1519, who started preaching and spreading his religious ideas aiming at a reform of the Catholic Church. To date, about 27% of the Swiss population are Protestants.
The most interesting architectural features of the Grossmünster are the Romanesque portal, with its columns and carvings. And you'll see more Romanesque style in the crypt. If you're passionate about modern art, you'll certainly won't want to miss the stained-glass windows, realized in 1932 by world-famous Swiss artist Alberto Giacometti.
For great views of Zurich, you can climb the Karlsturm tower. Be ready to climb 187 steps, though. Unlikely Milan Cathedral, where there's an elevator to the stunning rooftop, here you have no other choice than using your legs and do some exercise.
A river cruise on the Limmat
Discover Zurich old town from the river, looking at the city from a different point of view. There are rides every hour, and the tour lasts about 1 hour.
Go up the Uetliberg
Of course, it's not the Alps, but the Uetliberg is a small mountain a stone-throw from Zurich with beautiful views of the Lake. It takes less than 1 hour to get there, and on a sunny day, it's worth the journey. From the railway station, a 10-minute walk will lead you to the Uto Kulm restaurant. Climb the tower (access costs 2 CHF) for a bird-eyes view of Lake Zurich.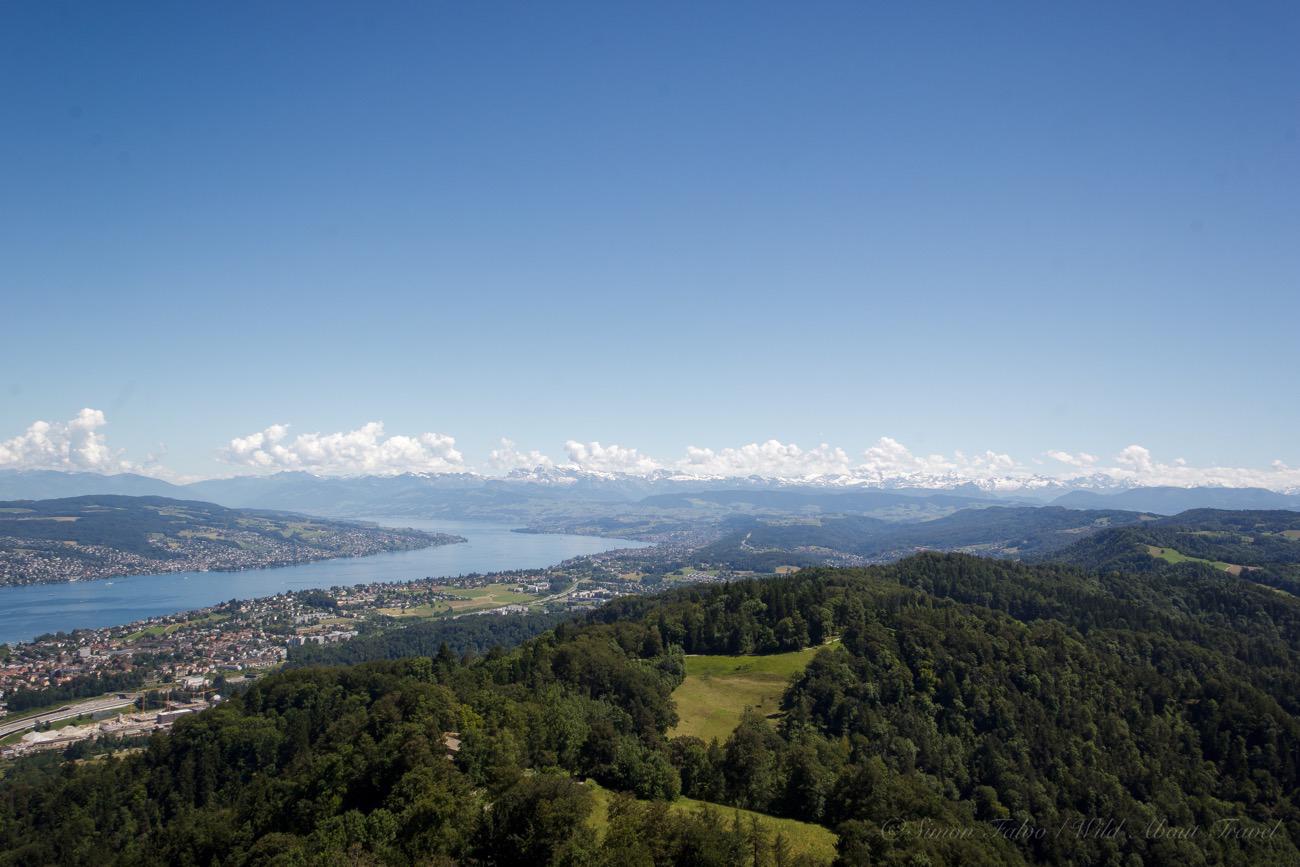 Many locals get up the Uetliberg to hike, mountain bike, or have a drink and a bite at one of the panoramic restaurants. If you like nature and hiking, you can walk from the Uetliberg train station to Felsenegg and then ride the cable car down to Adliswil. The 6km walk is easy and will take you about 2 hours. From there, it will take you roughly 45 minutes to get back to Zurich HB (Central Station).
Discover Lake Zurich on a boat cruise
If you're lucky enough to have good weather, this is an excellent option to visit Zurich and its surroundings in a relaxed way. There are several options, from boat tours covering only a portion of Lake Zurich to journeys going as far as Rapperswil, and even Schemrikon, on the far opposite side.
Whether you take a short or long trip, you'll see that the locals are surprisingly fond of water activities. On a good day, you're likely to spot sailing boats, not to speak about the areas where in Summer people swim, plunge, and even surf.
Local Tip: Alternative Zurich at the Rote Fabrik
That's an area I would never have visited if it weren't for Franziska. That kind local girl invited me to meet for a drink at the Rote Fabrik (Red Factory), in the Wollishofen district. A center for alternative culture on the lakeshore, with plenty of graffiti covering the walls, the Rote Fabrik is a lovely place to have a drink mingling with locals. Furthermore, it gives an idea of the unique vibe that Zurich has, among the other cities in Switzerland.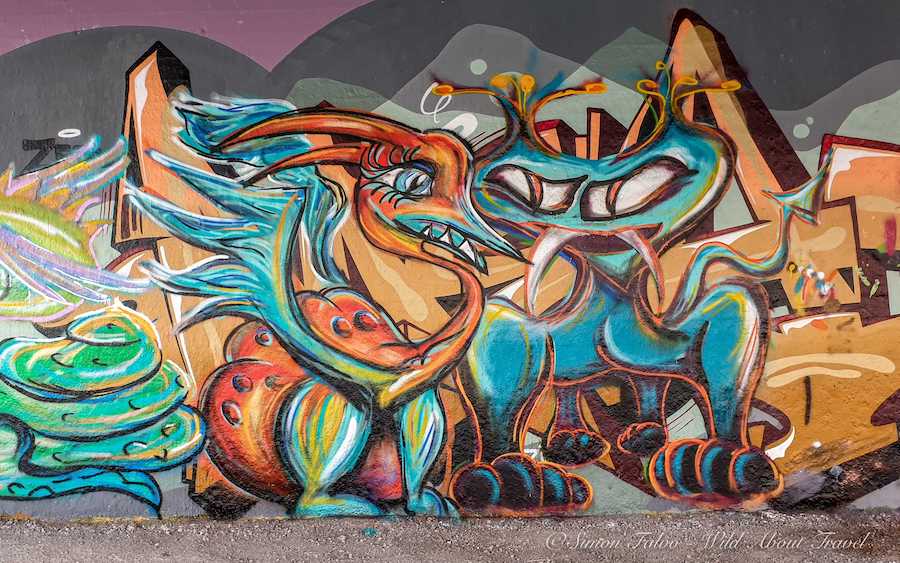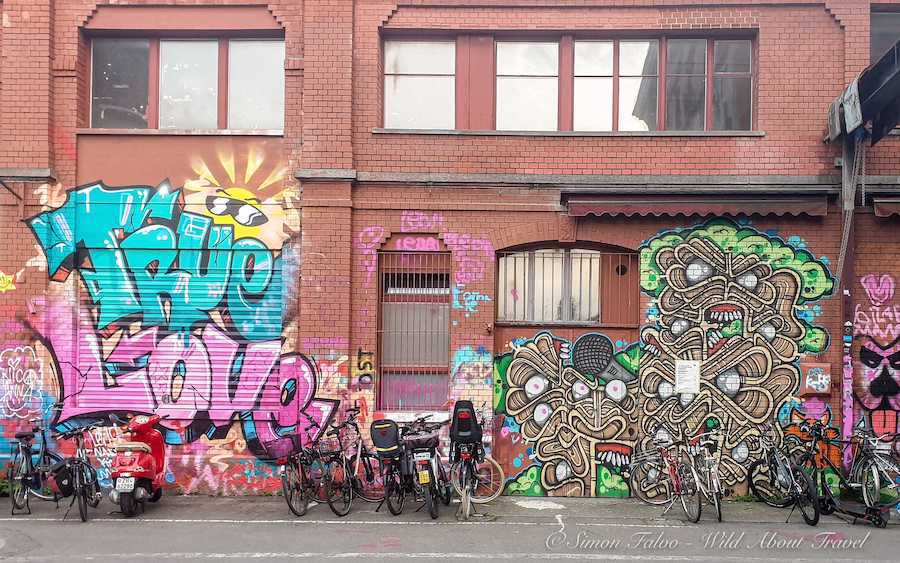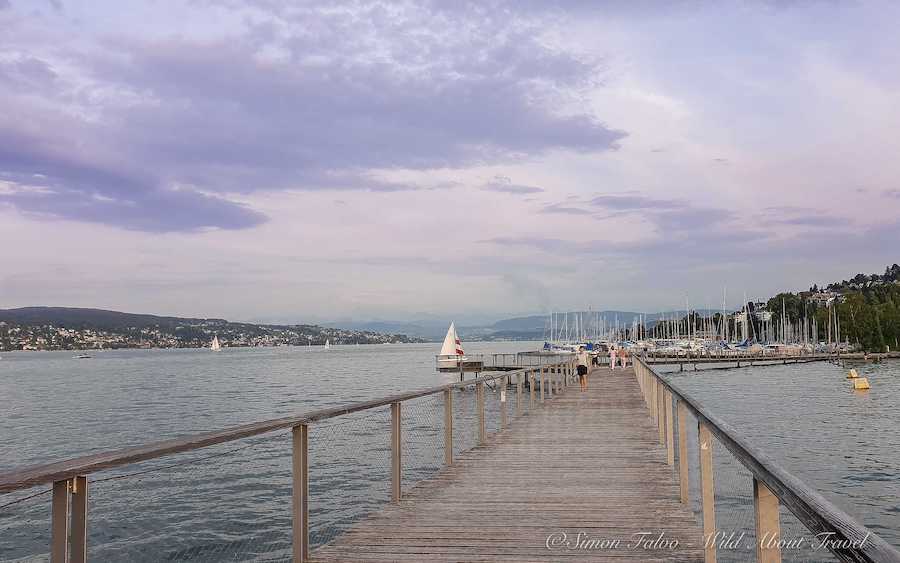 I recommend you go there at sunset, and also have a walk along the nearby Cassiopeia boardwalk. Built on water, and leading to Wollishofen harbor, it's a charming and relaxing way to end the day.
One day in Zurich, Practical information

Getting to Zurich

Zurich Kloten is Switzerland main airport, with international flights to and from all over the world.

How to get to Zurich from the airport

Regular trains connect the airport to Zurich Hauptbahnhof (Central Station), and the journey takes 10-13 minutes. You can check the timetables and prices and buy your tickets -> Here.


.

Getting around

The Zurich card, valid 24 hours (and also 72 hours, if you plan to stay longer), gives you free access to all public transport. You can use the Zurich Card on the train from/to the airport, on boats, and to the Uetliberg.

Keep connected with a pocket wi-fi

You can rent and collect at Zurich airport the device with unlimited 4G data. Furthermore, you'll have unlimited data and be able to share the connection with up to 10 mobiles. Rental for 3 up to 23 days.

Where to stay in Zurich

If you only have one day in Zurich, I advise you to stay in the old town. That way, it will be easier to explore the city, given the limited time.

Switzerland is expensive; therefore, expect high rates even for budget accommodations.

♦ Hotel Kindli is in the heart of Zurich Old Town and features tastefully decorated classic rooms. Lindenhof, Grossmünster, and the Limmat river bank are only a few steps away.

♦ Hotel Florhof is a family-run hotel set in a beautiful house from the 18th century in Zurich Old Town. Featuring stylish rooms and a charming patio, Hotel Florhof is an excellent choice for a romantic stay.

♦ Helmhaus Swiss Quality Hotel, close to Grossmünster and the Lake, features modern rooms. The hotel my somehow lack of personality but offers a good value for money.

♦ Hotel St. Josef features modern rooms and is close to Zurich Main Station and within walking distance to all Zurich main attractions. One of the best budget hotels in the city.

♦ A little farther from Zurich Old Town, but still within walking distance to the train station and the old town, 25hours Hotel Langstrasse is a stylish and quirky hotel. You'll love it if you're looking for a place with a unique flair.

Best Zurich Tours

When you have little time to discover a city, a tour is an excellent option to be sure not to miss the main landmarks and sights. Here's a selection of the best Zurich tours.

♦ Discover Zurich Old Town with this 2-Hours Walking Tour. There's nothing like visiting a city with a guide to get insights on the history. If you buy the Zurich Card, you'll receive a 50% discount.

♦ The eTukTuk City Tour is a funny and eco-friendly way to visit Zurich. It's also perfect for families with small children and elderly who might get quickly tired by long walks.

♦ If you like active travel, have a look at the Cycling Tour by the Lake and Limmat and Sihl Rivers. A lovely way to explore Zurich.

♦ A Segway tour can be fun, and it will allow you to cover longer distances without getting tired.

♦ The 2-Hour Sightseeing Bus Tour is a good option when you're short on time and want to have a quick overview of the city. It might also be the right choice in case of terrible weather.

♦ The 4-Hour City Tour by Ferry, Cable Car, and Coach is more comprehensive and will let you discover (albeit in a bit of a rush) also the Uetliberg. From up there, you'll enjoy superb views of the Lake Zurich.
There are so many things to do and see that one day in Zurich is not nearly enough. But at least you'll get a taste of the most charming city in Switzerland.
Pin for later!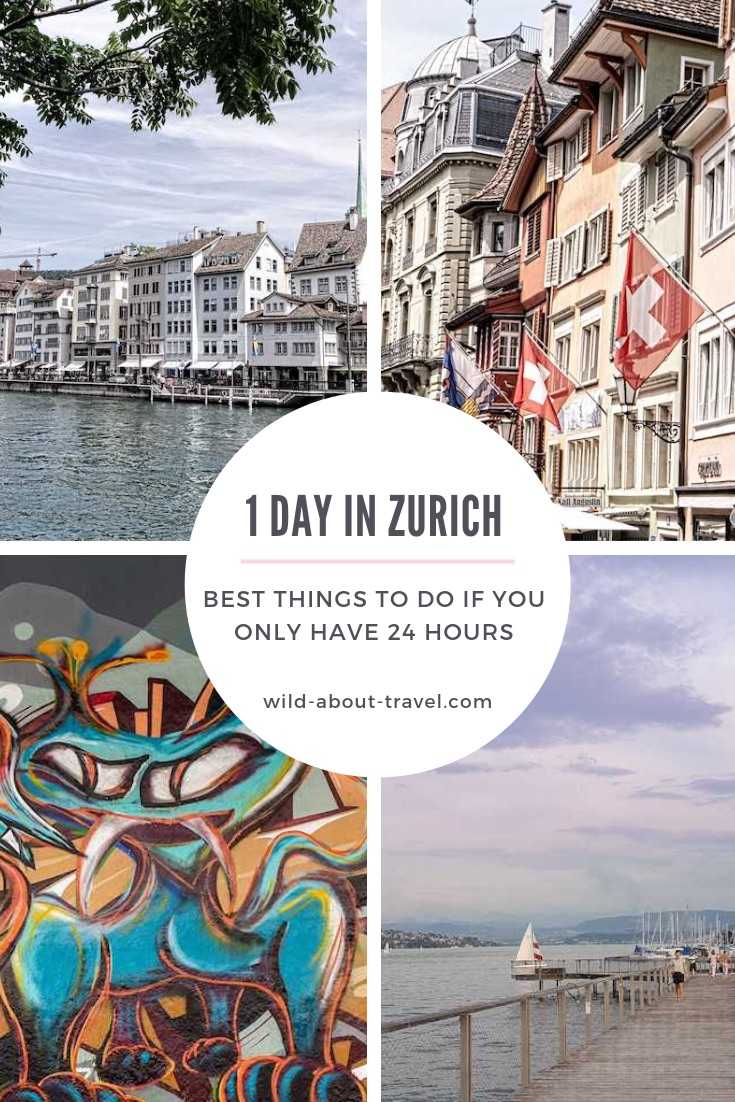 Original article: One Day in Zurich: Best Things to Do if you Only Have 24 Hours
©2019 Wild About Travel. All Rights Reserved.
This post One Day in Zurich: Best Things to Do if you Only Have 24 Hours was first published at
Wild About Travel.