Thanks to its location at one of the tips of Lake Geneva, a stone-throw from the border with France, there are many wonderful day trips from Geneva that will make for unforgettable experiences.
Geneva is known for its charming old town, the lovely lakeshore, and for being home to the main international organisations, not least the Red Cross and the United Nations. While the city is worth spending one or two days, there's also a lot to explore nearby, and you can have fabulous day trips from Geneva. Thanks to its geographic location, you can easily discover more of Switzerland and France.
Wonderful day trips from Geneva
Chamonix and the majestic Mont Blanc: an unforgettable Geneva day trip

Thanks to its privileged location, Geneva is very close to the Alps and the Mont Blanc, the highest mountain in Europe. Chamonix, the world-famous mountain resort, is only about one hour away and from there you have several options to explore the valley. Chamonix and the Mont Blanc are arguably one of the preferred day trips from Geneva, and for a good reason. The alpine landscape is just breathtking!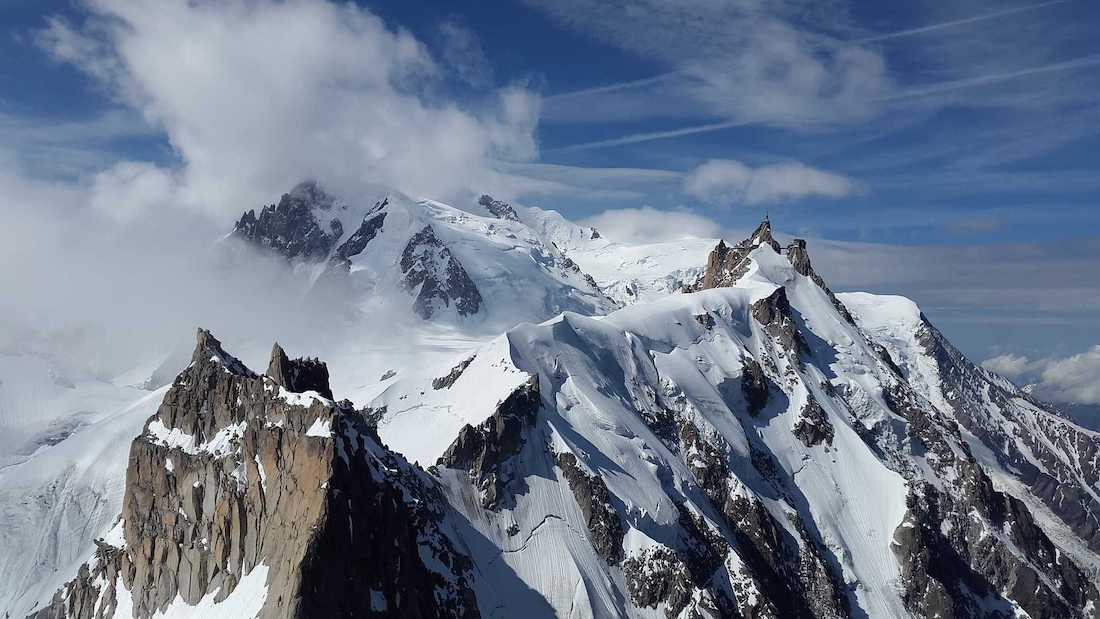 I have a passion for mountains and glaciers; therefore, my recommendation is that you ride the Aiguille du Midi cable car. Once you reach the top, at 3,842m (12,605ft), you'll get to see one of the most jaw-dropping alpine scenery. Imagine being surrounded by snow-capped peaks and glaciers, feeling as if you were on the top of the world.
High altitude can be an issue for some people, though. However, that doesn't mean you can't admire stunning glaciers. Go onboard the famous Chamonix red cog train to Montenvers (1,913m / 6,276ft), where you'll get beautiful views of the Mer de Grace glacier and the Grandes Jorasses mountain range.
Getting from Geneva to Chamonix
You can catch a bus between Geneva and Chamonix, although there are not many throughout the day. Check-out the timetable and prices -> Here
Day tours from Geneva to Chamonix
Chamonix Mont-Blanc Day Trip from Geneva: a full-day Tour by minibus to discover Chamonix. Once there, you can choose your preferred mountain excursion.
Chamonix, Aiguille du Midi & Mer de Glace Full-Day Trip: visit Chamonix and discover the Aiguille du Midi or the Mer the Glace.
Relax on a boat cruise on Lake Geneva
There's nothing like a boat trip, gently drifting on the water to chill out. Furthermore, you get to see the city and its beautiful backdrop from a new point of view.
There are several boat tours on Lake Geneva to choose from. This is one of the easiest day trips from Geneva, suitable to everyone, especially if you're traveling with kids. You can sail to one of the charming nearby cities: Lausanne and Montreux on the Swiss side of the lake, or discover Evian or Yvoire on the opposite French side.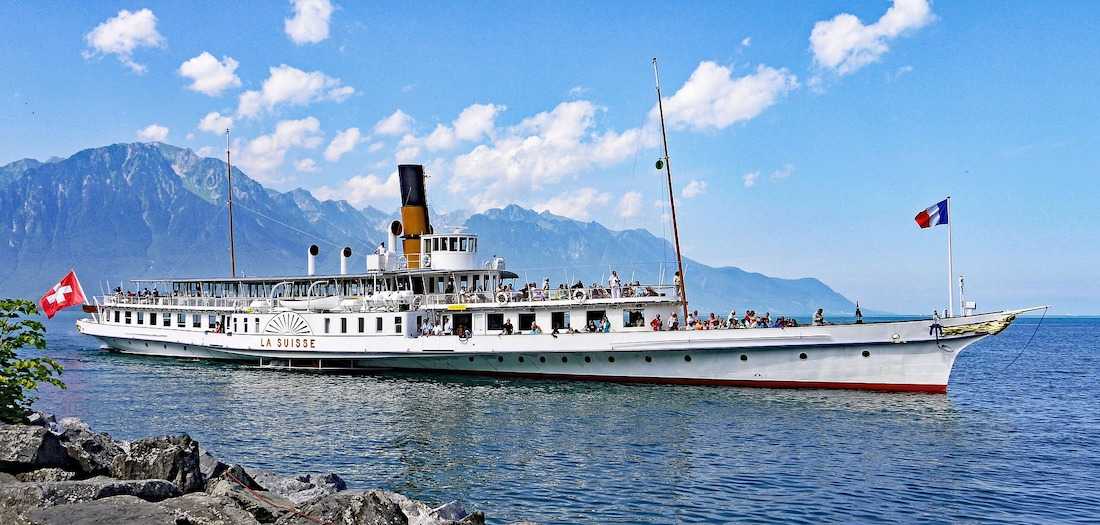 Whatever your destination, you'll get stunning views, since Lake Geneva stands amid beautiful scenery.
Day tours of Lake Geneva
Riviera Cruise, Chaplin's World, Montreux & Lavaux is a full-day tour by bus, trolley, and boat. You'll discover the most beautiful sights of Lake Geneva, as well as visit Chaplin's World.
Day Trip to Lausanne & Cruise to Montreux. Travel by bus and boat and visit Lausanne and Montreux.
If you want to spend more time on the boat, check the tour Riviera Line to Lausanne and return by Boat Cruise to Geneva.
Visit the picture-perfect village of Gruyères
There are countless lovely towns and cristal clear alpine lakes in Switzerland, but Gruyères is easily one of the most beautiful villages you can visit.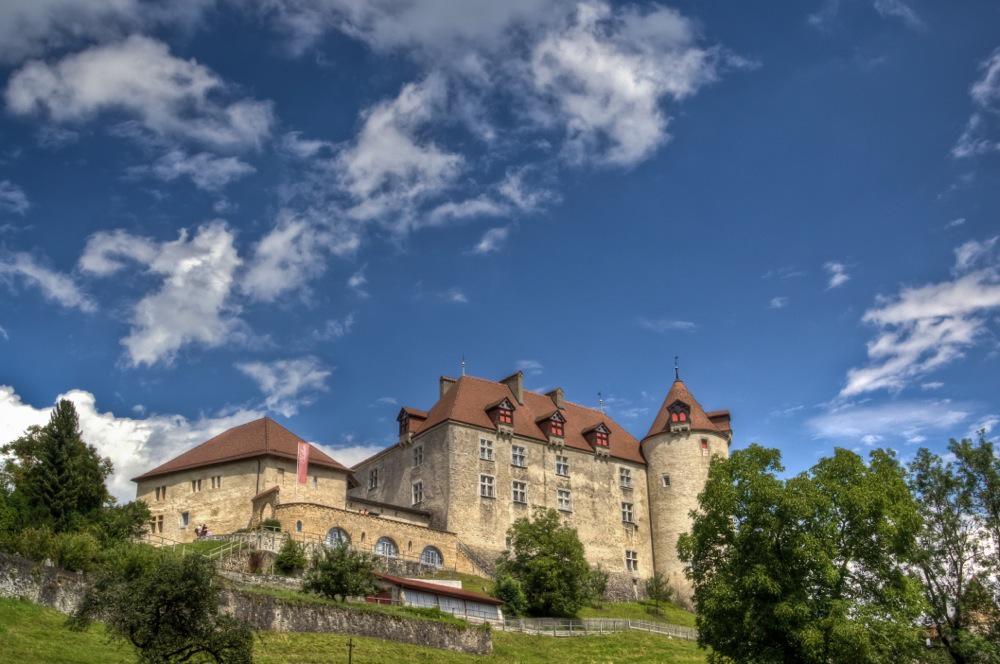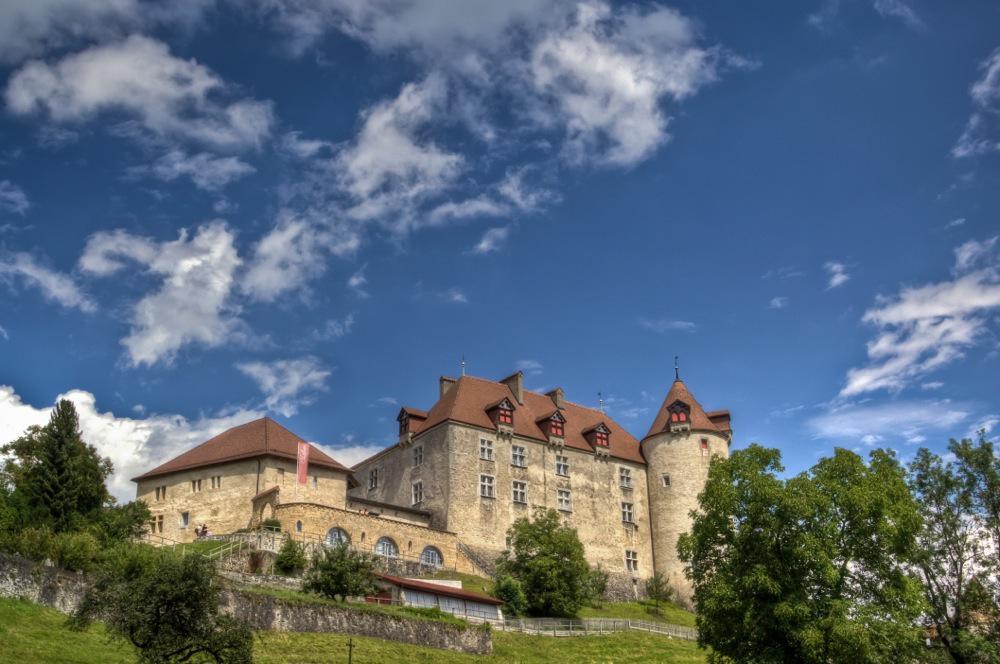 You may have heard of Gruyère cheese, which is produced in this area (but beware of the ones just "stealing the name"). Actually, if you haven't tasted it yet (I mean, the real thing), this is the right time to catch up.
Gruyères was built following the typical medieval structure: a castle perched atop a hill to dominate the valley and counter possible attacks. The town was circled by walls,, and you can still see some ruins. The village is tiny but so cute that you'll fall in love.
While you're in Gruyères village, you can also visit the cheese factory and the nearby Cailler chocolate factory.
Getting from Geneva to Gruyères
In case you want to go independently, you must know that by train it takes 2 hours to get from Geneva to Gruyères. No worries, you won't get bored, since it's one of the most scenic train journeys in Switzerland. Check out the timetables and fares -> Here.
But if you think it's easier to book a tour, here are a few suggestions.
Day tours from Geneva to Gruyères
Chocolate Tasting & Gruyères Medieval Village Tour: a full-day tour by bus to discover Gruyères village, visit the chocolate factory, and have a chocolate tasting.
Day Trip to Gruyères including Golden Panoramic Express Train: a day trip from Geneva combining bus and the Panoramic Express train ride. This tour is more expensive but totally worth it. I grew up in this area; therefore, I know this train journey pretty well.
Discover Bern, the Swiss capital, and a UNESCO World Heritage Site
Tourists often overlook the capital of Switzerland, although the city is beautiful. The old town is compact and not too big. Therefore, you can discover Bern main attractions on a day trip from Geneva.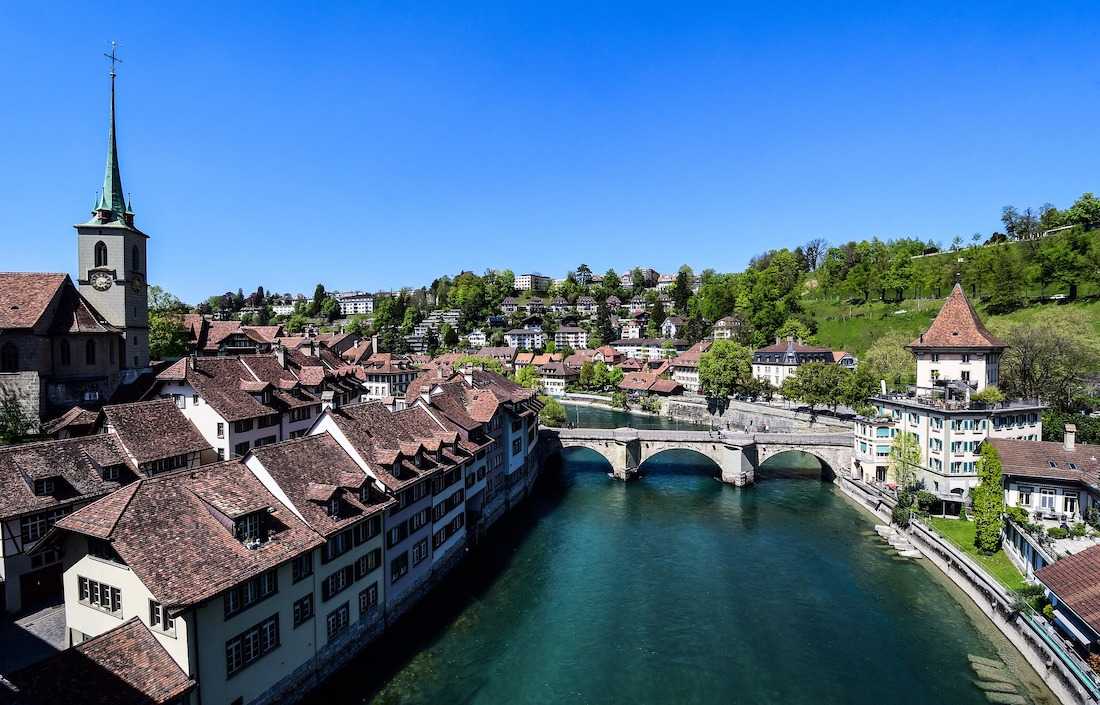 The old city, built on a hill and surrounded by the emerald green Aare river, is a little jewel. From the middle age onward, the historical center developed keeping a consistent architecture style, which earned Bern the status of UNESCO World Heritage Site in 1983.
I spent some time in Bern over the last few years and never got tired of the charming alleys, the beautiful allegoric fountains, the colorful flags, and the view of the Alps.
There's no better way to explore the city than getting lost in the alleys. After all, the old town is not that big, and you'll find your way back, eventually. A must-see is the Zytglogge, the tower with the famous astronomical clock dating back to the early 15th century. If you love modern art and architecture, don't miss to visit the Paul Klee Zentrum. The building designed by famous Italian architect Renzo Piano is beautiful, and the collection of Paul Klee artworks incredible.
How to get from Geneva to Bern
There are frequent trains, and the journey takes a little less than two hours. Check the timetables and prices -> Here
Interesting Bern city tours
Zytglogge – Tour through the Clock Tower: a 50-minute tour to discover one Bern main landmarks
Tour with iPod Audio Guide: enjoy the highlights of Bern and discover all you need to know about the city.
Discover charming Annecy
The small city of Annecy is only 40 km away and thus makes a perfect day trip from Geneva. A medieval town, whose origins date back to the 14th century, Annecy is charming.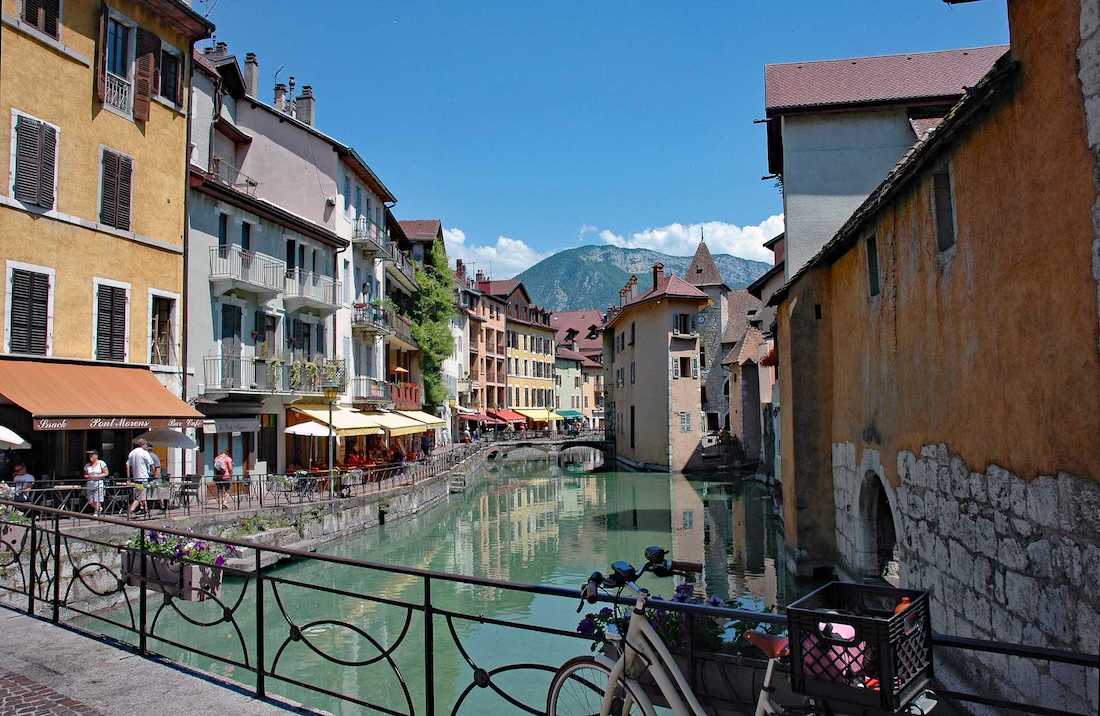 Located on the banks of the lake and the Thiou river and surrounded by mountains, Annecy is actually one of the most picturesque cities of France Haute Savoie region. Stroll along the canals lined by colorful houses, get lost in the cobblestone alleys, climb to the castle, walk along the lakeshore, and chill out at one of the many cute cafes.
Getting from Geneva to Annecy
The easiest way to travel from Geneva to Annoy is by bus. The journey takes about 1 hour. Check -> here the timetables and prices.
Day trips from Geneva to Annecy
Lake Annecy Day Trip from Geneva: get a pick up directly at your hotel in Geneva for a hassle-free visit of Annecy.
If you're short of time, you might also consider a half-day trip to Annecy from Geneva. You won't have much time to explore, but it will still give you a taste of this charming little city.
No matter which one you end up choosing, these Geneva day trips won't disappoint you.
Original article: How to Plan 5 Wonderful Day Trips from Geneva
©2019 Wild About Travel. All Rights Reserved.
This post How to Plan 5 Wonderful Day Trips from Geneva was first published at
Wild About Travel.