Continuing on with my recent slew of posts about my favourite places in my homeland is today's post about the historic village of Richmond. Located about a half hour drive from the capital city of Hobart, going to Richmond sometimes feels a little bit like going back in time. The pace is slower than the city and colonial and Georgian architecture and history abounds. But for a sleepy little town it sure packs a punch as there are LOTS of interesting and fun things to do in Richmond and its surrounds! If you have a day or two to spare, you should definitely do some (or all!) of these things in Richmond.
1 – Walk on Australia's Oldest Bridge
The Richmond Bridge is the oldest bridge still in use in Australia and also the oldest stone span bridge in Australia. Part of the main thoroughfare in the town, both vehicles and pedestrians still use this bridge to get across the Coal River. Not just functional, this convict-built bridge is also very pretty to look at, and locals and tourists alike are drawn to the banks of the river beside it to take photos, picnic and feed the resident ducks and native hens!
2 – Visit Australia's Oldest Roman Catholic Church
Just up the road from the bridge is St. John the Evangelist Roman Catholic Church. Built in 1836 it is considered to be Australia's oldest Roman Catholic Church; St. Mary's Cathedral in Sydney was actually built first, but in 1865 the original chapel was destroyed by fire. So St. John's in Richmond is the oldest still-functioning, original church in Australia. The small church is quite pretty (some friends of mine even got married there) and worth a visit if you are interested in that sort of thing.
3 – Buy Lots of Lollies at a Traditional Sweet Shoppe
A Tasmanian institution, no visit to Richmond is complete without a stop at "Sweets and Treats", a traditional-style lolly shop on the main road. With shelves lined with jars of different lollies, as well as special Tasmanian fudges, ice-creams and coffee on offer, this is a must-visit! Choose to get a couple of 100 grams of your favourite old-fashioned or modern lollies and watch the shop assistants measure them out then deliver them to you in paper bags, just like in the olden days! You can have a look at their website here if you feel like drooling over yummy treats.
4 – Learn About Convict History at the Oldest Intact Gaol in Australia
Another attraction that holds an 'oldest in Australia' title is the Richmond Gaol. A convict era building, the Richmond gaol was actually built even before Port Arthur. Nowadays it is a tourist destination, largely unchanged from convict times. You can explore the chain gang sleeping rooms, a female solitary confinement room, a flogging yard and cookhouse; all while learning about Tasmania's convict past. Visiting the gaol costs 9 AUD for adults and 4 AUD for children, you can plan your visit at the website here.
5 – Explore the Many Art Galleries and Shops
For a small township, Richmond is rather packed with lovely art galleries and gift shops. Make sure you take some time to stroll down the main street and some of the side streets and pop into the shops and galleries to see (and maybe buy) beautiful handmade Tasmanian art, jewellery, woodcraft, textiles, soaps, souvenirs, antiques and clothing. You could easily spend hours browsing, my personal favourite shops include Lafayette on Bridge and The Woodcraft Shop.
6 – Get Lost in the Richmond Maze and Stop for Tea Afterwards
Currently undergoing some pretty massive renovations, the Richmond Maze and Tearooms have long been a favourite attraction for locals and tourists alike. I remember being fascinated when exploring the two mazes as a child (one of which featured a Minotaur in the centre!) so I will be very interested to see how different it is when the remodel is complete. It is expected to re-open in November 2017 so make sure you check it out if you are travelling to Richmond after that time, and let me know what it is like!
7 – Dress Up and Have an Olde Time Portrait Taken
Another popular and fun activity to do in Richmond is to dress up and have your photo taken in an old-fashioned style at Olde Time Portraits. Located in an old Georgian sandstone building (roughly opposite the maze), they provide all different styles of clothing to dress up in as well as a couple of different backdrops to pose in front of. You can choose to have your photo done in sepia or made into a 'Wanted' poster as well. My friend Robyn and I (above) dressed up as lovely ladies of Olde Hobart Town (back when I was blonde) and it was so much fun and a great memory to look back on! Their website doesn't seem to be working but you can have a look at their Facebook page for more information, examples of other portraits and sales.
8 – Walk Around Colonial Hobart at the Model Hobart Village
Another one of my favourite attractions in Richmond is the Old Hobart Town model village. Exactly what it says, here you can wander among a miniature replica of Hobart as it was in the 1820s. Designed and built from actual historical plans it's fascinating to see how Hobart has changed, as well as how many of the historic buildings are still standing. Not only are there models of buildings with trees, water and ships, but there are also over 500 figurines showing people going about their lives as they might have been during convict times. One of my favourite parts is seeing the little scenes happening throughout the model, of a runaway horse and cart, escaping convicts, and even some Tasmanian Tigers! You should definitely check out their website, to see some of the photos of how cool this place is and plan your own visit!
9 – Get Up Close and Personal with Animals at Zoodoo Zoo
10 minutes outside of the township of Richmond proper is the Zoodoo Zoo. This zoo features lots of Australian native animals, as well as more exotic ones such as camels, lions, tigers, meerkats, monkeys and zebras. I have been here a number of times and had a lot of fun, and it's definitely also a great place to take kids. They have little 'safari' tours where you hop into a little bus and drive out into paddocks to feed camels (like in the photo above), alpacas, ostriches, camels and more. They have a walk-through aviary, daily animal encounters and you can also hand-feed and pet the kangaroos, wallabies, ponies and sheep. Prices are a little on the expensive side, but it is a lot of fun! You can have a look at their website here for more information.
10 – Gorge Yourself on Delicious Local Produce
One thing that Tasmania has in abundance is delicious food. If you are visiting Richmond then you will definitely need to try out at least some of their fantastic cafes, restaurants, farms and produce shops to have a taste of Tasmanian local fare. Coal River Farm and Littlewood Berry Farm both offer 'pick your own' fruits when in season, and there are numerous great cafes, restaurants and shops in and around Richmond that sell delicious local cheeses, chocolates and meals. Have a wander and find your new favourite!
11 – Have a Tipple at one of the MANY Vineyards
As well as cafes and restaurants there are a LOT of vineyards in and around Richmond, as it is part of the Coal River Valley winery region. Most of these vineyards offer cellar-door sales as well as having great onsite restaurants, usually paired with fantastic views over the valley and river. Some of the more popular vineyards include Frogmoore Creek/Meadowbank Estate, Puddleduck Vineyard, The Coal Valley Vineyard (restaurant pictured) and Riversdale Estate. You might need to do some research to discover which vineyard(s) you want to visit while in the area!
12 – Learn About Richmond's History at Oak Lodge
As well as the Richmond Gaol offering history lessons about convict life, there is also a museum dedicated to showing what colonial life was like. One of Richmond's oldest homes, Oak Lodge is a grand Georgian house in largely original condition. The house is like a time capsule, you can walk in and see the lifestyles of its original inhabitants in the old schoolroom, doctor's consulting rooms and heritage garden. Unlike many of these sorts of museums you can even handle many of the exhibits as you explore. You can find more information about this piece of history here.
13 – Relive Your Childhood in the Peter Rabbit Garden at Riversdale Estate
While Riversdale Estate is itself a great place for a meal or high tea (blog post about this coming soon) it also has another great attraction, The Peter Rabbit Garden! Located behind the main building is a quaint little garden, filled with pretty flowers and models that tell the Tale of Peter Rabbit. I loved Beatrix Potter's tales as a child, and it was really fun visiting and seeing Peter's antics through Mr. McGregor's garden. The garden also features models of other tales in little sheds and windows, including the tales of Squirrel Nutkin, Jemima Puddleduck and Mr. Jeremy Fisher. You can find out more about visiting the garden here, and stay tuned for my upcoming blog post on visiting the garden and having high tea in the orangery!
14 – Meander Through the Village Market
Salamanca is not the only place featuring a charming Saturday morning market, Richmond has one too! The Richmond Village Market is, of course, much smaller than the one in Hobart, but it features lots of local products and the kind of charm you can only find in a traditional small-town market. A lot of the stalls feature home-grown produce from the Coal River region, as well as local crafts, jewellery, plants and entertainment. If you want to experience a little village market then make sure you visit Richmond on a Saturday between 9am and 3pm. The market is held in the town hall and surrounding areas, you can find more information about it here.
15 – Sleep in a Cosy Georgian Cottage
With so many great things to see and do in Richmond it would be very difficult to fit them all in with only one day to explore. So why not stay a night (or more than one) in the township itself? There are lots of quaint B&Bs, manor houses and other accommodation types available, many of which are in cosy little Georgian cottages. This website has a great list of comfy-looking options, many of which also look very pretty and romantic!
Have you been to or are you planning to visit Richmond? Let me know your favourite part or what you're looking forward to most in the comments and don't forget to pin this for later if you are planning your own visit!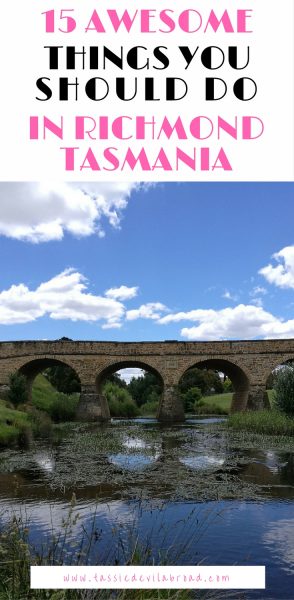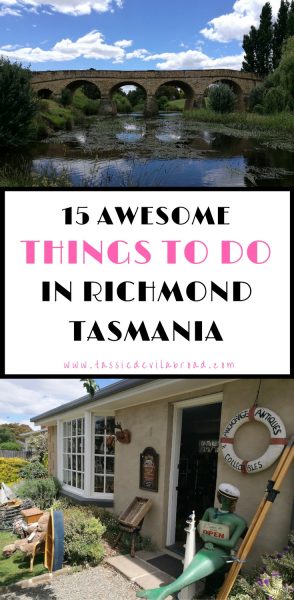 The post 15 Awesome Things to do in Richmond, Tasmania appeared first on Tassie Devil Abroad.