It's the first week of 2017 and I decided it was the perfect time to look back at the fun stuff I have done and amazing places I have been in the past year with another (have a look at a previous one here) Instagram round-up! Here are some of my favourite photos and memories from 2016:
January
He looks cute but don't be fooled, this photo was taken mid-lunge to bite my camera which I nearly dropped in the water #swan #grumpyswan #meanswan #lelystad #netherlands #beak #igersholland
January was as cold and bleak as ever, so I didn't get out much, apart from some walks to see the swans. The photo below I thought was quite funny, saw it on a car in the supermarket car park.
The devil is in the details on this car! #devil #devilish #vw #volkswagon #lelystad #netherlands #logo #igersholland
February
Managed to get to Amsterdam for a day in February, and in both these photos you can see that the weather was already starting to get better, yay!
Spent the day in Amsterdam! Here's some quintessential Dutch window shutters on a canal house.
March
March was the month I was taking part in a photography challenge, which helped me with ideas of things to capture, as well as forcing me outside more. March was also the month Luna had her kittens!
Luna's having kittens! Look at that little nose!
Luna's babies at 12 days old!
April
Visiting the nature park and testing my new camera phone's capabilities. Seems pretty nice!
I got my new Huawei phone in April and promptly went to the Lelystad Nature Park to try it out. Spring was definitely starting!
Omg this tree looked like it was just posing in front of this wall here. Whatta babe.
This photo below was purely an act of perfect random timing. He was going for a walk and I managed to snap him right at the meeting point of the fence/shed. Anyone else see South America on his shoulder?!
The suburban hunter. #catmeetsglobe
May
The weather was gorgeous, perfect for lots of walks among the forested areas around home. Also perfect for lovely photos of Spring blooms!
There's a Brother's Grimm fairytale called the six swans, well this is the Dutch version; seven geese!
Don't think I'll ever get tired of the Netherlands in the spring! Can anyone tell me what kind of tree this is with the gorgeous pink blossoms? They're everywhere around here and I'm curious!
June
Finally visited the replica of the Batavia as well as going on a motorbike 'road-trip' through the province of Gelderland in June. Lots of fun!
Just finished watching the Dutch film "Admiral" about Michiel de Ruyter and I'm pretty sure they might have used the replica Batavia for some of the scenes. Amazing sea-battle sequences! Here are some people climbing the rigging on VOC day.
Galloping across a post-apocalyptic landscape!
One last sight from our big ride through the province of gelderland yesterday; this old radio building from the 1920s! Yes, I lay on the wet ground to get that angle!
July
Not only is Castle Vianden gorgeous on the inside (as you saw in my previous post) but it also boasts a pretty stunning view over the town of Vianden below! See more of these breathtaking views in my latest blog post (link in bio). Tell me, what other castles have you visited with views as nice as this?!
We spent a stunning weekend in Luxembourg in Summer, and this tiny country is absolutely breathtaking! Definitely want to go back.
I am a sucker for cute cobbled alleyways and string lights outside! This pretty alley leads to the church in Diekirch with the donkey weather vane and was just one of many lovely winding streets in this little town.
August
We had our 'proper' Summer holiday through August/September and travelled through Belgium to the South of France to meet up with some friends of mine from Australia! Finally got to see Bruges and loved exploring more of France. So hot!
All the pretty colours in Orange, France
September
For the best views in Antwerp make sure you visit the Panorama on top of Museum aan de Stroom – it's free to see the city from up on high!
Spent some time in Antwerp on our way back to the Netherlands. Another city with so much to see that we'll need to come back again!
I loved this statue in the centre of Marnixplaats in Antwerp; it's called "Schelde Vrij" (Scheldt Free) and represents the 1863 cessation of heavy tolls the Dutch levied on ships sailing to Antwerp. There's statues representing Neptune, god of the sea, Mercury, god of trade, the city of Antwerp as a woman, as well as lions, ship's prows and water gods spouting Scheldt water. Surrounded by cafes this is a great place to hang out, relax and admire the statue!
October
Should I call the fire brigade?! #catmeetsglobe
The Netherlands has such distinct seasons, and right on time Autumn started. Spent a lovely day exploring a tiny Dutch fishing village called Urk!
Today we visited the picture-perfect Dutch town of Urk. Isn't that the funniest name for a town?! Urk! I love saying it.
November
Gorgeous Autumn colours in the park!
Just as it was starting to get cold I flew back to Australia (via China) for a month. Spent eight days in Queensland for my best friend's wedding, then three weeks back in Tasmania catching up with friends, seeing my family, and exploring new and old favourite places in my home state.
Oh, hai China!
December
I've travelled quite a bit in my life but my favourite place is still Spring Beach, Tasmania!
My favourite parts of being back home were definitely spending time with my family and friends, as well as visiting my favourite beach and some nature parks to get up close and personal with some Tassie Devils!
Had an absolute blast at the Tasmanian Devil Unzoo today, the highlight was definitely getting a selfie with this cute little devil!
Then returning home to the Netherlands in time for a Dutch Christmas and New Year!
Driving into the new year like, no idea what's up ahead, hope the next year will be a great one… Have a happy and safe New Year everyone, see you in 2017!
Looking back like this is definitely a great way to remind yourself what a year you've had, instead of only remembering the bad stuff. I'm looking forward to what I'll get up to this year, what about you? Tell me your exciting plans for 2017 and don't forget to follow me on Instagram for more exclusive photos of my adventures!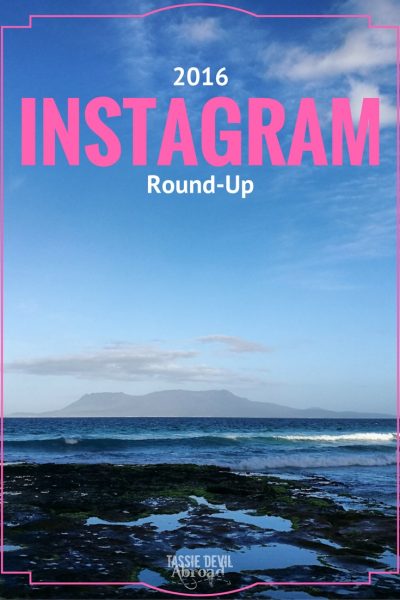 The post 2016 Instagram Round-Up appeared first on Tassie Devil Abroad.