Santiago is a sea of bars, cafes, restaurants, lounges and clubs, and boasts some of the best nightlife spots, whatever your preference. Thousands of travellers flock to Chile's capital every night in search of a night out and a break from the culture overload, after being promised by their tour guide that they will have the best night of their life. Which they will – if they know how to do it right. Luckily for you, we've put together the ultimate package for a night out in Santiago.
7.30 pm – Dinner
A lot of people wouldn't even consider this first stage as part of the nightlife package but it's actually one of the most important parts. If you start the night with a poor dinner and don't line your stomach with some proper food, you're destined to be passed out in bed before the club has even opened its doors. Hit up Buffalo Waffles, located in the hipster Barrio Lastarria, a quick and easy fix that will leave you feeling satisfied but not overly full so there's still plenty of room for drinks. It's also cheap ($3.500 CLP for a waffle) and just a short walk from Bellavista, the part of town with all the bars.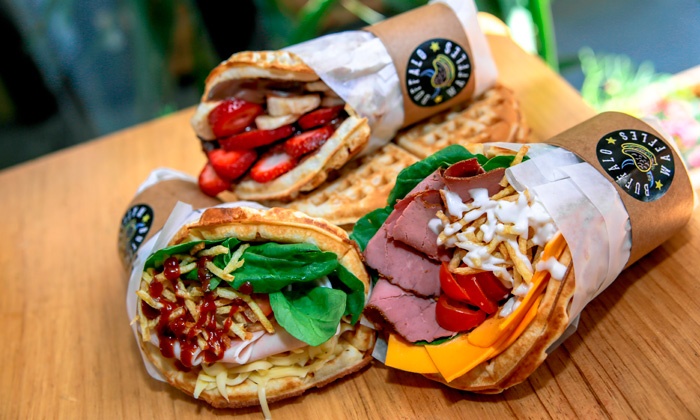 8.20 pm – Teclados, Bellavista
Now it's time to get the first drinks in. There's no need to break the bank straight away so head over to Teclados in Bellavista and take advantage of their Happy Hour that lasts until 9.30pm. Depending on how you're feeling, go for the pitcher of beer for under $4.000 CLP or dive straight in with the Piscolas, where you'll find a 2-for-1 deal. This is the perfect way to not only let the waffles settle and begin to build for the club, but also an ideal spot to meet people that may want to tag along. Enjoy the man with the keyboard playing some classic Bill Withers numbers before the spinning drummer comes along to get the Adrenaline Pumping. It's lively and there are lots of bars down this street but its not like Pionono – the madness comes later.
10 pm – Bars, Vitacura
Use Teclados' wifi (¿puedo tener la clave del Internet porfa?) and order an Uber to Vitacura, considered to be the higher end of the city. This'll only costs a few pesos between you and will transport you into a whole different world of bars and clubs, and where you'll be glad you didn't spend over the odds for dinner. Settle into one of the bars and order a couple of mojitos to get into the swing of things because you're going to need to build your energy to last the night. Refrain from ordering the delicious looking chips that the people at the table next to you have though; this will only sober you up and make you feel lethargic. Make sure to practice your Spanish on the waiters so that you're ready for when it's time for the club.
12 pm – Las Urracas, Vitacura
The clock strikes midnight and it's time to pay the bill for the cocktails and hit Las Urracas. Entrance is $10.000 CLP but it's worth it. The club is the perfect size, with a number of different rooms and a large smoking area out the front to socialise. Get yourself a Corona so that you have something to hold and throw as many shapes as you can because you're not staying here all night. Catch some eyes and get some more people to tag along before you call for another Uber and tell the driver the three magic words: "Santa Secreto, Bellavista".
2 am – Karaoke, Bellavista
Energy levels may be floundering at this point so you need to get the adrenaline pumping again. Walk into Santa Secreto (free entrance), order some drinks and put your name and song down on the list. There's nothing better to get the blood pumping than standing up on stage in front of all those people singing a song you only know the chorus too. It will leave you feeling like a star and, more importantly, reengergised in preparation for the final part of the night.
3.45 am – Club 57, Bellavista
You may have been warned about Club 57 as being a tourist trap but the difference is that you haven't spent the last 4 hours there speaking to the same group of people and getting funny looks off the doormen. Club 57 is the perfect place to top off your night out as the DJ plays your favorite hits and there is never a shortage of new people to grab a drink or dance with.
After what will be well over an 8-hour evening out, it's probably time to grab some delicious tacos at Los Miserables and take an Uber home. And remember, if you'd like more information on great places to eat and go out in Chile, download the TheBesty app to book the best tours and activities, discover fun things to do, and find the guaranteed lowest prices on hotel bookings – all in Latin America.