Ever wondered what it is like to take on an adventure with your dearly beloved? Kirsty and her partner Allen recently went to Peru and completed The Inca Trail. She's kindly submitted her travel diary for us to browse through:
"
Friday 24th August
Check in with Iberia airlines at 5.00am and pop into Wetherspoons for a fry up, something we probably won't get on the Inca trail. The flight from Heathrow left at 9.00am and we are now on our way to Madrid. Arrive in Madrid at 12.00noon, and then run 'Home Alone' style to catch our 12.40 flight to Lima. This flight is for 10 3/4 hours but with thoughts of the Inca Trail in our mind we just doze off for the majority of the flight – I love it when that happens.
Arrive in Lima, collect our luggage and meet our guide Nela – she is lovely, along with a guy who is also booked on this trip with us. Nela drove the 1 hour trip to Miraflores in Lima – I instantly felt excited for the trip ahead as the roads were manic and there were people and cars everywhere – such a buzz, she said 8 million people live in Lima – wow. Arrive at our hotel 'Leon de Oro' at 7.30pm. It is a lovely hotel, and our room is massive – it has 2 double beds! We then meet the other guy on our trip and go for a wander round Lima and get some food from a lovely little place called 'Chefs Café'. The streets are so lively and the atmosphere is great! Go to bed at 10.00pm – absolutely shattered!
Saturday 25th August
Wake up at 6.30am and have a lovely hot shower. Wander down for breakfast and meet the other two people also on the same trip, a father and daughter – already feels like we are making new friends. Nela then came to collect us to take us to Lima airport for our domestic flight to Cusco. The flight left at 10.40, and is 1hr long. The mountain views from the plane are fantastic. Arrive at Cusco airport, some Peruvians are playing music in the entrance – this gave us a great welcome. As soon as you step outside you are surrounded by Mountains, its so refreshing. We are at about 11,000ft, so far I feel great.
We then meet our guide Leo, he's a lovely guy and makes us all feel at ease. He then drove us the 15min drive to Cusco. The streets of Cusco are even busier than Lima, and the whole place is colourful, and there is such fantastic lively atmosphere. Arrive at our hotel 'Hotel Suenos del Inka' It is on a small cobbled street, up some small steps. It is wonderful. The hotel is lovely with wooden carved stairs and stone floors. Check in and have some Cocoa tea – not crazy about that, but give it ago, its meant to be good for altitude. Leo welcomes us to Cusco and gave us a small brief of what will happen today and tomorrow. We have the most amazing view from our room, the window is the full length of the room and you feel like you can see the whole of Cusco lay out before you.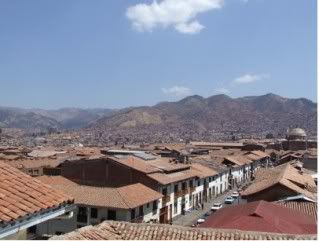 Meet up with everyone and Leo at 2pm, and drive to Sacsayhuaman – believed to be an Inca temple. The site was incredible and the large rocks fit together so perfectly.
The temperature is rising – it is so hot now. Next we visited Qengo, a temple of the Incas, where they made offerings to mother earth, and Tambomachay. This is a natural spring, which the Inca's built around using magnificent stones.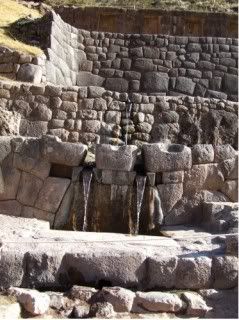 Next we went to Puka Pukara, believed to be a military base, again wonderful remains of Inca craftsmanship. Leo is so knowledgeable about Cusco and the Inca's, and so passionate about it.
We then travelled back to Cusco, and visited the Cathedral. It was amazing and huge! The detail and craftsmanship is outstanding and the amount of gold and silver used I have never known before. We then visited a monastery.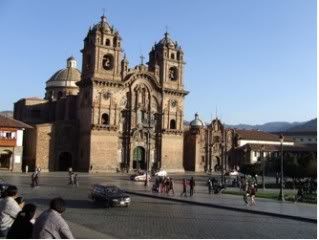 Leo showed us some great examples of Inca's precise geometry used when carving rocks at exact angles. He also showed us some original Inca walls, which were only found after an earthquake, they were perfect, as they had been covered with Lime, hidden by the Spanish. Had such a great day here, Cusco Square is very lively and has a fountain in the middle, with everything situated perfectly around it.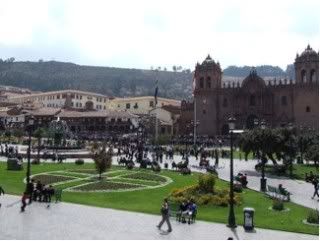 Back at the hotel Leo talked to us about the Inca Trail and gave us our duffel bags, which the porters will carry for us on the trail. In the evening we all met up to go out for something to eat, at a small restaurant called 'Mythology'.
Sunday 26th August
Wake up with a headache, but slept great, go down for some breakfast – the food was lovely. Meet up with the others – they all look a bit grey, but it doesn't cloud our excitement. This morning Leo came to brief us some more on the Inca trail, then we organised our duffel bags. We all met up at 9.45 and took a walk to the main square, it is really busy and they are having a parade.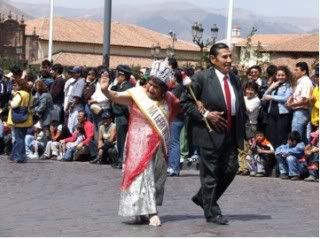 There are processions of Military, schools and bands. They are all playing and marching and singing – it was great, they have such a great spirit and the atmosphere was brilliant.
We all went to shelter from the heat and had a lovely cool drink in a café sitting on a balcony overlooking the square. This morning we all changed some currency and found a little chemist to buy some altitude tablets and re-hydration salts – better to be safe than sorry. We all then went to an Italian 'Tratoria Adriano', where we had lunch and had a toast to the Inca Trail – fingers crossed we can all make it. Go back to the hotel, where we check our GPS we are now at 11,300 ft – wow.
At 2pm Leo take us to Cusco market, it was thriving with locals, selling everything and anything – fruit, vegetables, flowers, clothes, spices, bread – you really felt like you'd pinched a bit of local life. Everyone was bustling around it really was lovely.
Leo then took us for a walk of some local sites. We all got into 2 taxis and set off, travelling back past Sacsayhuaman, we visited a shop selling Alpaca clothes and rugs. A lady explained how they are made and the difference between the types of clothes produced. We saw a 100% Alpaca rug that would cost around $1900!! We then walked back to Cusco with great views of the town, and saw some houses built into the mountainside and children running around – what a way of life.
We walked back to the main square, where we paid Leo the local payment and arranged to meet tomorrow morning at the hotel for 6.30am. We all went back to the hotel and weighed our duffel bags. Mine was only 4.6kg, which is great as you are only allowed to take 7kg on the trail.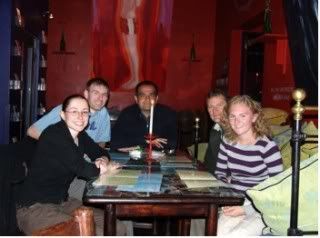 We all met up in the evening and went to a great place called 'Macondo' – a really funky place, all lit up with paintings everywhere and great music. Have such a great laugh, and the food was gorgeous! We went back to the hotel at 9.00pm.
Monday 27th August
Wake up at 5.00am – Yuk! Have a lovely shower then go down for breakfast at 6.00am, can hardly eat as feel quite nervous this morning. Leo came to collect us at 6.30am. Travel to Ollantaytambo in the Sacred Valley. There are beautiful terraces and buildings here, what a view. It is a traditional Inca village, and Leo said from afar the village landscape is in the shape of a Llama. There is also a giant Inca head sculpted into the mountainside.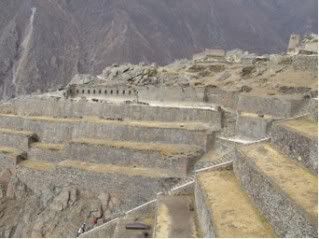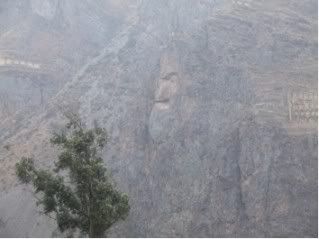 As a group we all walk around, doing some up hill walking makes me feel out of breath, which quite surprised me. Pacing myself on the trail is going to be vital. Leave there and travel for 30mins to Chilca – the start of the Inca trail. Allen gets some supplies…..
Start the trail at 10.30am. The first part of the trek was a very comfortable walk; we walked past forests and through a lot of vegetation. The sun was shining, though there was some cloud cover. We followed the Umbamba River. The paths were quite narrow so we were a bit follow my leader, but it gave us plenty of time to take in our surroundings.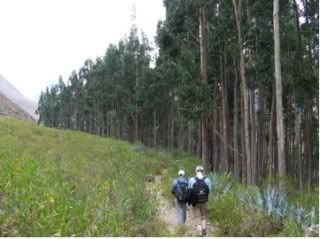 We arrive at the first checkpoint KM 82 Piscacucho at 12.15. We are officially on the trail! The walk had been gentle and the views fantastic, so we were all in high spirits. Leo also points out all kinds of plants and trees. We all eat our lunch at this checkpoint and have our passports stamped, we are at about 9,000ft. We left the checkpoint via a swing bridge, some parts of the trail now were quite tough, but the views made up for it.
We reached the Inca ruins of Qanabamba, a small site of houses and terraces; it is so amazing to see them in the middle of nowhere! We carry on following the Umbamba River.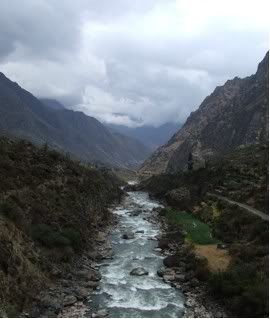 We see a few houses on the trail where locals are living today and some little goats - they are very inquisitive, standing on top of the rocks sussing us all out. The Umbamba River has cut a mouth in the mountainside and we follow it up and down, some parts are fairly steep.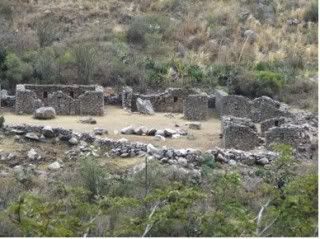 Leo took us past some amazing Inca ruins Patallaqta, they were built in the side of the mountain in a perfect position for the sun.
Finally we arrived at our first campsite in the Sacred Valley at 3.10pm, everything is set up for us, and the porters bring us each a bowl of hot water at our tents. The campsite is in the middle of the mountains and has a stream running through it.
We all meet in the food tent at 4.30pm for 'Happy Hour' as Leo calls it, here we discuss the day, and talk about tomorrow, we all eat bread and jam, crisps and crackers round hot drinks – this is wonderful. We then went for a walk round the site – and found the 'Poop tent' – hooray! The camp site was next to a little 'village' there were a few houses, a small farm and some children playing with a ball, lots of animals were roaming around, we had a chat to the local children and walked back to the camp site.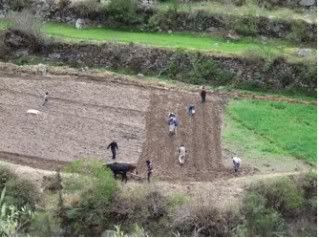 Tea was at 6.30pm and we were amazed at what they made. We had spinach soup, followed by chicken and mashed potatoes, with a crème caramel dessert – all very good. After we sat and talked to Leo about tomorrow, Leo said the walk will be a bit tougher and the altitude will start to rise more rapidly. We all went to bed at 8.00pm, it has been a great day and we all feel really positive. The sky is so clear and you can see every star, all you can hear is the running water in the background.
Tuesday 28th August
Wake up at 5.30am, we slept ok, but were a bit cold in the night. It is great to wake up in the Sacred Valley surrounded by mountains. This morning there are ducks, chickens, a dog and a cow in the campsite!! Breakfast is at 6.30am – bacon and vegetables – very nice. Leo introduced all the porters to us this morning, the youngest is 25yrs and the eldest is 58yrs, they are remarkable. One porter is called the 'rabbit', and he runs ahead to get a good camp spot for tonight. We start the walk at 7.15am, a moderate 1.5 hr walk to the second checkpoint. The vegetation is really green and colourful and there are little bridges along the trail, small houses and donkeys wandering around carrying loads for their owners.
I got in the way of a running donkey, and went flying! – didn't get hurt and the group found it very funny, apart from Leo – I was fine though.
Once we reached the second checkpoint we took a break and waited for the porters to pass us, it's amazing how they carry all our stuff on their backs and head! Leave Wayllabamba checkpoint and walk until 10.45am where we stop for lunch. The walk is getting a steeper climb and we feel a little breathless. The porters were brilliant; they walk faster, carry heavy bags and managed to prepare a lovely lunch just sitting waiting for us to arrive.
Our lunch was pasta, chicken, carrots, broccoli, and beans – all very yummy. We had a cup of tea then left the campsite at 12.20pm.
The walk then started to get quite tough, my legs felt quit heavy and breathing was more difficult. We are now above 11,000ft. Allen my partner is really good at keeping me moving as I keep stopping to catch my breath. The views are amazing; we are climbing through tress up large steps, with a running stream down one side of us. There are lovely trees and flowers everywhere, Leo knew the names of everything, I just wished I'd written them down.
We arrive at camp at 1.40pm; we are now according to our GPS at 12,300ft. The porters are busily setting up camp, so we relax in our tents. Wayllabamba is the last human habitation on the trail. Allen and I decide to take our first altitude tablets, as our heads feel a bit squiffy. At 3.30pm Leo took us for a walk around, we are surrounded by mountains, and some are snow capped.
At 4.30pm we sit down and Leo talk to us about tomorrow, it sounds tough we will be starting at 5.30 and doing about 8 hrs of walking depending on pace. A lady and her son wandered up to camp selling water, this will be the last time we can buy some water until we finish the trail.
We all sat around chatting until tea at 6.00pm. Again the food was lovely and we were astonished at how they can cook this, we had Asparagus Soup, followed by rice, beef and vegetables, then for dessert it was apple with blackcurrant sauce. After tea Leo pointed out some of the star constellations. Go to bed at 7.15pm, it is pitch black and very cold, we got into our sleeping bags with our thermals on, and our hats! – Definitely make sure you buy a 3-season sleeping bag!
Wednesday 29th August
Wake up at 4.30am – it is freezing. Pack up our bags, and have a cup of tea and some bread and jam. The porters brought us some hot water to wash our faces, I've never been so happy to see someone at 4.30am! Leave the site at 5.45am, and with our head torches switched on we set off, I feel nervous about today as it will be the toughest day and we reach the highest altitude. We have been lucky so far, apart from a minor headache and some slight dizziness we have all felt really good. We start our ascent up the path to reach Dead Woman's Pass (Abra Warmiwanuska). The path is made up of large stone steps, but they are relentless, the cloud is quite low, so you can't see very much, but you can see the top of the pass and realise you are walking up through a valley. You feel an incredibly small dot in comparison to the landscape. The porters practically run past us!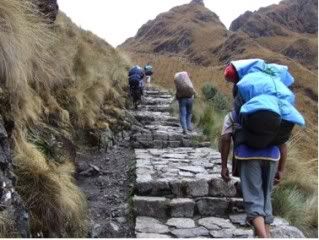 We finally reach Dead Woman's Pass and according to the GPS we are at 13,886ft, it is 7.00am! This was tough, but feel great and no headaches! Feel a bit of a relief as if this is the highest altitude and I feel pretty well I can stop worrying about the rest of the trail. After a group photos where we all look like white ghosts, we start to descend down a very steep path, the cloud is still low, but you can see bushes and flowers all around us, at 8.15am we stop for breakfast.
We have cereal, eggy bread and porridge – lovely. This place is mossy city and it is raining now, but it doesn't dampen our spirits and we leave at 9.00am for the second pass - Runkuracay Pass, which is about 13,200ft. This was also a tough, steep descent, the paths are all stones, but you need to tread carefully.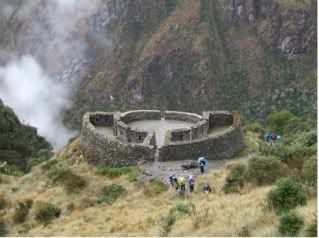 We have seen some lovely Inca ruins this morning. We saw Runkuraqay, a religious Inca building, which Leo said was important because of its shape; it was round stone building, built like the sun.
We also visited Sayaqmarka, an inaccessible Inca town/military base discovered by Hiram Bingham whilst on his trek where he discovered Machu Picchu. The views would have been amazing but the cloud was still very low. After lunch we walked the rest of our walk through Cloud Forest, Peru's rainforest. The forest was very dense and bursting with flowers, lots of orchids and exotic plants and trees – Leo knew all of their names.
We stopped for dinner at 1.00pm; it is very cloudy and has been raining on/off all morning. For dinner we have chicken curry, rice, and potatoes. We finally reached our camp at 3.00pm at Phuyupatamarka – 'Town above the clouds'. We got quite wet on this section of the walk as it was raining and the humidity was high.
Have a good chat and laugh about the day then go to bed at 7.45pm. We are so excited about reaching Machu Picchu tomorrow.
Thursday 30th August
Wake up at 5.30am to a cup of tea – and its freezing!!! The cloud is still quite low but we can see the snow-capped mountains. I am feeling so excited. Have pancakes for breakfast, then we all tip the porters, we also gave some of the extra socks and t-shirts we had brought, we said a big thank you and hoped they realised how wonderful they had been, and how they really made the trip a lot easier and comfortable for us. We started walking at 7.00am, still in Cloud Forest, still in the rain, but now we start to go down 2000 Inca steps! Now this does test your walking boots!
Go past the ruins of Phuyupatmarka – amazing stone buildings.
Arrive at Intipata just before lunch, take loads of photos here, the terraces here are amazing, and because the cloud is low – they are quite eerie, and look like they are floating.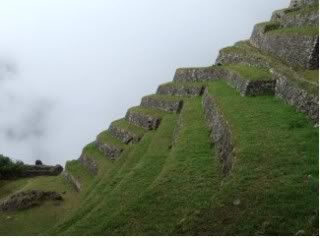 At 9.15 we arrive at Winaywayna. The terraces here were the best we have seen, brilliant rows of terraces, stone baths and houses, with lovely water springs, 19 in total. The sun finally came out and the site was amazing.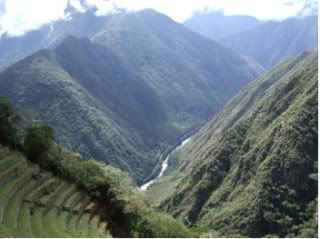 It is split into an upper and lower part, you felt like this was an Inca resting place before they reached the grandeur of Machu Picchu. Spend some time here and have lunch in the camp building. Again the food was lovely, tomato soup, then pasta, potatoes and tuna.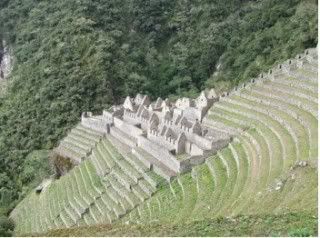 Leave Winaywayna at 11.15am and start our walk to the Sun gate (Intipunku) it is really hot now, and the cloud is clearing up. The trail is at its loveliest, all the trees and bushes are green, and the flowers are gorgeous, and there are so many different types of Orchids. There are also butterflies everywhere.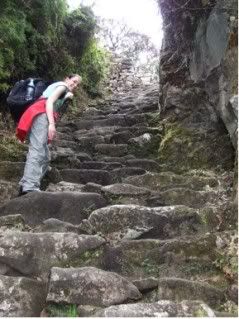 Finally reach the Sun gate at 1.00pm, climb the steps on my hands. We are all nervous and excited, it is very emotional. Leo who is already at the top is cheering us on, then…. We see it! I start to cry, I'm so happy that we are here, and every second of it was worth it for one glimpse at Machu Picchu. It is fantastic and everything I thought it would be, it really does look magical perched in between all the mountains like a jewel.
After we have taken the first site of Machu Picchu in we start our descent to the lost city, the view gets more amazing the closer you get.
We went past a sacred rock and burial ground, Leo said that Hiram Bingham found 128bodies here on his first visit. Finally our feet touch down – we are here!
There are a lot of day visitors, but I feel we are more deserving of it as we have spent 4 days getting there, and after seeing all the Inca ruins on the way feel a more personal connection to Machu Picchu. We spend a hour or so walking round some of the main pathways and sites, but Leo plans to bring us back here tomorrow morning very early to appreciate Machu Picchu without the crowds.
We have our passports stamped at the gate, we have officially arrived – I love it! We take the bus down the mountain to the village where we are staying tonight – Aguas Calientes. Arrive at our hotel at 2.30pm and have a lovely shower, and finally relax. Meet Leo at 4.30pm and he take us for a walk around the village. We went to a small information centre, all about Machu Picchu, he is so passionate about it – bless him. We then went to a large market, it was lovely, and we bought lots of little souvenirs and had a good look around.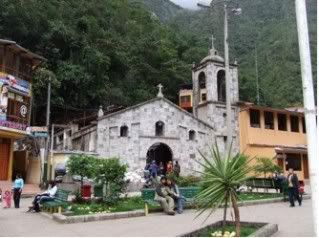 We then went to an Italian place on the main street, the food was lovely and they had big ovens for cooking. This place is brilliant and the atmosphere is fantastic. After we'd eaten Leo left us to go to bed so we stayed out to explore a bit further. We found a lovely bar called 'Big Brother' where there were 2 Peruvian bands playing – we had such a great time in here, we had our first drinks here to celebrate the trail! At 10.00pm the heavens opened as we ran back to the hotel, what a great day, one I will never forget.
Friday 31st August
Wake up at 5.15am, get an early breakfast and catch the 6.00am bus up to Machu Picchu, arrive at 6.45am – it is so quiet as there is hardly anyone up here. Leo gave us a tour around the Lost City, and explained the importance of the sun, moon and constellations to the Inca's. He is fascinated by Machu Picchu and it rubs off on everyone. It is amazing; no photo I take will ever match how magical it is here.
Leo left us at 9.45am to explore on our own. Here the group split up as some wanted to explore and others wanted to sit quietly and contemplate Machu Picchu. We went to explore, I wanted to see everything! We saw the temple or the Sun and Moon, the temple of the Condor, and the Royal tomb, we walked up and down the terraces and visited the storage houses. The Inca's also made use of water all over the site by creating springs around it and channelling it all over Machu Picchu.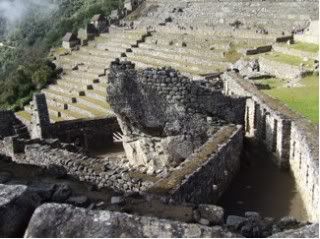 We found large cut rocks used as compasses and sundials, and large rocks used as looking glasses, which were believed to hold water and show the constellations up above. We found various different fountains across the whole site, and marvelled at the Quarry and the huge rocks that the Incas used to cut/ move, I have no idea how. The work and craftsmanship is tremendous and leaves you just in awe of the whole place.
The temperature is rising, it is so hot here, after 3 hours we decide to go outside and see if we can find anyone else from the group. We meet up with the others, and then catch the bus back down. A small boy chased us down the zigzag path by cutting across the road and then waving at us! At the bottom we then took the 25minute walk back down to the village, visiting the Inca/ Machu Picchu Museum and botanical gardens – very interesting.
We met up with Leo, and then all went for dinner in the square. The food was lovely, Guinea Pig was on the menu, but none of us were brave enough. We all then had another wander round and visited another market, and also had an ice cream. At 4.30pm we met Leo and walked to the train station to catch the 5.00pm Peru Rail backpackers train, for the 3hr 15mins journey back to Cusco.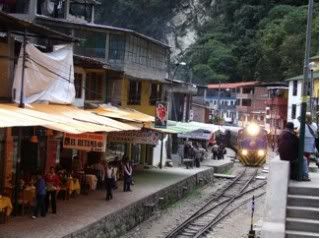 The train was very slow, but the views were really nice and we saw parts of the trail and KM 82 our first checkpoint. We got off the train one stop before Cusco, as Leo said the journey was 15minutes by Taxi, but another 1hr 15mins by train. We arrived back at the same hotel as before, quickly got changed and then walked to the 'Fallen Angel' restaurant, which we had previously booked. We had a table booked for 9.30pm, it was a really trendy place, and the food and atmosphere was great. We had asked Leo, and his wife and daughter to come with us, to show our appreciation for everything he had done for us, we tipped Leo and took lots of group photos, he really made the whole holiday brilliant. We all feel really proud of ourselves, and have some fantastic memories. Have a lovely night out, a great ending to the perfect holiday! We left the 'Fallen Angel' at 12.00am, aargh! We are up at 4.30am! Back to the hotel for a good night sleep.
Saturday 1st September
Wake up at 4.30am, have a quick shower, and breakfast. Leo arrived at 5.30am to take us to Cusco airport for our flight back to Lima. One of the guys in our group was staying for the Puno extension, but he came with us to the airport to say goodbye. Arrive at the airport and check in our bags, our flight is at 7.15am. Give everyone a hug, Leo said he is no longer our guide but our friend, that was lovely and nearly bought a tear to my eye. The hour flight from Cusco to Lima was quite sad. Nela came to collect us from the airport and took us back to the same hotel in Lima as before. We left our bags in the hotel and went to get some lunch and have a wander round Lima. Do a bit more shopping and walk down to the sea front. It is quite developed here with lots of shops and cafes. We found a star bucks and went for a hot chocolate. We found some more markets and had a look round. We then went back to the hotel at 4.30pm, and Nela came to collect us at 4.45pm. Give everyone a big hug, and promise to keep in touch. Our 10hr flight to Madrid was good – we are so tired we slept through most of it. Arrive back in the UK and go to Victoria station to catch our bus back home. I feel really sad the holiday is over, but feel I am bringing something special back with me. We have had such a wonderful time, I will never ever forget it"
Kirsty and her partner Allen went on The Inca Trail. If you are considering a trip or tour of Peru, the Adventure Company has many tours which cater for families, groups and couples no matter what your age. Visit their website for more information

Thanks for reading,
The Adventure Company