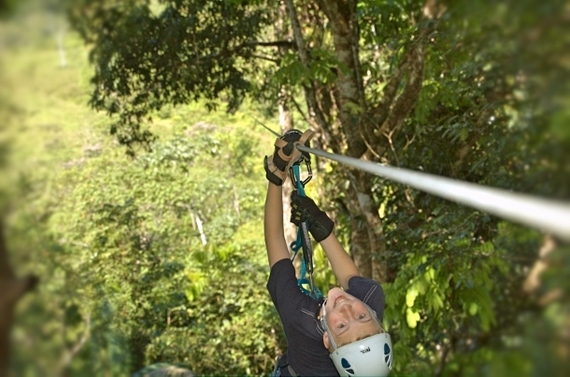 Costa Rica: Where to stay and what to do
Life is a non-stop journey where, if you do it right…you get what you give. When it comes to the beautiful country of Costa Rica, you will want to give a lot of your time and attention and you will get back some amazing memories and adventures. Visiting Costa Rica gives you a unique family gateway experience that offers exciting tours, a gorgeous, exotic landscape, delicious local cuisine and a rich, remarkable history and culture. In addition, Costa Rica is one of the most eco-friendly location with over 25% of its territory protected. Costa Rica is also the happiest country in the world according to the Happy Planet Index. Those who visit this beautiful land leave with a once in a lifetime experience from this one of a kind location. During your visit to Costa Rica, there are a plethora of options regarding lodging and tourist destinations. Despite all of the wonderful choices available to you, there is one destination that, to me, stands out. Having traveled the world and stayed in thousands of dwellings, I can honestly say the Drake Bay Getaway Resort in the Osa Peninsula is the most impressive and breathtaking boutique resort…and one that I happily and strongly recommend.
Absolutely Splendid Boutique Resort
Drake Bay Getaway Resort is renowned for its spectacular chalet in a striking, remote part of Costa Rica…the famous Osa Peninsula, known for being the most biologically intense place on Earth according to National Geographic. The owners, Patrick and Yens have come up with something truly extraordinary and unique. This wonderful couple envisioned their true labor of love by developing an eco-lodge in order to provide a delightful experience yet leave a small footprint. They successfully execute it all with dazzling details as their passion shines through.
When you think in your minds' eye of what would constitute a "dream vacation", this resort has got to come close to matching that vision and is an absolutely magnificent option. From the open-air double rain showers to the hammocks on the deck, the resort offers so many wonderful features such as a passive cooling system and breathtaking ocean and mountain views. The owners/operators, Yens and Patrick, designed and built this amazing establishment in order to give their guests a lifetime experience and absolute peace of mind. They go out of their way to help their guests make all the transportation arrangements needed to get to their resort and to your next destination wherever it would be in Costa Rica.
Best View at Your Bed
The beauty is breathtaking from every window and private deck in the resort. Whether you are just sitting at a cabin or on a walking tour, you are constantly surrounded by nature beauty and wildlife. Every cabin is comprised of a wall sized sliding glass door, which once opened, offer some of the best panoramic views of Drake Bay and allow ocean cool breezes into your cabin. You'll also have the luxury of a wide open floor plan, king size beds and dual rainfall showerheads.
Astounding Dining Experience
I roamed around multiple locations while in Costa Rica but in the end, it truly is Drake Bay Getaway Resort's unique, ultimate dining experience that grabbed me – the intoxicating aromatics cannot be expressed with words. At their Drake Bay Café, I would highly recommend the frothed cappuccino, flavored latte or a strong espresso; you will become addicted to the taste…I did! You can also order from the variety of blended shakes in dark chocolate, caramel and delicious fresh fruits. There are a myriad of tasty options and they are unmatched with any other local eating destination.
Whether it's the breakfast, lunch or dinner, Drake Bay Gateway Resort is dedicated to offer delicious, fresh food right away. They also offer special diet and vegetarian meal plans to cater as many guests as possible.
Personalized Service
They are living with the core value of convenience, personalized service and responsibility. Once you step into the Drake Bay Gateway Resort, you will be welcomed with open arms and giving a fresh pineapple-orange drink. After you settled down for a few minutes, the owners will give you a general overview of the resort and your upcoming tours while making you feel comfortable and at home.
Yens and Patrick are dedicated to their resort, guests and employees. They are committed to offering their patrons the best service possible and it's obvious they love what they do and take great pride in doing it. I was mesmerized when I experienced their luxury and classy personalized service and the passion they have to ensuring healthy living.
Drake Bay Tours
Whether you are going alone or with a large group when exploring Costa Rica, there are several amazing tours that are a must see for any and all guests of the Drake Bay Getaway Resort. Whether you decide to explore the Corcovado National Park, dive at the Caño Island Biological Resort, go on a whale watching tour, or walk the "Bug Lady" nocturnal wildlife tour (just to name a few), Yens, Patrick and their knowledgeable staff can show you all the corners of their brilliant, ever changing world. Right from the get-go, you will get a taste of wildlife by seeing the capuchin monkeys mounting overhead in the trees and the scarlet macaws flying near the resort. If you like nature as much I do, I would recommend also going on their bird watching and mangrove tour.
Bottom Line!
So, truthfully, why wait another minute? Take it from someone who's traveled the world. Patrick, Yens and their staff will provide a wonderful experience to all visitors with their dream resort that have become a true form of luxury; sustainable and beautiful. Please don't miss the chance to stay at the Drake Bay Getaway Resort when you visit Costa Rica….Tell Yens and Patrick I said, "Hi!" ☺