Quality indoor air is one of the needs of a healthy environment at home or in the office. But, regardless of how safe and pollution-free your home or office is, you will still be exposed to contaminated air once you step outside. But not when walking near the Smog Free Tower in The Netherlands. This massive vacuum cleaner is capable of sucking out smog from the air and spitting it out clean and safe to inhale. Yes, it can be rightfully called the largest air purifier in the world.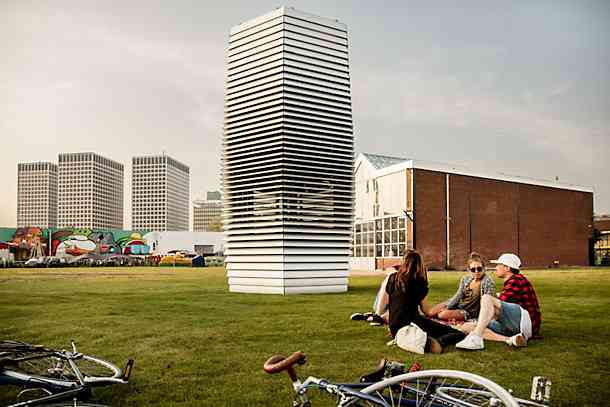 This amazing clean air machine was created by Daan Roosegaarde, a Dutch designer; Bob Ursem, a researcher of Delft Technology University; and European Nano Solutions (ENS), a green tech company in the Netherlands. Standing at nearly 23 feet tall, it is nothing like a Hoover or Dyson. Design-wise, it is not your typical air purifier as it is meant to be an attractive technological innovation, not just a machine with a purpose. Then again, Roosegaarde is renowned for his wacky projects that have a social conscience, which is evident on how beautiful and beneficial the Smog Free Tower is.
It doesn't work like a regular vacuum cleaner either, what with its amazing capacity to purify up to 1 million cubic feet of air per hour. It ionizes airborne smog particles by giving them a positive charge, so they stick to the grounded counter electrode found within the chamber. The clean air then goes out through the tower's vents. At the top of the Smog Free Tower is a radial ventilation system that sucks polluted air in.
According to Roosegaarde, "When this baby is up and running for the day you can clean a small neighborhood". Give it 10 hours for, instance, and it can fill Madison Square Garden with purified air. What is even better is that the tower doesn't produce ozone, because it uses positive voltage when charging particles instead of negative voltage.
Considering its size and height, cleaning the Smog Free Tower can be a concern. But Ursem says there is no reason to fret over this, since he has used the same technique on other purification systems and there have been no problems in maintenance.
Roosegaarde calls the tower a "shrine-like temple of clean air", which he plans to take with him on a "smog-free tour", in a bid to demonstrate the amazing features of the technology. He has just returned from Mumbai, meeting with officials about installing the tower in its city parks. Beijing, the smoggiest city that inspired the invention, is also said to be interested on the Smog Free Tower.
Although there have been requests to have the tower installed in wealthy neighborhoods, Roosegaarde prefers to have it installed in a public space where everyone can take advantage of it. To him, the gigantic air purifier is the solution that everyone is looking for, and one that uses the kind of cleaning approach that starts from the bottom up.
Source
http://www.wired.com/2015/09/tower-purifies-million-cubic-feet-air-hour/?mbid=social_gplus