Day 373:
Hold Corporate Representatives Responsible
If a company gives a politician money one time they are taking a gamble, if they give to a politician every year its because they are getting a good return on their investment.
These assholes are not working for us the people, they are working for the large money donations that they receive from big companies.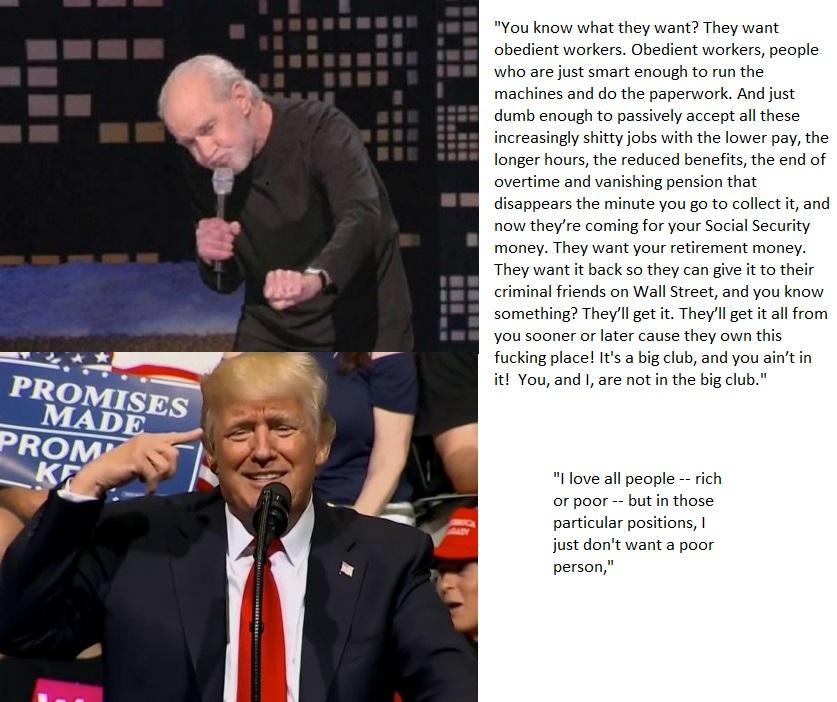 Further Reading:
Terror victims Donald Trump won't talk about: Americans killed by the alt-right
A bill that would provide unlimited menstrual supplies to incarcerated women in Arizona prisons has stalled in the House of Representatives, so women are protesting by mailing pads and tampons to the Capitol.
New York Times CEO: Print journalism has maybe another 10 years
Wheaton, an evangelical Christian college in Illinois, punished football players who raped and beat a student with an 8-page essay
Ted Cruz cast lone vote against advancing 'Dreamer' legislation
Rippon: 'I don't want my Olympic experience being about Mike Pence'
Russia is Trying to Bury This Video—And They Might Shut Down YouTube to Do It
Trump Vowed Not To Run $400 Billion Deficits. Instead He'll Run A $1 Trillion One.
3 Trump properties posted 144 openings for seasonal jobs. Only one went to a US worker.
'Trump, Inc.' Podcast Extra: Trump's Company Is Getting $175 Million Annually in Previously Undisclosed Rent
The White House cries crocodile tears over 'due process'
A Koch Brothers Group Is Targeting These Democratic Senators for Voting Against Tax Reform (cuts for rich people)
'This Needs to Happen All Over America': Applause for Candidate Who Called Out Big Oil Donors
Dozens of White House officials lack proper security clearance, source says
'Black Women Are Realizing the Power of Their Vote'
The NRA Really Wants You To Stop Making Fun Of Trump Now, OK?
Conservatives lash out at GOP spending binge
Trump slump? Remington files for bankruptcy amid declining gun sales.
Omarosa on Mike Pence: 'He thinks Jesus tells him to say things.'
Americans again made to learn from Russia about Trump Putin call
Bill Gates thinks Trump's 'America First' stance is damaging to the world
Trump budget chief promises food stamp recipients a 'Blue Apron-like' replacement, is clearly unfamiliar with Blue Apron
Democratic senators pressure Trump on Russia sanctions
People are leaving the Trump White House in record numbers
Pelosi resurfaces old Trump tweet vowing no cuts to Medicaid after Trump budget cuts Medicaid
U.S. intel agencies expect Russia to escalate election meddling efforts
Trump Didn't Answer My Question, Says Seven-Year-Old School Shooting Witness Who Wrote To President
Trump wants to gut the State Department by 25 percent. You read that right.
——————————————
Tools of change:
Feel like this is all a bunch of bullshit? Want to do something about it?
Calling your government representative:
Call your Senator
Call your House Rep (Or use this spreadsheet)
Call your Governor
Call your Attorney General
Or try this website
Fax Congress here (free!)
You can also use 5Calls.org if you are having a hard time figuring out what to say.
Tell them in no uncertain terms that you want them to fight to stop Trump from doing these things. Tell them you will be watching them closely on how they vote, and will hold them accountable during the next election if they cave to Trump. You can also call other states congress people and threaten to donate to their opponent if they don't do what you want.
Phone Bank for Progressive Candidates:
https://www.grassrootspb.com/
Call the White House:
202-456-1111
Call the "White House":
Use this website to call one of Trump's many properties he has not put into a blind trust yet, and let them know how you feel (be polite, they are workers just like us, but be firm).
Do a little Slacktivism:
Send Some Text Messages for progressive causes (I know it says textforbernie, but its for a range of progressive candidates) Or you can have your texts turned into faxes by the ResistBot
Go to a town hall and talk to your congress person in person:
Check when the next town hall is here
Monitor your congressperson:
Keep track of how your senator is voting on cabinet picks here, so you can call them up and give them hell if they vote for any of these worthless fuckers.
See how your elected representatives are voting for or against Trump.
Elections!
Also be sure to keep track if you live in a district with an upcoming flip-able seat (flip to the left that is)
See if you have a special election in your area!
Is your mayor up for election? Find out, get involved!
Upcoming house votes:
https://www.govtrack.us/congress/bills/
Upcoming senate bills:
http://www.senateseeker.com/vote.php?upcoming=true
Monitor Trumps Conflict of Interests:
From CNN of all people.
The Atlantic
General Guides:
Guidelines by former Congress staffers on how to get Congress to listen. https://www.indivisibleguide.com/
Run For Office!:
Want to run for office in your area to fight back, check this out for positions that are open in your area, how to register, and what you need to do to win office!
Remove the Corporate Democrats!:
Join the fight to clean out the democratic party: Justice Democrats!
Do you want to help me continue to bring you these daily roundups of the Trump news, while also getting great rewards? Consider supporting me on Patreon!
Become a Patron!
Thank you!