AMD created the much needed ripple in the market back in June when it came up with its latest lineup of RX series graphics cards. Based on the Polaris architecture, code-named as Ellesmere, these new cards feature improvement on every possible aspect over their predecessors including that on memory controller, power consumption and even heat dissipation!
Thanks to Asus India today we have with us the flagship card from this series, today we have with us the Asus ROG STRIX RX 480 8GB GDDR5 graphics card!
The Radeon RX 480 comes with 2304 shaders enabled, 144 texture units and 32 ROPS that are connected to a 256-bit wide memory bus with 8 GB GDDR5 memory. Our card is the OC edition and comes with 1310Mhz default clock speed unlike the regular one which comes with 1266Mhz.
This card is strictly aimed at no holds barred 1080p gaming & hopefully with enough headroom for a pleasant experience in the 1440p realm aswell.
Packing and Accessories
Asus is going with the new STRIX packing with the RX 480 and a neon like STRIX along with the card's image occupies a large part of the front pack. The Radeon VR Ready and Aura logo are at the bottom corners.
At the back a bunch of highlighting features are neatly prined such as the Direct CU III technology, Asus GPU Tweak utility support and even the Asus Fan Connect.
Open the box and in the traditional Asus packing style you'll be greeted by some accessories nicely packed in a premium looking thin black box. The bundled accessories include, driver CD, Asus ROG wrist bands, a quick setup guide and World of Warships Coupon.
Closer Look and Features
The Asus Strix ROG RX 480 is probably the best looking graphics card I've seen so far simply in terms of elegance and robust design! Asus has completely revamped the design for this generation of cards and from my side its a welcome move for sure.
Its a mat black finish with intricate detailing all over. Physical dimensions are 30cmx13cmx4cm putting it into the league of longer cards and not beefy cards.
Trims of RGB LEDs peek out from cuts and crevices carved into the cooler's body.
Asus added a nice backplate to this card for aesthetics aswell as tensile strength to avoid wrapping. You can again find detailing & the RGB backlit ROG logo.
This two slot card comes with DVI port, two HDMI ports, and two DisplayPorts. Unlike the reference design one of the display ports has been swapped with a HDMI port to enable users to run a VR headset along with a monitor/HDTV or well two VR headsets simultaneously.
The Direct CU III cooler employed for the RX 480 features triple 0dB fans engineered with a patented wing-blade design that delivers maximum air flow and improved 105% static pressure over the heat sink, while operating at 3X quieter volumes than reference cards. The 0dB fans also let you enjoy games in complete silence since the fans don't spin till the card reaches 54°C
At the bottom and top one thing is worth noticing, there are no heatpipes poking outside from the shroud and its just the thick heatsink that is visible. As AMD cards communicate through the PCIe slots for CrossFireX configuration with no external slot present, this kind of design imparts a more streamlined approach to styling making this card a treat to look at.
To power the Strix ROG RX 480 Asus went for a 8-pin power connector indicating a maximum 225W peak power consumption which is ridiculously efficient for a card of this stature!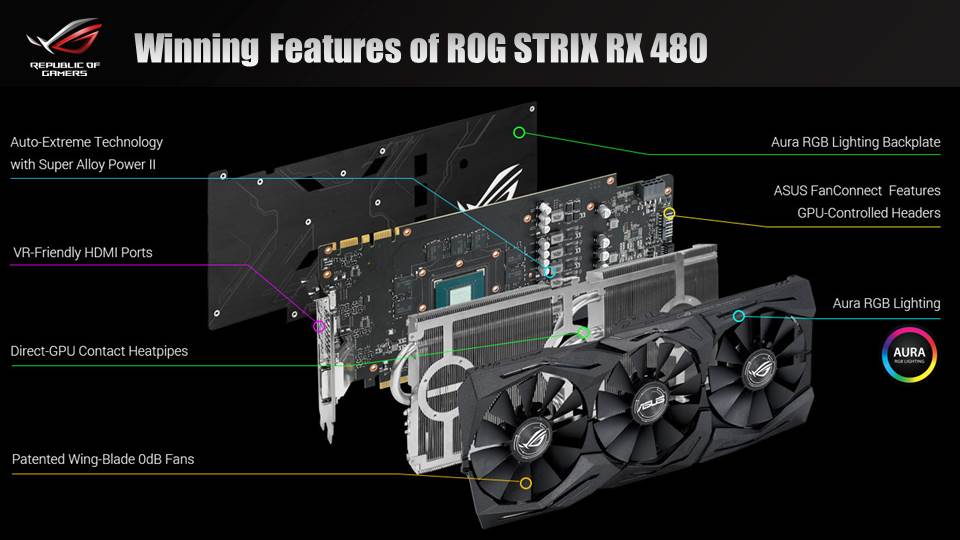 Pop the lid open and we see that the card is divided into four layers namely as, the front shroud, the heatsink, the PCB and the backplate.
We'll just take a look at the heatsink and the PCB since that's what we're interested in the most.
The heatsink consists of a thick aluminum mesh with five heatpipes running throughout the area. A thermal pad in yellow to keep the VRM cool is also present on one side.
Four out of these five heatpipes make direct contact with the GPU and keep it cool even under extensive load.
Looking at the PCB we find that a metal bracket is installed to keep the memory chips cool and also at the right edge we have two four pin fan connectors.
Don't be shocked the fan connectors let you connect two case fans which will in turn spin in accordance to the graphics card's temperature since mostly they spin in accordance with the CPU whereas the main source of heat these days are the cards! This move aims at increasing the cooling efficiency of the entire PC as a whole.
The Ellesmere GPU powering the RX 480 is seated securely at the center. Its the first chip built on the 14 nanometer FinFET process & is also the first AMD GPU made at GlobalFoundries, instead of TSMC.
Samsung provides the GDDR5 memory chips for this card and are numbered as K4G80325FB-HC25. These run at 2000 MHz (8000 MHz GDDR5 effective) and are 1GB each in capacity.
Asus opted for a 7+1 power delivery system for the RX 480. Seven are for the GPU and one is for the memory ICs. These are what Asus calls the Super Alloy Power II components which greatly enhance efficiency, reduce power loss and achieve thermal levels that are approximately 50% cooler than previous designs.
A DIGI+ ASP1300 chip takes care of the voltage regulation.
For fan control and monitoring the ITE 8915FN-561618-CXA chips is placed on the PCB.
To filter and provide a ripple free current to the power delivery system a six phase IR 3S55MJ608P30HE chip has been employed.
Benchmarks and Overclocking
Installing this near 1Kg card was easy and it powered up like a breeze once we booted up the system.
GPUZ reported the correct frequencies with 1310Mhz on the clock and 2000Mhz on the memory
For the benchmarks we used the following test setup configuration --
CPU:
Intel Core i7 5930K OC at 3.7Ghz on all six cores
Motherboard:
Gigabyte X99 Gaming 5P
RAM:
Kingston HyperX Predator 16GB DDR4 (4x4) 3000Mhz Memory Kit
Cooler:
Antec Kuhler H2O H600 Pro
Graphics Card:
Asus ROG STRIX RX 480 8GB GDDR5 Graphics Card
Storage:
Corsair Neutron GTX 480GB SSD
Power Supply:
Corsair AX860i 860W 80+ Platinum
OS:
Windows 10 Pro 64-bit
GPU Driver:
Crimson 16.10.2 Beta
Overclocking the RX 480 was a simple process and using the Asus GPU Tweak II or any other utility yielded the same results. The highest frequency with respect to performance gains that we could obtain on our sample was 1360Mhz on the clock and 2100Mhz on the memory, anything above this either gave poor results, white dots or even system freeze.
AIDA64 Extreme Edition GPGPU
The AIDA64 GPGPU test not only calculates the read, write and copy speed of the graphics card and processor but is also very useful in observing the SHA-1 Hash and AES-256 score. These are indications of how well the GPU can handle number crunching or real life image or video rendering. Higher score shows a better card.
Interestingly the scores we see here are even higher than many of the much more expensive cards in the market today depicting the raw computational power of the Polaris architecture!
Unigine Heaven 4.0 and Unigine Valley 1.0
A compilation of 26 beautiful scenes rendered and run via the raw GPU power of the system. It emulates any game or graphical work that you'll perform on the system scoring it on various parameter. We ran the test on Custom preset and settings at 1920x1080 resolution, quality to ultra and extreme tessellation.
One drawback over here is that Unigine Heaven & Valley benchmarking suits can't recognize more than 4GB of VRAM so the results are much lower than what they could've been in real life. Thank god there are games to test that!
3D Mark Fire Strike & Time Spy
Fire Strike by 3D Mark is a test suit that plays a cinematic scene to determine the FPS, GPU temperature and CPU temperature scaling everything via a cumulative score. It is a great tool to benchmark your GPU since the render is mostly GPU & memory dependent.
3D Mark 11 Professional Edition
Another variant of the Fire Strike by 3D Mark, used mainly for scoring the GPU performance.
Crysis 3
I can't start gaming benchmarks without running my all time favorites Crysis 3 but its a game that no system loves! The CryEngine 3 behind this scenic beauty can bring down any system to its knees and I mean any system. I set everything to Ultra at 1920x1080 resolution with MSAA 4X and motion blur high.
Rise of the Tomb Raider
The latest installation of Lara Croft in the spectacular Rise of the Tomb Raider 2016 with stunning graphics and rich location makes it a great game to benchmark with while enjoying in the due course! We used DX12 and settings were at Ultimate on full HD resolution.
Alien Isolation
Its a great game for people, like me, who love to hunt down Xenomorphs or aliens with guns blazing all over the place. The game is highly optimized for PC and supports DirectX 11 with Tessellation, real-time Direct Compute radiosity, and shadows making it an ideal game to benchmark with settings at Ultra.
Batman Arkham Knight
Since the game is powered by Epic's Unreal Engine 3 and supports DX11 tessellation so playing this game on 1920x1080 resolution with all settings maxed out can be any modern system's 'worst nightmare'!
Battlefield 4
Based on the DICE's Frostbite Engine 3 this game not only taxes a CPU and GPU both by reproducing lush details on the screen but also utilizes the DX11 and DX11.1 features coupled with 64-bit binaries! Settings were at Ultra with antialiasing deferred at 2x MSAA and ambient occlusion enabled.
Fallout 4
Fallout 4 takes place in post-apocalyptic Boston in the year 2287, 210 years after a Nuclear war. Bethesda's Creation Engine drives the game's strong first- and third-person presentation. The game takes advantage of DirectX 11 and can be highly taxing on most of the PC hardware. At full HD resolution shadow and godrays quality was set to high along with everything else cracked to max.
Far Cry Primal
A game that takes the concept of going back in time a bit too far, set in pre-historic central Europe where man is still fighting the forces of nature to become the dominant species on Earth. Based on Ubisoft's latest Dunia Engine, the game takes advantage of DirectX 11 and is heavily taxing on high-end GPUs. We used Very High preset at 1920x1080 resolution since that's what is considered the sweet spot for this game.
Ashes of the Singularity
Developed by Oxide Games & running on the Nitrous Game Engine Ashes of the Singularity is a real-time strategy game set in the future where descendants of humans (called Post- Humans) and a powerful artificial intelligence (called the Substrate) fight a war for control of a resource known as Turinium.
We've used the in-built benchmarking tool and the result is shown in an average of all the graphical tests conducted over various locations and topographies of the game. DX12 API, Quality set to Extreme, 4xMSAA and everything else to high.
Hitman 2016
Agent 47 is back and in this sixth installation of the infamous Hitman series everything is notched up ranging from gameplay to graphic engine. The game uses an in-house game engine by IO Interactive called the Glacier game engine that is one of the first to leverage DirectX 12. The sole purpose of including this game in our benchmark today was to see how the RX 480 performs in DX12 mode.
Settings are at Ultra on full HD resolution.
DOOM
Finally we've introduced this much awaited titled to our benchmarks! Developed by ID Software Doom or popularly written as DOOM is a reboot of the older Doom series. Its fast and scary with more than enough variety of guns that you can ever imagine or even use!
Its OpenGL and quality is set to Ultra.
Noise & Temperature
The fans on the Asus ROG STRIX RX 480 don't spin till the card hits 54°C or more. We recorded the maximum temperature in Celsius that our card hit during extensive gaming & sound was measured in decibels from a distance of 3 feet. This was performed for both stock and overclocked speeds.
My Verdict
Asus has done a lot of small but significant things with the STRIX RX 480 and made it an interesting card as a whole. The fans don't spin when the card is idle or under normal workload which is a lovely yet common feature now but the two fan headers spread out this feature to the case fans now making sure that one has a silent and soothing experience while doing work or watching movies! The RGB lights or the Aura lights are wonderful and not too bright or irritating like some are on many products out there, to be honest this LED light compliments the design of the card to say the least.
I love the fact that there are no visible heatpipes from the sides as the card look more streamlined and elegant which is a fresh approach. On the downside the card memory isn't OC friendly and the product is a bit loud under load. Priced higher at around Rs. 28000 puts it in line with some non reference GTX 1060 6GB editions and by the graphs above we can see that the GTX 1060 does beat it some areas excluding those involving the Vulkan or DX12 API. This sort of leaves us in a state of dilemma as 2017 would witness more DX12 or Vulkan supported titles rolling out sooner than later, so its a wait and watch situation to get a rock solid verdict upon who the winner is.
The Asus ROG STRIX RX 480 is a great improvement over the reference model and is a solid contender worth buying simply based upon your own taste and preferences.
I give it a solid
8/10
and it earns our gold award!