Tecno to Launch Camon 19 Series Globally on June 14
According to Tecno, the Camon 19 series will be released for the global market soon. The launch of the Chinese tech company's latest lineup is set for June 14. On the specified date, the Tecno Camon 19 series will be unveiled during an event, high above the hustle and bustle of New York City's streets, on the 65th level in Bar Sixty Five atop the iconic Rockefeller Center.
This is an appropriate, sky-scraping location for a premium worldwide smartphone brand on the rise. This announcement suggests that TECNO is expanding its worldwide reach and focusing on premium offerings by combining fashion and cutting-edge technology.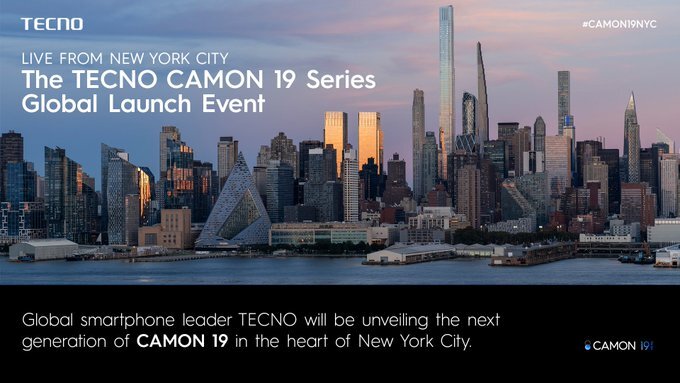 The CAMON 19 Pro is part of the Camon 19 series, and it will be on display at the event. With its arrival in the United States, Tecno continues to make great strides into the worldwide market. The event is the company's first in the United States, and it will concentrate on high-end products for the US market's higher echelons.
Must Read: TECNO Ranks 6th among Africa Best Brands
This news has sparked a lot of excitement for the release of the new Camon Series. Although the CAMON 19 series' debut and features are yet unclear, one thing is sure: it's not just a high-end device but also a work of art thanks to its unique and stylish appearance.
The TECNO CAMON 19 Series recently received the prestigious iF Design Award, where it was hailed for its ultra-thin bezel and dual-ring, triple-camera configuration. According to TECNO, the brand will continue to focus on combining technology and fashion. The new series will undoubtedly exceed expectations in terms of appearance, which will be revealed at the next launch.
TECNO continues to place a strong emphasis on photography and performance. CAMON 19's RGBW lens technology, developed in collaboration with Samsung, will provide a superior low-light photography experience with improved light sensitivity and less light crosstalk. TECNO has also revealed that it is one of the first to make Android 13 beta available on its latest CAMON 19 Pro 5G. It plans to update its CAMON 18 series to Android 12, ensuring that CAMON users have a more secure and technologically sophisticated experience.
Must Read: Top 10 Best Tecno Phones Under 50000 Naira In 2022
According to reports, the event will be hosted by a well-known technology host, and other prominent influencers will attend to express their thoughts on the new phone. The introduction of the CAMON 19 series will be held on June 14 in New York City.
What else will this innovative and brilliant smartphone launch have in store? Let's keep a close eye on events.
This post was originally published on this site
The post Tecno to Launch Camon 19 Series Globally on June 14 appeared first on GulpMatrix.
This post first appeared on Gulpmatrix, please read the originial post: here