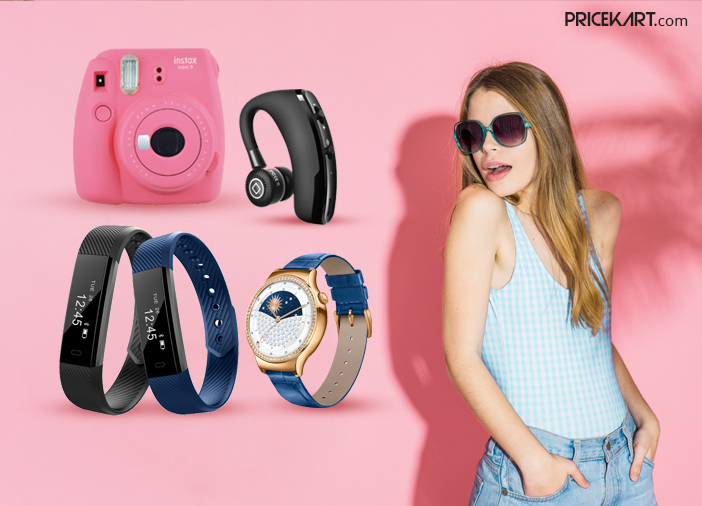 Making a fashion statement is not just limited to the clothes you wear. A fashion statement can even be made with the Accessories you carry. Especially with the world moving at such a fast pace, we need certain Tech Accessories to get us through the day. Well, it goes without saying that your latest smartphone can also be counted as a tech accessory. Just make certain to pick a smartphone that suits your personality. However, there are many other tech accessories for women that will up your style mantra. Want to know what these tech accessories for women are? Well, take a look.
Tech Accessories for Women #1: Smartwatch
When you look at it, it looks like a regular watch on the wrist. However, the features make it like wearing a mini smartphone on the wrist. Connect your smartphone to a smartwatch to receive notifications of all the calls and texts that you are getting on your smartphone. Additionally, you will also be able to reply to texts, set reminders, use various apps and even track fitness with your smartphone. A sleek and chic smartwatch is definitely a gadget you need to own.
Tech Accessories for Women #2: Instant Camera
Yes, we girls are Instagram-crazy and we don't deny it. We love clicking pictures of new places, people we meet, and FOOD! Nevertheless, all these pictures end up in one corner of our smartphones and we forget about them after some time. You can instead carry around a chic instant camera that will capture your memories for you to hang on your bedroom walls. Plus, the best part about these instant cameras is that you get your picture almost instantly. A pretty good way of capturing ever-lasting memories, right?
Tech Accessories for Women #3: Bluetooth Headphone
Do you enjoy listening to music on your morning run or workout? Or do you love binge-watching on movies and series all night while everyone is asleep? We can't enjoy these small joys, without a good pair of headphones. And, if we are talking about headphones, why prefer the traditional ones when you can choose to go wireless?
A Bluetooth headphone will connect to your device, eliminating the hassle of dealing with long wires. Moreover, these headphones will not fall off during your workout sessions. A hassle-free experience altogether. Another bonus point is that wireless headphones look good on all outfits.
Tech Accessories for Women #4: Portable Charger
Do you enjoy travelling with your girl gang but the only trouble is that your smartphone constantly runs out of charge? We have all been in a situation where we run out of smartphone battery and have no means of charging it until we get home. Avoid this sticky situation by getting a portable charger. Make sure you go through some power bank buying tips before making a choice. But once you have a portable charger by your side, you can relax and charge your phone 2-3 times a day.
Tech Accessories for Women #5: Fitness Tracker
This is for all the ladies who are health conscious and want to maintain a healthy lifestyle. Get yourself a fitness tracker to get you through your fitness routines. A fitness band is specifically made for keeping a track of all health-related routines. So, you will be able to keep a tab on the number of steps you take in a day, the number of calories burned, the distance walked, the hours you have slept and so much more. Want to stay fit? A fitness tracker can help you. Plus, it looks good on the arm and gives a sporty look to the person wearing it.
The post Tech Accessories for Women to Up Their Style Mantra in 2018 appeared first on Pricekart.com.