The Google Play Music application has today been updated to enable you to have more control over the playback quality of the music you're listening to. This new feature allows you to choose a music tracks' audio quality when streaming over wireless networks, as well as when downloading them for offline access. The said option was previously only available for streaming on mobile networks.
First spotted by 9to5Google, the option to choose the playback quality appears under the 'Playback section' in the setting window. The said section then further introduces a new option to set the quality on Wi-Fi networks, which is set to 'Always High' by default. But, it now provides you with a set of options — Low, Normal, and High — to set the quality depending upon your network.
You should, however, remember that the 'Always High' option will force the app to play the highest quality version of the track even on low-bandwidth networks. This means you might have to wait due to the possibility of constant buffering. This has been the default set for streaming tracks on mobile networks as well. This Google Play Music setting doesn't specify the bitrate for each of the audio quality options.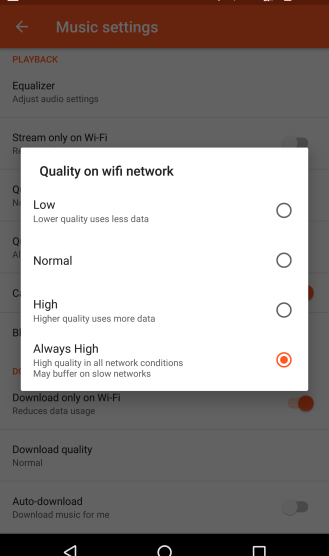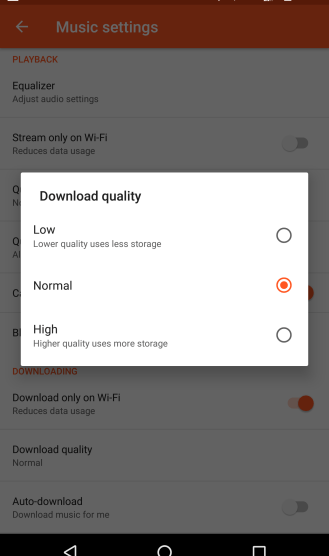 In addition, this Google Play Music update also brings along the option to change the 'download quality' of the music tracks you want to make available for offline access. This section in the settings window also provides the same three options and allows you to choose compression quality for the songs you're downloading. This has been set to 'Normal' by default, but you can pick the other two options depending on the audio playback quality you desire and storage constraints of your device.
This move from Google shows that the company is steadily getting more serious about its music streaming service, as it faces serious competition from the likes of Spotify, Apple, and Tidal. It has recently also announced a major update for Google Play Music, which makes use of machine learning to generate playlists based on your location, activities, and the weather. And, there's a possibility that the streaming app will soon integrate with the Clock app and wake you up to your favorite tunes.