According to the patents which surfaced online a couple of weeks ago, Samsung is working on an in-display fingerprint scanner with secured ultrasonic technology. Before Samsung's all-screen in-display fingerprint scanner patents went online, Samsung held an OLED Forum at Shenzhen Marriott Hotel in China. Around 20 lucky customers were invited to attend the event. Well, the Samsung Display which is the display making the wing of Samsung Electronics, conducted the event teasing the four upcoming display technologies that Samsung is working on. Thankfully, one of the slides leaked out and we are here with what it states.
Everything Samsung is working on for the year 2019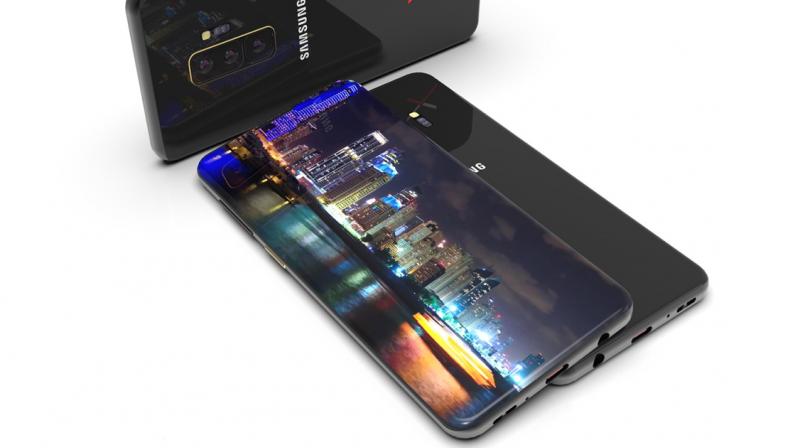 Samsung Display has laid its plan for 2019 and has teased four technologies at this event touted as FoD or Fingerprint on Display, UPS or Under Panel Sensor, HoD or Haptic on Display and finally, SoD or Sound on Display. We already know what is a FoD and thanks to the inputs from Chinese manufacturers Vivo and Xiaomi, we are aware of having SoD works by producing sound from beneath the display under piezoelectric motors which don't need a physical speaker at the top or bottom edge.
Leakster 'Ice Breaker' on Twitter provided the required inputs on UPS which is a titillating concept wherein all the Sensors mounted on the top edge of a smartphone would otherwise go behind the display thus, it will save the screen real estate, provide Samsung a plausible growth in sales after the technology actually materializes by giving it an edge over other manufacturers who are using notches to expand screen estate while integrating all the sensors needed.
Now, the thing is, there are speculations that Samsung wouldn't actually put the front-facing camera behind the display but all other sensors. On the contrary, folks XDA have stated that there is a dashed circle on the front top of the panel where the front-cam should be which hints that Samsung could use a UPS camera which will be hidden beneath the screen and camouflaged with the display but the particular region of the screen will become transparent when you want to use the camera.
Samsung Displays enjoys a prowess in the display-making industry as it has excelled with its high-end Super AMOLED screen and it has successfully controlled selective region of the display and the firm is also behind few of the best displays in the market today.
Samsung could release its upcoming Samsung Galaxy S10 with the transparent OLED displays with all the sensors hidden beneath it. However, there is a possibility that such technology is only after in 2020 or later because Samsung hasn't actually unveiled any smartphone with its much-anticipated FoD yet so we will have to wait for that.
Source | Via
The post Samsung knocks off notches with its under panel sensors appeared first on TrueTech.