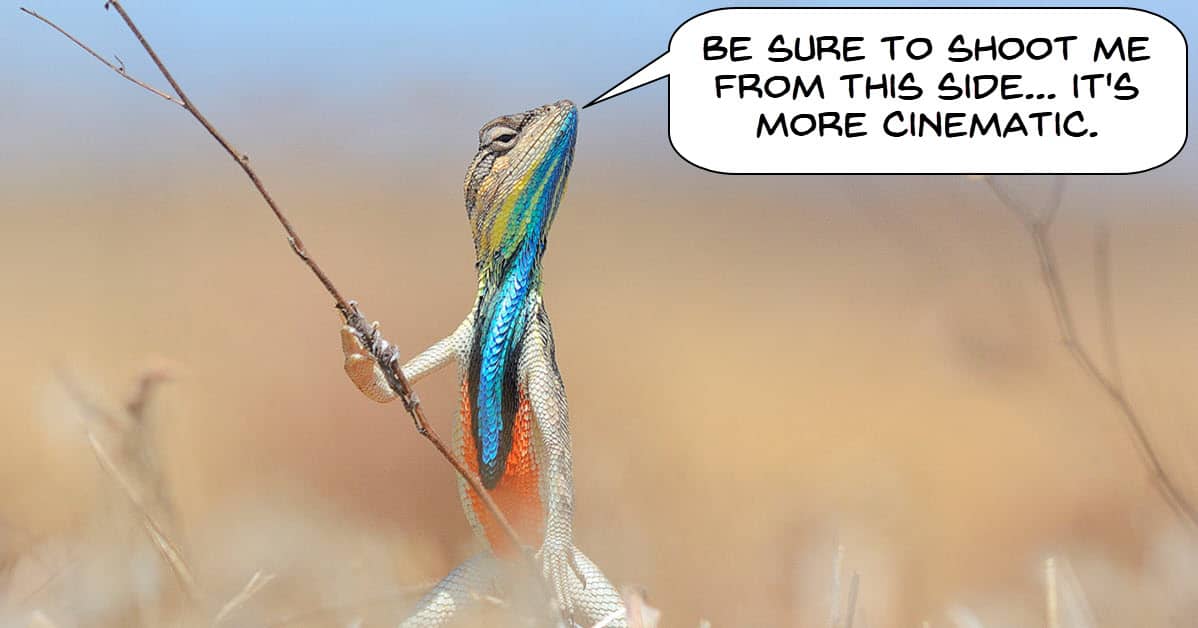 7 Ways To Make Action Cameras Look Cinematic
The upside to using an action camera is that you can go just about anywhere with it and be ready to shoot at any time.
Let's face it, these days action cams can get you some pretty amazing footage and at a quality that can be quite incredible.
There are a few downsides to using them and one of those is that when you see action Cam Footage it nearly always looks like, well… action cam footage!
There are technical reasons for that over which you have pretty much no control but there are other reasons that maybe you can control.
In the video below you can get some great tips on how to minimize that "action cam" look and get things a little more cinematic.
In addition to what is covered in the video there are a few other points you should be aware of that can also help.
The dreaded "fisheye" effect you get from most action cam wide angle lenses is not just a known factor.
It is known so precisely that most good video editing software will have a correction filter not just for fisheye in general but for the specific fisheye your action cam produces, so look out for that one.
Also software like Filmora, PowerDirector, Pinnacle Studio, VideoStudio etc. have a color match feature so that if you are mixing footage from sources you can get it all looking the same almost automatically.
---
Grow on Youtube when a Channel is Stuck
This is another (rather lengthy) livestream from Derral Eves covering the subject of YouTube Channel development.
Provided you stick at it long enough and have at least some of the basics covered you will more than likely hit some level of success on YouTube.
Whether that level of success is enough to provide you with an acceptable income if that what you are going for is entirely another matter.
What is also pretty consistent on YouTube is that your initial growth will almost certainly stop at some point unless you begin to get very specific on how you are going about running the channel and creating content.
It is at this point that these livestreams kick in and if this is what you are wanting to do then they are well worth taking the time to watch.
---
6 Ways to Edit Any Scene – Editing Techniques Explained
This is an excellent deep dive into how exactly to make cuts in your projects.
It covers the various techniques and fully explains how and why each one does what it does.
---
How to Add Mosaic or Blur Effect to Moving Object with Few Clicks – Filmora Tutorial
This is just a simple tutorial in Filmora on how to create a motion path and stick something on to it.
Of course creating a motion path is pretty useless unless you do something with it!
The most common thing to do with a motion path is to attach something to it.
It can be a title, an object, a mask an image or even another video! In this tutorial you can see how to attach a blur effect.
---
Before & After Editing Trick – Wondershare Filmora Tutorial
Not so much a "How to" video but more of a suggestions video on best practices for certains types of video.
In this case it is when you are creating some kind of "before and after" sequence.
Most of the techniques have been covered extensively in other videos so this is just a reminder (or should be) of where you may want to use what you already know.
---
How To Censor Bad Words – PowerDirector 20 / 365
If you are making something kid friendly or don't want to get banned on YouTube or maybe just don't want to shock grandma into an early grave!
Shows in action also the ability to copy and paste effects/settings from one clip to another which is a huge timesaver.
---
PowerDirector – Creating a Split Screen Video Using Masking
If you have an older version of PowerDirector that predates the existing Split Screen module or you just want to exercise more control outside of the presets on offer then this is a great tutorial on doing that.
And for all you kids out there, yes, this is how grandpa did it back in the day!
---
Quick and Simple Way to Fix BugSplat Error in Filmora
Filmora like many other software programs uses a service called Bugsplat to detect and report bugs in their software.
For the most part it is a great little feature that helps greatly in Wondershare being able to identify and deal with bugs in a timely manner.
On the other hand sometimes Bugsplat can have a bit of a twitchy trigger finger and go firing off on the slightest little thing.
One particular way that happens is if you are dealing with footage or projects in Filmora that are right on the edge of your computer being able to handle them.
This results in little lags and glitches that Bugsplat may leap on in an instant and put you through the whole bug reporting routine.
Generally speaking this is unnecessary because the real problem is that the computer is having trouble… not the software.
In the video below you can see how to stop this from happening.
---
The Friday Roundup – Trapped in Your Own Home Edition
Setting a Video Camera or Camcorder Budget
The Friday Roundup – Zoom Transitions, B-roll and Motion Blur
Prices and Budget
The Friday Roundup – Microphone Basics, Camera Effects and Stabilization
---
Original post The Friday Roundup – Cinematic Action Cam Footage and How to Cut