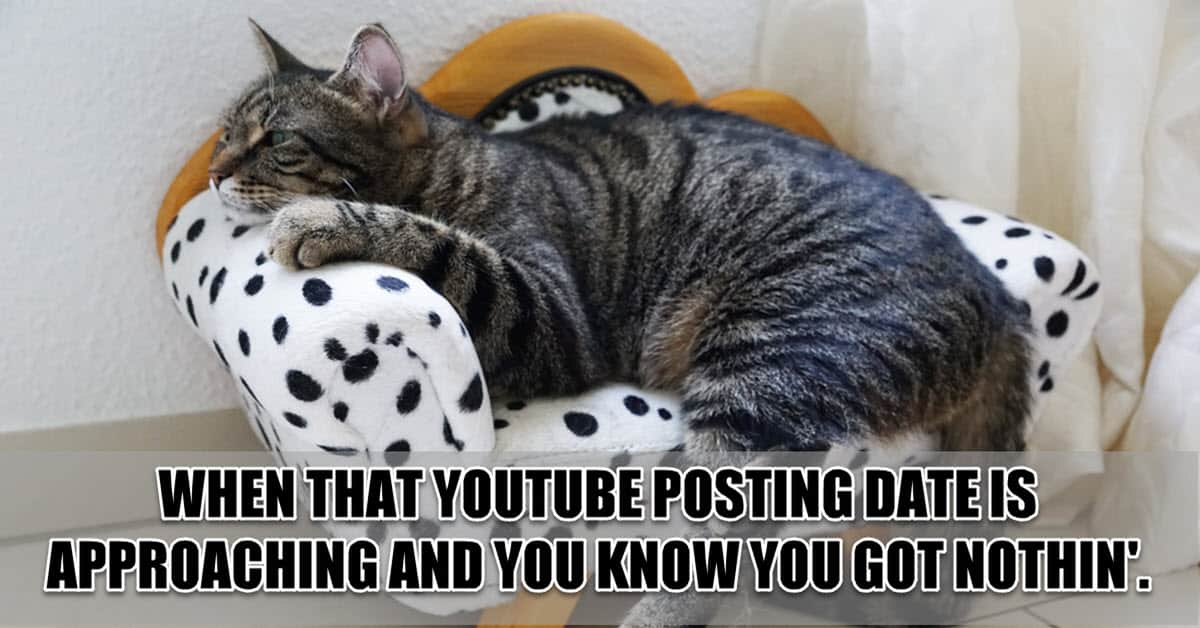 6 Habits for Creativity
Sometimes it is better to get on to a kind of treadmill of production which allows for greater productivity with your projects.
Having an unchanging routine can really work in your favour this way.
This especially applies to those who are constantly creating for a YouTube channel or something like that where there has to be a steady flow of video produced.
The down side of this is that as far as creativity goes it can be a bit of a mood killer!
You may be all set up to produce but the question of WHAT to produce can bring it all to a grinding halt.
At times like that a dramatic break from your routine can be very beneficial.
---
Filmmaker Reacts to Incredible Instagram Video Techniques
Peter McKinnon no slouch himself when it comes to cool videos but it's always fun to watch along with him when he checks out some of the more amazing videos going around.
Most of the time he can at least explain how it was done… but not always!
---
Why A Fish Is Better Than MrBeast
I'll just leave this here for anyone who is interested.
No need for me to add anything.
---
5 Creative Ideas for Shooting Instagram and TikTok Videos at Home
These are some good ideas for making cool little "effects" videos which of course you can try yourself but the real value is learning the techniques.
Each one relies on a set of shooting skills or setups as well as some post production voodoo.
Once you master the techniques you can apply them to your own ideas.
Check Out the New Movavi Here
---
Easy Way To Animate Lines in Wondershare FilmoraPro
A few years back now Wondershare released a more "pro" grade video editor called Filmora Pro.
It is not just a version of Filmora on steroids!It is actually a completely different professional grade editor that they built from the ground up.
The reason for that was that many of their original Filmora users were asking for more and more advanced features.
The problem with that is that there is only so far they can go with adding more features to an existing platform.
The newer and more advanced features generally do not run efficiently because they are sort of "tacked on" and those features demand more and more computer resources.
Similarly those features have to be accessed somehow through the interface so before long things start to get a little complicated in that department.
If you think you may be growing out of your existing editor, maybe you might want to take a look at this one.
Check it Out Here at Filmora Pro
---
Tracking Multiple Objects in Wondershare Filmora X with Motion Tracking Feature
This is a good example of understanding the limitations and abilities of the software you are using then working out a hack to overcome any shortfall.
As you can see in Filmora below you can only track one object in a video… but! There are actually two ways you can track more than one.
The first is shown below where you just keep adding a copy of the original clip and track a new point in that one.
The other way is to track a point, attach the element you want then "bounce" the video, bring it back in and track again.
"Bouncing" means that you actually produce or render the clip then bring that new clip back into the project for more work.
---
Telekinesis Power Effect – Wondershare Filmora X
Another simple yet very effective technique you can pull off in just about any video editing software.
As usual the trick is mainly in the shooting, not the post production.
---
Filmora X Video Sliding Effect
This is a good demonstration and exercise in using keyframes to move videos around on the screen and create smooth motion.
---
How to make a Progress Bar in Filmora X
Grab some color blocks, adjust the size and shape, throw in a few motion keyframes and before you know it… progress bars!
This one is shown in Filmora but most video editing software will do it pretty much the same way.
---
PowerDirector – Tips on Working with Timeline and Clip Markers
One feature that has trickled down from up in the rarefied atmosphere of the pro level editors is that of being able to mark the timeline.
Originally this was restricted to just making "beat" marks to help with better timing of cuts but these days we have moved on a bit.
They are a great way of adding notations or reminders to yourself of ideas you had at the time but couldn't do right at that moment.
PowerDirector Review
Director Suite Review
---
What The Heck Are Blending Modes? – CyberLink PowerDirector 20
Excellent explanation and demonstration of what Blend or Blending modes are and how they affect a final video.
---
The Friday Roundup – Getting Ideas, Tilt Shift Lenses and Action Cams
The Friday Roundup – It Ain't the Meat It's the Motion and Other Editing News
How to Upload Your Videos to Instagram from PC and Mobile
The Friday Roundup – Cinematic Movement, White Balance and more!
The Friday Roundup – Wondershare Filmora X Updates, Music Editing and Keyframes
---
Original post The Friday Roundup – Finding Inspiration and Maintaining Your Creativity