Masih ingat dengan kasus lucu yang menimpa versi remaster dari Assassin's Creed 2 yang masuk dalam Assassin's Creed: The Ezio Collection. Mungkin memang kasus bug atau glitch yang terjadi di serial Assassin's Creed bukanlah sesuatu hal yang baru. Hal itu seperti hampir terjadi di semua serinya dan telah dimaklumi oleh para pemainnya, kecuali tentunya untuk Assassin's Creed Unity dimana bug dan glitch yang terjadi memang sudah bisa dibilang keterlaluan.
Tentunya mungkin kamu sendiri juga sudah tahu tentang bug yang ramai dibicarakn sebulan yang lalu ini, dimana dalam video yang diupload oleh Polygon di atas yang menunjukkan bahwa dalam versi remastered tersebut, NPC yang ada di salah satu cut scene dalam gamenya berubah menjadi aneh, dengan wajah plastik yang tidak dipoles serta mata dan bibir yang besar dan kontras yang membuatnya seperti boneka manekin yang bergerak dengan tatapan mengerikan. NPC inipun segera viral dan menjadi candaan di dunia maya.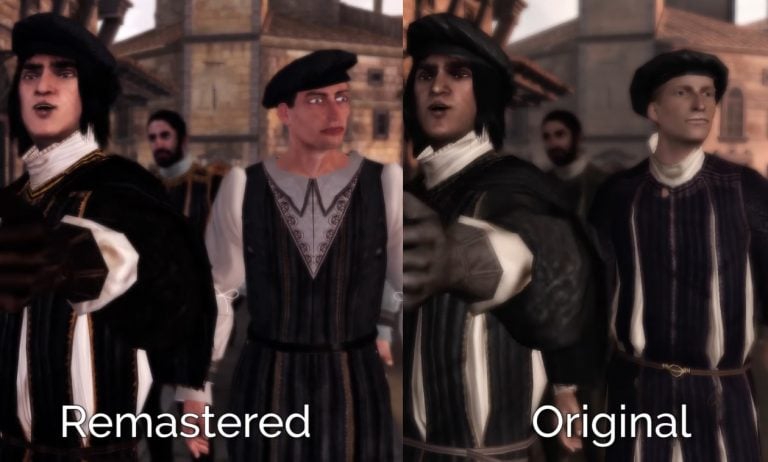 Namun sayangnya, umur dari NPC ini kelihatannya tidak bisa bertahan lama. Karena dalam update terbarunya, Ubisoft mengeluarkan yang akhirnya memperbaiki NPC ini. Dalam patch tersebut Ubisoft menuliskan bahwa mereka telah memperbaiki "a weird NPC face". Dimana belum diketahui bagaimana tampang sang NPC sekarang setelah mendapat oplas dari sang pengembang. Tapi tentunya, bug dari NPC tersebut tidak akan terjadi lagi kedepannya di dalam versi remastered tersebut.
Dilain pihak, franchise Assassin's Creed kini tengah disibukkan dengan movie adaptasi dari gamenya. Dimana game terbaru dari Assassin's Creed paling cepat akan kamu temui tahun depan.
The post Ubisoft Keluarkan Patch Untuk NPC Aneh di Assassin's Creed 2 Remastered appeared first on Gamebrott.com.