By Des Nnochiri
VPN stands for Virtual Private Network, but what does it mean?
A physical network allows different machines to be connected to one another in the same room, building, etc. A virtual network allows you to create the same experience.
But instead of using reams of cables, it utilizes the near endless void of cyberspace, allowing different devices to be connected to one another from pretty much anywhere in the world. (Although if you're trekking through the Himalayas, you're likely out of range of the nearest Wi-Fi hotspot.)
What are Vpns for?
They're primarily a security measure that allows you to create a secure conduit between terminals and devices.
They were originally designed for use by large companies to give access to all the various branches of their organization. In the case of a retailer, for instance, they can allow staff to access training material, company updates, information about marketing and displays, and give them the ability to connect to supply warehouses or repair agents. All while maintaining the privacy of a traditional network.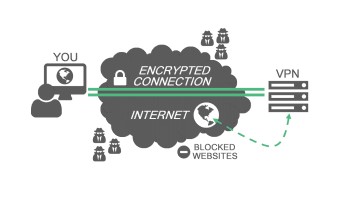 In a non-commercial scenario, they can be used to browse the internet in complete privacy and access content which would otherwise be unavailable to you.
In theory, a VPN can prevent your service Provider and even your government from seeing your browsing history and allow you to access sites which may have been previously blocked.
For example, UK internet providers recently received an injunction

to block sites illegally streaming the Premier League football competition. However, with a VPN, such sites would be easily accessible.
VPNs also allow users to geo-spoof their location, meaning you can fool services into thinking you're located in a different country. You can then enjoy streaming sites like Netflix without the restrictions imposed by your location, as their non-original content varies wildly from country to country.
You could also access region-specific services like BBC iPlayer, All4, and ITV Hub if you live in another country where these services are not available. This is particularly useful for all those stateside Doctor Who fans.
However, it's worth remembering the reason that you're unable to enjoy them restriction-free is down to licensing agreements with content providers, which helps them to finance future content.
VPNs also provide extra security when using public hotspots and free services, the bread and butter of hackers due to their vulnerability. A VPN will encrypt the information you transmit, making it useless to the techno ne'er-do-wells.
Without the key to the encryption, the information is nonsense, and with hundreds of VPN providers out there, that's a lot of possible keys for a single lock.
What Types of VPN are There?
Although early data networks used a VPN-style connection through dial-up modems, leased data lines, or private circuits, they're not considered true VPNs.
True VPNs consist primarily of two types: remote access or site-to-site. The former connects a single computer to a network, while the latter connects one network to another.
Both types tend to be most often used within a corporate environment. Remote access VPNs would allow employees to access their company's intranet (private network) from outside of the work environment, while site-to-site VPNs allow geographically-disparate employees to connect to one cohesive network.
For example, if you had offices in London and Hong Kong, those employees would be able to access the same information and services.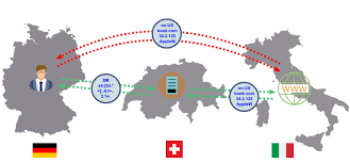 You can also have mobile VPNs, which are used in settings where the endpoint is not fixed to a single IP address, instead roaming through multiple data networks and Wi-Fi access points.
These tend to be used by organizations like the police, allowing them to access important systems while out in the field, such as criminal records and computer-assisted dispatches.
However, because they can roam across networks and in and out of Wi-Fi coverage without dropping security or losing application sessions, they're beginning to be adopted by mobile networks as well.
What Services are Available to You?
As we said earlier, there are hundreds of VPN providers, so you have plenty of choices that can either be subscription-based or free. Free services will often have data caps, usage restrictions, and, in some cases where the provider also offers a subscription service, bandwidth speed is prioritized for paying customers.
You also don't have the same level of warranty guaranteed to subscribers, and sometimes providers only offer these services in certain countries. Nonetheless, free-to-use services are ideal for short usage, such as when you need extra security for an unexpected business trip.
With a subscription service, these restrictions don't generally apply, although each provider will come with its own limitations.
ExpressVPN

, which is generally considered the best all-round

provider, has service in 94 countries, a 24/7 helpline, and a 30-day money back guarantee, but your subscription will only support three devices.
IPVanish

, on the other hand, doesn't have a free trial, but does support ten devices at a lower price than ExpressVPN.
What, then, do you need to consider when deciding on your service?
What's the cost involved? If it's not a free service, how much will it cost per month, and is there any discount for locking in for a set time?
Is the service available in all the countries and regions you need?

If the country you're travelling through doesn't have any servers, coverage could be limited or even non-existent.

How many devices can be connected per subscription?

Does it provide for your needs? Three connections would be fine for personal use, but is it enough for your household or workplace?

Check the privacy policies.

You can see what data the provider retains, for how long, and what it's used for.
Find the right balance of these factors for your needs and you should be able to find a service to match them.
Final Thoughts
Hopefully you now feel more clued up on VPNs, how they work, and what they can do, so get out there and start enjoying the internet to its fullest and most secure abilities.