AI is revolutionizing the construction industry by improving productivity, reducing costs, and increasing safety. It helps construction companies to optimize their workflows by predicting and preventing delays and improving resource allocation. Building AI-based development solutions like Smart Construction also facilitate better decision-making by providing valuable insights through data analysis. AI in Smart construction can solve several purposes like project planning, monitoring and control, risk management, predictive maintenance, and quality control. AI is expected to play a significant role in the future of the construction industry, transforming the way construction projects are planned, designed, and executed.
Artificial Intelligence (AI) (and allocation of resources channeled towards AI) will likely play a more prominent role in Construction in the next few years as market barriers to entry continually decrease and breakthroughs in AI, Machine Learning (ML), and analytics increase.
What do we mean When Discussing AI and ML in the Construction Industry?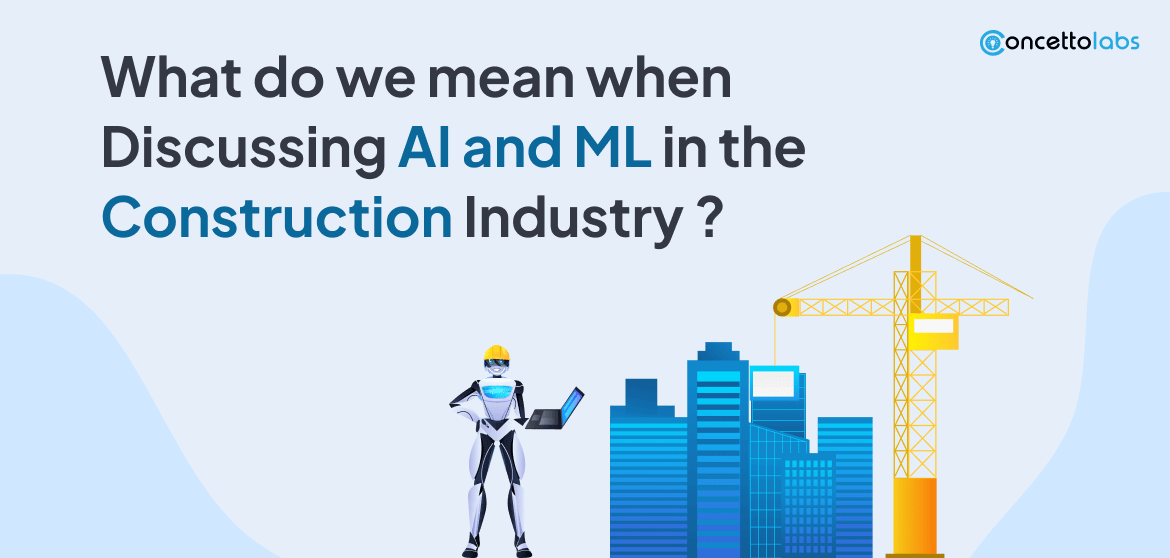 Before delving into the use of AI in the construction industry, having a basic understanding of what it means to have AI and ML development services is a must. When a computer can do cognitive tasks like problem-solving, pattern recognition, and learning in a way that is indistinguishable from a human's, we say that it possesses artificial intelligence (AI). It's important to note that machine learning falls within the umbrella of artificial intelligence construction. Machine learning aims to allow computers to "learn" from data independently without being specifically programmed to do so. When exposed to more data, a computer improves its ability to comprehend and offer insights.
The questions and algorithms get substantially more complicated when used in construction. For instance, a machine learning algorithm may keep tabs on and assess the status of a grading plan to spot potential delays in a project's timeline. Cut and fill volume measurements, machine uptime and downtime, weather trends, previous projects, and other inputs may all be "asked" by the algorithms to derive a risk score and whether or not warnings are necessary.
How Artificial Intelligence Can Be Used in Smart Constructions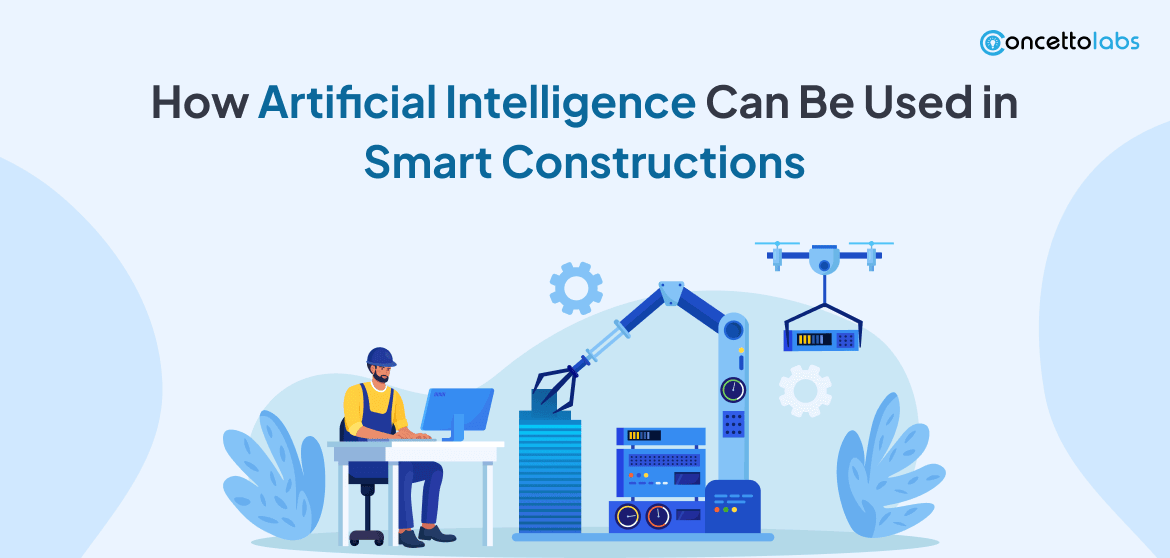 The digital transformation of AI in smart construction is already underway. Exploiting the full potential of the construction sector requires a focus on technologies such as artificial intelligence and machine learning throughout the whole engineering and construction process, from design through pre-construction to construction to operations and asset management.
AI in construction management is making a significant difference by reducing labor costs and increasing productivity.
The Construction Industry as a whole stands to gain the most, particularly in the areas of planning and design. The European market is predicted to have the highest growth rate in the world's construction AI sector.
All parties involved in the project, such as builders, property owners, and service providers, stand to benefit from this technological transformation. The importance of the construction sector adapting to the digitalization of its operations is heightened because other nearby industries, such as transportation and manufacturing, have already begun functioning as an ecosystem.
When the transition is still in its infancy in the engineering and construction business, companies that improve their technology now stand to gain greatly. By the use of AI for quality control in construction, firms can confidently take on new challenges while learning from previous errors.
Using the statistical methods of machine learning in the construction industry makes it easier and faster to examine the data relating to altered orders, information requests, etc. This will assist in providing early warning to the project managers of issues that require immediate action. More effective safety monitoring is possible as well.
Advantages of using AI to improve Using Cutting-Edge Technology in Construction Project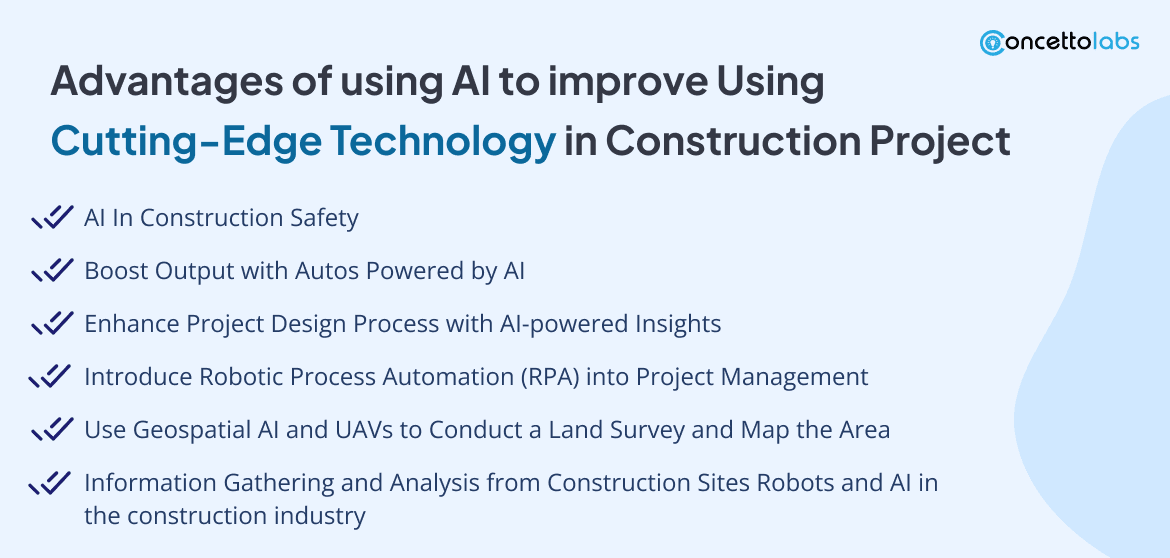 Businesses that wish to maintain a technological advantage in the current market should act swiftly to modernize their infrastructure. The use of artificial intelligence in construction can make it smarter. Hence, let's look at the importance of AI in construction.
1. Enhance Project Design Process with AI-powered Insights
The existing method of construction design could be more convenient and convenient. The design of a project may be improved with the use of information gathered from the construction systems, the materials used, and the surrounding environment.
2. Introduce Robotic Process Automation (RPA) into Project Management
Tasks in the construction process could be more exciting, time-consuming, and prone to mistakes if done by hand. Most of a project manager's time is spent on administrative tasks, such as task delegation and staff tracking.
Yet, many routine jobs that can be completed with little to no mistakes may be automated using artificial intelligence. Automated AI systems may also handle delegating work based on information obtained from workers. This improves efficiency and inspires individuals to zero in on their areas of expertise.
3. Information Gathering and Analysis from Construction Sites
Robots and AI in the construction industry primarily equipped with cameras or intelligently operated construction machinery can collect data in various formats. With these pieces of information in the hands of the deep neural network, the project's development may be automatically categorized in various ways.
With this information, leaders can identify and fix even the smallest problems before they snowball into severe setbacks.
4. Boost Output with Autos Powered by AI
Using self-driving construction equipment may speed up and improve the quality of monotonous jobs like welding, bricklaying, and concrete pouring.
Similarly, automated or semi-automatic bulldozers can be used for site preparation and excavation. These machines can perform according to the requirements after the data is input. You can lessen the danger to your human workers and free them up for other important construction duties.
5. Use Geospatial AI and UAVs to Conduct a Land Survey and Map the Area
Land surveys and aerial photography may be performed in a fraction of the time, allowing for more efficient project management. Using drones in conjunction with a GIS and Geospatial AI (GeoAI) will allow you to more effectively monitor the status of your project and address any issues that arise on the job site.
6. AI In Construction Safety
Another scope for Artificial Intelligence (AI) technology in Smart construction is the safety factor. AI-powered systems can monitor construction sites and environmental conditions to detect safety hazards and alert workers in real-time. Thus, it helps inspect sites quickly and more efficiently, saving the staff time.
The Impact of Artificial Intelligence on the Construction Industry
AI can enhance construction projects throughout their lifespan, from preconstruction to post-completion activities, including asset management and site safety planning. AI's ability to automate and optimize essential procedures is particularly useful in this industry.
What are the key Advantages of AI in the Construction Business?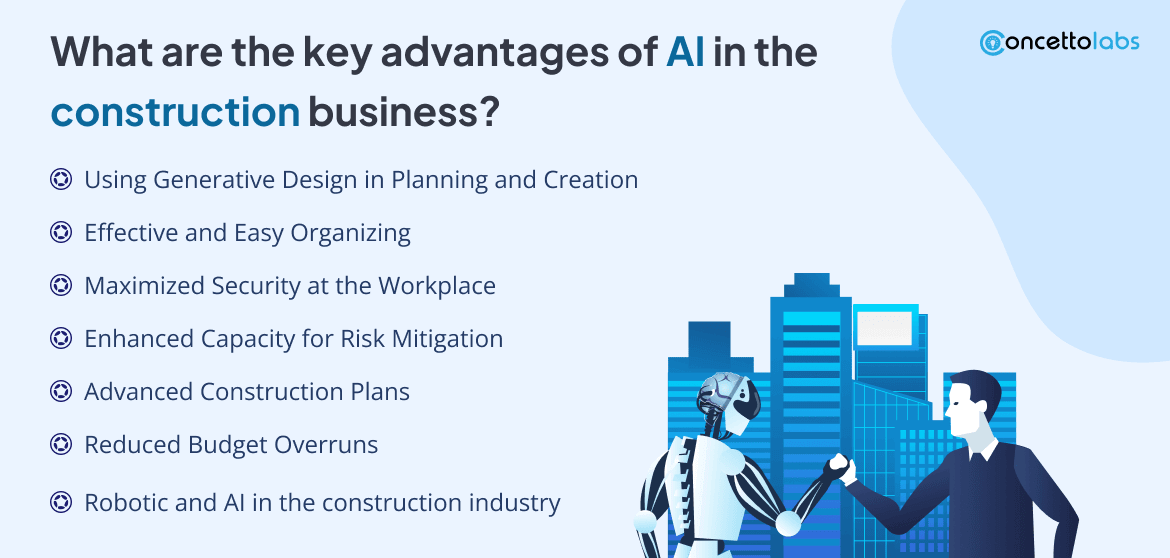 Ever wondered, how can technology be used to complete transactions and make construction more smarter? There are a range of benefits of using AI in construction scheduling:
1. Effective and Easy Organizing
Large-scale construction projects require meticulous planning for variables, including workforce, machinery, raw materials, and construction techniques. By easily adjusting these factors, artificial intelligence speeds up the process of developing several effective schedules and plans for a project. An AI reinforcement learning method is useful in construction management since it facilitates sound decision-making.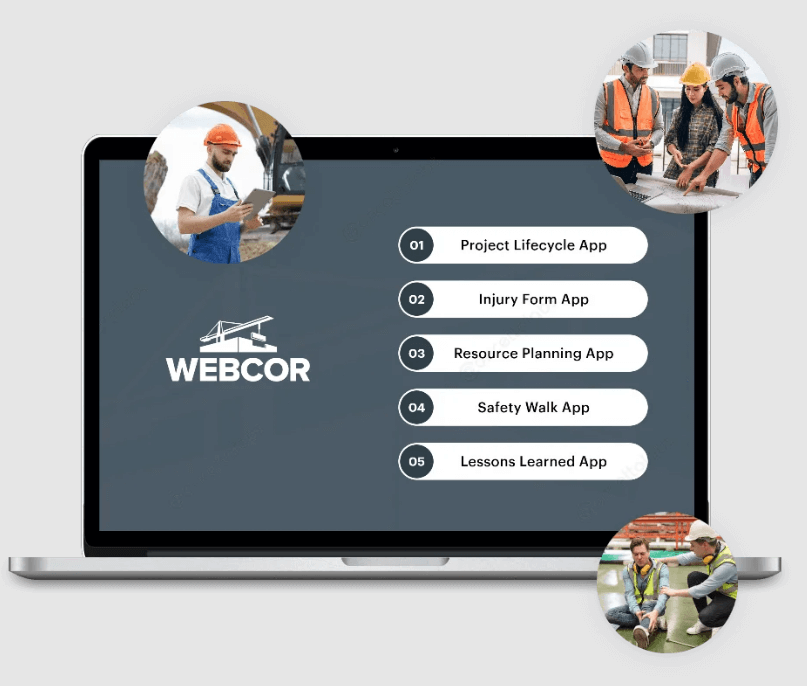 2. Maximized Security at the Workplace
Artificial intelligence and machine learning greatly aid in minimizing the possibility of injuries occurring on construction sites. The ability of AI systems to swiftly receive and analyze massive volumes of data in real-time allows them to detect safety dangers and provide early warnings about potential quality and productivity difficulties.
In addition to spotting potentially dangerous behaviors on the job, AI can also anticipate machine malfunctions using sensor data and figure out what to do. Artificial intelligence (AI) powered robotic process automation, in which potentially hazardous construction processes are mechanized using robots, has dramatically improved worker safety on construction sites by lowering the chance of accidents. Photos taken at construction sites may be scanned for potential safety hazards, including employees not wearing helmets, with the help of API technology that detects helmets. To that end, AI can detect threats, discourage potentially dangerous actions, and make the workplace safer for everyone.
3. Enhanced Capacity for Risk Mitigation
Quality, safety, timeliness, human mistakes, and miscalculations pose risks in major construction projects that must be carefully planned. Predictive artificial intelligence (AI) is useful in the construction industry because it helps people make better decisions based on more accurate information. By evaluating massive volumes of historical data, predictive AI systems may evaluate project performance and forewarn delays, cost overruns, and design and safety hazards.
4. Advanced Construction Plans
Construction models by hand and working from scratch on blueprints are two examples of the time-consuming, labor-intensive procedures typically associated with traditional design methods. Moreover, traditional design processes cannot rapidly generate various designs depending on modifications in the design parameters. Generative design based on artificial intelligence has become more popular in the construction industry to avoid these problems. Generative design is an iterative software-based design exploration method that uses artificial intelligence (AI) algorithms to create designs that maximize the design goals while satisfying the design limitations. These systems may learn from previous designs and models to rapidly develop optimal time- and money-saving construction plans.
5. Reduced Budget Overruns
Design defects, faulty predictions, unforeseen occurrences, and expanded scope are all common causes of budget overruns in construction projects. On average, nine out of ten construction projects end up costing more than originally planned. Artificial intelligence-based predictive models aid managers prepare for potential project delays and budget overruns. Artificial intelligence may also provide reports on completed projects, track the root cause of cost overruns, and develop more precise financial projections.
6. Using Generative Design in Planning and Creation
Professionals in architecture, engineering, and construction have been using the Construction Information Modeling (BIM) process, which is based on artificial intelligence, to create 3D model designs to more effectively plan, design, construct, and repair constructions and infrastructures.
Regarding avoiding conflicts between different trades, the construction industry is increasingly turning to AI-powered generative design to help pinpoint and coordinate the many aspects of a construction design. These precautions reduce the potential for unfinished work. ML's algorithm thoroughly investigates all potential solutions and their permutations to generate design iterations. Models with many possible permutations are generated, with the accumulated knowledge from each iteration being used to refine the model until it is perfect.
7. Robotic and AI in the Construction Industry
As was noted in the introduction, the application of AI to the field of construction management has great promise. Working in construction is dangerous and strenuous, so it constantly needs to find a way to attract enough workers to meet demand. The construction sector has a far higher turnover rate than any other area.
With the help of AI-enhanced robots, project managers can keep tabs on the current status of numerous construction sites and determine how best to use their available resources. Workers might be relocated to a new location or assigned to a different project phase as needed. Robots keep an eye on everything to locate any trouble spots.
Ready to Benefit from AI for your Construction Business?
Connect with Concetto Labs today for Smart Construction app development using AI.
Schedule a Free Consultation
How can Technology be Used to Complete Construction?
Thanks to technological development, cobots, and robots will soon work alongside humans in the construction business. Robots take over the jobs that can be automated, and collaborative robots (cobots) are built to operate with little to no human supervision.
Construction time and money may be saved, as well as casualties avoided, with such a setup. AI in Smart construction will allow for the elimination of the labor scarcity problem, as well as the introduction of new business models and the elimination of costly mistakes, all of which will contribute to increased productivity in the construction industry. Thus, it is recommended that construction industry business executives allocate resources where AI may have the greatest impact in response to actual industry demands.
Among the first to fully embrace this digital shift, businesses will emerge victorious as AI construction companies. By gaining an advantage, they can steer the ship and reap the rewards now and in the future.
Breaking Down to Build
Similar results have been witnessed in neighboring logistics and manufacturing industries, demonstrating the necessity of incorporating AI into your company plan. As silos are broken down among construction's major players, an ecosystem of services, tools, and solutions is born, helping the sector stay ahead of the curve. Regarding artificial intelligence and technology, construction companies may get a head start by digitizing their operations and project documents. With this, they can utilize this vital data and make it accessible to machine learning algorithms for risk analysis and prediction.
Are you looking for a reliable AI development company to develop a robust app using AI for your construction company? Concetto Labs can help you out with our expert AI app engineers and developers. Connect with us by mailing us at [email protected] or calling us at + 958 677 7575.
The post AI in Construction- Switch to Smarter Construction with Artificial Intelligence appeared first on Blog Concetto Labs.