Defining NFT
Non-fungible Tokens, or NFTs, are typically produced using the same kind of coding as cryptocurrencies. These cryptographic assets are built on blockchain technology. They cannot be traded or exchanged in the same manner as other cryptographic assets.
Similar to Ethereum or Bitcoin. The word "Non-Transferable" (NFT) denotes that due to its distinctive qualities, it cannot be altered or substituted. Both paper currency and cryptocurrencies can be traded or exchanged for one another because they are both fungible.
Because they are not interchangeable, NFTs are non-fungible. A creator can mint three NFTs. Even though some of these NFTs may seem identical, each one has a unique signature.
NFTs are stored on a blockchain, which is a decentralized database that serves as a shared blockchain and has features that enable the issuance or exchange of such digital tokens. New information is validated and recorded once it is contributed to a blockchain. It cannot be modified or removed.
You first need to mint digital tokens before you can build an NFT. Then, you'll have to pay for the smart contracts that use cryptocurrency to securely store data on a blockchain.
NFT Development services require the use of payment systems since they give producers the power to regulate the ownership of their creations and transfer them to the appropriate buyer. Another factor in ensuring that an NFT is distinct and unreplaceable is the use of smart contracts.
Main Features of NFT
Digital Asset – NFT is a cryptocurrency that uses blockchain technology that powers cryptocurrencies to represent online valuables like music, games, and artwork with an official certificate.
Uniqueness- It is unique and cannot be copied or altered in any way.
Exchange- NFT exchanges with cryptocurrencies like Bitcoin are conducted on specialized websites.
Working of NFT
NFT uses blockchain technology to confirm the validity and ownership of each commodity. Nobody can take away your ownership of an NFT because it is fixed in a blockchain.
The blockchain, a distributed public ledger used to record transactions, is where the majority of NFTs are found.
NFTs are discrete tokens that contain priceless information.
They can be purchased and sold similarly to other physical forms of art because their worth is mostly determined by the market and demand.
It is simple to confirm and validate the ownership of NFTs as well as the transfer of tokens between owners thanks to their distinctive data.
With the use of a special ID that is specific to your asset, you can control the ownership of your NFT. Every time you start an NFT, the blockchain will receive your information.
Three main steps can be used to make your own NFT:
New block creation
Data Confirmation
Data entry into the blockchain
Use Cases of NFT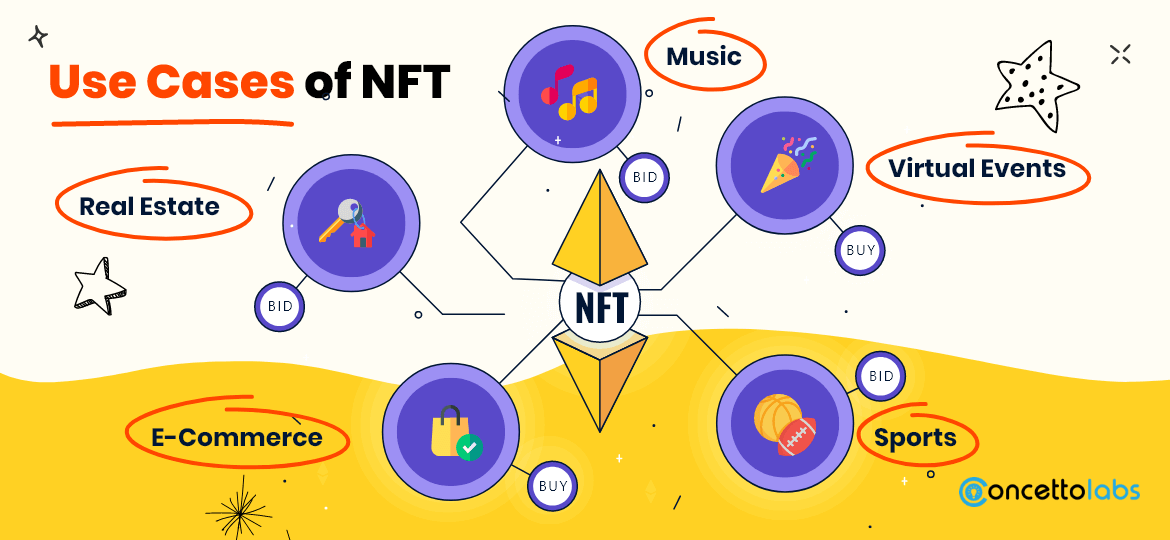 1. Music
Composers, producers, and business titans can use our NFT marketplace development company service for exchanging their NFT-accredited works. Every time their song is played or used; they gain a sense of royalty.
2. Virtual Events
We can assist you with creating a location for online events. Even a membership card or unique identity card created by NFT can be used to approve entrance. Your platform is only accessible to individual NFT cardholders who wish to participate in virtual events.
3. Real Estate
For your real estate Marketplace, our skilled Nft Marketplace development team can integrate AR/VR features that can offer a guided view of the properties and permit payments via e-wallets and cryptocurrencies as well.
4. E-Commerce
Developers at Concetto Labs can develop an NFT marketplace platform where buyers, sellers, and creators can trade their NFT arts.
5. Sports
Blockchain technology can be included by Concetto Labs NFT engineers into your NFT trading platform to solve the problem of fake artifacts and tickets invading the sports business.
How to Create NFT and Sell It?
It takes effort to develop an NFT that can be sold. Every digital file can be traded as NFT. But the file formats they allow are restricted if you intend to sell your NFT through a marketplace like OpenSea.
On Ethereum, NFTs are exchanged the most. Therefore, you must pay a transaction cost known as gas when you establish an NFT to sell it. The cost of petrol can change based on your needs.
In other words, you will pay a gas price for anything you do on the blockchain, including minting NFTs and trading them. However, paying gas taxes does not ensure that your transfer will be accepted. Most of the time, it will.
Here is a step-by-step guide for how to create your own NFT:
Selecting an NFT Marketplace If you want to sell your NFT, you need a reliable market. A small number of markets utilize various blockchains. The top NFT marketplaces and the blockchains they employ are listed below.
Open Sea
AtomicHub
Rarible
1. Creating Crypto Wallet
To store your digital assets, including NFTs you create or acquire, you need wallets. Your private keys are kept safe and available in a cryptocurrency wallet. Both physical and digital versions of these wallets are available.
2. Connecting Crypto Wallet to Marketplace
You must link your cryptocurrency wallet to the marketplace where you plan to manufacture and sell your NFT after putting it up.
To sell your NFT on OpenSea, for instance, go to their website and select "create." You will be taken to a new tab with a list of well-known cryptocurrency wallets that work with OpenSea.
You have a choice as to which cryptocurrency wallet you want to link to your OpenSea account. The marketplace will now be accessible through your wallet.
3. Making NFT
Go to the OpenSea website.
Click on Create a Collection under My Collections in the top right corner of your profile.
Complete all of the fields and submit the file that will serve as your NFT. You can select the file format, name your file, and add a description and external connections to your social network accounts.
Select the blockchain to which you want to mint NFT. Ethereum or other blockchains like the Polygon one are your options.
Cross-check your NFT's data because once it has been entered into the blockchain, it cannot be changed.
Select "Create" from the menu.
How to Create NFT Arts?
One of the best things about NFTs is that even without coding experience, you can build one. You can post your previous works to your favorite NFT marketplace in a variety of file types, including PNG, JPG, MP3, and GLB.
Many marketplaces are stepping up and making the production process simpler for both novice and seasoned NFT makers, even though there may be certain entrance barriers and the market is viewed as highly speculative.
All you have to do is submit the image you want to turn into an NFT, select your favorite art style, and get the result.
Although the NFT market is still quite new, it is growing rapidly in popularity. NFTs are in greater demand, which opens the door for higher sale prices. It's important to remember that producing NFTs will require you to buy cryptocurrencies and pay any applicable fees, so you could still end up losing money.
What are the Features of Developing NFT Marketplace?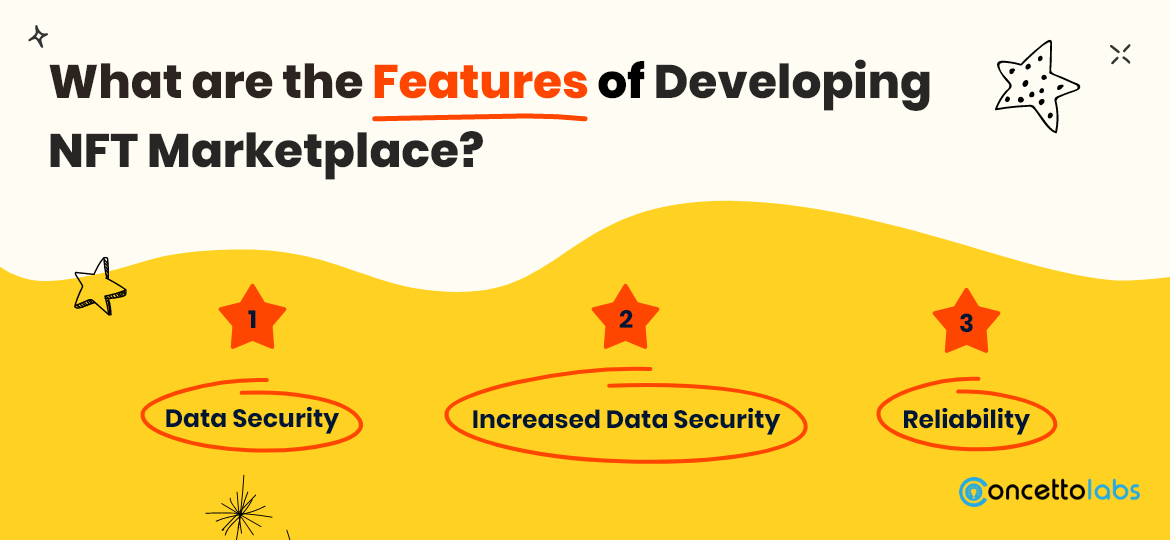 1. Data Security
The data collected and kept in NFT for your platform cannot be transferred or used elsewhere since we adhere to rigorous ERC-721 NFT rules.
2. Increased Data Security
With the help of bitcoin technology, our NFT developer can make your marketplace more secure. It might increase their dependability for your users.
3. Reliability
Since it is impossible to edit, remove, or replace any existing NFT, we can assist you in creating a secure and dependable NFT marketplace.
NFT Marketplace Development Services
1. Platform and Software of NFT Marketplace
With the very first marketplace design and development stage, our Nft Marketplace Development team is in charge of ERC-721 and ERC-1155 standards, smart contracts, and IPFS protocols.
2. Audit of NFT Smart Contracts
We can assist you in creating precise NFT smart contracts that will guarantee there won't be any security flaws or problems for a very long period in the future. Before delivering the complete solutions, our NFT marketplace tester team will audit those Smart Contracts.
3. Creating Full Stack NFT Marketplace
Owning a marketplace where customers can exchange their NFT-approved digital assets, such as a simple phrase to hold virtual events that permit NFT authentic identification, will help your business succeed beyond your wildest dreams.
Final Thoughts
Even though your NFT is live on the market, you still need to find a strategy to draw attention to your effort. It's not as tough as it initially appears to create and mint NFTs. You can create your own NFT by following a few simple steps.
You can check development strategies of how to make an NFT Crypto.
A Guide on How to Create
Your Own NFT and Sell It.
Contact Us
The post A Guide on How to Create Your Own NFT and Sell It. appeared first on Blog Concetto Labs.