Fitness Apps, right? Since the advent of Fitness bands and smartwatches, the digitalization of our fitness data has taken a toll. From counting steps and calories to planning our fitness journey, all can be accessed with a Fitness App now.
Covid-19 had a great role in making people realize the importance of maintaining health and fitness apps helped a lot while people were in their homes. Also, since Covid, the trend of working from home is on the boost. Hence, cases of obesity and other physical and mental health issues have also risen. Fitness Apps for workouts and meditation have proved to help individuals here.
More and more people are getting aware of their health and trying to keep themselves fit with self-analyzation and measures. This allows smart entrepreneurs to invest in fitness apps as the use of such apps is only going to increase. If you are someone who has considered this idea and planning to develop a fitness app, then we are here with all the guidance you need. Let's start with some facts and figures:
Fitness App Market Data
According to Marketwatch, the market size of fitness app is estimated to reach USD 5682.4 million by 2026 from USD 1885.2 million in 2019 at a,
CAGR of 16.9% during 2021-2026.
According to Statista
Fitness app market is estimated to generate revenue US$19.33 Billion in 2023
This revenue is estimated to show a growth rate of 14.34% (CAGR 2023-2027) which is expected to get a market volume of US$33.04bn by 2027
Percentage of fitness app users is projected to increase from 9.76% in 2023 to 12.21% in 2027
The average revenue generated by a user is estimated to be US$25.78
A major part of the revenue is supposed to be generated in China in 2023 i.e. US$5,457.00m
What Are The Different Types Of Fitness Apps?
1. Fitness Tracking Apps
These apps track all your physical activities during the day. This includes a number of steps while running or walking, sleep cycle, calorie counter, heartbeats rate counter, etc. These apps can be connected to your smartwatch or fitness band. Also, you can keep your smartphone in your pocket and the app will track your activities.
This data is then stored in the app which helps you to measure the intensity of your workout or physical activity. With all this information, a user can set better goals and keep track on it.
Subcategory Apps

Features

Examples

Running tracker apps

Route trackers

Safety alerts

Track running and walking separately

Nike Run Club, Map My Run, Strava

Cycling tracker apps

GPS trackers

Record cycling rides

Show and suggest routes

Zwift, BikeMap, MyWindsock

Gym tracker apps

Check workout counts

Exercise progress checkers

Record workout data

Strong Workout Tracker, GymStreak, FitNotes
2. Diet and Nutrition Apps
Have you used an app to control your calories? Such apps are diet and nutrition apps. They help in meal planning based on your goals, count calories, and assist you with maintaining healthy eating habits.
With these apps, users can set goals, get healthy recipes according to their calorie intake target. You can offer various features in this app like a carbs intake calculator, healthy food guide, list of recipes as per user's choice, etc.
Subcategory Apps

Features

Examples

Weight loss apps

Guide to calorie control

Recipes for weight loss diet

Calorie counter based on food consumed

Noom, Cronometer, Fitbit

Personal trainer apps

One-on-one consultation on diet and nutrition

Connect with experts based on goals

Track the progress and results

TrueCoach, Trainerize, Everfit

Muscle building

Healthy weight gain meal plans

Calorie calculator

Record muscle growth

MyPlate, Foodivsor, Dr. Muscle
3. Workout and exercise apps
These apps are specific to physical workout techniques and steps. Workout and exercise apps guide you for your routine workout and even gives you exercise plans for your goals. These fitness apps guide you for abs workouts, cardio session, weightlifting, and more. They keep a track of your calories, and weight and offer other tools like a BMI calculator, and diet suggestions.
Such apps can be integrated with the functionality of connecting with a personal trainer. Here, users who need special guidance can contact one of your personal trainers and get a package accordingly.
Subcategory Apps

Features

Examples

Exercise Apps

Guides and videos on exercises

Workout plans according to needs

Track progress

Peloton, Fit Body, Centr

Personal trainer apps

Call, Video, Chat conferencing

One-on-one consultations

Easy payment options through app

Freeletics, Apptiv, MyFitnessPal

Apps to plan workouts

Plan detailed workout sessions

Track data as per plans

Gamification or goals achievement rewards

My Workout Plan, BodySpace, Sweat
4. Yoga and Meditation Apps
These apps are also called Mindfulness apps because Yoga and meditation apps focus more on internal and mental health than other physical health. Yoga is meant to heal you from inside and meditation helps you balance your mind in your day-to-day life and achieve a more peace of mind.
Apps that offers meditational music and guide to follow various mediation techniques are considered under this category. You can add detailed guides and video content on these apps as well as let the users contact mentos for personal guidance.
Subcategory Apps

Features

Examples

Yoga Apps

Yoga poses guide

Goals trackers

Connect with yoga experts

Pocket Yoga, Asana Rebel, Yoga Studio

Relaxation/Meditation Apps

Meditation Music integrated

Measure meditation duration

Guide to different types of meditation

Breethe, Headspace,Calm
How Do Create A Fitness App? (Step-By-Step Guide)
How to make a fitness app? You might be wondering on what does creating a fitness app include. It is a simple process combined with some research. Take a look on all the steps for creating a fitness app:
1. Choose the type of app
Firstly, research and decide on the type of fitness app to develop. Look into whether you want to develop a workout app or a diet and nutrition app. This will pave the path to plan on further things in your fitness app development journey.
2. Market research
After you have decided on the type of fitness app, you need to do market research on the audience and scope of the industry. Know your audience, and their interests, this data will guide you to make further decisions about developing fitness apps.
3. Decide the features
Now you know what your target audience wants and what your fitness app entails. The next step is to decide on what features you want to integrate into your app. The fitness application development will start based on the features you explain to the mobile app developers.
4. Select App Development Company
Developing an app is a complicated process and needs to be performed with utmost caution and efficiency. For this, make sure you choose a fitness app development company that masters developing mobile applications, is always there to answer your questions and gives support event after the app development.
I want to make my own fitness app.Need a consultation?
Get Fitness App Developed Here!
What Are The Features Of Fitness Apps?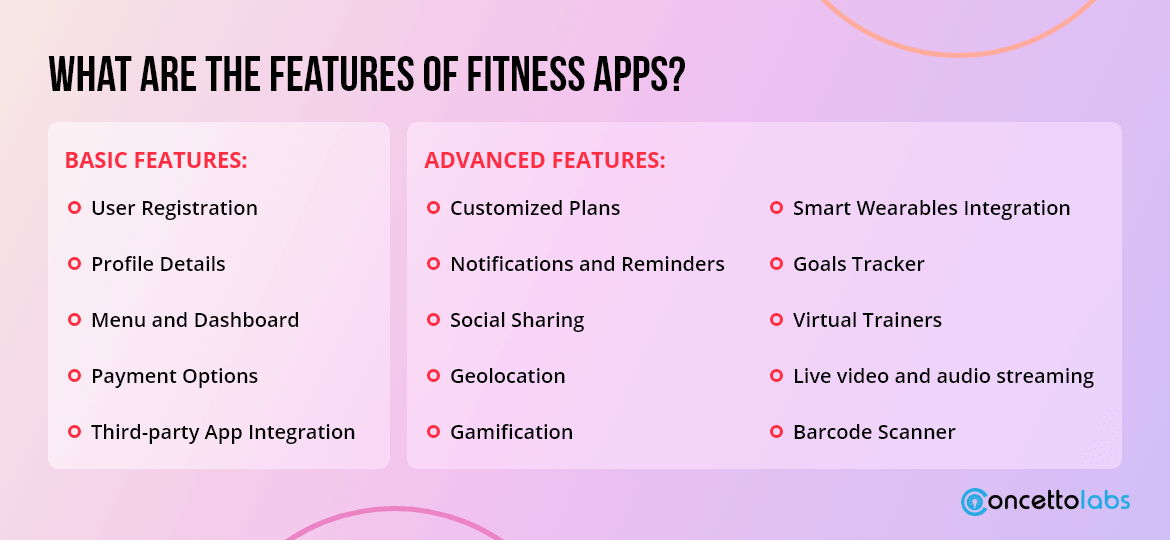 The features for a fitness app can differ according the type of app you are developing. However, we have compiled a list of most important fitness app features and divided them into basic and advanced to give you a clear idea.
1. Basic Features
Signup and login for a user are very important as account creation only stores information and routines of the user. Making the registration and sign-in process simple increases the chances of the user coming back to the app.
Make the registration process simple with Google and social media login. Adding email verification gives a sense of security to the user.
A user profile contains all the user information such as age, height, and weight and also records the daily health data of the user. All the issues and other health data of the user can be mentioned here. This will help in getting new suggestions for health goals.
All apps have menus and given the goal tracking, there needs to be a dashboard so that the user can go through the numbers in one look. The menu has to be specific to the type of app. For example, a workout plan app needs to have a menu for plan suggestions according to cardio, abs, etc, workout sessions.
Since fitness apps might provide some paid services or trainer apps. In such cases, users should have an easy facility for completing payments. All the options should be made available like Credit Card, Debit Card, PayPal, GPay, etc. The process of payment should be easy and well-integrated with the payment gateway.
Third-party App Integration
Many apps get data from third-party APIs like Google's Fitbit and Apple Health. This data includes the user's number on sleep, health, calories, heartbeats, and other physical activity.
2. Advanced Features
Many fitness apps provide diet and workout plans. These apps should suggest customized diets and exercises for the health goals you set on the app. Some examples of these goals are weight loss, cholesterol control, muscle gain, controlling sugar levels, etc.
Notifications and Reminders
Heard of apps that remind you to drink water? That's relaxing, right? When your app takes the responsibility to remind you of all the actions to follow for achieving the given health goals. Letting users set reminders and notifying them of their progress is a must-have functionality.
Everyone likes to share their achievements with their friends and family. Users who achieve their goals or are happy with their progress should be able to share their results with close ones on social media apps like WhatsApp, Instagram, SMS, etc.
With the help of geolocation, your users can record the walking tracks which they can use later on. They can get location-based notifications and suggestions in the app. Users can share their walking and running track data with other outdoor enthusiasts.
When users have a sense of achievement, they work towards achieving more. Defined goals and adding some game elements like health competition, rewards, and leaderboards, can motivate users to follow their health goals more seriously.
Smart Wearables Integration
Smartwatches and fitness bands keep the user connected to the app and also record physical activity data. E.g. some fitness apps only work when they are integrated with smartwatches. Hence, a smart device integration feature must be added.
This feature will allow users to add their goals and track activities they do for a particular goal. It is helpful to measure the performance and increase the target.
Automatically generating workout and diet plans might not work for everybody. Some people might also need virtual coaches or trainers for guidance at a personal level. This helps trainers earn from home and connects users to special trainers regardless of the location.
Live video and audio streaming
When connecting with personal health coaches, dietitians and trainers, users might want to do video steaming sessions. Also, a few personal coaches can run live video streams of workshops and seminars for the users. Here, users can register and then join the live streaming.
This is another optional but very good feature to make your app stand out in the market. With this feature, users can scan the barcode on packaged foods and get all the details about the ingredients it has, and the calories they can get.
What Is Process To Develop A Fitness Application?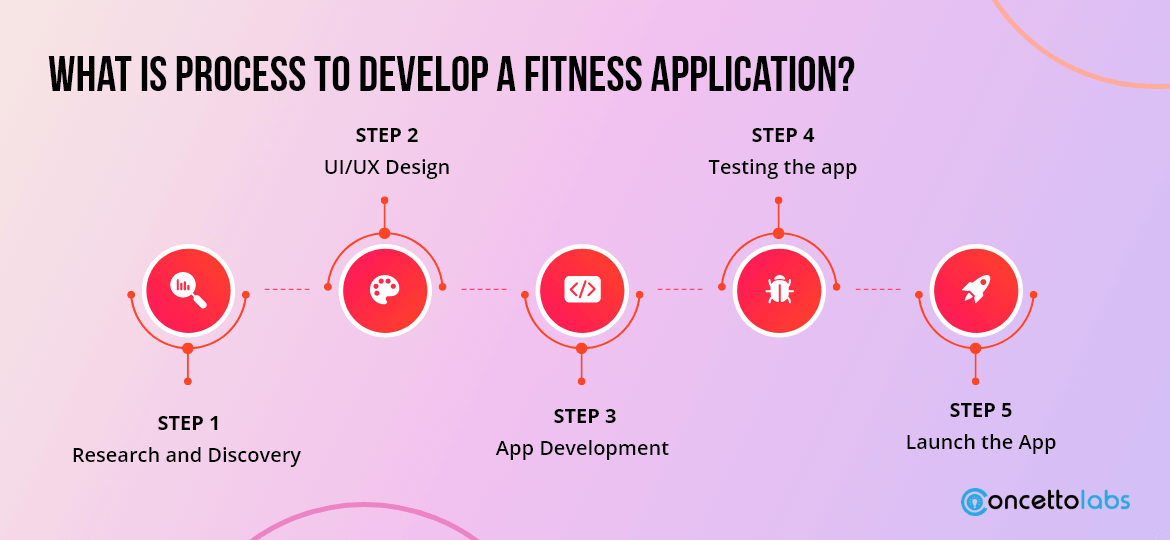 1. Research and Discovery
The mobile app development process starts with all the tech stuff you need. From the technology stack to the launch platform, everything is decided in this step. You need to make the right choice for your fitness app development so that it runs for the long term.
2. UI/UX Design
Once you have finalized the features, and platform tech stack, the next step includes designing a UI/UX that attracts and hooks the users to the app. Make a stunning UI/UX design with some of the best mobile app design practices.
3. App Development
The next and most important part of the process is here. After designing, it is now the time to develop the fitness app as planned. The app developers work on the front end and backend of the app to provide you with an excellent app.
4. Testing the app
Once the developers have developed the app, it is now the responsibility of the app development company to perform the quality check. The fitness app is tested and all the bugs are solved until your fitness application is perfect.
5. Launch the App
The final step in the fitness app development process is to launch the app on the apple store or google play store. You submit the app and start on the marketing efforts.
Hire Expert Developers for Fitness App Development Now!
Talk to our experts
How To Monetize A Fitness App? (Monetization Strategies)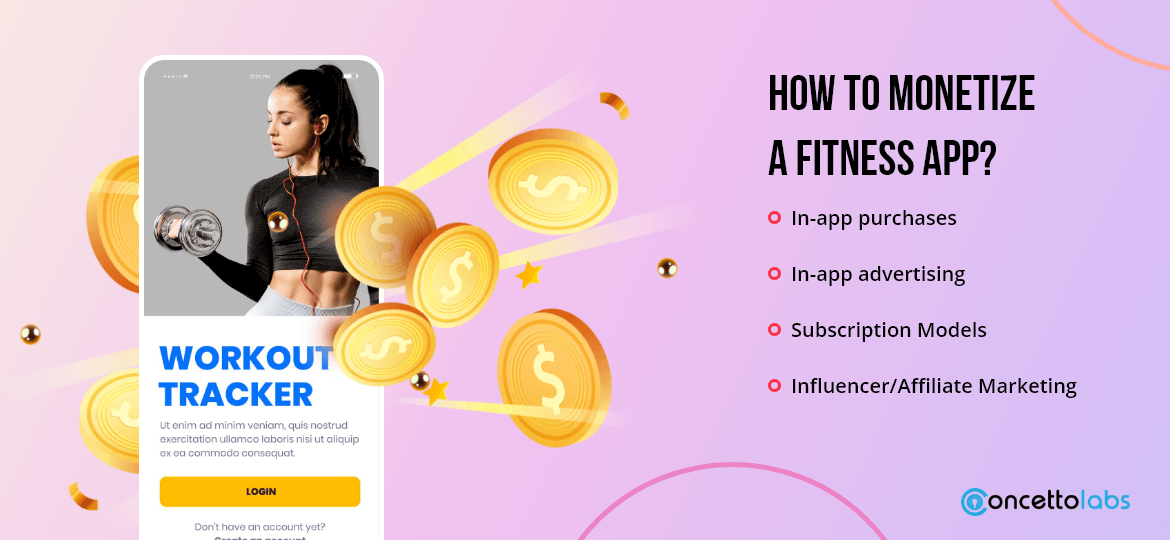 As discussed at the start, the fitness app industry is booming which makes investing in fitness application development, an attractive option. But how do you earn from it? Here are a few app monetization strategies for your fitness app:
1. In-app purchases
In-app purchases or IAPs offer the user purchases inside the app. This can be unlocking premium content and features of the app. The user can pay while using the app. This monetization strategy should be integrated when you know that a feature or content is very important and must be priced reasonably.
2. In-app advertising
This strategy includes showing advertisements in the app. These ads can be in the form of posters, videos, or simple animations. Such advertisements are shown when the user opens the app, is closing the app, or is performing an important function.
3. Subscription Models
Subscriptions are one of the most common monetization strategies that we know of. You might have an OTT subscription. This revenue model includes users subscribing to a plan in the app for some extra services, either on monthly or yearly billing. A fitness app can offer one-on-one consulting, personalised diet plans, etc. in the subscription plans.
4. Influencer/Affiliate Marketing
Besides, the common revenue models of fitness apps, influencer and affiliate marketing are another way to earn through your app. Social media influencers here, promote your product through digital content and get a commission on products sold through their content. These influencers are already fitness enthusiasts and have a perfect chunk of the audience for your app. Also, many writers write fitness and nutrition blogs, they can also do affiliate marketing for the fitness app and earn via commissions.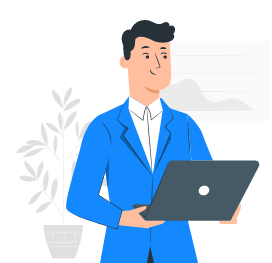 How do I decide on type of fitness app to develop?
Ask our experienced consultants
How Much Does Fitness App Development Cost In 2023?
| | |
| --- | --- |
| Country | Developer's hourly rate |
| U.S. | $75 – 150 |
| Western Europe | $70 – 110 |
| Central Europe | $30 – 75 |
| India | $15 – 50 |
| | |
| --- | --- |
| Type of App | Estimated Cost to Develop |
| Exercise Apps | $60,000 – $90,000 |
| Diet and Nutrition Apps | $20,000 – $80,000 |
| Fitness Tracker Apps | $40,000 – $125,000 |
| Yoga and Meditation Apps | $10,000 – $70,000 |
Since there are so many types of fitness apps and each of them has a different set of features, the cost of fitness app development can vary on various levels and factors. Its development cost will depend on features, tech stack, app platform and the countries you are hiring developers from.
Final Words
Fitness is becoming a priority for people and will be a major part of their life in the coming years. A lot of people want to be fit but don't have the right resources or time to start their journey.
A fitness app can provide them with the guidance and suggestions they require at the convenience of a few taps and that's what is going to increase the demand for fitness and diet apps. Hence, this makes developing a fitness app, the right choice to earn and start a business. However, fitness app development needs experts to build an excellent app. Being a leader in mobile app development services, Concetto Labs has the right team for you to hire dedicated developers. For any confusion or discussions regarding app development, you can consult us at [email protected].
The post How to Create a Fitness App appeared first on Blog Concetto Labs.