Redmi SonicBass Wireless Earphones Review : Redmi is known for affordable devices and Redmi Sonicbass Wireless Earphones is not an exception. The wireless earphones were recently released by the company, and like every other neckband style earphones, the design is so basic. Given that it's coming from a non-audio device company, there is room for improvement.
Redmi SonicBass manufacturer promised to pull off a more traditional style earphone at a very cheap price. So let's find out how Redmi Sonicbass Wireless Earphones sound and if they are truly worth the Rs. 1,289 price tag.
Redmi SonicBass Wireless Earphones Review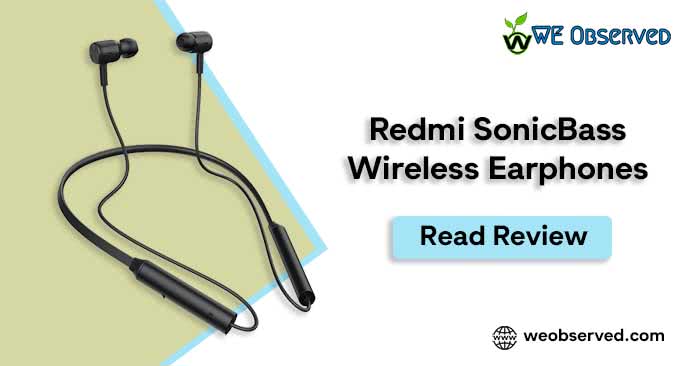 Redmi this time around comes up with a wireless earphone priced at Rs. 1299 and available for sale on Mi Store and Flipkart. It is quite an amazing one. Other than coming out affordable, it features 9.2mn dynamic drivers and a Bluetooth 5.0, all of which contribute to seamless Bluetooth communication.
It is a 1PX4 rate, which makes it dust and sweatproof. In addition, it comes with a battery that can be said to perform on average.
Also Check: Oppo Enco W51 Review | Sony WH-1000XM4 Review
Now let's find out if SonicBass Wireless Earphones is different from other wireless earphones out there.
Below we'll be talking about the performance and what other verified buyers think of Redmi SonicBass Wireless Earphones.
Read on!
Design and Performance
Talking about the design nothing is exceptional about it; just goose egg design that is very light and comfortable to wear. It's available in 2 colour variants.
The neckband is flexible enough with a solid end that holds the battery. audio circuitry and Bluetooth hardware. Even at that, the solid ends do not affect the comfort Redmi Wireless Earphones offers.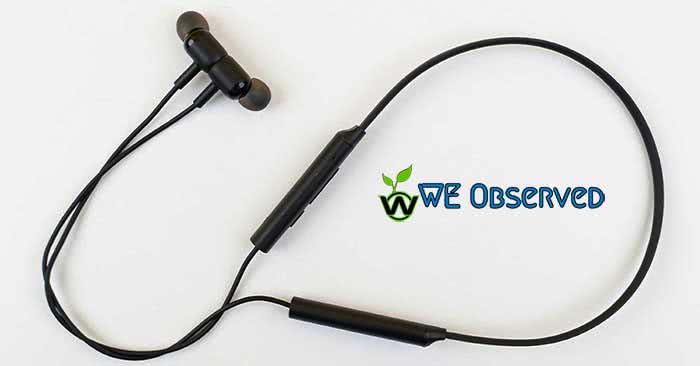 On the left end of these earphones is a noticeable Redmi logo, when on the right is the volume and power buttons, also on this button is the indication light and Micro-USB port for charging.
Despite being comfortable around the ears, the cable constitutes some nuisance as it tends to get in the way and brush against the face. All of these make those wireless earphones unideal for use during exercise or activities that require excess movement.
Also Check: Vivo TWS Neo Review | Environmental Pollutants and Their Dreadful Effects
Other than the button on the right side is the main button that you can use to play/pause music and answer/end call, all with a single press. The default voice assistant feature gets activated with a double on your smartphone.
Furthermore, long-pressing the button turns the earphone on and off, and holding for a few seconds would turn on Bluetooth pairing. In addition, the earbuds are laded with magnetic properties that prevent the wires from dangling around while not in use.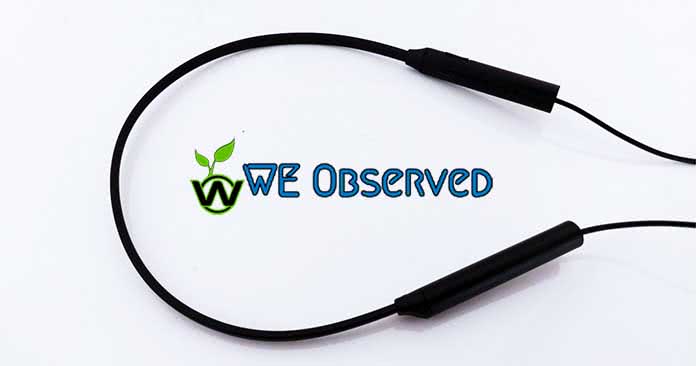 Inside the Redmi SonicBass Earphones package is a three pair of silicone ear tips, however it does not comes with a Micro-USB cable. You might want to consider JVC HA-FX65BN if you want wireless earphones that come with a Micro-USB cable.
Another thing that might interest you about the Redmi SonicBass is Bluetooth 5.0 that has support for only SBC Codec.
Also Check: Anker Soundcore Liberty 2 Pro Review | Nebula Capsule II Review
And it also allows multi-point connectivity, this makes it possible to pair these wireless earphones with two different sources simultaneously. Hence you can rely on Redmi SonicBass Wireless Earphones for a seamless connection, anywhere, anytime you want it.
Performance and Battery Life
In summary, Redmi SonicBass audio output can be placed on average. However, it offers a comfortable sound that does not sound odd in any way. Also, it provides a modern listening experience when in and out of a noisy environment.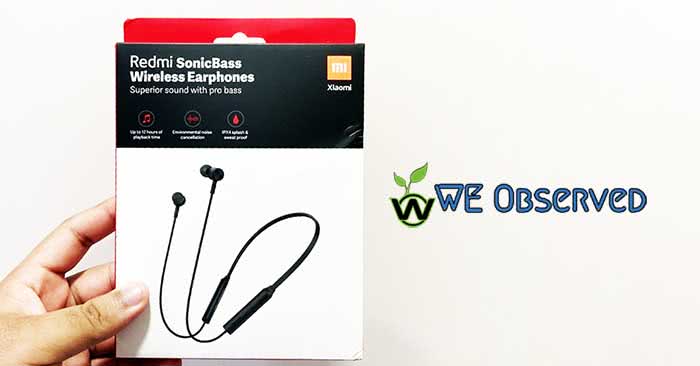 For the price, the sound experience is acceptable being a budget wireless earphones. It supports SBC Codec to makes up for it lacks in terms of audio performance, hence has little impact on the listening experience. Therefore, either you are listening to YouTube videos, songs from your playlist, or anything from NetFlix, there is no much difference in how earphones sound.
The Redmi SonicBass Wireless Earphones during calls is nothing over the bar, but Codecs comes with environmental noise cancellation, which is always active during calls.
Must Read: Is Samsung Galaxy M31s Worth a Purchase? Read Review Here
Redmi SonicBass Wireless Earphones Review : Conclusion
From all we've looked into, Xiaomi hasn't done much with Redmi SonicBass Wireless Earphones features. However, they get right with the basics.
Talking of the basics, that is everything that makes a good wireless earphone. The design, strong buzz, fitting to ear, multi-point connectivity, make it appealing and you won't regret getting one as well.
Why should buy these wireless earphones? Other than its affordable price, Redmi SonicBass Wireless Earphones is flexible to use, lightweight, decent battery life, great battery life, and ease of use. Confuse enough? Get SonicBass Wireless Earphones from Flipkart or mi Store.
The positive words concerning Redmi SonicBass Wireless Earphones do not dispute the fact that the Redmi SonicBass Wireless Earphones have their drawbacks.
Do you have any questions or complaints to make on Redmi SonicBass Wireless Earphones Review? Kindly make use of the comment box to get back to us.
The post Redmi SonicBass Wireless Earphones Review : Under ₹1.3K appeared first on We Observed.
This post first appeared on We Observed, please read the originial post: here