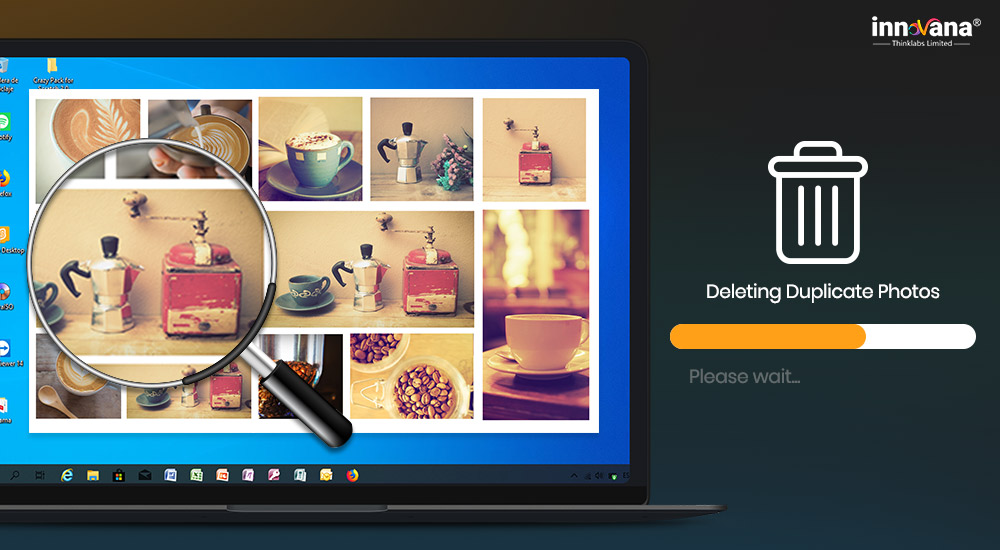 While searching for the best apps to remove Duplicate Photos, you must have crossed paths with many utilities. But, each of these random tools can not be a perfect fit for your requirements. Hence, here we introduce you to Similar Photo Cleaner, i.e., a duplicate photo remover that fits every millennial's needs perfectly.
Let's begin with how to use this utility and magically remove every trace of dupe clicks from your device.
How to Delete Duplicate Photos on Windows 10 with Similar Photo Cleaner in Just One Click
Manually removing twin pictures can make you have a devil of a job. But, with Similar Photo Cleaner at your disposal, the task to Remove Duplicate Photos becomes a cakewalk. The only thing that you need to do is implement the below short series of steps.
Step 1: Download Similar Photo Cleaner from the link given below.

Step 2: Click on "Next" to install it on your PC.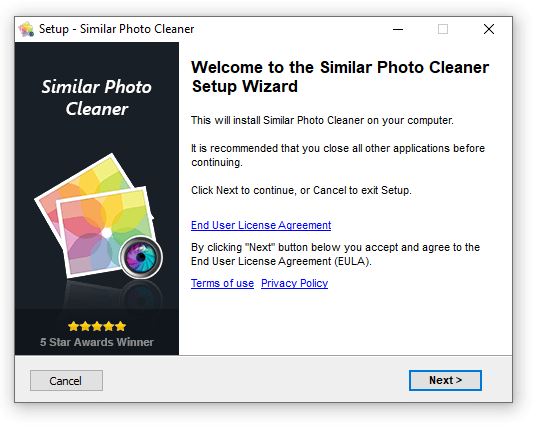 Step 3: Wait for a few seconds till the installation process completes.
Step 4: Once Similar Photo Cleaner is installed on your PC, it automatically launches. If in a rare case, it does not come up, then evoke it.
Step 5: Click on "Add Folder" or "Add Photos" to add the folders/images to the scan area. Alternatively, you can also drag & drop them to the scan screen.
Step 5: Find the selected photos and folders in the selection panel to make sure that you have selected the correct picture or folder.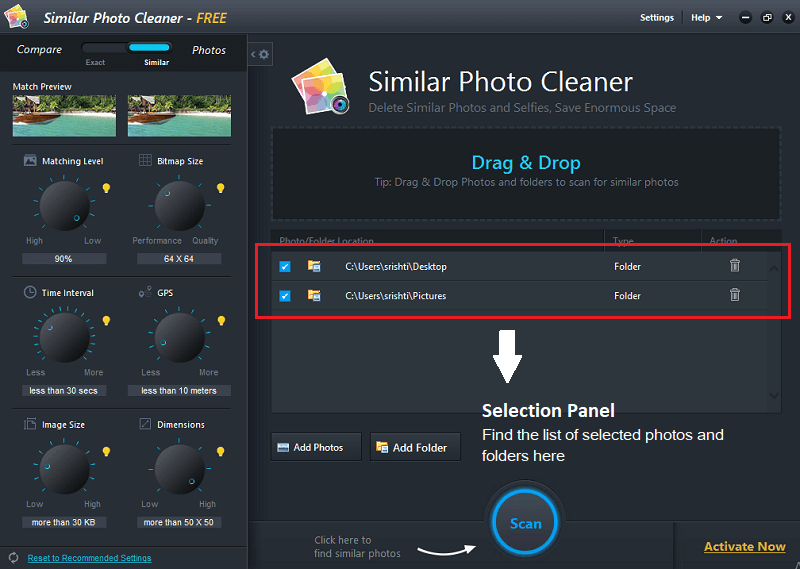 Step 6: Before beginning the scan, you can also adjust the matching level, bitmap size, time interval, GPS, image size, and dimensions as per your preferences to modify the search and get perfect results.
Step 7: Click on the big blue "Scan" button located at the bottom of the screen.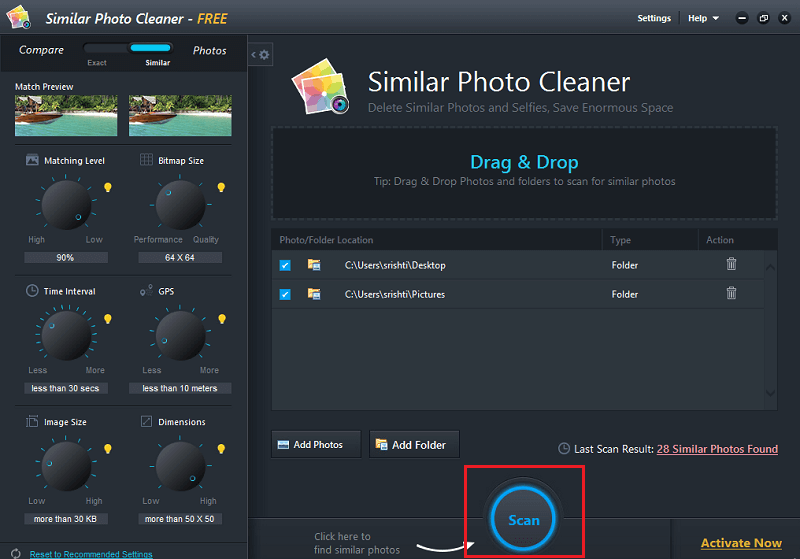 Step 8: Wait for a moment till the scan completes.
Step 9: After the scan completes, click on "Manual Removal" if you want to remove duplicates for free.
Step 10: The trial version lets you delete 15 photos at once. This is not a small number but if you want to get rid of more photos in one go and free up ample space, then click on "Smart Removal" to get the PRO version. The PRO version comes with an ocean of useful features and is worth every penny spent.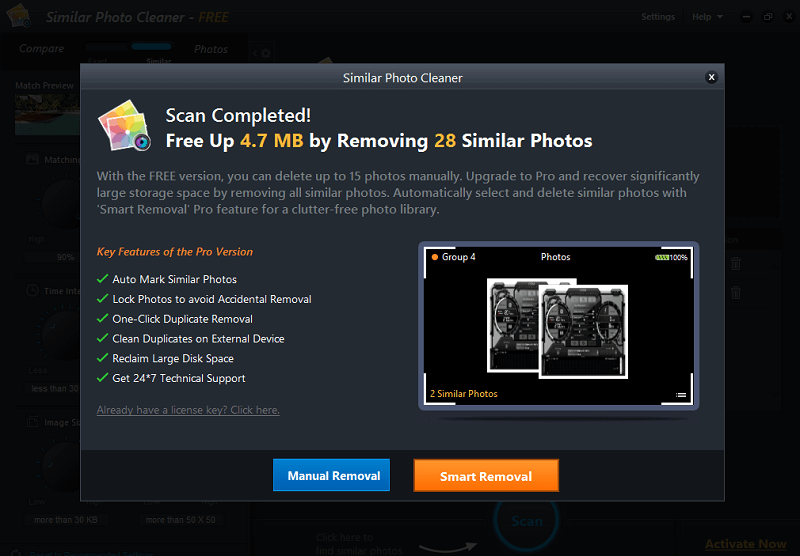 We know that deleting duplicates so easily seems unbelievable. But, this is true. You only need to follow the above steps and you are good to go. Here's the link to get this best tool to delete duplicate photos from your PC.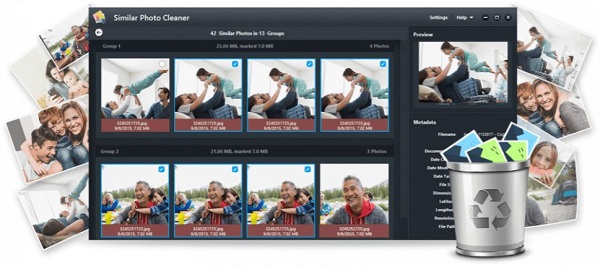 Now, a question that erupts is that apart from ease of use, what are the other benefits of Similar Photo Cleaner that make it our topmost recommendation to remove duplicate photos. Well, this incredibly amazing utility offers several advantages that you only get in only a few high-end tools. Below we talk about the prominent ones out of them.
---
What are the Benefits of Similar Photo Cleaner for Which We Recommend it
Below are the striking features and advantages that make Similar Photo Cleaner a favorite of millions, including us.
It is among the best tools to remove duplicate photos from external devices such as Pendrive, hard disk, and more.

Before deleting the pictures, it lets you preview them so that the crucial photos don't get accidentally deleted.

With this incredibly amazing utility, you can auto mark the duplicate pictures that you want to delete.

It boosts and optimizes the PC's performance by giving the hard disk much-needed space to breathe.

Similar Photo Cleaner is highly compatible with all the versions ranging from Windows 7 to Windows 10.
This list is not where the pros of Similar Photo Cleaner ends. You will find out many other good points about this utility after you start using it. Therefore, without thinking twice, click on the download link before the duplicate photos hog up the entire disk space and make your PC slow as an irritating piece of machine. Using this tool is like gifting your computer a new lease of life with faster and buttery smooth performance.
---
Similar Photo Cleaner- Best Way to Remove Duplicate Photos
Now, its time for us to sign off. We hope that you found this write-up helpful and got the answer to your question, i.e., "how do I delete duplicate photos easily from my PC?" Make memories, click multiple pictures, but always remove duplicate photos regularly to keep your PC well-performing. We would love to hear your feedback about our post. Also, it would be wonderful if you subscribe to our newsletter so that you don't miss out on any of the amazing utilities for Windows.
The post The Best Answer to How to Delete Duplicate Photos & Free Up PC Space appeared first on Innovana Thinklabs Limited.