Last fall, we discussed the Airwheel R3+ bike. Now, we continue talking over two-wheel electric transport and there's the time for the Airwheel Z5 scooter. In addition, we introduce Airwheel C5 smart helmet and an application to control it.
Airwheel Z5 Tech specs
Major Materials
Magnesium Alloy+Aluminium Alloy
Look&Style
Matte silver+Black+Orange
Suitable Height
1.5m~2.1m
Max.Load
100kg
Platform Height
140mm
Max.Climbing Angle
About 15°(Riders weighing 60kg get up to 18°)
Max.Speed
About 20km/h
Battery Capacity
162.8Wh
Working Temperature
-10°C~40°C
best at 20~30°C
Charge Time
162.8Wh:about 120 min
Charge Voltage
AC100-240V 50-60Hz
Dimensions: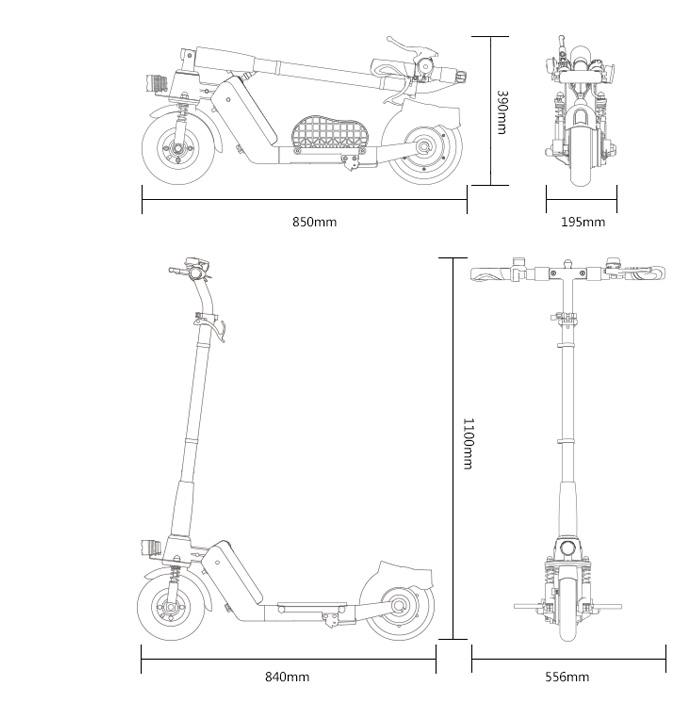 Electric scooter Airwheel Z5 is kicking, but…
Low, posh, rear-driven! Is it all about a sports car? No, it's about an electric kick Scooter Airwheel Z5! Moreover, it's painted with saucy black and orange as if calling, "here am I, give me a tumble." Ok, I've noticed it. And, it's worth noticing due to a low feet platform, additional folding steps (it' very convenient to stand and ride), and a height-adjustable silvery steering wheel. The details are also great: comfortable rubber grips, a removable battery, a shock absorber on the front wheel.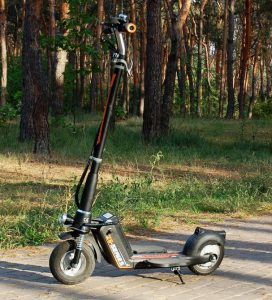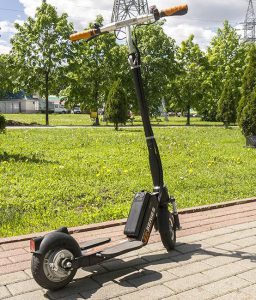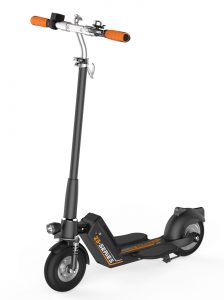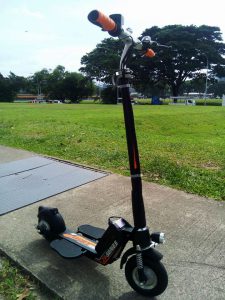 Airwheel Z5 looks ordinary only at first glance. However, in a moment, it attracts your attention with bright coloring and folding steps with an anti-skid coating. The steering wheel is adjustable for a person with the height of 150-210 cm. At the same time, the height of the scooter in its working position is 1.1 m, and almost three times lower in a folded one.
It's very convenient to fold the scooter. You just need to lift the steering column lock and fold it. When folding, the steering column sets horizontally and is fixed to the rear wing with a special hook. Steps and handles are folded, as well! In addition, a small step stop keeps the scooter in an upright position.
It is convenient to transport the folded scooter when you travel by both public transport and your own car. It widens your electric scooter usability. You can take it home or to your office, get to the nearest subway station or parking lot with your scooter.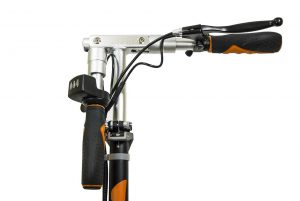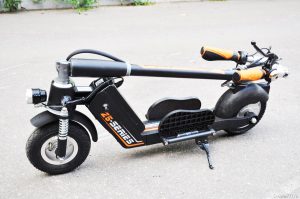 Just imagine — a minute ago, you skated in the park, and now, the scooter is already folded with a subtle movement of your hand.
Switch on the power button, and go for a ride! It's easy — slightly push your foot to start the movement and then press the button to start up the electric motor. First, Airwheel Z5 seems uncomfortable, as you have to stand upright and hold the steering wheel. When accelerating, you are pulled back. When slowing down, you bend forward. However, since you get hang of it the ride will be fascinating! You are free to control your body bending down or standing, leaning to the right or left, and spreading the load forward or backward. You can even drift or brake slipping with the rear wheel! The best road coating for the scooter is a dirt track where you can ride your Airwheel Z5 as a fun-device in its full.
Airwheel Z5 battery, range and charging time
When riding on a slightly broken pavement, tiles, or block road, it gets bumpy. Neither rubber wheels nor front springs help. You cannot accelerate to a high speed — the maximum is about 12 mph. The mileage is the same — up to 13 miles within a single full charge. Thereat, "up" depends on various factors including the speed, the number of accelerations or their absence, the weight of a rider. You can measure the ride in a different way — 2-3 hours of entertainment for 2-3 hours of charge.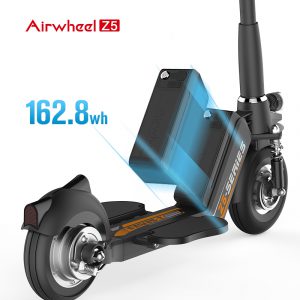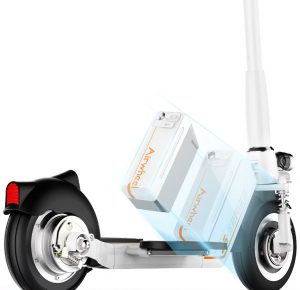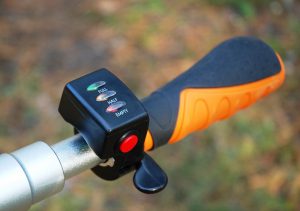 Airwheel Z5 is equipped with a quick-disconnect battery (162.8 Wh) and a USB connector to charge your device. Remember that you need the USB connector to turn on the headlights. You can't turn on the front light and charge your smartphone at the same time. The electric motor (350 W) and the break are integrated into the rear wheel. The turn-on trigger at the right handle performs driving. There's a little informative battery charge indicator on the right handle, as well.
So, we listed pros. Where is the "but" then? The main pain point is price — $ 500–600. You should clearly realize what for you need an electric kick scooter. If you need a luxury device just to ride in a park then choose an electric unicycle or a gyro board. They also give you fun but are much cheaper. If you need a private vehicle then it's better to buy an electric bike. It's just a little more expensive but its usability is wider — it is a full-featured bike, you can ride it while sitting, you can use pannier rack, and it has more power capacity. Of course, there is demand for an electric scooter but many competitors can offer more features at the better price.
Pros
Size and weight
Foldability
Relatively high speed (12 mph)
Great range (12 miles)
Fast charging
USB Port for charging your devices
LED Headlight
Cons
A bit bumpy on rough surface
Price
Airwheel C5: smart helmet, video recording, headset, and headphones
Here is unique Airwheel C5 smart Helmet. There are lots of videos shot by cyclists, motorcyclists, climbers. Usually, you need a helmet and an action camera with a suction cup to shoot such a video. Airwheel C5 smart helmet offers another way — built-in photo-video camera! You can clearly see the unit with the camera and control buttons at the front of the helmet.
Airwheel C5 Smart Helmet Tech Specs
Size:
272 x 220 x 169mm
Weight:
440g
Charge time:
About 3h
Use time:
About 4h
Capacity:
2000mAh
Photo resolution:
1920 x 1080(2M)
Video resolution:
2,304 x 1,296
View Angle:
diagonal angle 150°,horizontal angle 130°,vertical angle 67.4°
Working temperature:
-4F – 122F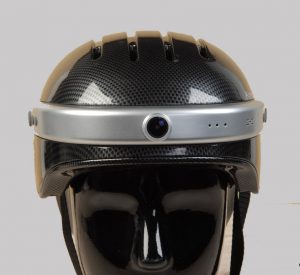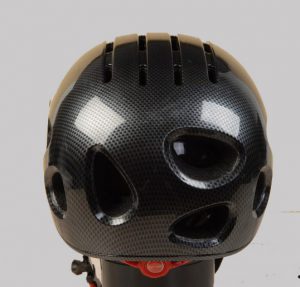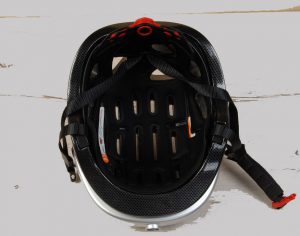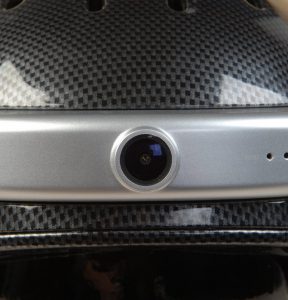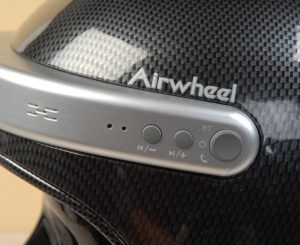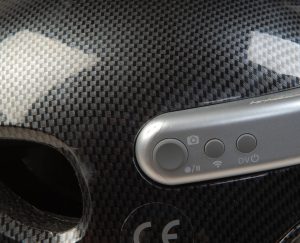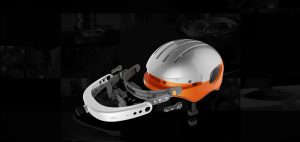 Airwheel C5 looks like a common bicycle helmet with vent holes, adjustable head strap belt (the limit is 53-63 cm), and chin straps only at first glance. If you look closer then you'll see a camera unit with several buttons forehand.
There are three buttons on each side. The first zone is for music control, phoning, and Bluetooth connecting. The second zone is for video shooting and Wi-Fi connection. That's it — Airwheel C5 smart helmet connects to your smartphone via Bluetooth channel and then acts as a headset. It allows listening to music and being on the phone thanks to speakers and a microphone. The helmet can be connected to your smartphone via Wi-Fi if you want to see the camera pictures on your smartphone. The camera can shoot video with a maximum resolution of 2,304 x 1,296 pixels. There is a possibility to set the recording with other resolutions, at least 1,280 x 720 pixels. In addition, you can change the view angle, running time, white balance control, and take a photo.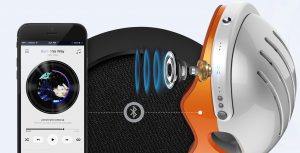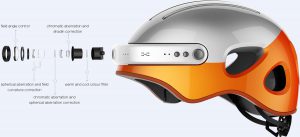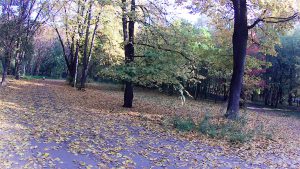 Built-in speakers and a photo-video camera turn Airwheel C5 helmet not just into a smart audio helmet but even into a smart photo-video helmet. You can see photo examples in this block.
Photos and videos are recorded on a MicroSD memory card. It is installed in the slot hidden forehand under the lining. Next to it, there is a micro-USB connector. Airwheel C5 uses a built-in 2,000 mAh battery, which is equal to three hours of helmet electronics operating. Multi-colored LEDs that show charging, video recording, connection to a smartphone is also worth noting.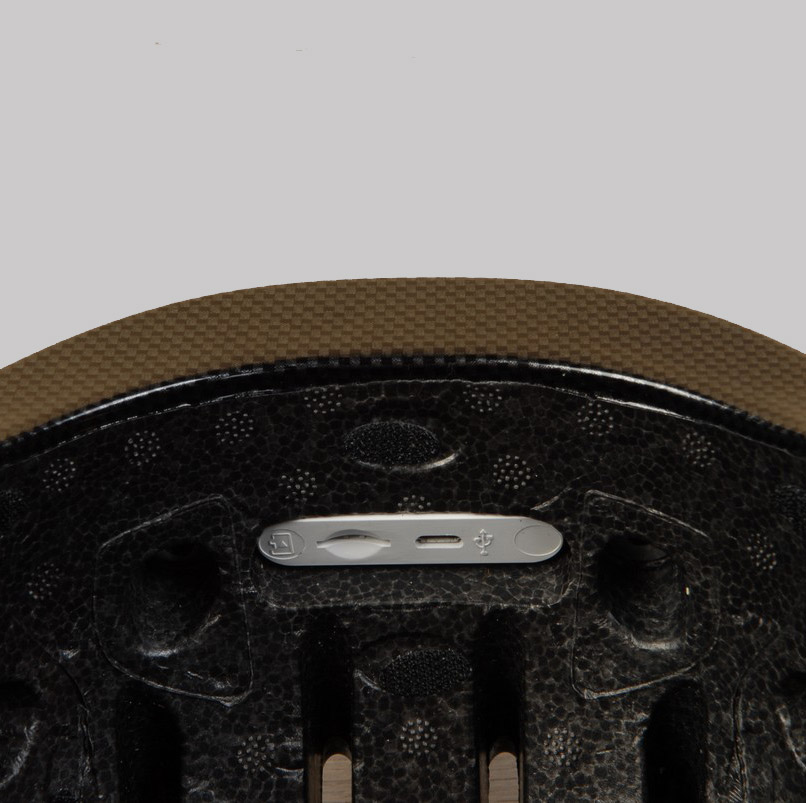 Forehand, under the lining, there is a charge connector and a memory card slot with a maximum capacity up to 128 GB.
Airwheel C5 smart helmet is not unique due to its camera or headset, but it is unique because it combines several features in a single device. There are other devices that can be called smart helmets, for instance, LIVALL or SENA. There are helmets with a built-in headset, a photo-video camera, direction indicators, a headlight and a rear headlight, etc. However, only Airwheel already offers several smart-helmets with similar functionality and various design features.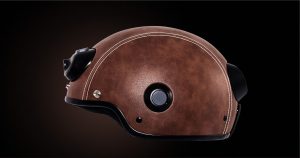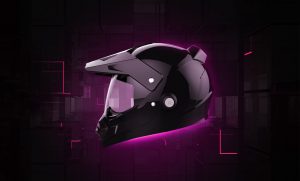 In addition to Airwheel C5 helmet, the manufacturer offers C6 and C8 models with various appearance and coloring.
Airwheel starts a new branch of smart gadgets, i. e. smart helmets with lots of functions. This field will grow and develop over the next few years.

Pros
Size and weight
Built-in camera
Built-in headphones
Bluetooth
Wi-fi to share your photos and videos
Great battery (2000 mAh)
Price
Airwheel App
Finally, there are a few words about Airwheel App compatible with the above-described scooter, helmet, and other smart devices of the company. At the initial start-up, the application offers you to choose the device to work with: helmet or scooter.
Check it on Google Play
Check it on Apple App Store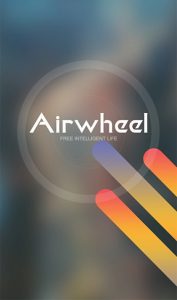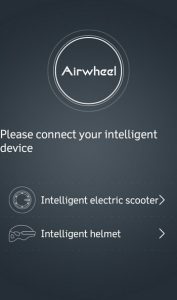 If you choose the operating mode for an Airwheel Z5 electric scooter, the application shows the battery charge, the current speed, the distance traveled on the main screen. There are additional items on the menu: the battery status, speed limit settings, and track record option. However, there are several important notes. For instance, you should choose speed limit in the Speed gear setting section with a setting in the range of 1–16 points. It is reasonable to think that that the step is 1 km / h. Still, there is no logic — a maximum speed of 21 km / h corresponds to a maximum of 16 points (according to the application). However, if you set 8 points the maximum speed will be of about 15 km / h. Sometimes, there are problems with a web map.
When you choose an operating mode for the helmet, Airwheel App offers a brief instruction on connecting options and buttons! The main connection is made via Wi-Fi. You can control helmet camera options through settings: video resolution, running time, white balance, view angle. You can see the memory card capacity.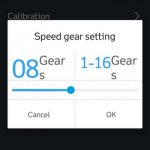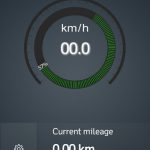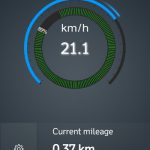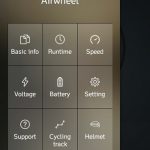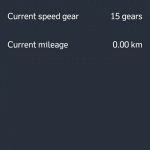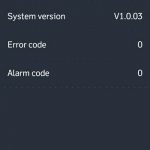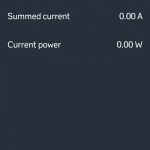 On the main screen in helmet mode, a small picture, fast video/camera-switching option, and buttons for taking a video or a photo are available. You can watch the taken photos and videos in the relevant menu section. You can watch all together, or you can choose only photos or only videos. However, there are several remarks, as well. For instance, in the thumbnail view mode, the pictures are visible, but the videos are not. There is only a general icon for all videos, and it's impossible to see what the video it is exactly.
Overall, Airwheel App is great with its versatility and the ability to work with different company devices, but the flaw in the details is a drawback. We hope that the App will be updated in the following versions. Since this Airwheel App significantly expands the capabilities of various company devices, we can't do without it.
The post Airwheel Z5 review: foldable electric scooter for adults appeared first on Zayza.com.