Many opinions on best activity trackers run on the web. Someone considers them a useless toy, someone sees a panacea for all their troubles with being overweight or feeling unwell. But the truth is somewhere in between, and at least the gadget will not be useless. At least I still continue to use this kind of device. What for? This will be a separate article.
If you have not bought your first fitness bracelet or are considering an upgrade, this customer guide will help you decide on the brand, characteristics and potentially interesting devices to buy.
When choosing a fitness wristband, it is very important not to overpay, but at the same time to choose the most suitable gadget for your needs that meets the standards of reliability and manufacturing quality of modern devices. Therefore, for you, we have reviewed the best fitness wristbands recommended for purchase in 2020. We do not advertise the presented devices, therefore, we objectively consider both the pros and cons of each model. So, what is the best fitness tracker?
Best Choice
Amazfit GTS
Stylish smartwatch and an excellent fitness tracker for all occasions
Check price
Image
Product
Best Choice

Amazfit GTS Smartwatch

AMOLED display
GPS
Heart-rate monitor
Swim tracking
Smartwatch features

Check price

Also Great

Xiaomi Mi Band 4

AMOLED display
Heart-rate monitor
Swim tracking
Notifications
Sleep tracking

Check price

Fitbit Versa 2

AMOLED display
Good App
Heart-rate monitor
Smartwatch features
Sleep tracking

Check price

Fitbit Charge 3

OLED display
Good App
Heart-rate monitor
Activity tracking
Sleep tracking

Check price

Bellabeat Leaf Nature

Stress monitor
Good App
Meditation
Activity tracking
Sleep tracking

Check price

Garmin Vívosmart 4

Solid design
Pulse oximetry
Activity tracking
Strees monitor

Check price

Honor Band 5

AMOLED display
TruSleep
Activity tracking
Pulse oximeter

Check price

Withings Steel HR Sport

Classic design
Steel case
Activity tracking
Pulse oximeter

Check price

Moov Now

Thin design
6m battery life
Coach advice
Swim tracking

Check price

Amazfit GTR

AMOLED display
Classic design
Smartwatch features
Stainless steel case

Check price

Garmin Vívoactive 3 Music

GPS
Classic design
Smartwatch features
Music Player

Check price

kate spade new york black scallop activity tracker

Activity tracking
Design
Notifications

Check price
Amazfit GTS – the best smartwatch and fitness tracker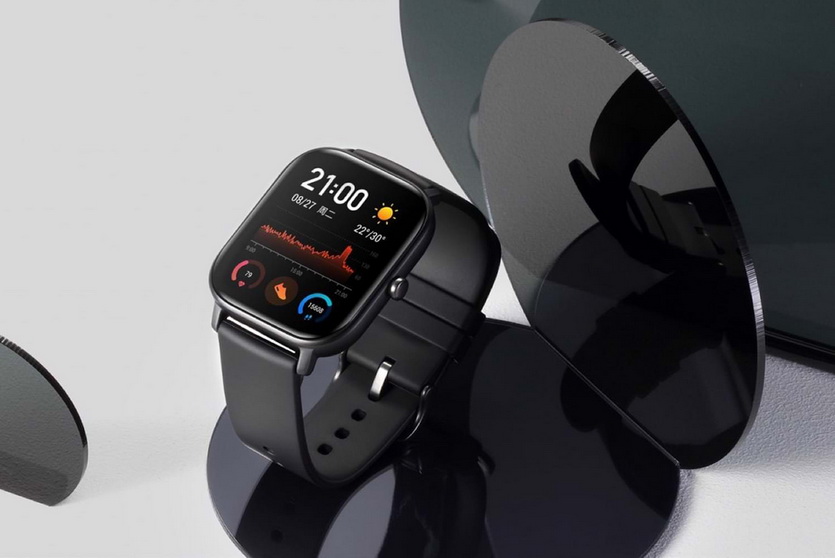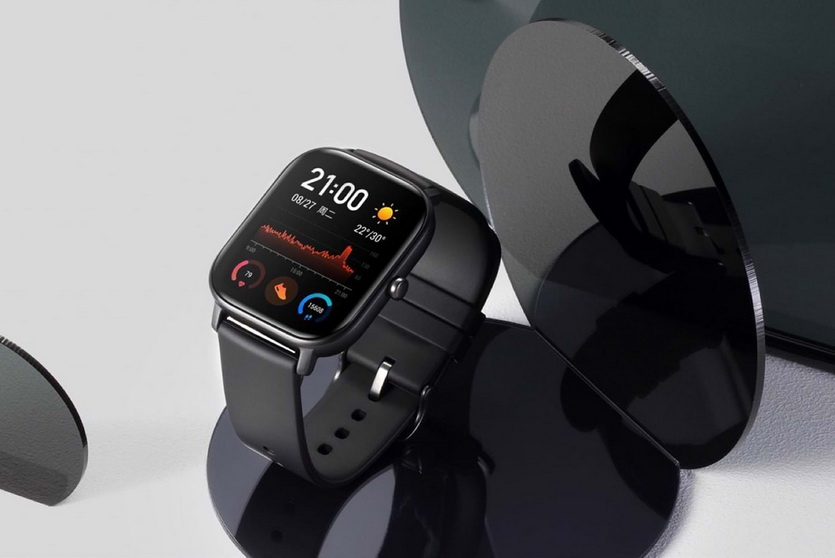 The Amazfit GTS has a large AMOLED display, there is NFC and it works great both as a fitness tracker and as a smartphone assistant.
The design of the Amazfit GTS almost completely repeats the Apple Watch, the similarities with the notorious Bip ended with the shape of the case.
The case with rounded edges is made of aluminum (as they like to specify, from aircraft aluminum – although how this affects the strength is not always clear)
The front part is completely covered by glass. The back with sensors and a charging connector is made of hypoallergenic solid polycarbonate. Reliably, although small scratches will appear in a year – these are the properties of the material.
Amazfit claims that the watch can withstand diving up to 50 meters and pressure up to 5 atmospheres. So you can swim in them, take a shower and dive.
The touch display is the main way to control after turning on the screen with the side button.
This button can become a hotkey that launches while holding a given application: viewing message status, alarm clock, player, or activating sports mode.
What about the straps and charging?
The most popular modification Amazfit GTS received a gray color, hiding a metal base. There are also black and pink options.
The kit comes with a silicone strap with a proprietary quick-release mount. Any strap with a width of 20 millimeters is suitable for replacement: both brand (there are 4 colors) and any for ordinary watches.
Instead of a complicated way of charging, the engineers finally came up with a two-contact base, which just could not be broken, not spoiled.
Bright Always-On display
The front surface covered with Gorilla Glass 3 with rounded "standard" 2.5D edges hides an almost frameless AMOLED display with a resolution of 348×442.
And that's not all: the model boasts 100% NTS coverage. Clarity at 341 ppi is not worse than on the latest Apple Watch.
There is an excellent oleophobic coating, so fingerprints are not visible, and the fingers glide perfectly. Brightness, contrast and color reproduction are also excellent.
Under direct light, the display remains readable, automatic tuning works instantly and always correctly. Like the best watches on the market.
What Amazfit GTS can do
The watch is designed for semi-automatic use and allows you to use many functions without a smartphone, including the choice of the start screen – arrow or digital.
The main screen shows almost all the information available for GTS: time, date, weekly weather, calories burned, Heart Rate and battery charge.
Sensors and accuracy
The set of sensors is pretty standard: a 6-axis acceleration sensor, a 3-axis magnetic sensor, an ambient light sensor, an air pressure sensor, a PPG sensor for measuring heart rate.
Due to this, walking and basic types of running are determined correctly. More complex activities require manual installation of tracking to correctly determine the view.
Swimming, however, works correctly – at least the fact of diving is worked out instantly. Probably the same thing happens when changing heights.
GPS tracking is present – its own stand-alone module works. And does it well.
The pulse is determined more precisely than in the gadgets of the past generation. There is also a popular function for determining arrhythmia, which works a little differently than in Apple Watch 5.
Tracking occurs both at the direction of the user, and constantly according to a certain cycle, which sets either the type of activity or the general firmware.
As a fitness tracker, the GTS works perfectly, accurately tracking activity. And they always send notifications, unlike the latest wearable Xiaomi gadgets.
The list of possible activities to track is amazing. Amazfit managed to come close to semi-professional gadgets for sports.
Jogging on the track and the street (separately highlighted by the terrain), an exercise bike and cycling, swimming in the pool and in open water, an elliptical trainer and weight training, skiing and skiing … Impressive.
Longer testing will show the survivability and accuracy of this product in various scenarios, with which I will introduce our readers later.
So far, I have not even been able to discharge the battery more than once: when using training and GPS, on average, it shows 14 days without recharging. If you do not turn off tracking, the battery lasts for 24 hours.
In the Amazfit GTS alert mode, they work freely up to 45 days, as their cheap predecessors. The 220 mAh LiPo cell charges in 2 hours.
Amazfit App
Amazfit application works better than most Chinese bracelets apps. Even better than popular Xiaomi devices.
Connection takes just a few seconds, the initial setup is a little more. Everything works out of the box correctly and accurately, as expected.
Settings look simpler than Mi Fit, but only at first glance. In fact, Amazfit is very similar to the average versions of the partner application, so all the features familiar to Xiaomi fans are available (of course, because the developer is the same).
Pros:
Design
Aluminum alloy case
Price
Built-in GPS
Waterproof
Battery life
Great App
Cons:
Blood pressure monitor not available for all markets
NFC works only in China
Xiaomi Mi Band 4 – best fitness tracker for the price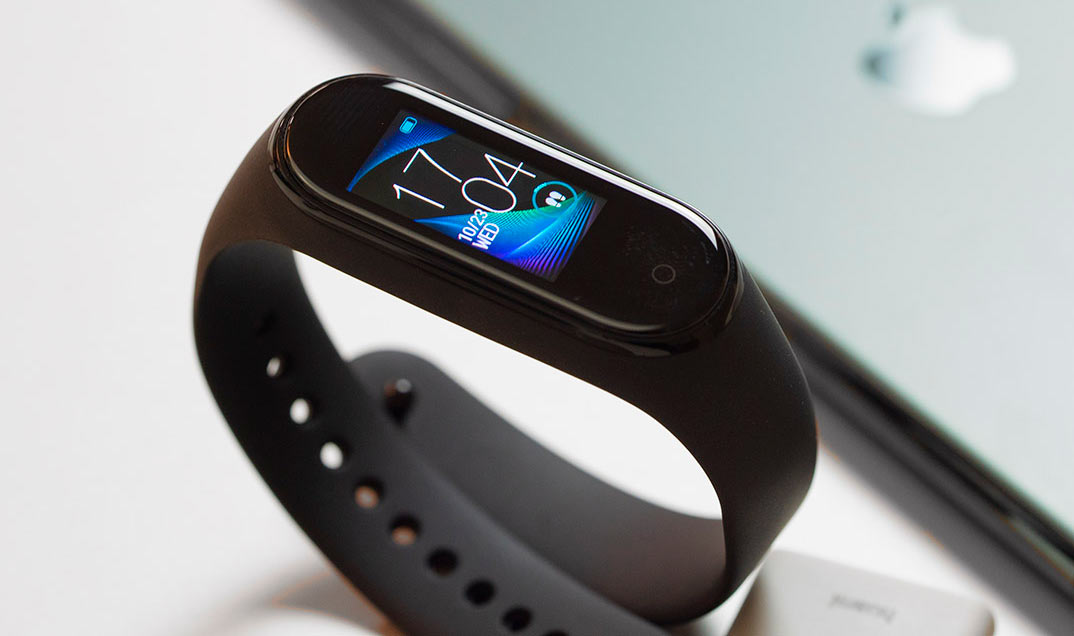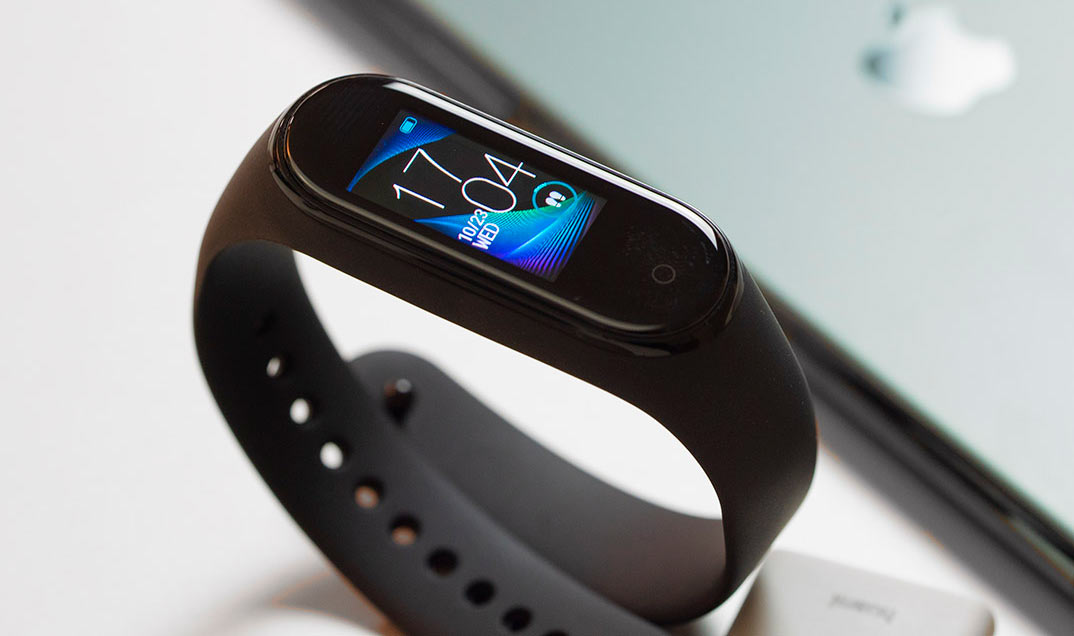 Such a popular fitness tracker as the Mi Band cannot be changed dramatically and radically. Here works the principle "Better safe than sorry". It seems that Xiaomi was guided by precisely this principle and there are few innovations in this 2019 Mi Smart Band 4. Color screen, music control, NFC for some markets, the prefix "Smart" in the name and, in general, that's all. But, having understood the bracelet, you understand that it's not necessary anymore, because the main characteristics that made the bracelet popular are its convenience, simplicity, autonomy, and price.
The Mi Band 4 display is now in color!
One of the main advantages of Mi Band 3 in comparison with the previous version was an enlarged display, which contained more information for itself. Unfortunately, for all its merits, it had one significant drawback – very poor visibility in direct sunlight.
The Mi Smart Band 4 has an 0.95 inch AMOLED display with a resolution of 240×120. Now the bracelet has a color, large and noticeably brighter display. In the settings, you have 5 gradations of brightness. At maximum brightness, the display is clearly visible in direct sunlight. But the display seem excessively bright indoors, especially in the evening or in the morning and, unfortunately, there is no automatic adjustment.
The picture on the display is juicy, bright, saturated and the pixels are almost invisible. Xiaomi redrew the menu and each item is now made in its own color. As in Mi Band 3, the display is touch-sensitive. The finger slides on it easily, the menu is responsive, it is pleasant to use.
By the way, the display is not covered with plastic, which was scratched very quickly, but with tempered glass.
Due to the increased size and color, the tracker supports a variety of displays. 4 of them can be changed in Mi Smart Band 4 itself, and in the Mi Fit application, there are several dozens of different main screens for every taste.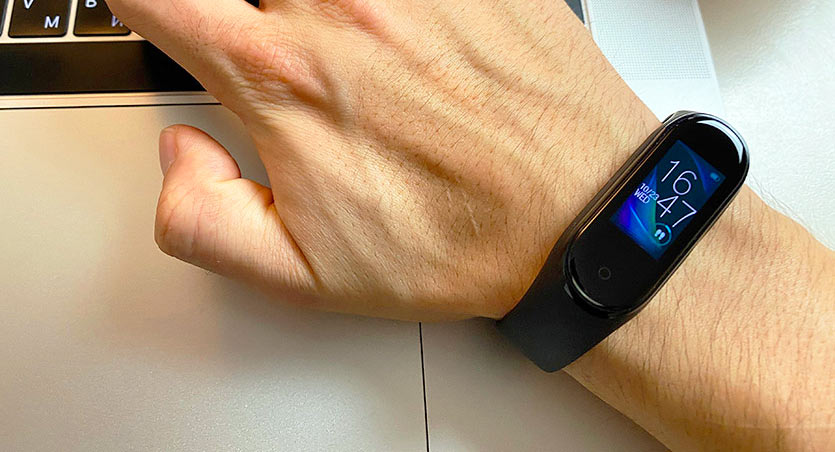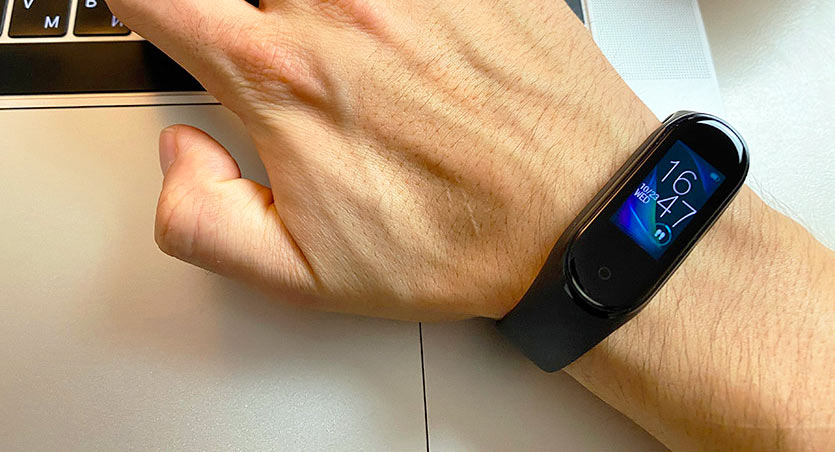 What else is new in the design of Mi Smart Band 4?
The design of Mi Band 4 is not radically updated. Even the color of the strap in the standard version remained the same. But the capsule itself has become a few millimeters thicker, which is why metal straps from the previous version will not fit. But rubber straps – without a problem.
The strap remains the same in texture and length, so there is no noticeable difference between them. The capsule comes out of it with great difficulty, it certainly will not fall out of the new strap. But the risk of stretching the strap over time has not gone away.
Functionality – no major changes
Mi Smart Band 4 still knows how to count steps, sleep and heart rate, display notifications about incoming messages, and now manage music that is played from a smartphone. It is worth noting the support of NFC in the version for China. Additionally, there is a stopwatch, timer and weather forecast.
Bluetooth 5.0 is used to connect to a smartphone. And among the built-in sensors, a gyroscope appeared. Setting up, collecting and displaying data takes place in the Mi Fit application. Over the 5 years of its existence, the utility has not undergone drastic changes. The interface consists of three screens – the main and sports summaries, statistics of friends and tracker settings.
The band can display notifications about calls, as well as messages from any application. The call can be rejected or muted. The vibration is powerful enough and feels good on the hand.
Menu navigation is carried out by vertical swipes, and return to the previous menu item by pressing the touch button below the display. The process is simple and intuitive for new users. The order and number of menu items can be configured in Mi Fit. For quick access to music control, you can make a horizontal swipe to the left.
Mi Smart Band 4 for sports
Sports functions are represented by tracking round-the-clock physical activity and several training modes, which include running in the open area and on the track, weight training, walking with GPS tracking in a smartphone and swimming. As before, you can wash your hands, take a shower and swim in the bracelet.
In sport mode, there are no special issues with the operation of the optical heart rate monitor; its accuracy is somewhat different from the chest and optical sensors of a high level within 2-3 beats per minute. In Mi Fit, you can set up a notification about exceeding the maximum heart rate threshold. In general, I did not see any abnormal deviations in the values, but I would not consider Mi Smart Band 4 for more or less serious sports.
When running, you can see the distance, pace, time and heart rate. Unfortunately, due to the small screen size and font, all this data is difficult to see with a quick glance in motion. There is no GPS in the tracker, for the correct display of the track, pace and distance you will have to take a smartphone with you.
But sleep tracking is quite simple and not always accurate. For example, the moments of awakening were not always displayed in the final statistics. And the summary itself is simple. In this regard, it is time for Xiaomi to learn from Huawei / Honor, which can even track daytime sleep and give detailed tips on improving sleep quality.
Battery and Charging
One of the differences from the third generation was the charger. Its design has changed, and the contacts on the capsule have moved from the end to the bottom. Therefore, chargers from older generations are now not compatible with Mi Smart Band 4. The battery capacity has also increased from 110 mAh to 135 mAh in the version without NFC. Apparently this is due to the new display and therefore the case has become a little thicker.
So, the manufacturer promises 20 days of battery life. But it all depends on the frequency of use of the heart rate monitor and display. In my case, with automatic sleep detection turned on, heart rate measured at 30-minute intervals, constant incoming notifications, Mi Smart Band 4 consumed about 6% per day. That allows you to count on more than two weeks of work. With a new bright display – this is very good. If you turn off the constant heart rate monitoring, then the charge decreases to 5% and we get honest 20 days of work. The band is fully charged in 1.5 hours.
In general, the best fitness tracker just got better. In truth, that was exactly what Mi Band 3 should have been a few years ago – a little more functional and equipped with a color screen.
Mi Band 4 will definitely become a bestseller during this year and this is not surprising. Almost everything is good here – the screen, functionality, autonomy. I think you should not criticize the tracker for the lack of NFC and GPS. Mi Band has become one of the most popular fitness trackers.
Pros:
Price
Battery life
Music control
Cons:
No GPS
Decent heart-rate reader
Not for serious sports
Fitbit Versa 2 – great smartwatch from well-known brand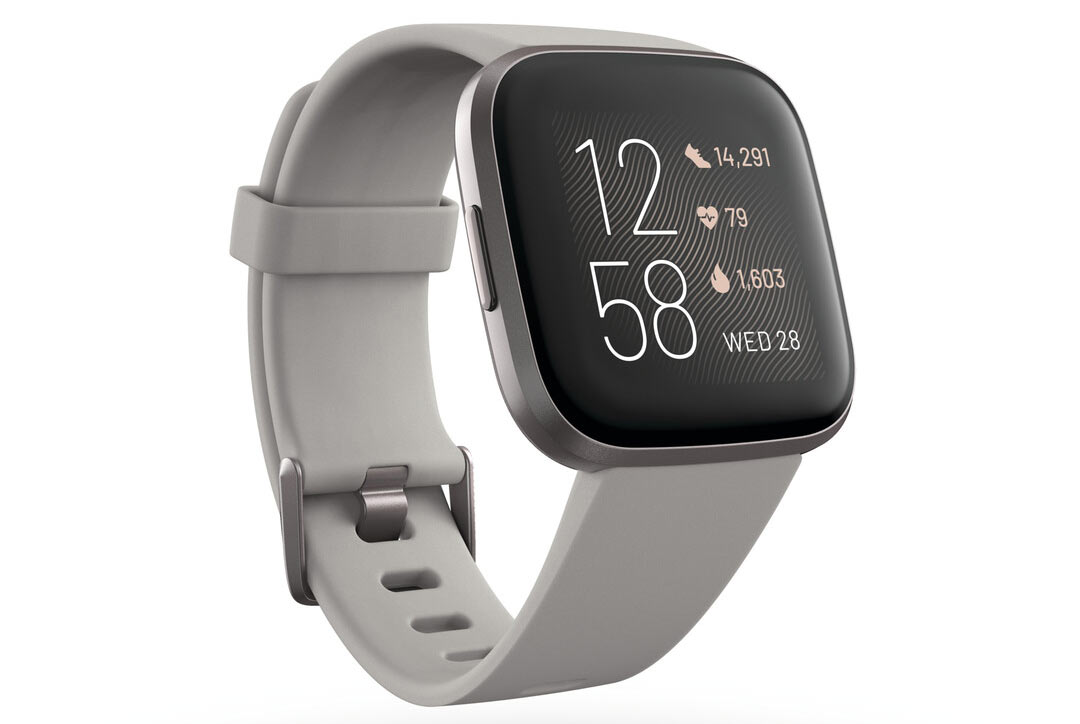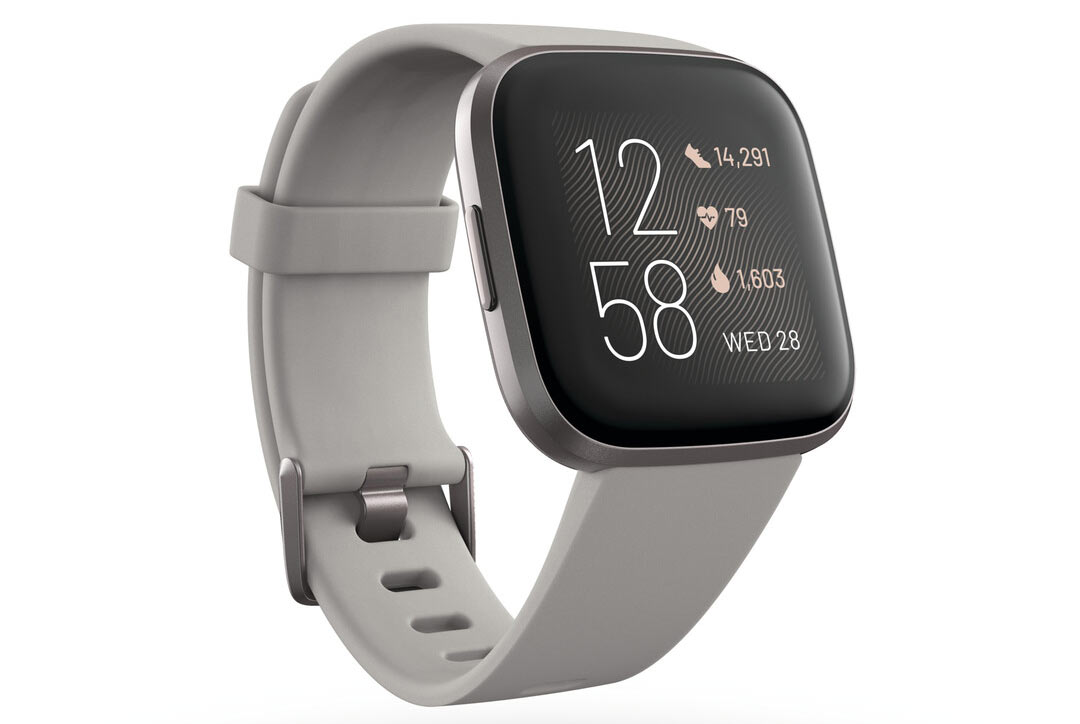 Design and display
The second generation of smartwatches received an AMOLED display and a more powerful platform compared to its predecessor.
Design of Fitbit Versa 2 has not practically changed: a square case with rounded corners (size 40×40 mm) and various straps to choose from.
Unlike the vast majority of smartwatches, Fitbit Versa 2 received a control button on the left side. And praise to the designer, who probably suffered from randomly pressed buttons on the right side and made it for people.
The new AMOLED screen supports Always-on Display. With the activated AOD function, the watch will be able to work for a little more than two days. If you turn off the AOD, it will last about 4-5 days from a single charge.
One of the main features of Versa 2 was the support of voice assistant Alexa. It is enough to hold down the side key, after which you can give commands to the assistant, for example, reply to a text message or control smart home devices.
The watch can be used for contactless payment via the Fitbit Pay payment system. It supports streaming music playback through Spotify. Unfortunately, there is no GPS module.
Worth noticing: now fitbit belongs to google
Sensors and training information
Fitbit Versa 2 is equipped with a 3-axis accelerometer, an optical heart rate monitor, an altimeter and a SpO2 sensor to measure blood oxygen levels. The manufacturer has developed a number of its own programs for those who are interested in a healthy lifestyle, and also supports the installation of third-party solutions through its own application store. Unlike other smartwatches on the market, Fitbit devices support Windows, and for some tasks, a desktop application is the only way to interact.
There are several training modes (running, swimming, orbitrek, training and strength exercises), there is a nutrition diary, sleep monitoring, the number of hours of activity (at least 250 steps), a heart rate monitor. Calories are calculated per day, without breaking down the active and spent at rest, weight tracking. You can also track your drinking water and your menstrual cycle.
The training information is pretty detailed. It seemed to me that in the Fitbit process, they are more strict than other platforms in counting calories. But at rest, the calories burned are the same or even greater than the competition. But since there is no single denominator on the market as such, the indicators of different models differ, so far it all looks more like fortune-telling on coffee grounds. Fitbit is credible because it has been working in this niche for a long time and partners with insurance companies and other businesses.
Fitbit has a community where you can make friends with sports interests or compete remotely with other people. As well as a premium version of the platform.
Unfortunately, there is no free demo, but there is a 50% discount for the first month.
Fitbit Versa 2 is a good offer, especially for those who are looking for non-sports design, sports functions and are not eager to receive alerts from Instagram and Facebook. Watches are only suitable for those who want to stick to a healthy lifestyle. For those who are primarily looking for a device that can replace a smartphone in many situations, you should pay attention to the Amazfit GTS or Apple Watch.
Pros:
Excellent App
Gives overall sports score
Good for multiple sports
Main screen customizing
Smartwatch features
Cons:
No GPS
Slow App installs
Display not as good as Apple Watch
Fitbit Charge 3 – great fitness tracker from well-known brand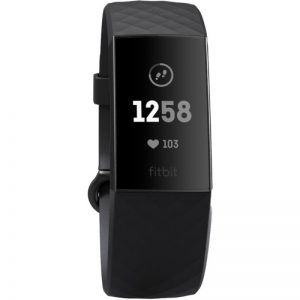 Another device from Fitbit is not a smartwatch, but a fitness tracker.
I am reviewing the simplest version of Charge 3, without NFC and with a rubber strap. There is a special version on the market with contactless payment support, a perforated strap or a lavender fabric strap. The regular version comes in two colors: a completely black and gray-blue strap with a gold-colored case.
Charge 3 Display and design
Charge 3 is equipped with a small rectangular OLED display with one color – gray. The display is covered by a curved glass Corning Gorilla Glass 3. In the off state, the display is invisible. In the sun, the matrix fades, but it is possible to consider the outlines of the inscriptions. The manufacturer has provided different dials with watches and other indicators. Personally, I like the simplest one with a real-time heart rate display. Of course, I would like a color display, however, as practice shows, this affects the battery life not in the best way.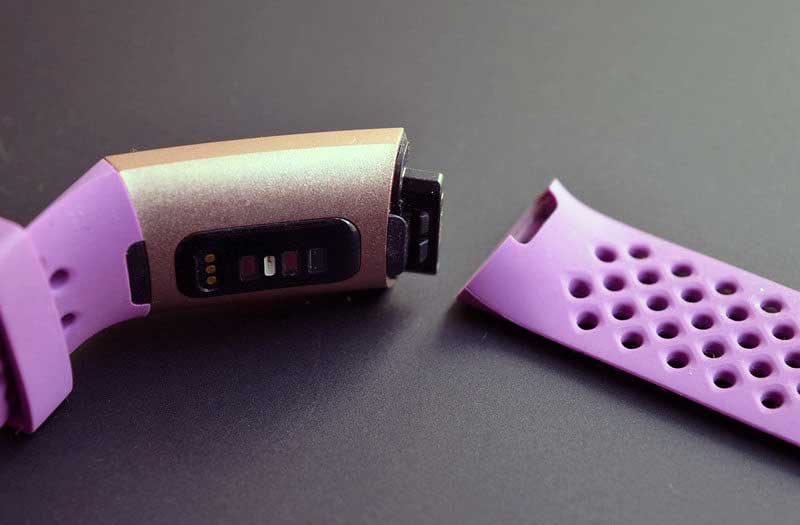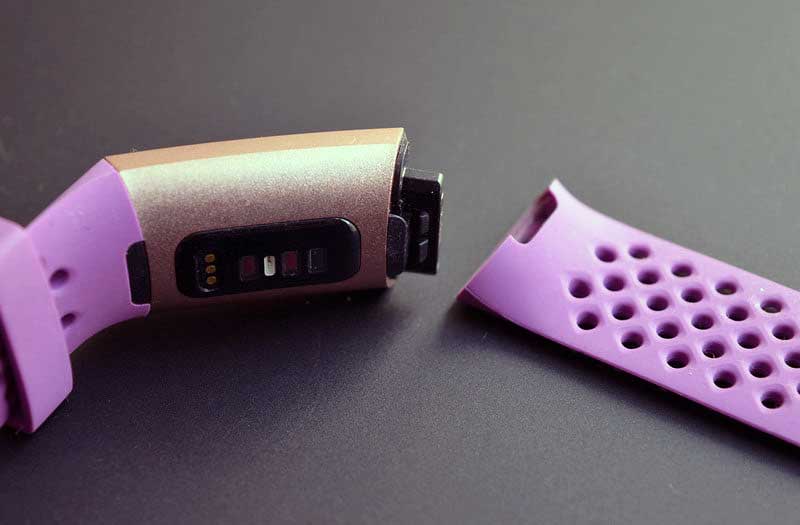 Sports tracking
Compared with the second version, swimming tracking has appeared in the functions of Charge 3. GPS, unfortunately, is not present and for correct tracking of running, you will need to carry a smartphone with you. Otherwise, the set of functions is similar to the previous versions: running, strength exercises, a bicycle. The band can track the number of steps, heart rate and quality of sleep, and it can also wake you up and show notifications.
Among other functionality, there is a special timer for a kind of breathing meditation for 2, 5 or 10 minutes.
I have no complaints about the accuracy of the heart rate monitor, both during running and during everyday life. But, do not forget that a heart rate monitor of this type is not able to correctly track the heart rate during weight training and swimming.
The fitness tracker shows itself perfectly in working with the Fitbit app. It collects all the information from the Charge 3 sensors and displays it in the form of tiles and graphs. Made cool and beautiful. You can enter your data in the application, for example, the food consumed and the amount of water. All this information is conveniently visualized and the best results are issued in the form of beautifully designed achievements that can motivate to improve results.
I had a full charge of the Charge 3 battery for 8 days and in the end there was still another 10%. Constant heart rate monitoring was enabled. This is not the most outstanding result compared to competitors, especially given the very basic functionality. The full charge time takes 2 hours.
Cons:
No GPS
No NFC
Annoing screen "button"
Bellabeat Leaf Nature – track your everyday activity with style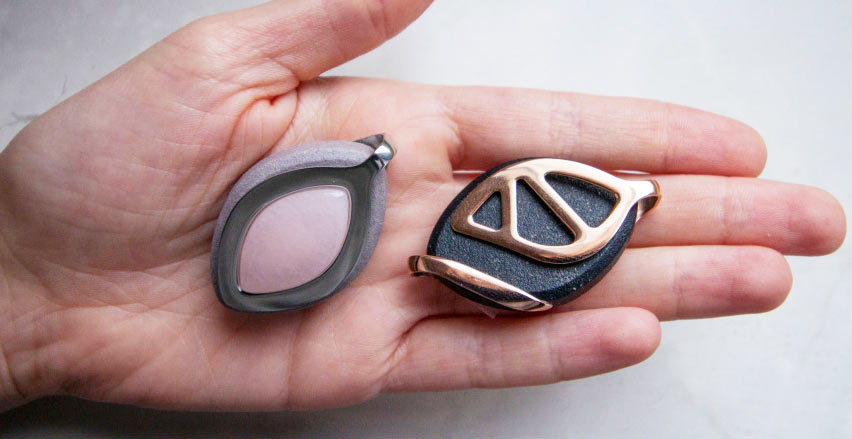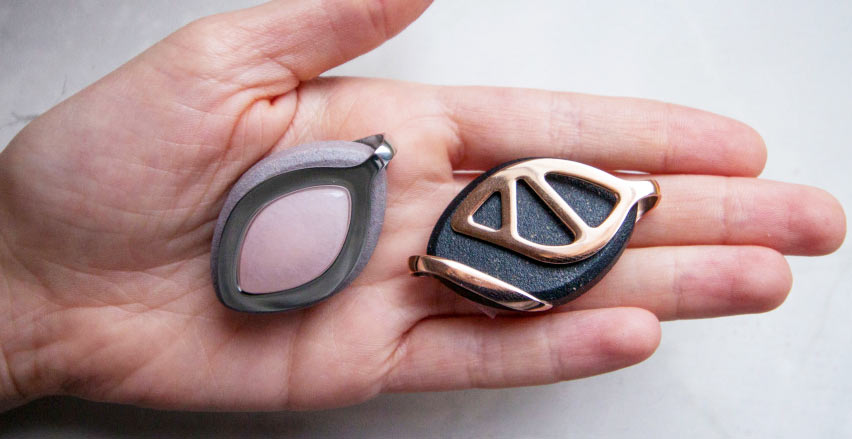 The fitness tracker is not the thing that you can wear with a cocktail dress. So I thought so, but I must admit – the elegant Bellabeat Leaf simply fascinated the girlish component of our editorial staff. This tracker can be worn as a pendant on the neck, as a bracelet and as clip-on clothes – three options of wearable tracker that will fit any look.
Bellabeat Design
The products that Bellabeat manufactures are called "smart jewelry". And indeed, if you do not know, you will never distinguish Bellabeat smart gadgets from jewelry. The brand produces not only trackers, but also watches, and they even have a smart bottle. But for now, we'll talk about fitness trackers, in the Bellabeat Leaf lineup are Urban models (pictured above right) and Chakra (left).
The main difference between both of these models from trackers familiar to us is the lack of a screen and any buttons. Therefore, they simply can not be distinguished from jewelry. All management is in progress. What do the gadget and its application offer us?
Activity tracking & App
Activity tracking. You set the daily goal in steps, and the tracker monitors progress towards it. Also, the gadget will calculate the time of activity, the distance traveled, burned calories. And then it will demonstrate your achievements on the chart and tell you about the average value of each of the indicators for the week.
Sleep tracking. With any of the Bellabeat Leaf trackers, you can find out more about your sleep process and understand how it affects your well-being and productivity during the day. Waking up in the morning, look when you slept most deeply, how many woke up in the middle of the night, and how much in the end really rested.
Meditation. Here you can also set the target time – how much you want to meditate every day – and move towards this goal.
Stress control. Based on data on activity, meditation, and sleep, the tracker concludes the level of stress. He calculates it as a percentage. Obviously, the larger the number, the worse the situation with stress.
Menstrual cycle. Any of the two Bellabeat Leaf trackers will follow the cycle and help those planning a pregnancy.
Control over the water balance in the body. In the application, you will find tips on how to always stay in good shape with the right water intake. Just do not forget to write down data on the volume of drinking water on time.
Trackers are very light, the clip bends without problems. Urban comes with a bracelet strap, a neck chain, a small screwdriver, and spare bolts – all this will be needed when it comes time to change the battery. In the box with Chakra, you will find all the same except for the strap. But it is decorated with natural stone.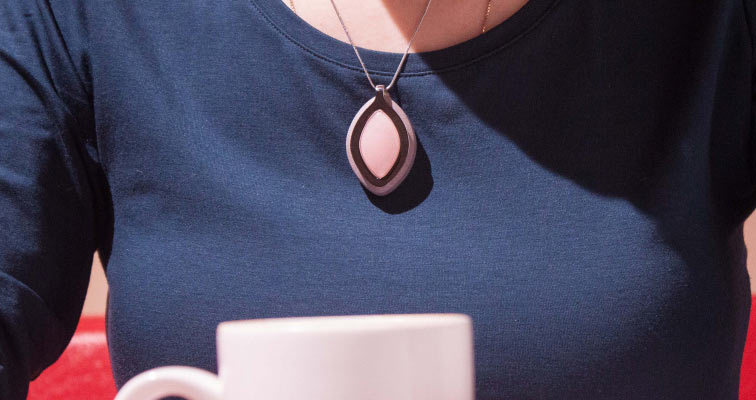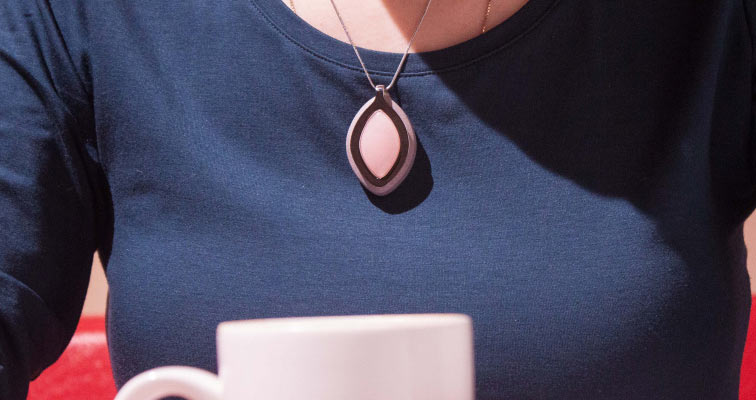 The battery lasts up to six months of operation, after which the tracker will need to be opened, and the battery replaced. You do not need to constantly synchronize the gadget with the application. Nothing terrible will happen if you forget about it for a while, because the tracker stores everything in its memory for up to two weeks.
Both models are protected from moisture, you can take a shower with them. To activate the tracker, you need to pull out the plastic pin, and to synchronize – double-tap the tracker with your finger. The "leaflet" begins to vibrate, and you will be taken to the main application menu.
Pros:
Great design
Battery life
Stress and cycle control
Great as present
Cons:
No display
Not suitable for sports
Garmin Vivosmart 4 – great looking tracker for women and men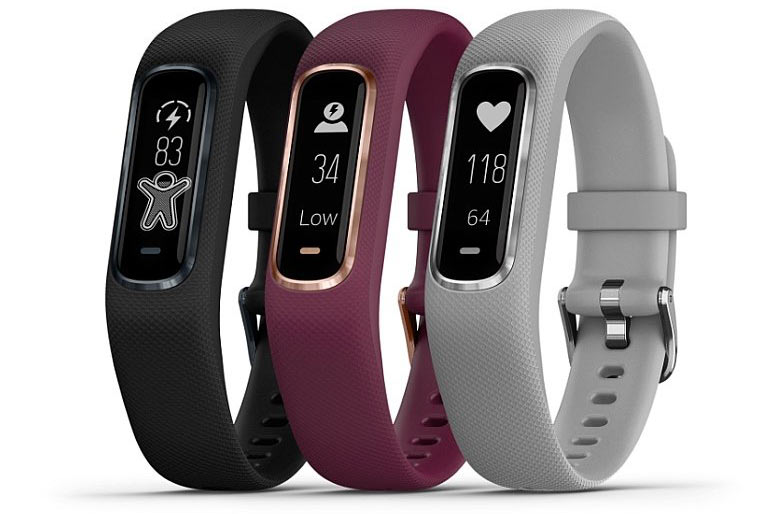 Vivosmart design & display
Design is one of the main differences between Vivosmart 4 and previous band