External solid state drives (SSDs) are a great alternative to flash drives, especially if there's a need to transport large amounts of data. External SSDs are far more durable than traditional hard drives and feature fewer moving parts, greater shock resistance, and less heat generation. These can be connected to any computer through USB connections, allowing the data to be accessed far more quickly than with traditional HDDs. This increases employee's mobility and provides extra notebook memory, which greatly improves their overall efficiency.
The new OWC Envoy Pro EX with USB-C delivers great performance in a palm-size package. It's equipped with a high performance NVMe M.2 SSD that delivers blazing fast access to data and no interruption to professional work environments. It features speeds up to 980 MB/s, Thunderbolt 3 compatibility, and it's backed by OWC's rock solid 3-year warranty. With this new SSD, pro creators can work from anywhere, when knowing they have the performance of NVMe and ultra-reliable data protection to maintain their best work anywhere they go.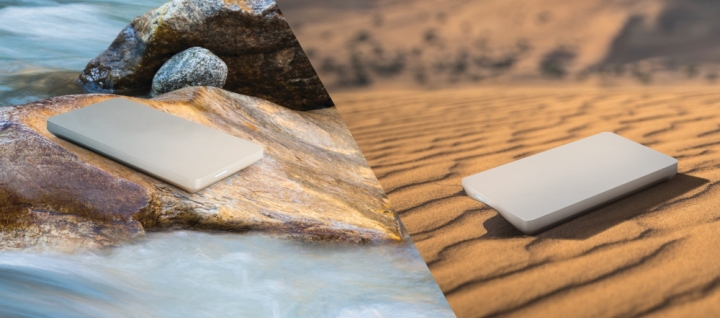 It's built tough for every challenge. It's bus-powered, ultra-portable, and IP67 rated, meaning it's dust tight and water resistant for up to 30 minutes in 1 meter of water, making it able to withstand any unexpected rainstorm or splash and keeps any important data safe. This NVMe M.2 SSD delivers unbeatable performance and reliability on-the-go. The new SSD is compatible with both Mac & PC, plus direct-connect to devices like the latest USB-C cameras from Blackmagic Design. It also features a quiet fanless operation, meaning it's perfectly fit for any presentations you choose to use it on, giving projects and presentations the professional-level performance and polish they deserve.
Housed in anodized aluminum, it's perfectly designed to take-along for field work and remote locations, while offering plenty of storage space for any important file, like photos, videos, music, and work-related files. It's lightweight, rugged and slim, easily fitting in any bag or coat pocket for the ultimate in on-the-go convenience.
OWC CEO and Founder Larry O'Connor commented on the company's new SSD release, saying "Our Envoy Pro EX family of SSDs has been a massive hit with both our professional and prosumer customers, especially for demanding workflows in-studio or rugged environments. Today we are delighted to expand the lineup on behalf of our customers who prefer a USB-C interface, yet still demand the absolute top of the line in blazing throughput, rugged performance and extreme reliability. This is unquestionably the fastest USB-C SSD ever produced…period."
The new OWC Envoy Pro EX with USB-C SSD is backed by a 3-Year OWC Limited Warranty and is available now at MacSales.com, in five different models that offer different storage space solutions:
0GB SSD – $94.99
250GB SSD – $129.99
500GB SSD – $179.99
1TB SSD – $249.99
2TB SSD – $429.99
The post OWC Envoy Pro EX with USB-C, The Fastest USB-C SSD Ever Built appeared first on Gadget Gram.