After being separated from the main Facebook app, Messenger had 600
Million users in April 2015, growing to 900 million in June 2016. By
July 2016, Facebook Messenger users hit the 1 billion mark. But as at
April 2017, it had over 1.2 billion users.
Over the years Facebook Messenger has become the number 1
communication tool in Africa, The US, Canada and all parts of the
world. Unlike emails, messages do not compete for visibility in an
inbox and had 4 to 10 times higher CTRs with an average 83% open
rates.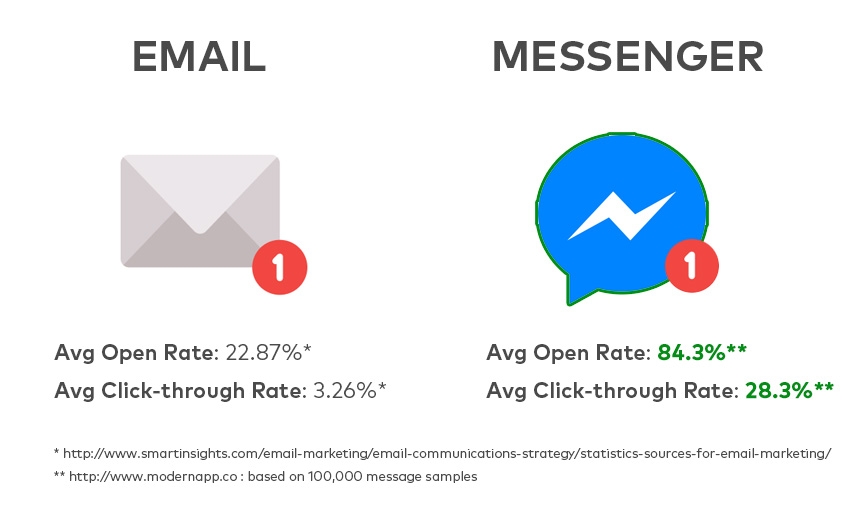 The Founder and CEO at Mixergy said;
"Chat apps are a way for
entrepreneurs to reach a bigger audience. People are using
chat apps
more than they are using emails"
9 out of 10 visitors leave your site/blog without taking any action
.
Even if you have engaging content, you visitors may
forget about you, but you can convert them into your Subscribers with
Revoice!
If you have a Blog, Newsletter or YouTube videos, Revoice will choose
the best piece, make it look great and deliver it to your subscribers.
5 out 10 Subscribers will Reengage With your Web site . Property examination shows that every message delivered on Facebook
Messenger gets 83% open rate and 53% Click-Through Rate (CTR). With
every new sign up on messenger imagine how great it'll be to have over
1 billion people subscriber to your website/blog.
Visit
revoice.me
today and turn your visitors into Facebook Messenger
Subscribers.
[Install in two minutes. Get 5 time more readers and add leads to your
Customer Relationship Management (CRM)].