Towards the end of 2016, Microsoft teased us of an upcoming integration — which seemed to be a match made in heaven. The teaser video had shown off a Harman Kardon Speaker powered by the smarts of Redmond's uber-cool voice assistant — Cortana.
It had then echoed that Amazon's Alexa and Google Assistant should start discussing their exit strategies as Cortana was stepping foot in the smart speaker space soon. We've only been provided minor glimpses at this device until date but surprisingly, we now have our first look at this stunning device that arrives this fall.
Harman Kardon, the leading Samsung-owned audio device maker has today released an official web page with details of its upcoming smart speaker. Called Invoke, this cylindrical metal tower appears quite similar to the Amazon Echo but is powered by Cortana. It also shows off the blue light ring, which we saw in the trailer, at the top of the speaker.
This speaker is still marked as coming soon but a tentative fall season release has been touted on the web page. And this lines up with the release of the next major Windows 10 update, codenamed Redstone 3. The website currently offers you a 'Notify' button for those who want to stay updated with the availability of the device. The device arrives along with the next Windows 10 update in fall, which is known to span across September and December.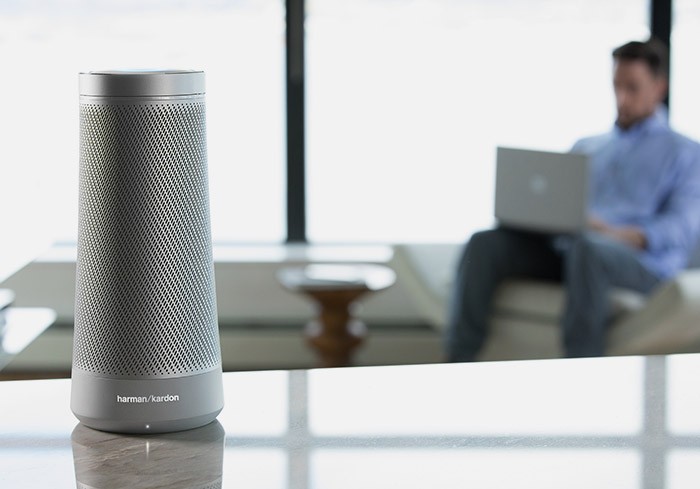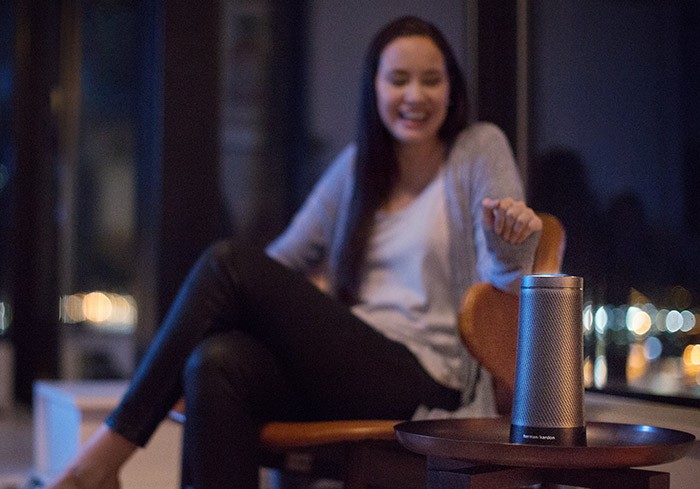 As for the features, the Invoke speaker is powered by Harman Kardon's legacy audio technology and projects sound at 360 degrees. It also packs in the ability to stay on top of things, courtesy of Cortana's powers. This means it provides you with the capability to control music playback, make and receive voice calls with Skype and other basic capabilities packed in each voice assistant.
Talking about the Cortana integration, the online listing for the Invoke reads,
At the heart of Invoke is Cortana, your personal digital assistant, helping you stay on top of what's important. Enhance every moment with captivating sound, voice control your music and smart home, make and receive hands-free calls with Skype, get answers to your questions, and more
This development comes mere days before Microsoft's Build 2017 developer conference, which kicks off May 10. We earlier reported that the integration has been made possible due to the Cortana Devices SDK, which was released earlier in 2016. This makes Cortana's smarts available to OEMs and ODMs, who want to build smarter devices on all platforms, including Windows 10, Xbox, iOS, Android and other mobile platforms.
This SDK will further be complemented with the release of a Cortana Skills Kit for developers at Build 2017 conference in the coming days. Much like Amazon Alexa, this software kit will enable developer to build services for Microsoft's smart voice assistant, currently supported only on Harman Kardon's speaker. With an official release, we should expect third-party hardware makers to jump the ship and release devices powered by Cortana soon enough.
There is currently no word on the pricing of Harman Kardon's speaker, which has to competitive enough to beat Amazon Echo and Google Home at their very own game. The lack of skills in the beginning could hurt sales but as the ecosystem and features grow, the Cortana-powered devices can become prominent. The details are still scant and we'll have to wait for an offical launch to know more about Invoke.