As estimated by an IHS survey, there was more than 20 Billion connected devices globally in 2017. Is 2018 the "Defining Year for IoT"?
With the world becoming more connected than ever, 2018 will be a significant period for Internet Of Things. The industry will be staring at greater investments, widespread adoption, rise in number of IoT app development services, and a place in the growth trajectory of a number of industries and economies alike.
In addition to this, there will be a rise in demand for Iot Mobile Apps that would connect the devices, making them smarter. With this, 2018 will see a new found demand for an IoT Application Development company, which would have the necessary capabilities to connect the world.
Only with the support of the capable institutes, the world will be able to witness an array of innovations and growth around them in 2018 and beyond.
It is in 2018 that IoT will transform from its image of being a less paid attention to technology into the one that will be adopted by industries, globally and see major investments that will further its growth and innovation capabilities.
Here are the factors that will expand in 2018 to help define the path for IoT's future in the world –
Greater Data Security

Heightened investments in Smart Homes and Smart Cities

IoT Cloud Platform will consolidate quicker
These factors that will get a greater share of focus in 2018, will contribute towards making IoT mainstream.
Wit the support ready, let us look at the 8 Internet of Things Statistics that validates how IoT's future will be paved with 2018 in the middle.
The International Internet of Things (IoT) industry is expected to rise to $8.9T in 2020 from $2.99T in 2014, making 19.92% Compound Annual Growth Rate (CAGR). Percent of IoT usage in Industrial manufacturing is projected to grow from 2014's $472B to $890B in 2020 IoT spending. Life sciences and

IoT Application in Healthcare

are also expected to grow to $1.335T in 2020, amounting to 17% CAGR.
Source
The IoT market is set to rise from its valuation of $157B in 2016 to estimated $457B by 2020, accomplishing the CAGR of 28.5%. The industry's market share is going to be ruled by three sub-domains; Smart Cities – 26%, Industrial – 24%, and Connected Health – 20%. This will be followed by 14% Smart Homes, 7% Connected Cars, 4% share in Smart Utilities, and 3% in Wearables.

Source
Bain forecasts that the B2B IoT market will make over $300 Billion yearly by 2020, which includes $85B of the industrial sector. It is estimated that the most competition in IoT will be seen in industrial and enterprise segments.
Bain forecasts consumer Apps will raise $150B by the year 2020, with the B2B apps being estimated at over $300B.
Source
$6T is expected to be spent on the

Internet Of Things (IoT)

solution industry within the time range of 2015 and 2020, as estimated by PwC. The number of IoT investments made by the businesses will increase from its $215B valuation of 2015 to its $832B number in 2020, while the consumer IoT spending will increase from $72B to $236B.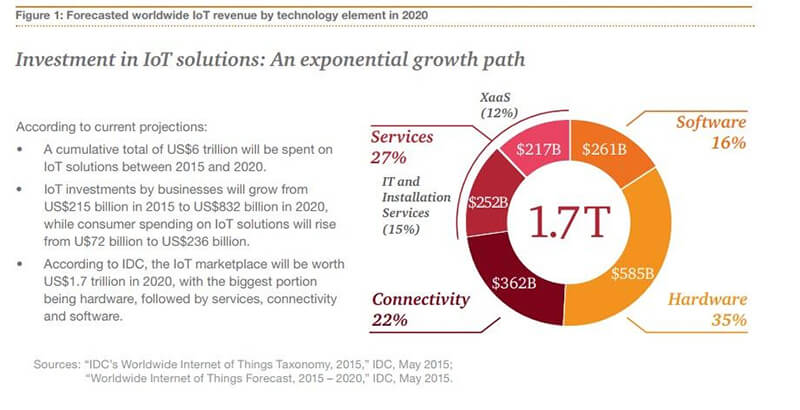 Source
The B2B expenditure on IoT technologies, solutions, and apps will get up to €250B ($296.8B) by 2020. The spending on IoT Analytics expenditure is expected to raise $23.7B by year 2020. It is estimated that from 2015 to 2020, the revenue from every layer of IoT technology stack will have managed to make at least 20% CAGR.
Source
Refining the customer experiences (70%) and enabling safety (56%) are two domains enterprises have been using IoT solutions for, today. Attaining cost efficiencies, bettering the organization abilities, and gaining the supply chain visibility (53%) are the three most common uses of data that is generated using IoT solutions.
Enterprises expect that the IoT solutions will increase the revenue and open up new markets in the world. This estimate has led to a rise in Enterprise IoT Mobile Apps, worldwide.
Source
By 2020, the mounted base of Internet of Things devices is also expected to grow to 31B globally. And by 2025 the number will cross 75.4B devices.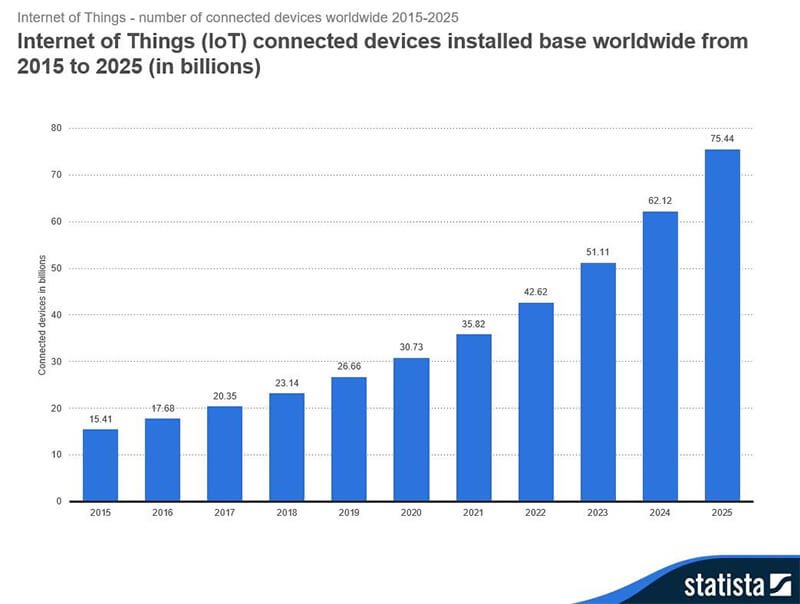 Source
The premium research institute, McKinsey Global has estimated that IoT will make a yearly economic contribution between the ranges of $3.9T to $11.1T by the year 2025. Their prediction scenario consists of use cases and diverse settings including cities, factories, retail environments, and healthcare.
Source
Now that you know how big the IoT market is going to be from 2018 on, let us delve a little into an element that will be the center of these innovations and growth – Mobile Apps.
The Need of IoT Application Development
Suppose you are outside, going office, and suddenly you remember you left the microwave on. If this happened a few years back, you would have to return back home and switch the microwave off, but with IoT Mobile Apps, you can switch the connected microwave off with a tap.
While this is one example, there are a number of ways in which mobile apps have become an integral part of IoT.
It is impossible to talk about connecting devices without a mention of the only element that will be the bridge – IoT Mobile Apps.
There has been a constant demand for support required for building an IoT app, while it comes with its own set of challenges, the benefits are too loud to ignore. From Healthcare and Consumer electronics to Retail and connected Wearable Apps, there are a number of ways in which Mobile Apps have placed themselves in the middle of the Internet of Things revolution.
Are you ready to become a part of the time when the world will become connected?
The post 8 Statistics That Prove IoT will become Massive from 2018 appeared first on Appinventiv Official Blog for Mobile App Development.