Social media might be the newest kid on the block, but it has long overtaken both print and traditional electronic media in terms of outreach and user appeal. Almost everyone is on one or more popular Social media channels. Social media is an important search signal as Google tends to rank web pages in terms of traffic and social shares.
WordPress, the leading CMS right now, offers extensive integration of social media channels into any website. This is made possible because of social media plugins. However, the problem is the huge number of free and paid plugins that specialize in social media integration and sharing.
In this article, I will introduce ten Wordpress Social Media plugins that will greatly streamline the integration and performance of social media channels into your website.
Social Warfare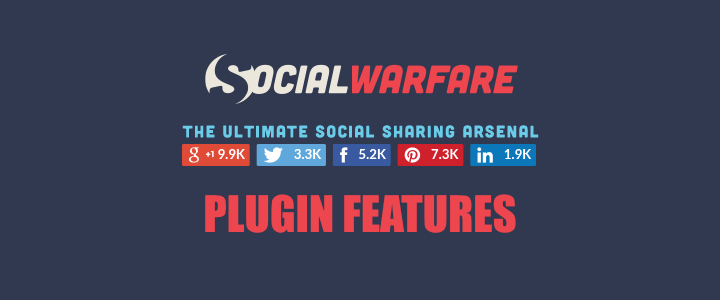 The newly rolled-out version of Social Warfare is enough for all social media requirements. The interface of this WordPress social media plugin is very pleasing and the overall theme is very user-friendly.
Social Warfare offers a host of features including floating social media buttons. The new version of the plugin is compatible with the latest version of WordPress.
Some great features of Social Warfare are:
Pin it button for images
Whatsapp button
Support for a number of social media channels
User-friendly themes
Frame busting feature which prevents frames from getting copied
Responsive user interface
Tweet box
UTM tracking code which shows the exact traffic coming through the plugin
Share buttons above and under the comments
The basic package of Social Warfare is priced at USD 29/year/website and comes with a 45-day money back guarantee.
Monarch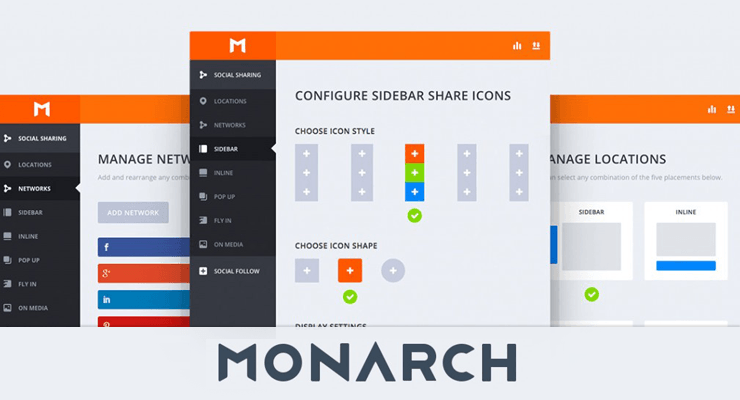 Monarch is a paid plugin by Elegant Themes. The plugin already has a user base of over 300,00. An important feature of the plugin is that it shows the number of shares beyond a predetermined threshold.
Monarch is fully compatible with mobile version of the website, making it easy for phone users to directly share content on social media without any effort!
Monarch offers attractive features including:
Floating share buttons
Customized placement of social buttons
Membership of Elegant Themes
User-friendly and responsive interface
Pop-over and fly-in features
Built in statistics to track share count
Support for 20+ social networks
Extremely lightweight for better website performance
Offering 30-days money back guarantee, this plugin comes with access to all premium Elegant Themes products including Divi and the Divi builder at the cost of USD 89/year.
Easy Social Share

As the name suggests, Easy Social Share is a plugin aimed at beginners and offer a wide range of options including multiple placements of buttons. With a clean and elegant interface, this WordPress social media plugin is the right choice for people new to the WordPress platform.
Easy Social Share is generally free of compatibility issues and is compatible with the latest version of WordPress.
Some features of Easy Social Share are:
Manual and automatic placement of social sharing buttons
Controlled display of share counts
Support for 40+ social networks including Viber, Whatsapp, Telegram, etc.
22 locations for social buttons placement
30 built-in templates
Widgets and counter for social fan counts
Compatible with WooCommerce, Jigoshop, Easy Digital Downloads, etc.
Free add-ons like post views, Facebook Comments, etc.
Built-in email subscription service
The regular license is USD 19 all-inclusive.
Shareaholic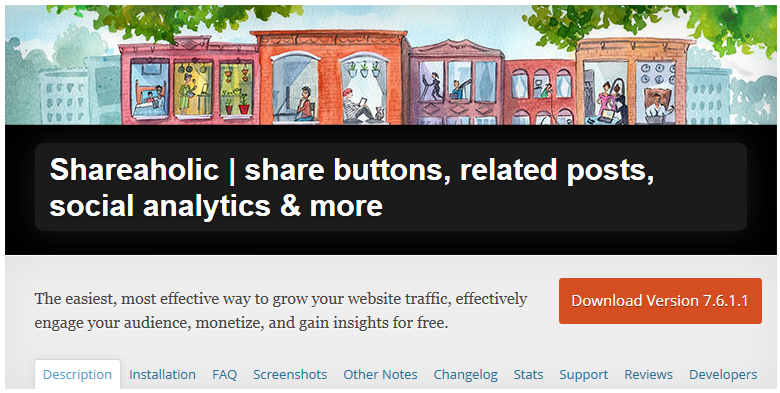 Shareaholic is perhaps the most popular WordPress social media sharing plugin. Today, it has grown beyond WordPress and is often used with a whole range of CMS. A free account is all you need to avail all features of Shareaholic.
Some mention-worthy Shareaholic features are:
Content recommendation feature that increases user engagement
Supports 15+ languages
Keyword support for WordPress SEO by Yoast
Controlled display of share counts
Supports WordPress, Drupal, Tumblr, etc.
Integrated with Social Analytics
Shortcode supported
Jetpack

Jetpack is developed by Automattic, the company behind WordPress itself. As such, it is perhaps the most compatible and streamlined of all social media plugins for the platform. While Jetpack offers a whole range of features, social media sharing is an important aspect of the plugin.
Relevant features of Jetpack include:
WordPress integrated web analytics
Shows web statistics including traffic growth and site insights
Jetpack commenting system with social media login
Comment subscription
Vaultpress backup feature
Google Authorship
Auto publicize
Widget visibility
SumoMe

Installed on over 200,000 websites, SumoMe is more than just a plugin. Also, to help increase the traffic, it adds social sharing buttons to the website. A distinguishing feature of this WordPress social media sharing plugin is that it adds social media sharing buttons according to the traffic received from social media websites.
SumoMe offers a host of features including:
Clickable interface for social sharing buttons
Customizable social sharing buttons
Analytics for individual social networks
Controlled share counts display
Integrated applications for growing web traffic, shares and email list
This plugin is a freemium, with prices starting from USD 29 annually.
Mashshare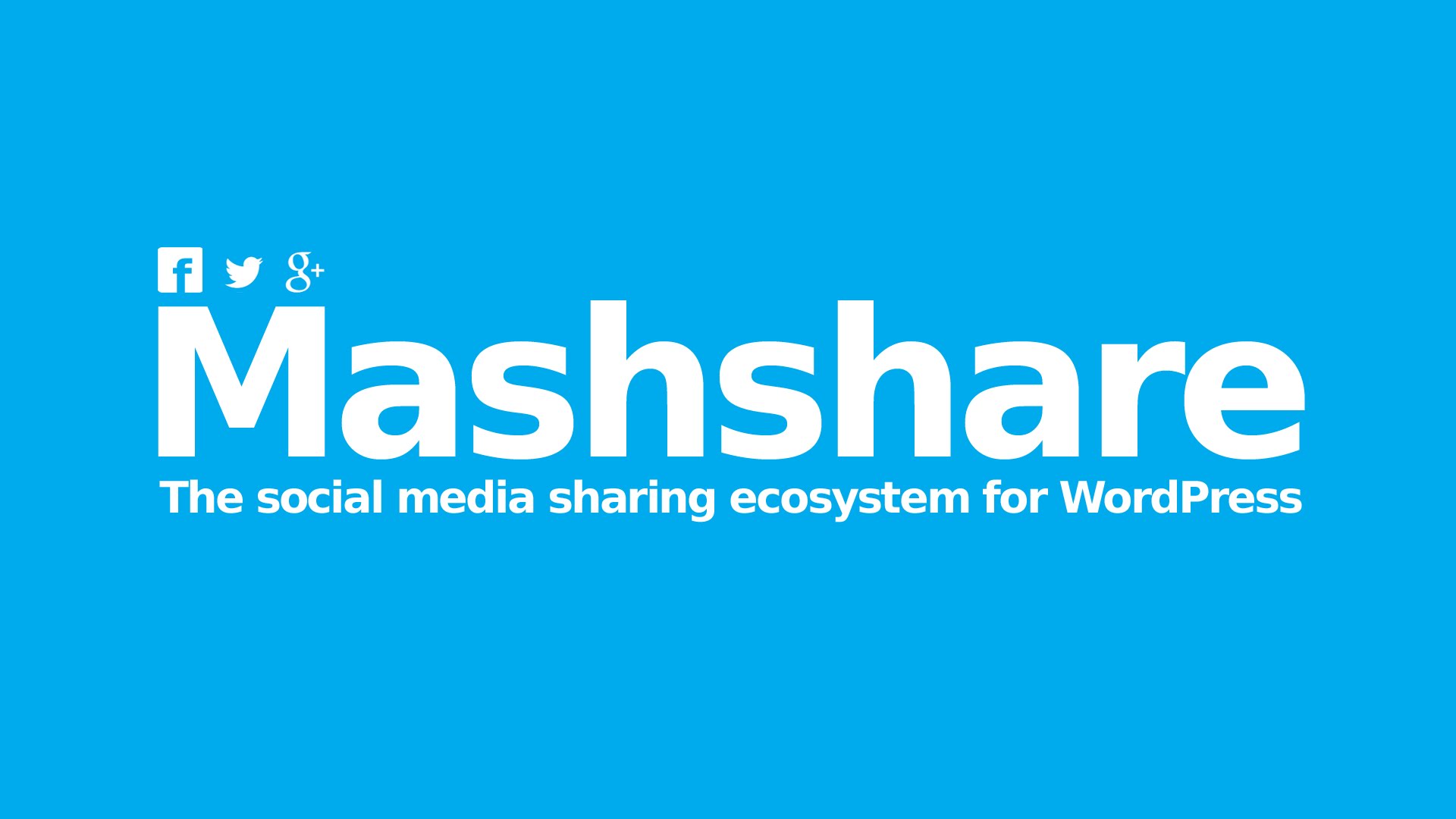 Mashshare social sharing buttons are inspired by the share buttons on popular magazine blog, Mashable. This plugin shows the total number of shares on Facebook and Twitter. Designed to look catchy, this plugin also requests the readers to subscribe to the website.
Mashshare offers:
Enhanced performance (no external scripts or data counters)
Privacy for audience as only temporary connections are established to social networks.
Performance oriented caching
Automatic and manual shortcode support
The personal plan is priced at € 39 annually for one website.
GetSocial

This plugin is designed for both desktop and mobile. GetSocial sharing buttons boost engagement and traffic on the website. Content sharing is encouraged through visually catchy social buttons and tools like web popups, subscriber bars. In addition, analytics is also included to help understand the audience better.
GetSocial offers various features including:
Floating Share Bar
Smart Pop-ups
Welcome Bar
Integration with Google Analytics
Responsive design
The basic version is free, and the premium version starts from USD 7 per month or USD 84 annually.
AddToAny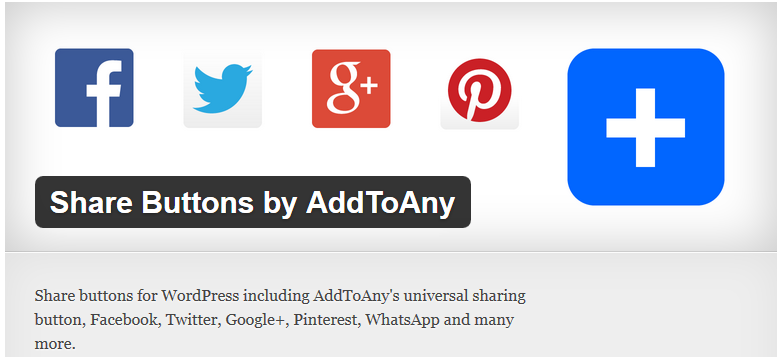 AddToAny is one of the oldest and most reputed plugins for WordPress. It comes with a clean interface for share buttons. This WordPress social media sharing plugin supports major social networking sites, and it is famous for its high response rate.
The plugin offers:
Up to 100+ social sharing buttons.
A universal button for sharing on different social networks.
Customized sizing and button placement options.
Shortcode supported.
Integrated Google Analytics.
Swifty Bar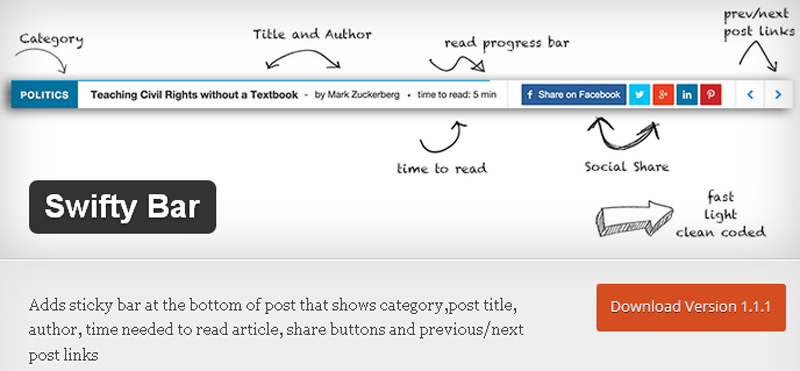 This plugin was featured in the 2015 top 10 plugins of 2015 by WPBeginner and Elegant Themes and is still considered an excellent plugin for adding social media sharing buttons. Swifty Bar adds a sticky bar under the posts that shows the share counts and post links. This plugin is a good replacement for social sharing buttons.
Swifty Bar offers a host of features including:
Share counter
Supports custom types posts
Admin Panel
Comment form
Post Links
This amazing plugin is available for free.
Conclusion
I hope that by now you have a better grip on the problem of selecting the right plugin for your website. The above list includes both paid and free plugins and the choice largely depends upon your budget.
Social Warfare, Monarch, Easy Social Share, Mashable, GetSocial and SumoMe are paid plugins that offer several features that are usually absent in free plugins. On the other side, if you are interested in freemium plugins, Jetpack by Automattic is an excellent choice.
If I have missed your favorite WordPress social sharing plugin or you would like to add to the conversation, please leave a comment below.
The post Best WordPress Social Media Plugins in 2018 appeared first on WPblog.