Running a brick and mortar business is history. Period.
Whether you run a beauty salon or a restaurant , you want to make it easy for your customers to make bookings online. However, maintaining an online Booking website is not so easy.
Fortunately, we have WordPress to do the job for us. With the help of more than 50,000 plugins in the repository and many other premium plugins you can easily create almost any type of website. And a booking website is no exception.
I have tracked down all the top WordPress booking plugins so that you can easily maintain an online platform for you customers to book appointments for your services.
Let's check them out.
Segenda

Segenda is a free WordPress booking plugin that allows you to integrate online booking functionality on your WordPress website. You can have unlimited number of bookings and customers through this plugin and it won't cost you a penny.
With Segenda, users can choose the time and date for their appointments. Also, the plugin, unlike others, doesn't display ads so you don't have to worry about unnecessary ads floating on your website that might annoy your customers.
Users can add either PayPal or a credit card as the payment gateways for payments through this plugin.
Get Segenda
Booking Calendar

Booking Calendar is one of the oldest WordPress booking plugin around. It is a free plugin that will enable online bookings on your WordPress website. It also allows your customers to check availability of different time slots, rooms and days.
Once the customer has booked an appointment, you [as website owner] will be able to accept or reject an appointment easily. The design is customizable and can easily blend with the layout of your website.
It is compellingly easy to use. Just install the plugin, insert the shortcode, and you are good to go!
Get Booking Calendar
Bookings

Bookings is another powerful plugin that allows you to seamlessly integrate online bookings functionality on your WordPress website.
Through it, customers can check availability of your services and products before making a reservation.
Website administrators can set blackout times and restrict bookings. They can also set minimum and maximum time on pre-resource basis. Administrator can manage an unlimited number of resources which can be turned on and off from the admin panel.
Get Bookings
Appointment Calendar
Appointment Calendar is an effective WordPress booking plugin. It doesn't matter if you are a doctor, lawyer, a beautician, or any other service provider, you can use this plugin to integrate online bookings functionality on your website.
The plugin is multilingual.You can easily edit your booking calendar from the WordPress admin panel.
It provides a notification to the website administrators upon a successful online booking. It also blocks appointments on specific times of the day.
Get Appointment Calendar
WP Simple Booking Calendar

WP Simple Booking Calendar is perfect for those who are looking to rent out their homes. The plugin will display the availability of your rooms, houses, office spaces, and even equipment that you want to rent.
It is a free plugin and easy to install and run on your WordPress website.
The pro version offers features like custom legend items and advanced editing and publishing options and it costs just $29.
Get WP Simple Booking Calendar
Hotel Booking Plugin by MotoPress (Paid)

Hotel Booking Plugin, as the name suggests, is dedicated to hotel booking websites. It is a 360-degree solution to manage all hotel bookings and accommodation listings.
It can be used for booking hotels, apartments, hostels, and bed and breakfast places. So, if you are looking to rent out hotel rooms on a WordPress website and don't want to jump through hoops, then Hotel Booking Plugin can cater to all your booking needs.
Through it, customers will be able to search for rooms in real time. They will also be able to browse dates and times and check availability before the booking.
Website administrators can add accommodation details like, images, bed size, internet facility and other features of the room.
Single Site $49
Multi Site $149
Get Hotel Booking Plugin by MotoPress
Event Booking Pro (Paid)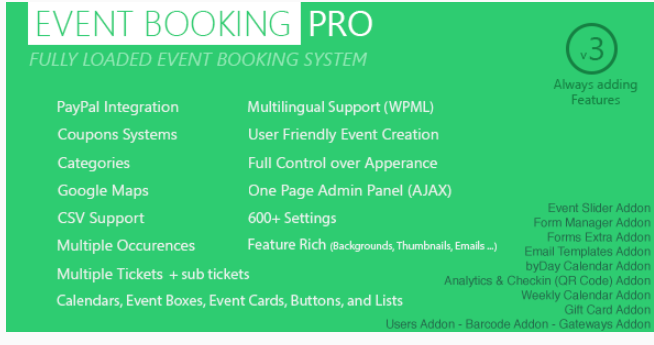 Event Booking Pro is a premium WordPress booking plugin that is loaded with awesome features for your booking website.
It comes with multiple currencies so that your customers, regardless of the country they are visiting from, will be able to choose their currency. It also allows you to integrate coupons and gift cards.
Event Booking Pro can be easily integrated with Google maps and Google calendar for accurate location and date information.
Price: $29
Get Event Booking Pro
Booki (Paid)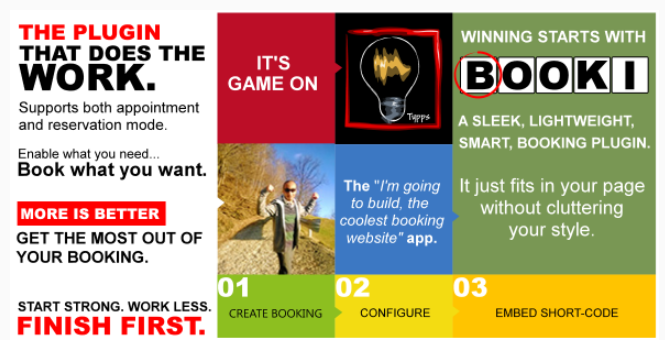 Booki lets you easily manage online reservations on your WordPress website. You can schedule appointments for events, accommodations, and other similar services.
Its paid version lets you manage unlimited booking projects with the help of unlimited resources. You can confirm or cancel bookings after they are made.
Price: $29
Get Booki
BirchPress (Paid)

BirchPress is an effective WordPress booking plugin that lets you professionally integrate booking system on your website. Customers can book appointments and pay via PayPal or credit card.
The plugin allows website administrators to add booking system through a simple shortcode. It also syncs your website with the calendars that you are already using.
Personal plan: $99
Business plan: $199
Business + plan: $249
Get BirchPress
Booked – Appointment Booking for WordPress (Paid)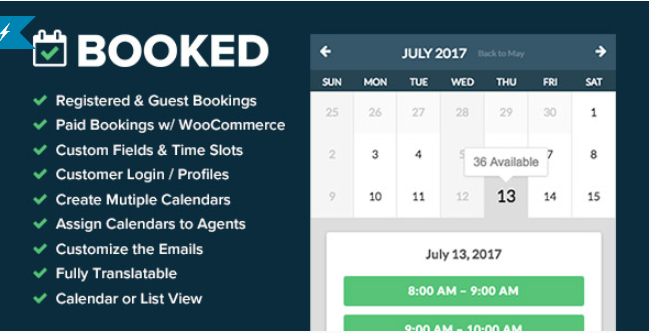 Booked is another premium WordPress booking plugin that allows visitors to purchase appointments through WooCommerce.
It lets you manage your incoming appointment requests through the front-end and also sends them to the calendar that you have integrated with the plugin.
Price: $49
Get Booked
Final Words
Having an online presence of your business can amplify your reach and increase your pool of potential customers. However, that is not enough. You should provide them with a platform where they can book appointments for your service with the click of a button.
The plugins mentioned in this article are perfect for creating an online booking website with ease.
If you know some great WordPress booking plugin, let us know in the comments.
The post 10 Best WordPress Appointment and Booking Plugins of 2018 appeared first on WPblog.