Do you own a website? Do you own a blog page? Maybe your website contains a product/service review page with a smooth commenting section on it?
If you own a website and it has a comment section for your viewers/visitors, the one thing that you should be looking out for is unwanted network traffic that leaves Spam messages on your website. Spam can play a vital role in creating detachment of your avid users and can result in a major decline for your online presence.
When we talk about spam, it can be anything. From an audio/video post on cleaner agents to an advertisement for purchasing a house; anything that does not relate to the content posted on your website is precisely nothing more but a spam message.
However, Wordpress have a massively simplified digital businesses. With its increasing popularity, you can almost find any kind of plugin in its respective repository. Today, we are going to talk about about some of the best anti-spam plugins for your WordPress website that can make your day-to-day life hassle-free and give you an amazing user-experience.
Although, you can go ahead and perform your individual-level research; however, it may cost a lot of your precious time. Therefore, we have simply saved you the trouble of doing that and picked out the best anti-spam plugins for WordPress.
So without further ado, let's delve in and see which anti-spam plugins are taking the largest market share.
Top Anti-Spam Plugins
Akismet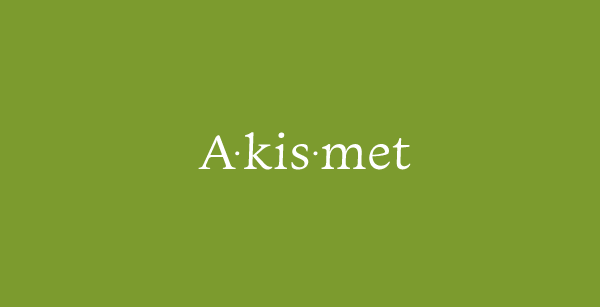 One of the most popular anti-spam plugins on WordPress is Akismet. That's because Akismet performs all of its activities from a centralized server that keeps a thorough check on unwanted spam messages being posted on your WordPress website. This plugin has been designed by Automattic, the people who created WordPress. It is one of the many reasons why you should not bother yourself with compatibility. This plugin will automatically be updated by WordPress.
The only downside of using Akismet is that if your server fails to connect with the centralized Akismet server, your website will be vulnerable to spam messages. Configurations are a bit limited, making it a preferred choice among simple users.
Akismet is available in the WordPress repository for free. However, if you wish to use it for commercial purposes, then you can purchase their business license at $5 – 50/ month.
Download Akismet
Anti-Spam Bee

When it comes to addressing reliability and effectiveness, Antispam Bee is a one-stop solution for unwanted spam comments. Not only that, but it also keeps IP address trackbacks so the incoming spammers can't enter your domain, the next time they choose to spam. All incoming users are validated and synchronized with a centralized server.
It contains a built-in notification system to keep you updated about spam comments and it automatically wipes clean your spam folders for you. This plugin is absolutely free and can be found in the WordPress Repository.
Download Antispam Bee
WanGuard

If you are looking to block spam registrations on your WordPress website, then WanGuard is a free anti-spam plugin that you can make use of. Irrespective of the type of WordPress website you own, WanGuard offers you complete safety from spam users registering an account on your website.
The downside of using WanGuard is that it only denies access to spammers from opening up an account on your website. It does not offer any such protection from comment spam made by pre-registered accounts. Though, WanGuard does allow you to add extensions which can further protect your registration page, thereby making your website more secure. By becoming a gateway for your website registrations, it performs its duties respectively.
The plugin is absolutely free and can be found in the WordPress Repository.
Download Wanguard
WordPress Zero Spam

While most websites will inquire users to fill out CAPTCHAs in order to confirm that they exist and are not spams, WordPress zero minimizes the courtesy of spam occurrence by filling out the extra fields in your form.
WordPress Zero Spam is only compatible with a few supported plugins such as Contact Form 7, Gravity Form, Ninja Form and BuddyPress. It is only available in English Language. It offers a spam-free environment for your WordPress website.
This plugin is also available for free in the WordPress Repository. You can easily download it from there.
Download WordPress Zero Spam
WP-SpamShield Anti-Spam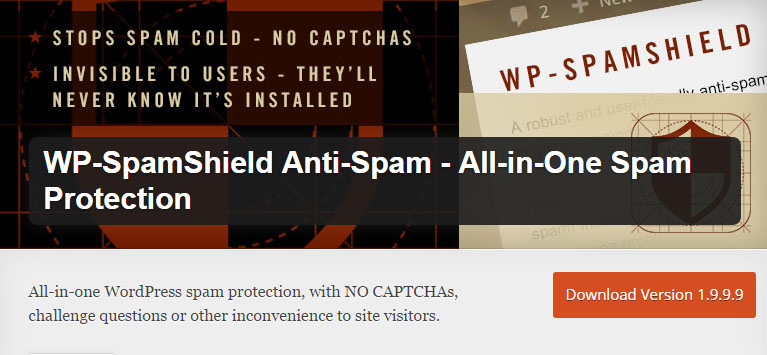 The WordPress Spamshield Anti-Spam is a free-to-use plugin that comes with a multiple-layer protection. It not only defends your website from unwanted spam but also blocks out automated spambots. The multi-layered Anti-Spam shield consists of two main layers.
The first is basically an amalgamation of web cookies and Javascripts. They are more focused towards keeping automated spambots away from your WordPress website. The second layer is more focused towards algorithm detections. Assuming that certain bots are smart enough to breach the first layer, they won't be able to breach the second line of defence.
It is one of the smartest spam-catching tools across the world of WordPress and you can find it available for free in the WordPress Repository.
Download WordPress Spamshield Anti-Spam
Anti-Spam By CleanTalk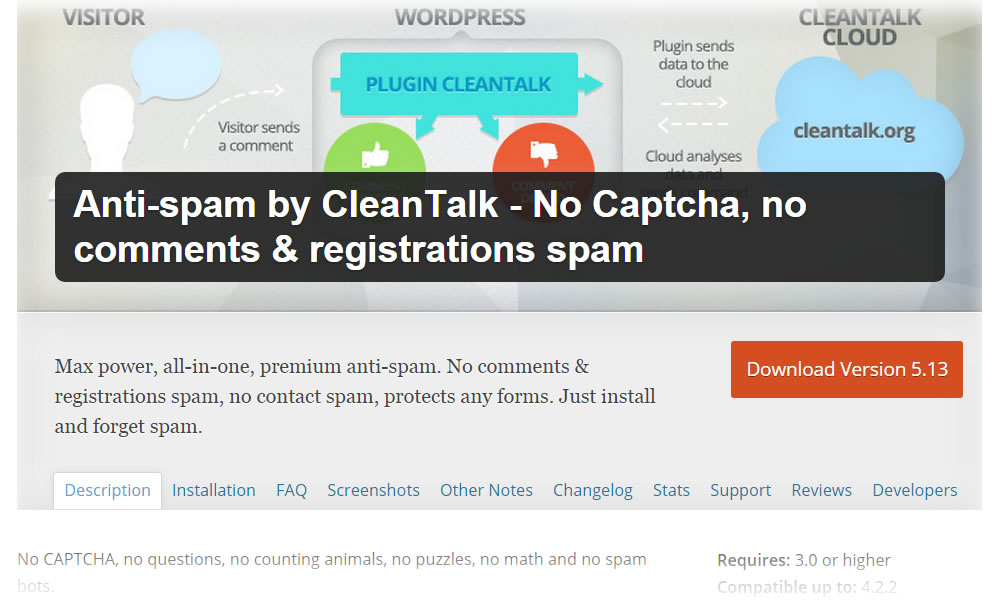 Anti-Spam By CleanTalk is one of the best paid plugins for controlling spam on your WordPress website. The plugin is a cloud-based plugin and works pretty much similar to Akismet. Here, simple comments are uploaded within the cloud-based server and then passed through a number of validations until the comments are stamped safe. Otherwise, the comment is automatically dropped to the spam queue. Moderators can access the queue and then further determine which comments are not spam and which can be posted to their website.
In addition to functionality, the plugin offers an advanced statistical analysis of the number of spams coming to your WordPress website and it comes with a spam comment log. It is also compatible with a number of other plugins on WordPress such as Jetpack, WooCommerce, WP-Members, W3 Total Cache and other reliable names on the market.
It is a premium plugin but offers a 14-day free trial and charges $8/month.
Download Anti spam by Cleantalk
With that we conclude our assessment on one of the top Anti-Spam Plugins for WordPress. WordPress, is by far, one of the best CMS in the world and is accountable for running more than 27 percent of the world's websites . With so much traffic lurking around every corner, there is a high chance that your website may attract a lot of spam. Henceforth, these are some of the top spam comments in WordPress that will guaranteed keep spam out of your website for good.
The post Top Anti-Spam Plugins for WordPress 2017 appeared first on WPblog.