Everything you should know for Developing a Mobile App like Zomato
Who are we?
Foodies!
What do we want?
Food!
How much do we love food?
A lot!
A Food delivering app is today's Tinder! The only difference is that there's no swipe but a scroll, tap, and checkout! That's why social media platforms during weekends have more cheesy platters than cheesy smiles. That's how much of a Foodie we are! Talking about food, even the businesses cannot help but leverage the due advantage of this never-ending demand for food. Yes, we are talking about on-demand food ordering solution.
In recent times, EngineerBabu being a way-to-go for many of our clients across the world has witnessed a visible growth in the demand for developing food delivering Mobile apps and that too similar to Zomato. However, not everybody can communicate his or her requirements because Zomato is a big stadium and all that we have seen so far is just from the bleachers.
So, for all my aspiring business buddies, Let me present you a complete guide for building such food ordering apps a.k.a Zomato clone.

What should be the business model for building an app similar to Zomato?
The key stakeholders for an app like Zomato or a Zomato clone are:
The Restaurant Owners

The Platform Owner

The Delivery Professionals
The platform owners charge a certain amount of fee from the restaurateurs to get their restaurants listed on the mobile app. When the user places an order, a notification is sent to the restaurateur, the nearest delivery person, and the platform owner. By collaborating at every stage with a powerful algorithm, all the three stakeholders maintain the smooth functioning of the platform for the users.
Zomato does not own any restaurant or chain of delivery services. It coordinates with the third party to plan a supply for the demand that arises.
In order words, it is an on-demand business model for food. So, if you want to build an app similar to Zomato, you don't need to have a chain of restaurants as you can create your own brand on such platform. That's the business ease of building an app like Zomato.
Trustable Food Ordering & Delivery App Development Companies
What makes Zomato different from other Food Ordering Mobile Applications?
Most of the food ordering mobile app businesses that exist today are but the basic version of Zomato clone with a couple of nascent features. Here's how Zomato works.

While others are confined till date with just the placing of an order and delivering food, apps like Zomato stand out with the following USP:
Food ordering: Allowing the users to order their food on-the-go.

Table Booking: Enabling the users to book a table at the restaurant of their choice with just a few taps and the wait time at the restaurant is eliminated!

Explore Places: Offering the discovery and guide to the user for exploring nearby restaurants with pictures and map locations.

Zomato Gold: The subscription model that offers an exclusive dine out and social drinking membership with special perks of its own.
What are the Important features to focus on for building a Mobile App similar to Zomato?
Zomato was once launched with the most simple functionality. It allowed the users to search for restaurants, look at the menu, and order their food. Later, it developed into a dedicated community for foodies that kept the users coming back to the app. This highly contributed to the engagement rate and ultimately, Zomato became the by-default food delivering and ordering app. Then it accelerated to expand with advanced features like booking tables. Apps like Zomato came about as the food-ordering app gained success.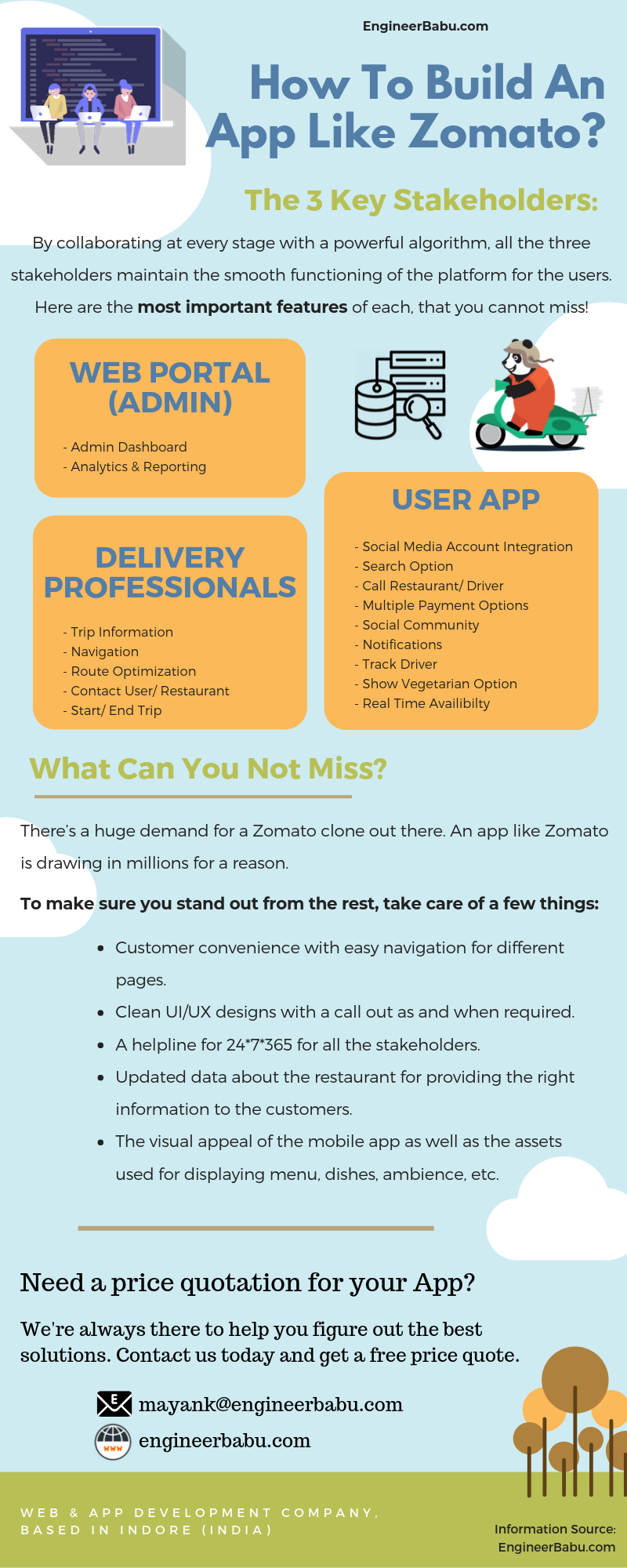 All the stakeholders have their own application and the features of all these apps differ. If you want to plan the features for your Zomato- like mobile app, here is a list of features for the five categories of the app that's the perfect Zomato clone:
Features for Web Service-
The web service is under the accountability of the platform owner. This means that if you develop a Zomato-like mobile app, or Zomato clone you are in charge of handling the web service portal.
Admin Dashboard:
To manage the overall functionality and different stakeholders, the admin dashboard has the capability to view the list of the restaurants, the number of users, and the delivery professionals. The admin can add and remove any stakeholder at any point of time using this control panel.
Analytics and Reporting:
Data insights and metrics based on the bookings made is shown by generating reports from the app and analysis can be done about the usage times, total number of users on board, demographic data, total number of restaurant listed, number of delivery professionals, profit and loss calculation per week, month, and year, etc.
For Delivery Professionals-
This app is specifically used by the delivery men. They get a delivery request and as soon as they accept the request from the app, they are provided with the information of the order, restaurant details and the address of the customer.
Trip Information:
The delivery man receives the restaurant's pickup address and the drop details of the user.
Navigation:
The app for the delivery men consists of GPS which is integrated into the app for easy navigation. It consists of the route and the total time estimated for the delivery.
Route Optimization:
The map integrated with the app helps the delivery professionals with the best possible route where they can beat the traffic and make their deliveries as fast as possible.
Contact User/Restaurant:
The app consists of a contact user/ restaurant feature that helps the driver call the concerned stakeholder without having to copy the number and dial it manually.
Start/End Trip:
Once the delivery professional accepts the request and begins his trip towards the restaurant, his trip starts. Similarly, another trip begins on his way to make the delivery. This is the basis of the amount he earns per trip.
For User App-
It is the main source of revenue, it is important that the user app is rich in features. Some of the great features for a Zomato-like user app are listed below, in terms of how Zomato works for consumers:

Social media account integration:
For an easy signup process, the users should be able to sign up with their social media accounts.
Search Option:
With the help of the search module, the user is able to search for food on the basis of restaurants, cuisines, outlets, dishes, etc.
Call Restaurant/ Driver:
By using the call feature, the user will be able to make a call directly to the restaurant/Driver in case of any specific instructions to give against their order.
Multiple Payment Options:
The users should be able to make their payments using multiple options like Debit Card, Credit Card, Cash on delivery, Mobile wallets, etc.
Notifications:
The user gets a push notification about their order, trending search, favourite restaurant, etc.
Track Driver:
With the help of 'track driver' feature, the user is able to access the map integrated into the app and track the status of their food.
Show Veg Option:
The user app has the option which will filter out the veg and non-veg dishes for the users.
Real-time Availability:
The online reservation system of the app allows the user to check the availability of the tables in real-time and make the booking.
Social Community:
The app allows its users to integrate their social media handles for creating their profiles. The users can connect with each other, follow and make recommendations on cuisines, dishes, puns, restaurants, etc.
Pertaining to the ease provided by these features, many startups are pacing towards building an ace of a Zomato-like mobile app.
How to Build an app like Zomato and beat the cutthroat competition?
Simply search for the term, "build a Zomato-like app" and you will find hundreds of blogs providing you the information. There's huge demand for a Zomato clone out there. An app like Zomato is drawing in millions for a reason.
What does this imply?
There is a lot of competition out there with your Zomato similar mobile app development. It is important for you to make a move of innovation to step higher than your competitors, when it comes to building an app like Zomato.
But how to do that?
It's simple, please your customers with the quality of your service and remarkable features for them to have a lasting impression of your brand. This will keep them engaged to your platform and ultimately, you will swiftly be able to scale up your Zomato-like business.
For this, you need to carry out a thorough research on what your unique selling point is going to be. Keep a track of the launches and services that your competitors are planning to or have probably done and try to provide a better service. If there's some process that you can ease out for your customers, make it a priority and do it.
Make your users feel that their problems are acknowledged by you and addressed well in the form of features. Give them a, "Why should I install your app?" reason that your competitors lack. This way your Zomato-like mobile app will be able to drive a large amount of traffic, engagement, and ultimately conversion.
What should be Considered While Building a Mobile App similar to Zomato?
From the point that you have this idea of turning a mere concept into a full-fledged Zomato-like mobile application to launching the first prototype of the app for testing, there are many vital steps to be followed to make your mobile app a big success.
The ground to building any food ordering mobile application is mostly flat. This means you do not have to brainstorm a lot on where to start developing your application. The only front of the mental focus for you as a business person should be to choose a brand name and identity that is relatable to the user. This way there are more instances of brand recognition and the marketing budget will reduce significantly, when you build a Zomato clone.
Here are some other important things to focus on:
Customer convenience with easy navigation for different pages.

Clean UI/UX designs with a call out as and when required.

A helpline for 24*7*365 for all the stakeholders.

Updated data about the restaurant for providing the right information to the customers.

The visual appeal of the mobile app as well as the assets used for displaying menu, dishes, ambience, etc.
Simplified Process for Developing a mobile app like Zomato
Here is the right approach to follow in your venture to develop a skyrocketing Zomato similar app:
Know what is your primary aim with the launch of your app before beginning with the development process. This will help you decide on the USP of your business and will set your business apart right from the start. Know how Zomato works and why this app is scoring well.
Understand your target audience well. In case of an app like Zomato, you will need to be thrice as careful with three different types of stakeholders to take care of – the restaurateur, the delivery personas, and the end users. Carry out a detailed market analysis and make a note of who your buyer persona is. Check for his demands from the platform and plan the supply that is inline with the demand for creating a long-term business relationship.
Research carefully on the existing applications that are similar to Zomato. List out their drawbacks and come up with some creative solution. If needed, tweak the business model a bit and see how effective it becomes.
Choosing the technology for your mobile app? Is it that tough for you? Always remember, you do not have to be technically sound to sound technical. All you need to know is the basics of what your app needs and leave the rest to the experts and skilled developers. Have a clear understanding of your business model and your revenue model. If you are planning to introduce the revenue model after the base has been set, then inform the developers accordingly.
Know what devices are preferred and are most popular amongst your targeted audience and go for developing an app with that platform. You can eventually introduce another platform for your business. Never let your focus go away from your brand recognition. With so many food ordering apps, it is common for your customers to switch to other app providing the same functionality. This is when a visually appealing UI and UX design play an important role in retaining the customers. Attract your customers on a psychological level and make your portal as relatable as possible for your customers.
Always plan the features well in advance by keeping your budget in mind. It is advisable to go easy with expansion. Not all applications have all the features and so you need not worry about the growth of your business when it is still in the incubator. Market enough to generate traffic. Get your customers engaged and try to convert them into loyal customers. Then plan for an expansion, as your Zomato clone provides plenty of features to ensure easy scalability.
Leverage the power of referrals, promotions, discounts, while launching your application and prepare grounds for on-boarding as many customers as possible. Give them the deal they cannot refuse to and provoke them to try out your app for at least once. Then let your features and quality service speak for your brand at the top of their voice!
It so happens with the aspiration that once the information from the article starts to convert into the research, most of the aspiration dies foreseeing the challenges and hardships of getting an app build in the right manner. However, when you consider on-boarding expert developers, you might feel your burden lessening and your 'idea' taking its real form. Need help with ideation or the app development? We are just a click away!
What is the Cost of Building a Mobile App similar to Zomato?
Without being diplomatic and making statements like, "Well, it depends"on the cost of developing an app like Zomato, let me walk you through the estimation on the basis of the features included. You have to consider all the three apps with both the platform – iOS and Android.
This again can be segregated on the basis of MVPs and advanced features. However, there is something that you should take into consideration while planning the features for your app. The admin panel cannot have basic features. You need to have a complete control over all the ongoing activities and transactions. So, it is recommended to not be a miser with the web service app.
Moving towards the driver and the user app, it is recommended to go basic first and make progressive moves with your features. This way you will be able to experiment with your customers and make implementations with your new features while keeping the engagement intact and increasing if you are lucky enough!
Hiring or outsourcing have their very own influence on the cost of building an app. You could end up hiring a cheaper resource team that eventually takes a while to develop your app or you might meet a team that promises to develop even before the timeline you have determined and ultimately none of them proves to be worthy of your time, energy, investment, or even to be a part of your business dream.
So, you need to be very careful while outsourcing the resources for building a Zomato clone. Coming back to the cost for building a mobile app similar to Zomato – If we consider the most basic version of the app with only the MVP features and simple UI/UX design, the projected price can go to $7,000 to $10,000 for development of all the three apps.
If we consider a fine tuning of both basic and advanced set of features, the estimated price can be somewhere in between $35,000 to $50,000. If we consider the full-fledged Zomato like app, the price rises up to $75,000 and above.
How to hire developers for developing an app similar to Zomato?
Make a list of your requirements on the basis of the research you carried out.

Search for the developers using the credible sources and websites.

Read resources and case studies on the websites.

Find out what their existing customers are saying about their work and make your decision.

When in doubt, talk to them and get your query resolved.
You can outsource and hire skilled developers by choosing different types of pricing models. Most of the web and app development companies have their own pricing models. So, choose whatever fits the best in your requirements and hire the number of professionals accordingly.
For developing a basic version of your Zomato like mobile app, you will require –
A UI and UX designer

2-4 Developers

Testing engineer

Backend Developer

Project Manager

For developing an app with mixed features, you will need –
Project Manager

UI/UX designer

2-4 developers

Testing Engineer

2–3 backend developers

Admin panel developer

For developing an advanced version of the app, you will need –
Team Manager/Project Manager

2 UI/UX designer

3-5 developers

Testing Engineer

3-4 backend developers

Admin panel developer

Having built the roadmap to your Zomato-like digital business, are you ready to put your plan into execution and launch your mobile app for generating recurring revenue? Yes?
We would love to put in our expertise for building you a Zomato-like app just like we helped you find the path to discover your business idea. Having faced many challenges with the limitations of technology and the innovative demands of our customers, app development to our developing team has been a practice to perfect episode.
Have an idea that could transform the face of the Indian food industry? Drop us an email at [email protected] We promise we'll keep it a secret and help you build it!
You can visit our website for more information, or directly .
---
Recommended readings for you-
How to Hire Dedicated PHP Developer at EngineerBabu?
Best Way To Hire Node.js Developer
How we Developed a Grocery Delivery App with 1,00,000+ Downloads!
The post How to Build an App like Zomato? appeared first on EngineerBabu Blog & Success Stories.