When it comes to reaching out to your customers, it is always recommended to create Personalized targeted messages. Whether it is your marketing campaigns or loyalty programs, personalized notifications have a much bigger influence than general messages. The Say2B customer loyalty system makes it easy to create and manage your loyalty program.
Build Stronger Relationships
The most important benefit of personalized targeted messages is that it helps in building stronger relationships. Personalization helps make your customer relationship more intimate. At the same time, you are able to get access to in-depth data on their interests and preferences.
Rewarding your customers and sending personalized notifications can bring even your past relationships to life. It helps add a touch of personal closeness in an otherwise impersonal process. Your customers feel more special because it is similar to direct communication. Personalization makes a huge difference when dealing with both new and old customers.
How to Create Personalized Notifications?
Say2B is a full-fledged customer loyalty program, available as a software and app, that allows you to reward your existing and new customers and build stronger relations.
You can Broadcast personalized notifications following these steps:
Broadcast Campaigns
Choose the Broadcast Campaigns option from the main menu.
Select the option 'Create new Broadcast'
Select your targeted audience by using the 'choose' option
Click/tap on 'create new target'
Give a name to your target audience
Set Parameters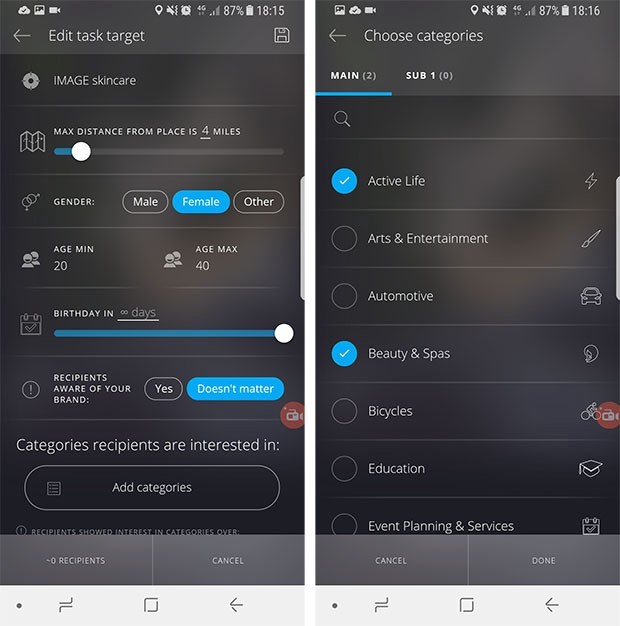 The program allows you to set the parameters based on the following factors:
Distance: Send out the personalized messages to customers who are within a specific distance from the area
Gender: Determine whether you want to send messages to men, women, or both
Age: The program also allows you to set the age-range you want to target
Birthday: The program allows you to send birthday messages a fixed number of days before a customer's birthday.
Brand Awareness: You can also set a filter to send out messages to those who are already aware of your brand.
Categories: Another option is to add categories that your customers are interested in. When you add categories, messages will be sent only to those who had searched for places within those categories.
Broadcast Settings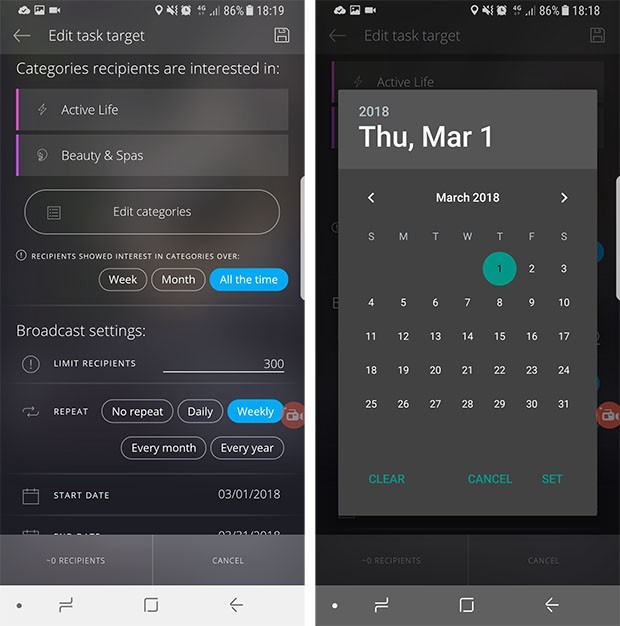 Once you have set the parameters for your target audience, Say2B requires you to configure the broadcast settings.
This covers the following settings:
of Recipients: The 'limit recipients' option allows you to set the maximum number of recipients you want to reach.
Repeat: Select the periodicity of the broadcast or 'no repeat' option based on the campaign.
Date: Set the Start/End dates for one-time or repeat broadcast.
Time: Set the time for sending the messages.
Once you have set the parameters and broadcast configuration, save the settings. The same settings can also be used in the future to broadcast the message.
Create Your Personalized Message
Once done, return to the Task Editor and create your personalized message.
Create an attention-grabbing subject
Create an engaging message
Add the 'first name' variable
Add Gift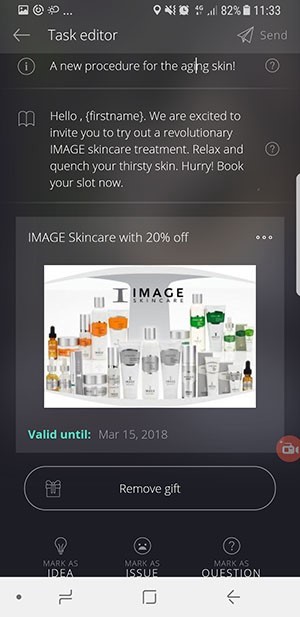 Say2B allows you to add a gift or discount to your messages by creating gift templates. Once ready, click on 'send' and the message will be sent based on the set parameters and broadcast settings.
Anyone with basic IT skills can create their personalized notifications using this customer loyalty system. It is easy to create and configure your message broadcasts. You can also easily add gifts and discounts to reward your customers. Thus, you are able to build stronger relationships with your audience, while getting the chance to create a personal connect.
Read Full Article Here - How Say2B Helps You Build Stronger Customer Relationships with Personalized Messages?
This post first appeared on , please read the originial post: here