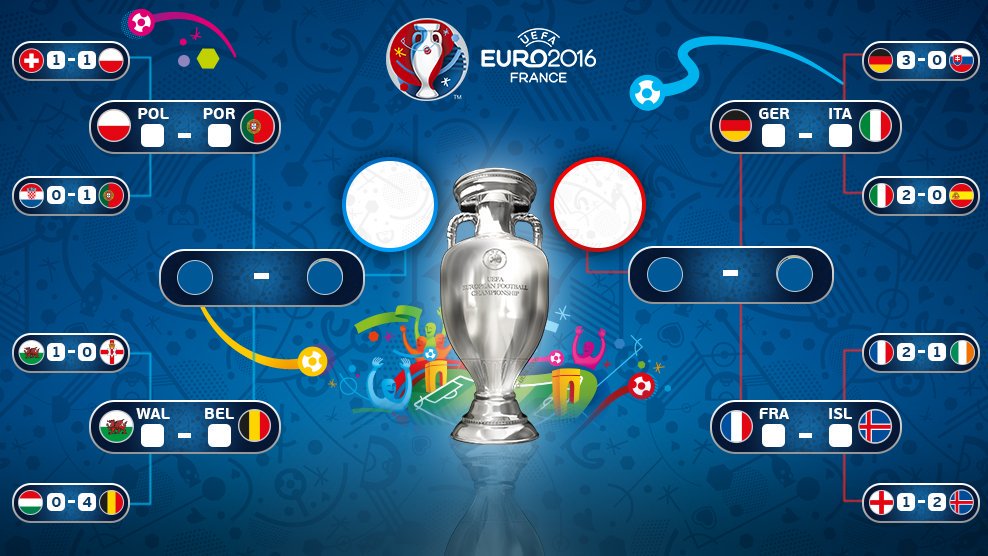 We have all the results from the round of 16 at the European Championship after two stunning results in France on Monday, the complete list of quarter-finalists is known. We take a look at what's still to come at Euro 2016.
If you missed the results from the group stage you can check it out here:
Euro
2016 results and standings
So let's take a look at the quarter-finals:
1. Poland v Portugal
Poland finished second in Group C without conceding a single goal, despite playing against World Champions Germany and if it wasn't for Shaqiri's world-class bicycle kick they wouldn't have needed penalties to beat Switzerland in the last-16.
Portugal didn't shine in the group stage and qualified to the knockout stage despite failing to win a single match in Group F. In the round of 16 they faced Croatia and it looked all-but-certain there will be shootout until a decisive goal in the 117th minute from Ricardo Quaresma.
The two team have met 10 times in their history and Portugal has a Slight Advantage Winning 4 games, 3 Matches Finished Draw and Poland won 3 games. The last game between the teams was in 2012 in an international friendly which finished 0-0.
| Home | Result | Away |
| --- | --- | --- |
| Poland | vs | Portugal |
2. Wales v Belgium
Wales topped group B pulling off some storming results with Gareth Bale scoring in every game, showing outstanding form. In the round of 16 they faced Northern Ireland in an all british encounter neither of the teams impressed, but Wales qualified after a late own goal from McAuley.
Belgium finished second in group D, despite losing the first game against Italy. They have shown a remarkable form in the next two games with Ireland and Sweden, winning both games. In the round of 16 Belgium continued their fine form against Hungary winning 4-0, the biggest margin at the Euros so far.
The two team have met 12 times in their history and Belgium has a slight advantage winning 5 games, 3 matches finished draw and Wales won 4 games. Both teams qualified from the same qualification group.
| Home | Result | Away |
| --- | --- | --- |
| Wales | vs | Belgium |
3. Germany v Italy
Germany topped their group without conceding a goal showing a good form and an offensive play. In the round of 16 they put in an impressive display against Slovakia winning 3-0.
Italy looked untouchable in Group E in the first two games. Then in the third game, they were already qualified from the first place and they lost to Ireland. In the round of 16 they faced Spain in the rematch of the Euro 2012 final and they have put in a magnificent display to knock reigning champions out.
Germany and Italy played 33 times against each other, the Azzurri having the advantage with 15 wins, 10 draws and 8 victories for Germany. Italy eliminated Germany in the semi-finals of the Euro 2012.
| Home | Result | Away |
| --- | --- | --- |
| Germany | vs | Italy |
4. France v Iceland
France topped group A after two "last minute" win over Romania and Albania then drawing against Switzerland. They haven't always shown what the home fans were expecting, but enough to get the job done. In the last 16 they were one goal down until Antoine Griezmann's double in just three minutes. They won 2-1.
Iceland finished second in group F without losing, helding Portugal to a 1-1 draw and winning against Austria with a late goal. The biggest surprise came in the last 16 where they were facing England. They were one goal down after just 3 minutes, but they scored two goals in just fifteen minutes and held it until the end of the 90 minutes. They have already massively overachieved, relative to their expectations so everything from now on is a bonus.
France and Iceland met 11 times in their history and Iceland have never won against France. 8 games finished with French victory and 3 matches ended draw.
| Home | Result | Away |
| --- | --- | --- |
| France | vs | Iceland |
Round of 16 results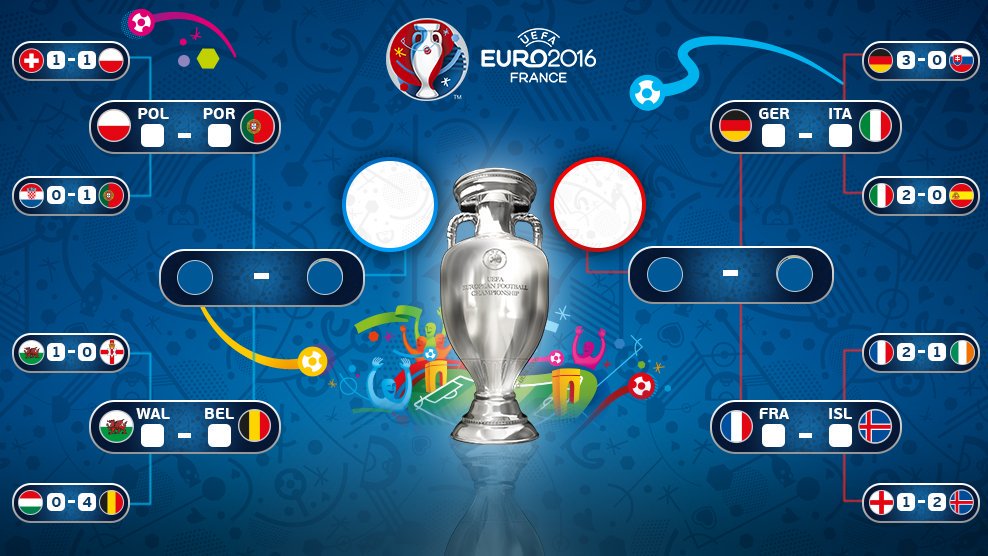 Euro 2016 quarter finals
Here you can follow the results of the quarter-finals:
Euro 2016 quarter-finals