The FA are introducing 12 new rules for junior Football in a bid to rejuvenate the developmental levels of the sport in the country.
After recently conducting a thorough review of the game at Youth level, the governing body has stated their desire to improve the game for grassroots teams. With the introduction of these new rules, there is particular emphasis on creating a calmer and safer environment for the children involved.
Aiding faster development for young players has also been outlined as a key aim for the scheme which is designed to help participants become more skilful and hopefully produce more competitive matches.

This fundamental redesign is to be piloted in Manchester by the Junior Respect League whose status as pioneers for the rules saw them exclusively publish the rules themselves. The league also expressed its proactivity in promoting calm, safe and fun football for young players.
The new rules are as follows:
Calmer and Safer
Silent Sidelines Rule – Spectators are encouraged to applaud both teams (e.g. clap when a goal is scored) but must not shout or call out
Slide Tackling Rule – On medical advice, no slide tackles are allowed. A free-kick will be awarded in every instance
Blue Card Rule – A blue card is shown for any cautionable offence resulting in a 2-minute Sin Bin (5 minutes at 9v9)
Respect Marks Rule – After every match, referees will award marks to players, coaches and spectators from both teams
More Skilful
Retreat Line Rule – When the goalkeeper has possession, the opposition must retreat to the halfway line. The keeper must pass to their own player in their own half
Pass Back Rule – Because goalkeepers need to practice their footwork, they cannot pick up the ball from a back pass
Faster Development
No instructions Rule – Coaches may ask questions that prompt players to think for themselves but are forbidden from shouting instructions during matches
Equal Playing Time Rule – All squad members must receive equal playing time with at least 50% per player per game
All Positions Rule – All squad members must be given regular experience playing in all positions including goalkeeper
More Competitive
Mixed Teams Rule – To maximise competition, clubs must field teams of similar ability i.e. not 'A' and 'B' teams
Power Play Rule – If any team goes 4 goals ahead, the other team may field an extra player until the goal difference is reduced to 3 goals
Equal Numbers Rule – If a team has too few players, the other must lend them willing subs or withdraw players to make numbers even
What Does It Mean?
Youth football has also recently made it a requirement for home teams to have FA Respect barriers in place as part of safeguarding measures. Many believe that the FA is wrongfully focusing its attention. Instead, it should be focusing its efforts and using its resources to further invest into youth development. It's hard to disagree that grassroots football is severely underfunded and it becomes even more worrying to think that this neglect could prove costly in the long run.
There are a number of the youth rules which differ from the laws of the game at senior level but it appears that these lines will become increasingly blurry after several of the changes will redact these differentiations. Arguably the most noticeable at surface level is the pass back rule which previously permitted goalkeepers to pick the ball up from a pass back but instead now prohibits the act in line with senior rules.
Depending on your affiliation to grassroots football, you may well see the changes as positive or negative either on a grand scale or individually, but one thing is certain – these new rules have received a divisive reaction. Mainly, determining the consistency amongst these implementations alongside the FA's overall vision is challenging. Despite mentioning what they'd like to see happen, there is a certain contradictory aura surrounding the ways they intend on evoking change.

Worryingly so, this vagueness could see the divide between grassroots football in England and other countries become even more substantial. But this quite possibly may not be an immediate concern for England's football association. It appears that participation levels highly outrank other prominent underlying problems for them. Making the game more accessible through simpler and less demanding rules seem to be the aim of maintaining focus and enjoyment is seemingly prioritised above all else.
That isn't to discredit what the FA are trying to accomplish as participation levels are massively important, but is rather questioning whether this is the best course of action. The quality at youth level in football has been a key feature of many disheartened supporters and disenfranchised dreamers. But these new rules pose distressing signs towards the standard of grassroots football under this regime. If children aren't learning football and playing the game as close to professional standards as possible, this will dramatically hinder their development and adjustment to senior football in the foreseeable future.
But it isn't all doom and gloom. Some of the rules are well thought out and provide an encouraging step towards fundamentally reinvigorating youth football. Introducing measures to lower or completely eradicate the number of overzealous spectators during these matches is the perfect example of an issue that is long overdue and that the FA is finally looking to clamp down on.
It's also interesting that these new rules incorporate the banning of slide tackles. For a number of years, the physical style of English football has come under intense scrutiny, particularly in comparison to the more technical, free-flowing football played overseas. It seems that the FA have somewhat indirectly acknowledged this and plan to address the issue from the foundations of the game.
But in eradicating physicality from the game in general, you potentially alienate encouragement towards defensive positions as well as prevent children from receiving a well-rounded experience of the game. Whether these youth rules take off nationally is yet to be seen but it will certainly be interesting to see whether they will have the desired effect or not.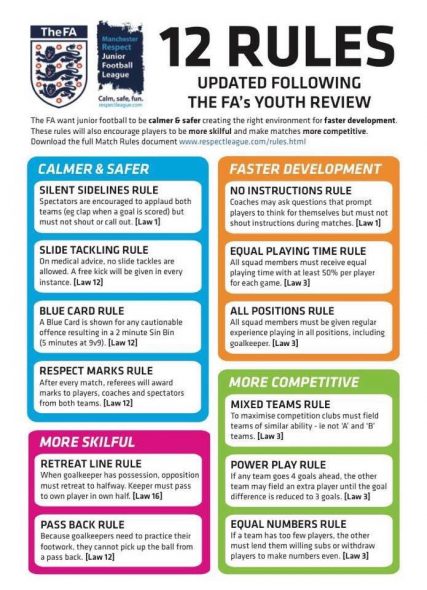 You're reading FA's 12 New Rules For Youth Football originally posted on the Football Dribble blog. If you've enjoyed this post, be sure to follow Football Dribble on Twitter and Facebook, and check out our website at Discount Football Kits