*Mike Barner — @rotomikebarner*
Reader-only special! Use code EBIRD15 at checkout to save 15%.
The Chiefs and Rams being on byes take away some of the top wide receivers for Week 12, but there are still some great options that stand out at the position in DFS. Let's highlight a few across the price scale that are worth considering. Don't forget to sign up for our Newsletter and try our Playerlab tool, where you can filter the stats that matter the most and help build a winning entry on FanDuel and DraftKings.
CASH CONTEST OPTIONS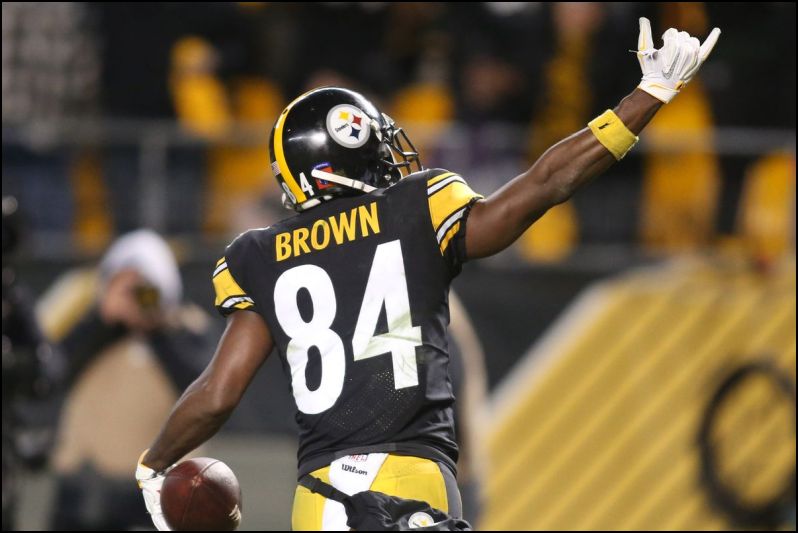 Antonio Brown vs. Denver Broncos
Stadium – Broncos Stadium at Mile High
FanDuel = $8,500
DraftKings = $8,700
The Steelers were down 16-0 against the Jaguars on Sunday but stormed back for a big win on the road. Brown wasn't exactly efficient by catching five of 13 targets, but he turned in a season-high 117 receiving yards and a touchdown. The yardage total is especially impressive when you consider how well the Jaguars have defended against the pass this season. They've allowed just 14 passing touchdowns, as well.
The Broncos aren't exactly a pushover, either, but they have given up 18 touchdowns through the air. Brown not only leads the Steelers with 109 targets but that mark also ranks third in the entire league. Add in his 11 touchdown receptions and he has one of the highest floors of any receiver in DFS, especially during a week with Tyreek Hill and the Rams receivers unavailable.
Odell Beckham Jr. vs. Philadelphia Eagles
Stadium – Lincoln Financial Field
FanDuel = $8,500
DraftKings = $8,800
The Giants regrouped during their bye week and have now won two straight games for the first time since December of 2016. They scored at least 27 points in both wins with Beckham leading the charge for their receiver group. After catching four passes for 73 yards and two touchdowns in Week 10, Beckham followed that up with four receptions for 74 yards and another touchdown in Week 11.
Likely the biggest reason for the Giants offensive explosion has been their opponents. They faced the 49ers and Bucs, who have combined to allow 46 touchdown passes. The Eagles overall numbers aren't nearly as bad, but their secondary is decimated right now by injuries. That led the Saints to score 48 points against them in Week 11. Eli Manning is no Drew Brees and this game is at home for the Eagles, but this is a matchup where Beckham could feast.
Mike Evans vs. San Francisco 49ers
Stadium – Raymond James Stadium
FanDuel = $7,900
DraftKings = $7,700
The Bucs were in catch-up mode against the Giants last week, which helped Evans put up some big numbers during the second half. He finished the game with six catches for 120 yards and a touchdown on seven targets. The Bucs will be making yet another quarterback change for this contest, but Evans certainly has a long-standing relationship with Jameis Winston, so don't expect it to negatively impact his value.
The thing you love about Evans is that you know he's going to have plenty of opportunities to produce. Not only is he the Bucs top wide receiver, but their defense gives up a ton of points. This requires their offense to throw a lot to try and keep pace. This is a matchup to exploit against a 49ers secondary that has allowed 21 touchdown passes and recorded just two interceptions all season.
GPP TOURNAMENT OPTIONS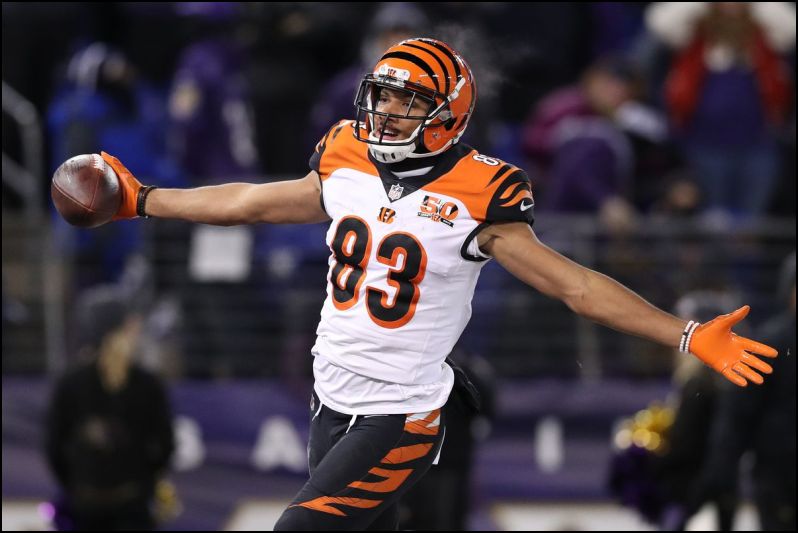 Tyler Boyd vs. Cleveland Browns
Stadium – Paul Brown Stadium
FanDuel = $6,800
DraftKings = $6,000
Boyd was the Bengals primary pass catcher again in Week 11 with A.J. Green (toe) on the sidelines. He received 11 targets in that contest, marking his second-highest total of the season. However, he wasn't able to cash in on his opportunity, catching just four passes for 71 yards. He also failed to score a touchdown for the second straight week, which is somewhat surprising since Green missed both of those contests.
Green will likely return for Week 12, which might actually be a good thing for Boyd. He'll no longer be the focal point of the opposing team's defense, setting him up with a better chance to shine against lesser cornerbacks. The Browns do have 13 interceptions this year, but they've also allowed the third-most passing yards per game (288). While not a completely safe option at this price, Boyd could be in line for a bounce-back performance.
Doug Baldwin vs. Carolina Panthers
Stadium – Bank of American Stadium
FanDuel = $6,500
DraftKings = $5,100
Baldwin is going to need to make a late push if he's going to get at least 100 targets for the fourth straight season. Injuries left him to start off slowly, but he's finally showing signs of turning things around with some improved health. He had his best performance of the year in Week 11, catching seven of 10 targets for 52 yards and a touchdown. That marked the first time he's received double-digit targets in a game and his first touchdown.
If Baldwin really is past his injury issues, he could be in for a monster finish. One of the more encouraging stats from his Week 11 performance is that he received three red zone targets. The Panthers haven't given up a ton of yards through the air, but they have allowed the fourth-most passing touchdowns (23). This might be the time to take advantage by putting Baldwin in your lineup before his price starts to climb.
Larry Fitzgerald vs. Los Angeles Chargers
Stadium – StubHub Center
FanDuel = $6,300
DraftKings = $5,000
Is there anyone happier than Larry Fitzgerald that the Cardinals made a change at offensive coordinator? Other than David Johnson, probably not. In three games since Byron Leftwich took over, Fitzgerald has compiled 26 targets, 16 receptions, 175 yards, and three touchdowns. Across his first seven games, he had a total of 41 targets, 26 receptions, 255 yards, and one touchdown.
It should be noted that his increased production could also be a product of an easier schedule. He has played the 49ers, Chiefs, and Raiders across his last three contests, none of which defend the pass well. Facing the Chargers won't be as easy with them allowing 15 touchdown passes compared to 10 interceptions. With that being said, Fitzgerald should still see enough volume to at least be worth considering in tournament play.
Marquise Goodwin vs. Tampa Bay Buccaneers
Stadium – Raymond James Stadium
FanDuel = $5,000
DraftKings = $5,600
There are few people who were as high as I was on Goodwin heading into this season. He was coming off of a great 2017 campaign and looked poised to break out with Jimmy Garopplo at quarterback. However, injuries hit the 49ers early and often, the most significant of which was losing Garoppolo to a torn ACL. Goodwin has battled plenty of his own injury concerns, leaving him with just 17 catches for 339 yards.
If you're looking for a silver lining with Goodwin, he does have four touchdown receptions. He also caught four passes for 69 yards against the Giants in Week 10 and has now had the benefit of a bye week to rest up. If there was ever a game for him to break out, this is it. The Bucs have allowed the fifth-most passing yards per game (282) and are tied for the most touchdown passes allowed (25), making Goodwin an extremely appealing option at this price.
PLAYERS TO AVOID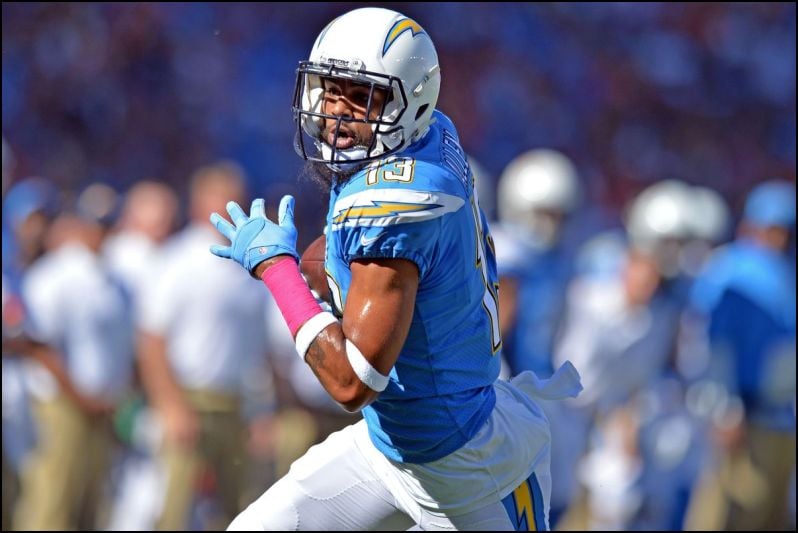 Keenan Allen vs. Arizona Cardinals
Stadium – StubHub Center
FanDuel = $7,700
DraftKings = $7,100
This is more about Allen's matchup than anything else. He's playing really well right now with touchdowns in back-to-back games and he has 87 targets already. However, the Cardinals boast a strong secondary that contains star cornerback Patrick Peterson. They've allowed the fourth-fewest passing yards per game (218), making Allen a risky option at this price. I'd much rather roll with Mike Evans if you looking for someone in a similar price range as Allen.
Golden Tate vs. New York Giants
Stadium – Lincoln Financial Field
FanDuel = $6,500
DraftKings = $4,800
After barely playing in Week 10 against the Cowboys, Tate was on the field for 71 percent of the Eagles offensive snaps in Week 11. He didn't put up a great performance, though, with five catches for 48 yards on eight targets. The Eagles are still working him into their offense, but even in the best case scenario, he's likely their third receiving option behind Zach Ertz and Alshon Jeffery. His price on DraftKings isn't terrible, but he seems like a reach based on his price on FanDuel.
The post NFL Daily Fantasy Football Recommendations for Week 12 – Wide Receivers appeared first on Lineuplab.
This post first appeared on Lineup Lab, please read the originial post: here