*Mike Barner — @rotomikebarner*
Reader-only discount! Use code EBIRD15 at checkout to save 15%.
Only a few of the top running backs won't be available for the main Sunday slate in DFS for Week 10, leaving plenty of great options to choose from across the price scale. Let's dig into the position to see where you can gain the edge for your entry. Don't forget to sign up for our Newsletter and try our Playerlab tool, where you can filter the stats that matter the most and help build a winning entry on FanDuel and DraftKings.
CASH CONTEST OPTIONS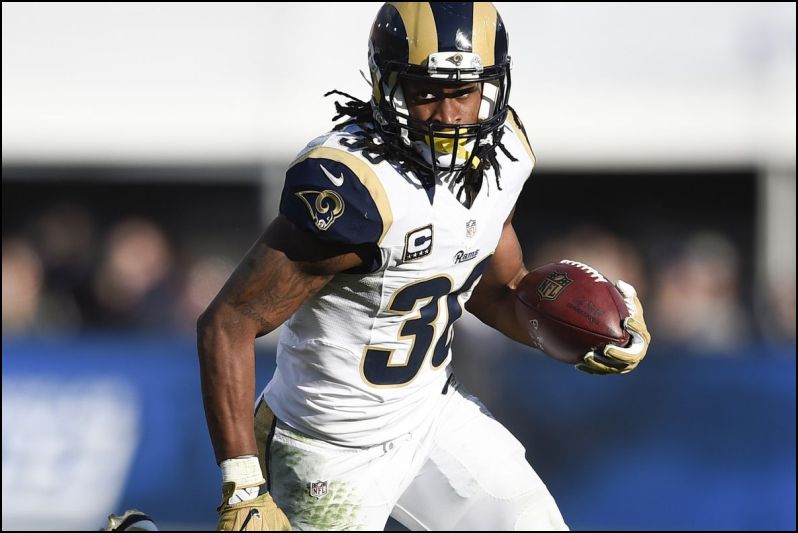 Todd Gurley vs. Seattle Seahawks
Stadium – Los Angeles Memorial Coliseum
FanDuel = $10,800
DraftKings = $9,400
The Rams were caught in a shootout with the Saints in Week 9, which finally led to a subpar game from Gurley. He averaged 5.2 yards-per-carry, but he only finished with 68 yards on 13 attempts. The Saints held him in check in the passing game, as well, with Gurley finishing with six catches on seven targets for 11 yards. Even though Gurley managed to record a rushing touchdown, he had just one touchdown for the second straight week.
If you paid up to get Gurley in your entry last week, you were left disappointed, but don't let that cloud your judgment moving forward. This is a much better matchup against a far inferior Seahawks offense, which should lead to more rushing attempts for Gurley. The Seahawks are also allowing an average of 4.8 yards-per-carry, which is tied for the fourth-most in the league. When these two teams met earlier this season, Gurley finished with 113 total yards and three touchdowns.
Kareem Hunt vs. Arizona Cardinals
Stadium – Arrowhead Stadium
FanDuel = $9,000
DraftKings = $8,500
The Chiefs had another great offensive performance against the Browns in Week 9 and Hunt was right in the thick of the action. He had 17 carries for 90 yards, and although he only received two targets, he caught one of them for a 50-yard touchdown. Add in his two rushing touchdowns and it was his third multi-touchdown game of the season. A feat even more impressive than that is that he has at least one touchdown in eight straight contests.
With the ease at which the Chiefs move the ball, Hunt is going to get plenty of opportunities for touchdowns. This is another stellar matchup for him against the Cardinals, who have allowed the second-most rushing yards per game (143.1). Their 12 rushing touchdowns allowed is also tied for the second-most, so don't hesitate to pay up for Hunt.
Melvin Gordon vs. Oakland Raiders
Stadium – Oakland-Alameda County Coliseum
FanDuel = $8,900
DraftKings = $9,000
A bye week came at just the right time for the Chargers. Gordon missed Week 7 with a hamstring injury, but a bye in Week 8 helped him to miss only that one game. He certainly didn't look hampered at all against the Seahawks on Sunday, turning 16 carries into 113 yards and a touchdown. That marked the third time in his last four games that Gordon finished with at least 6.9 yards-per-carry.
Week 10 brings a matchup against the Raiders, who looked like a trainwreck against the 49ers last week. In their first meeting this season, Gordon had 120 total yards and a touchdown against the Raiders. With the Raiders allowing the most rushing yards per game (144.5), expect Gordon to have another strong performance in their rematch.
GPP TOURNAMENT OPTIONS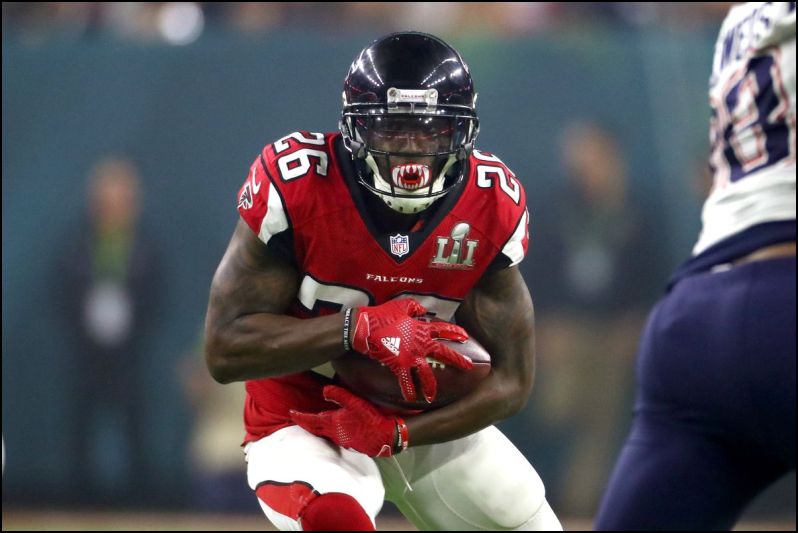 Tevin Coleman vs. Cleveland Browns
Stadium – FirstEnergy Stadium
FanDuel = $7,300
DraftKings = $5,400
Coleman's performance against the Redskins in Week 9 was impressive. They've had one of the better run defenses in the league this year, but Coleman still finished with 88 rushing yards on just 13 carries. He did plenty of damage in the passing game, as well, hauling in five of seven targets for 68 yards and two touchdowns. Those are the only two receiving touchdowns the Redskins have allowed to running backs all season.
Coleman is still sharing the backfield duties with Ito Smith, but Coleman has been on the field for exactly 57 percent of the Falcons offensive plays in each of their last three games. Smith wasn't on the field more than 46 percent of the time in any of those contests. The Browns have allowed the fourth-most rushing yards per game (138.9) and the most rushing touchdowns (14), leaving Coleman with excellent upside.
David Johnson vs. Kansas City Chiefs
Stadium – Arrowhead Stadium
FanDuel = $6,900
DraftKings = $6,800
If you play in season-long fantasy football, Johnson is right up there with some of the biggest disappointments in the league. The Cardinals finally moved on from offensive coordinator Mike McCoy before Week 8, which really can only help Johnson at this point. His first game with Byron Leftwich as offensive coordinator wasn't exactly off the charts, but he finished with 100 total yards against the 49ers, marking just the second time this season he has recorded at least 100 total yards in a game.
The Cardinals had a bye last week, which should be helpful as they adopt Leftwich's new offense. He's already stated his desire to get Johnson more involved, at least bringing him back onto the radar in DFS. This is certainly a favorable matchup for Johnson to exploit with the Chiefs allowing a league-high 5.2 yards-per-carry. There is risk involved here, but Johnson could be someone to consider for your entry.
Duke Johnson Jr. vs. Atlanta Falcons
Stadium – FirstEnergy Stadium
FanDuel = $5,600
DraftKings = $4,700
One of the more perplexing things we've seen this season is the Browns usage of Johnson. After finishing with 74 catches on 93 targets last year, Johnson only had 20 receptions on 29 targets through their first eight games. The Browns decided to clean house by firing their head coach and offensive coordinator last week, which immediately provided positive results for Johnson. With the Browns trying to keep up with the Chiefs, Johnson caught all nine of his targets for 78 yards and two touchdowns.
It was about time the Browns got Johnson more involved. They aren't exactly deep at wide receiver, so it would seem to remain in their best interest to keep throwing passes Johnson's way. If he can get similar usage in Week 10, he could once again have a big stat line considering the Falcons have allowed a league-high 68 receptions to opposing running backs. At this cheap price. Johnson could be well worth the risk in tournament play.
Jalen Richard vs. Los Angeles Chargers
Stadium – Oakland-Alameda County Coliseum
FanDuel = $5,400
DraftKings = $4,800
Few losses this season have been as embarrassing as the one the Raiders suffered at the hands of the 49ers in Week 9. With Nick Mullens making his first career start, they managed to blow out the Raiders, 34-3. Richard only had two carries in that contest, but running the ball is not his forte. He did catch all four of his targets for 45 yards, marking his fourth-straight game with at least four targets.
After the Raiders dealt Amari Cooper to the Cowboys and lost Marshawn Lynch to injury, their offense doesn't have a ton of talented playmakers left. Their defense has played poorly as well, which should leave with some early deficits to try and make up. In those situations, Richard should be heavily involved in catching passes out of the backfield. Don't be surprised if the Chargers race out to an early lead, setting things up nicely for Richard to provide value.
PLAYERS TO AVOID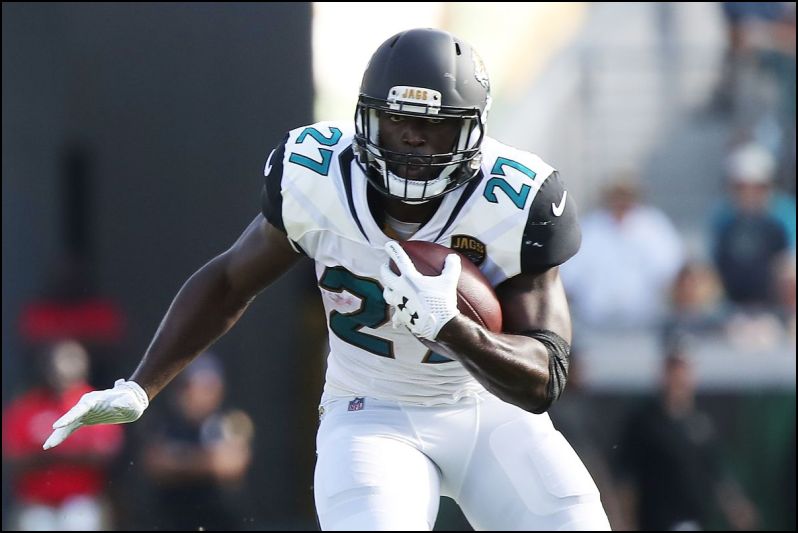 Leonard Fournette vs. Indianapolis Colts
Stadium – Lucas Oil Stadium
FanDuel = $7,000
DraftKings = $6,300
Fournette injured his hamstring in the first game of the season against the Giants, which forced him to miss the subsequent two games. He tried to return in Week 4, but couldn't make it through that contest and hasn't played since. After having a bye in Week 9, everything is pointing towards Fournette taking the field against the Colts. Although he can be a major asset when healthy, it might be best to make sure he can make it through an entire game before you start playing him in DFS again.
Adrian Peterson vs. Tampa Bay Buccaneers
Stadium – Raymond James Stadium
FanDuel = $6,800
DraftKings = $5,700
Peterson's success with the Redskins has been surprising. After looking ineffective with the Saints and Cardinals last year, Peterson has already rushed for at least 96 yards in a game five times this season. However, his prognosis going forward looks extremely bleak with the Redskins offensive line decimated by injuries. Not only have they lost guards Brandon Schreff (pectoral) and Shawn Lauvao (knee) for the season, but tackle Trent Williams (thumb) is also a couple of weeks away from returning. With a bunch of backups blocking for him, Peterson isn't very appealing at this price.
The post NFL Daily Fantasy Football Recommendations for Week 10 – Running Backs appeared first on Lineuplab.
This post first appeared on Lineup Lab, please read the originial post: here