NBA Daily Fantasy Basketball Lineup Picks for 10/19/17

Point Guard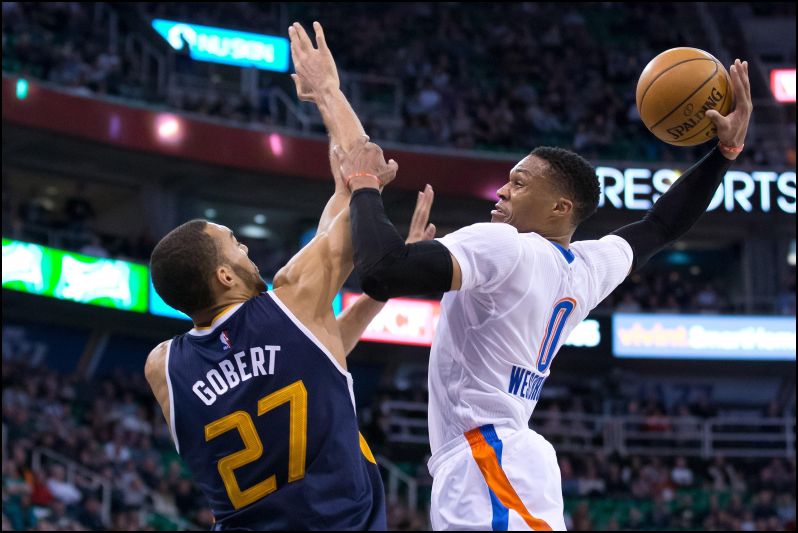 Russell Westbrook
FD $11,800 – DK $11,000
Look, if you're playing on this slate, it's going to take some real guts to fade Russell Westbrook. No matter how you slice it, he's the top raw option at any position in any format. While he may seem expensive, if you played NBA DFS last year, you know this is nothing. He did lose Victor Oladipo and Enes Kanter, but gained 2 great players in Paul George and Carmelo Anthony. They may warrant a few more shots than the guys did last year, but this team belongs to Westbrook and the ball will be in his hands as much as he wants. This match-up with the Knicks couldn't be better. Ramon Sessions will cover him. Yes, let that sink in. Of course, the Knicks will try to remedy that with Justin Holiday and double-teams, but we all know by now that it doesn't work. Westbrook is a guy I'll have 100% exposure to, bar none.
Jerian Grant
FD $6,600 – DK $5,300
Point guard is typically a position where you have to pick between 5 or 6 elite options. That's just not the case tonight. Kyle Lowry is the 2nd safest guy, but I'm trying to include some cheaper options and I'm a bigger fan of DeRozan, who we'll get to. The Bulls are an ultimate cluster$%%@ right now and they will need more than a few guys to step up and fill the hole that Mirotic and Portis will leave. Grant won't see any impact minutes-wise, but he'll be looked at to lead this young offense. He showed plenty of times last year that he was able, going over 30 FD points 7 times in his last 25 games. Kyle Lowry is known as a good defender, but he's really not. The Raptors ranked 23rd against point guards in 2016 and while Grant is far from a typical PG, his size should give Lowry some issues. I'm not expecting a huge game out of Grant, but he can fill the stat sheet in plenty of ways and will be in there for over 30 minutes against an average defensive team.
Shooting Guard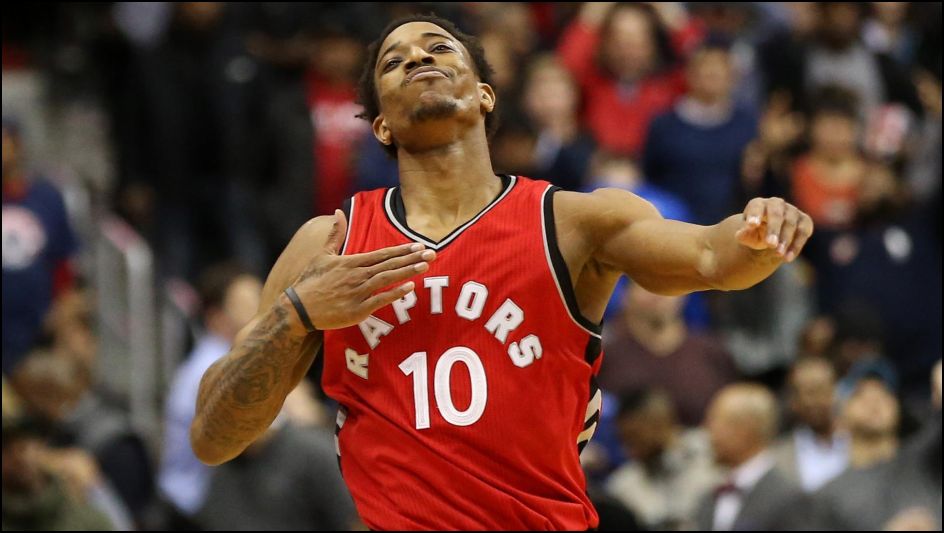 DeMar DeRozan
FD $8,800 – DK $8,300
With just 3 games on the slate, you probably want to have either Kyle Lowry or DeMar DeRozan. Chances are at least one of them will have a superb game against the inept opponent. Before going any further, go ahead and look at the Bulls projected lineup. It is like a spring training lineup in baseball or something. I'm not sure I can remember seeing anything as bad in recent past in any sport. Justin Holiday will cover DeRozan and he's just too small, as well as not good enough. It's no offense to Holiday, who's young with a ton of potential, but DeMar DeRozan is a premier NBA scorer. He can put up 40 points on any given night and will probably put up 50 a time or two before the season concludes. There aren't too many +EV ways to pay up tonight, so you probably want some exposure to the Toronto DD.
Jordan Clarkson
FD $4,700 – DK $4,300
You have a lot of different ways to go at SG, but you'll have to pay down in a couple spots here and Jordan Clarkson might be my favorite way to do it. With Kentavious Caldwell-Pope suspended, he will be in line to play at least 30 minutes, with some at the 1 and some at the 2. Julius Randle is also questionable, so he could end up seeing a huge uptick in usage as well. Clarkson is an extremely good guard who is underpriced on both sites. He gets the ball in his hands when on the court and if his floaters are hitting, value will come in the 1st half. The Clippers will toss Austin Rivers and Lou Williams at Jordan Clarkson, so he won't have a hard time getting to the paint. Clarkson is nowhere near a must, but I don't see the reasoning behind his price.
Small Forward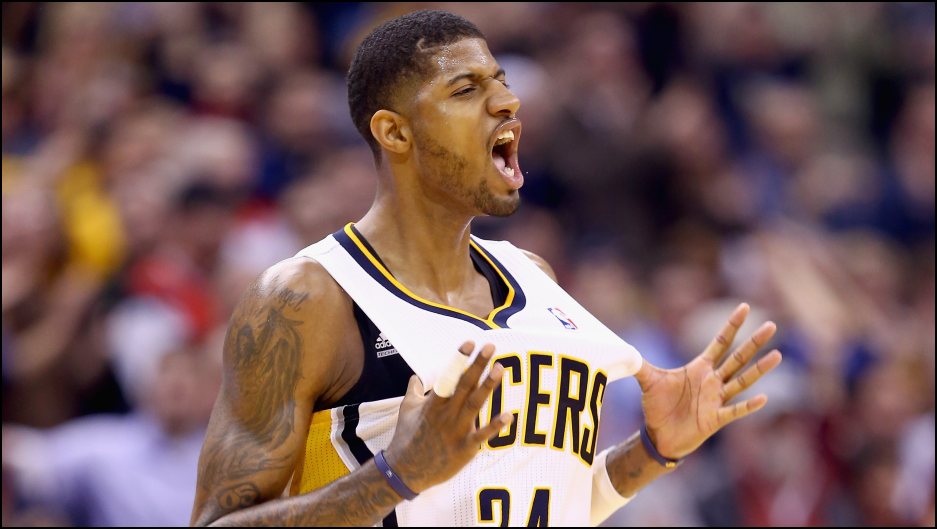 Paul George
FD $8,600 – DK $6,100
We have no real idea how Paul George will mesh with Russell Westbrook and the Thunder, but I'm willing to take a guess. If you've been watching Paul George since he came into the league, you should know that he won't be causing any problems. There were plenty of times in Indy when a guy like Jeff Teague, Roy Hibbert, or Lance Stephenson would get hot and George would have no problem taking a backseat. He would then hop back into the driver's seat the next night and put up 30 real-life points. In this Thunder system, I suspect he turns into quite Robin to Westbrook's Batman. His price is way too low on DraftKings and he's a near must in cash games. On FanDuel, I love him, but it's not a must by any means.
Paul Zipser
FD $4,800 – DK $4,200
Hey, calm down. I know Paul Zipser isn't a guy you wanted to roster until the end of the year when we're scratching and clawing for value. But I don't think this is like most years. We usually don't have a teammate breaking another one's face and sending him to the hospital with facial fractures. These unforeseen circumstances have led to Nikola Mirotic being out for 6 weeks and Portis suspended for 8 games. It leaves a bunch of minutes for not too many guys. Paul Zipser is locked into 36+ minutes and it's the reason he's in play. He will sit in the corner for most of the game, occasionally takin charge and driving to the hoop for a goofy layup. With minutes, come production, and that's the hope here with Zipser at his depressed price tag.
Power Forward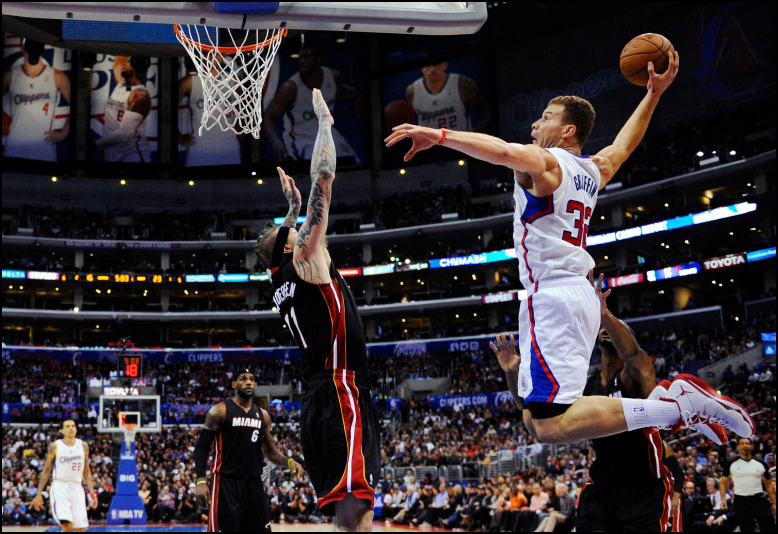 Lauri Markkanen
FD $6,500 DK $5,600
We'll stay here with the mess that is the entire Bulls organization. With Mirotic and Portis out, we have RoLo, Felicio, and Markkanen at the 4 and 5. Felicio physically can't play more than 20-24 minutes, so that leaves about 75 for Lopez and Markkanen (maybe a few from Zipser). Markkanen is technically a rookie, but he's been playing pro ball in Europe for 6 years and should be able to transition a bit better than guys coming from college. Markkanen is a very good basketball player and he can fill the stat sheet in many different ways. I wouldn't be surprised to see him well over $8,000 on both sites come next month. This match-up with the Raptors isn't great, but like I've said, minutes = production.
Blake Griffin
FD $9,500 DK $9,600
This year is going to be very telling for the outlook and legacy of Blake Griffin. The last time he was without Chris Paul for an extended period of time, he was consistently one of the top 5 NBA players on a nightly basis. His production was tempered with CP3 back, but that's not the case anymore. This offense will run through Griffin and he will be given the opportunity to do as much damage as possible. Expect plenty of face-up and PnR opportunities for Griffin from the first possession on. He will also have some games where he distributes and sees close to 10 assists, which could very well come against the Lakers. All in all, I think Griffin has the opportunity to have a huge night and I'll be doing my best to get him in all my contests. With the current value, I have been able to fit both Westbrook and Griffin without any worries.
Center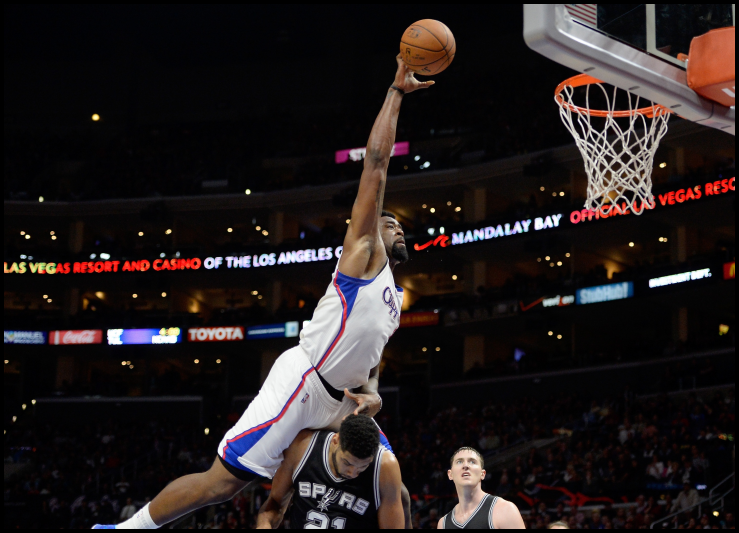 Brook Lopez
FD $7,400 DK $6,500
For me, it's a toss-up between Brook Lopez and DeAndre Jordan for the top high-priced center. They both couldn't care less about defense, but produce fantasy points in very different ways. Jordan will rely on rebounding and putbacks, while Lopez will get the ball with 15 seconds left on the shot clock and go to work, both post-up and face-up. I suspect Jordan may have some trouble covering Lopez and it could put him into some foul trouble. I doubt Lopez gets into foul trouble as he would much rather just back up. Whichever way you decide to go is fine, but Lopez is probably a bit riskier with a higher ceiling. If you don't have Griffin and are looking for safety, play Jordan.
Steven Adams
FD $6,300 FD $5,700
If you don't want to pay up for either Lopez or Jordan, Steven Adams is a quality pivot at $2k cheaper. The Thunder face off with the Knicks, who offer up Enes Kanter and Willy Hernangomez at the 5. If you pay attention to the NBA, you know they are both embarrassingly bad at defense. I expect we will be targeting centers against the Knicks all season long. Adams isn't a scorer, but he can score with his back to the basket when guys like Westbrook and George are pulling all of the attention away from the paint. Adams has a double-double before the game starts and it just depends on whether the game stays close enough for him to play 35 minutes.
The post NBA Daily Fantasy Basketball Lineup Picks for 10/19/17 appeared first on Lineuplab.
This post first appeared on Lineup Lab, please read the originial post: here