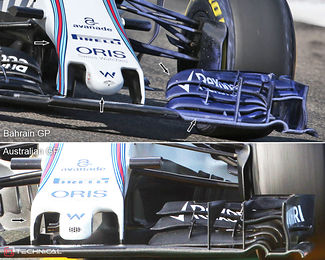 Williams have finally managed to get a shorter version of its car's Nose ready for racing, accompanied with a new Front Wing. Just one item is available at the Bahrain Grand Prix, after the team rushed to manufacture one after finally succeeding the front impact crash test, following numerous failed attempts. With obvious aerodynamic benefit, F1 teams have recently been pursuing this route, with Red Bull also notably having required many crash tests before finally coming up with a specification that met the safety requirements.
In essence, Williams' new nose cone is similar to that of Ferrari and Red Bull Racing, featuring a thumb to meet the regulations while retracting the rest of the bodywork as far as possible. The result are front wing pillars that slope forward towards the front wing attachment point. Such design attempts to improve the quality of airflow that ends up underneath the nose cone, onto the splitter underneath the monocoque. To further enhance this, the underside of the nose is now more rounded as well, enabling a smooth stream of air curving around the edges of the nose.
Along with the new nose came a new front wing, which in itself is also quite an evolution. The team added an extra element shading the main plane while also dramatically modifying the inner extremities of the flaps. These now feature a downward curve, instead of the previous curly twist at the end. Such change will have an important effect on the Y250 vortices that come off of the front wing and can have a big effect on the aerodynamic behaviour of the car's rear end.
While all these changes did bring a performance gain, its late addition, in combination with having it only on Massa's car made for a complicated analysis of how it actually worked on the car. Still, the team decided to use it in qualifying and the race straight away, most likely to gather more data as soon as they can.
"We mounted the new front wing and nose this afternoon and the car was very difficult to drive, it was a different balance", Massa said after qualifying. "We had a long meeting after the session, we used the new one and the old one, and the numbers said it gave what it is supposed to give.
Then we changed completely the balance of the car, the set-up, so many things and it was more or less in the correct way in qualifying. Testing new things like that which are not so similar to the other one, it can cause some issues. We need more time though to understand this front wing to get the most from it."