Sports on in Australia in May
It's official – the winter sports are in full swing down under. The A-League is winding down, but the other football codes are just getting started, while the Australian Ice Hockey League (AIHL), V8 Supercars and Super Netball have also joined the party.
So if you're looking for something to do in Australia in May, look no further than our top picks on the Sports Where I Am calendar.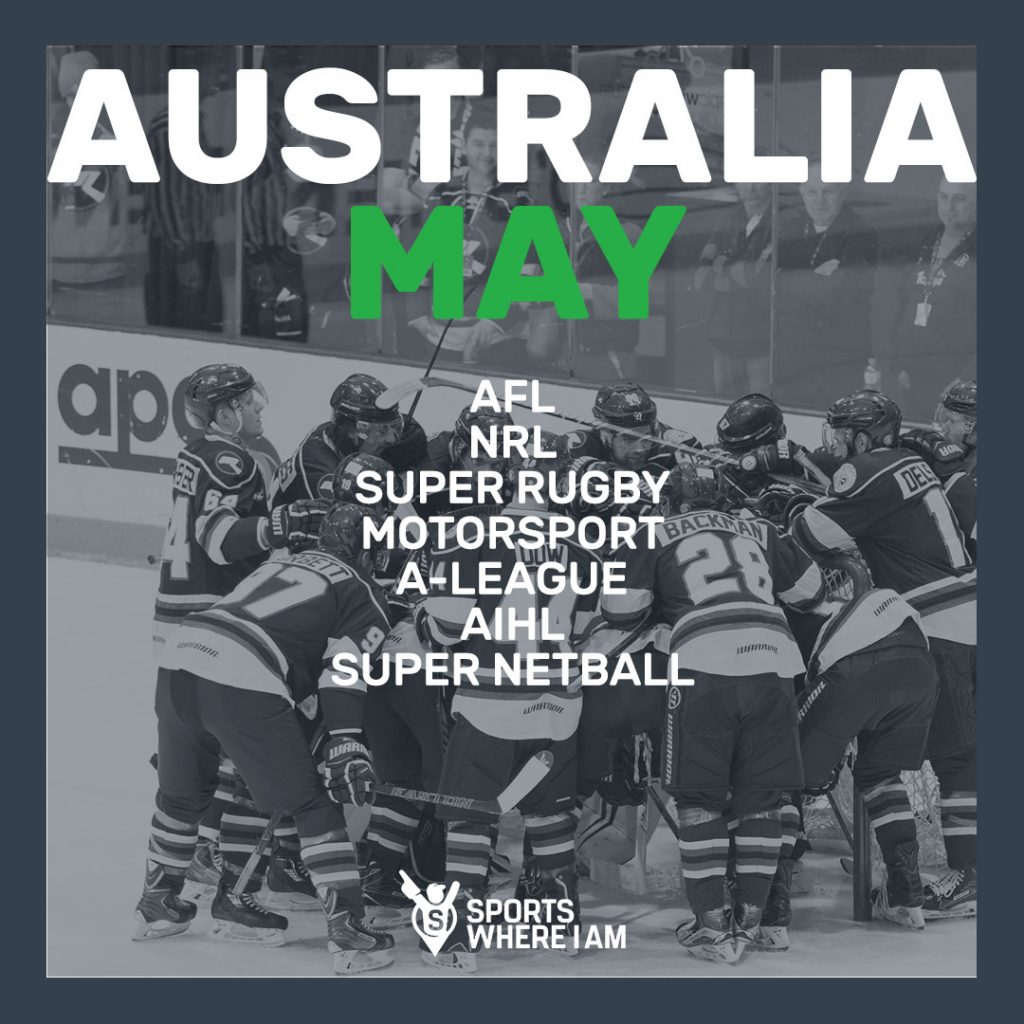 Top sports picks for Australia in May
A-League Grand Final: Newcastle, May 5
It might come as a surprise to some now that the winter leagues are in full swing, but the A-League is still going… just! In fact, it's about to reach its crescendo, with the Grand Final due to be played during the first weekend in May. The Melbourne Victory will play the Newcastle Jets at McDonald-Jones Stadium in Newcastle.
"Diehard @NewcastleJetsFC supporter Todd Blackwell admits the Jets winning the @ALeague grand final would be 'like climbing Mount Everest'." via @johnnyddavidson #sbsfootball https://t.co/5cQsyAklR3

— SBS – The World Game (@TheWorldGame) May 3, 2018
NSW Waratahs vs Blues: Sydney, May 5
No, it's not a derby, but it is one of the rare occasions you'll find Super Rugby being played at a suburban ground in Sydney. In a proactive move to avoid a potential clash with the A-League Grand, the Super Rugby powers decided to move this clash from Allianz Stadium to Brookvale Oval. Plonk yourself on the hill, grab a tinnie and enjoy some rugby on a Saturday night!
St George Illawarra Dragons vs Melbourne Storm: Sydney, May 6
The Dragons started the 2018 NRL season with a bang and are firming as a potential premiership favourite, while the evergreen Melbourne Storm are the reigning premiers. Jubilee Oval in Sydney's south gets pretty rowdy when the Dragons play, so soak up some suburban atmosphere while watching one of the games of the season.
On a day in which we celebrated 85 years of St George Dragons, St George Illawarra beat the Eels 25-22 at UOW Jubilee Oval (August 21, '05). pic.twitter.com/vOFyiAEQSK

— The Dragons (@NRL_Dragons) June 15, 2017
Melbourne Mustangs vs Melbourne Ice: Melbourne, May 11
If you've never seen an ice hockey game – or an ice hockey game in Australia – is there a better time to check out the AIHL than during a local derby? The Melbourne Ice are the reigning champs, while the Melbourne Mustangs lost to the Ice in last year's semifinals. The O'Brien Group Arena in Melbourne holds 6,500 people, so there should be a decent (and vocal!) crowd.
Melbourne ice v Adelaide game 2 pic.twitter.com/xUwTbpEYtj

— Tania Chalmers (@Tania_Cphoto) August 10, 2014
Carlton vs Essendon: Melbourne, May 12
Speaking of rivals, this is one of the AFL's biggest rivalries. Carlton and Essendon have a recent history which makes supporters of both sides testy at the best of times. They've played in three draws in the last decade, had a spiteful finals contest back in 2011 and have both been on the receiving end of some recent upsets. Ladder position doesn't matter when these two play, and a decent crowd will go and watch them duke it out at the MCG.
Traditional rivals at the @mcg1853 on a Saturday afternoon in Melbourne But first..the Record . #melbourne #melbournecricketground #carltonblues #essendonbombers #footy #afl #travelmelbourne #travelawesome #swiam #sportstravel #sportsfan
Port Adelaide vs Adelaide: Adelaide, May 12
Clear your schedules, folks, because everyone in Adelaide already has. It's Showdown weekend in South Australia, where friends and neighbours turn hostile for a three-hour period in which the city completely shuts down. Okay, not really, but you get the point. The Showdown is a really, really big deal and it's definitely worth going to watch at Adelaide Oval.
Winton SuperSprint V8 Supercars: Benalla, May 18-20
Winton is one of the best races on the V8 Supercars calendar, and the racetrack is in Benalla, a charming country town nestled just a stone's throw from the foothills of the Victorian alpine region. With so much to do in the area (in addition to the race), watching the fast cars might not even be the main attraction.
Great job @NickPercat – fastest in @supercars Practice at Winton! @BJRsupercars #HoldenMotorsport #VASC pic.twitter.com/maOOhRl8Ko

— Holden Motorsport Fans (@HoldenMsport) May 19, 2017
St George Illawarra Dragons vs Canberra Raiders: Mudgee, May 20
Without a doubt one of the best things the NRL has done in recent years is 'go bush' throughout the season. The grounds are packed to the rafters, the country hospitality is on full show, and more often than not, it's full-strength beer in the cans. This clash, featuring the red-hot Dragons, is in Mudgee, the perfect distance from Sydney for a nice weekend away.
Nth Qld Cowboys vs Melbourne Storm: Townsville, May 25
Events in Townsville don't get much bigger than an NRL grand final rematch on a Friday night. Both the Storm and the Cowboys started the year slowly but have steadied in recent weeks, meaning this clash should be a cracker. If you're going to be up in North Queensland, it's well worth checking out.
For something different
Super Netball: Various, May
Revamped and now in its second year, Super Netball is doing its best to attract fans with new teams, some majorly talented imports and an overall match-day experience which rivals some of the other, richer codes. With teams in every major city (and one on the Sunshine Coast), Super Netball is both accessible and a cheap day out for the family.
If you went to watch a Round 1 game live, we love seeing images from the crowd – tweet us your best fan pictures from the weekend's matches or send us a direct message. pic.twitter.com/d1wy9UKjVV

— #SuncorpSuperNetball (@SuperNetball) May 1, 2018
Anything we missed?
Let us know your thoughts on our Facebook page.
Header image taken from the Super Netball official Twitter account.
The post Sports Calendar: Australia in May appeared first on Sports Where I Am Blog.