Sports on in the USA in April
If you thought March was a great month to be in the USA, April is even better. The weather is finally starting to improve, and the action is heating up in the NBA and NHL. With playoffs set to start later in the month, teams are vying for a post-season berth, while in two other codes – baseball and soccer – the action is just getting started!
So, if you – or someone you know – is heading to the 'land of the free' next month, make sure you take note of what's on the April edition of the USA Sports Calendar.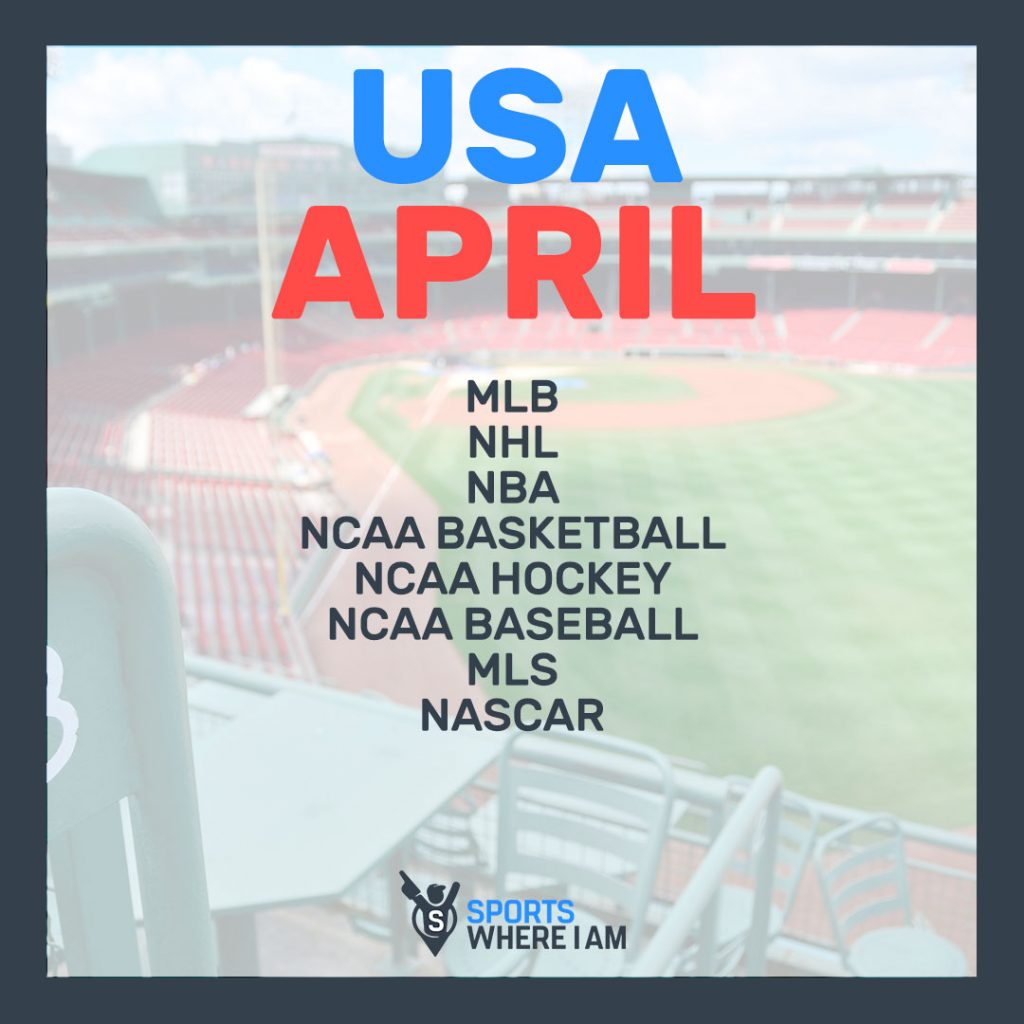 Top sports picks for the USA in April
New York Knicks vs Cleveland Cavaliers: New York, April 9
Late-season NBA games can be hit-and-miss considering some teams will be well out of playoff contention, but even though the Knicks aren't having a great year, you shouldn't pass on the opportunity to see LeBron and the Cavs at Madison Square Garden. It was pretty chippy last time (see below), and superstars always want to put on a show at The Garden. Get tickets here.
Frank Ntilikina and Enes Kanter going at King James! pic.twitter.com/O9Rnuz5wI5

— Legion Hoops (@LegionHoops) November 14, 2017
Boston Red Sox vs New York Yankees: Boston, April 10-12
Looking to tick off a bucket list item at one of America's oldest and most interesting ballparks? Then clear your schedule between April 10 and 12, because the Yankees visit Boston for a three-game series at Fenway Park. Need we say more? Get tickets here.
Boston Celtics/Bruins double header: Boston, April 8
Yes, you're reading this right. On the same day and in the same arena, both the Celtics (NBA) and the Bruins (NHL) will be playing at TD Garden. The Celtics kick things off from 1pm against the Hawks, while the Bruins play at 7:30pm against the Panthers. The home teams should win both games, so it makes for an excellent Sunday of sport. Get tickets for the NBA and NHL.
Portland Timbers vs Minnesota United FC: Portland, OR, April 14
If you've ever heard of the Portland Timbers, or, more specifically, the Timbers Army, you'll know why this team's home-opener is on this list. With one of the best active sections in the WORLD (yep, we went there) producing some of the best tifos in the world, it's no wonder this place has been a sellout since the very first match at Providence Park. Oh, and go see the Trail Blazers while you're in town! Get tickets here.
"timbers army" isimli bu muazzam tribünün daha önceki bazı vukuatları: freddy krueger, mars attacks, 40 oz. bira şişesi ve wonderland pic.twitter.com/eWucDr00k4

— yener (@gunduzfeneri) March 6, 2017
LA Lakers vs San Antonio Spurs: Los Angeles, April 4
Seeing the Lakers at Staples Center while you're in Los Angeles is a no-brainer, and given the regular season ends just days after this game, April 4 will be one of the last times you'll be able to see the Lakers until October. They're hosting the Spurs, meaning you'll also get to watch Patty Mills, LaMarcus Aldridge, Pau Gasol and Manu Ginobli in action. Get tickets here.
Philadelphia 76ers vs Cleveland Cavaliers: Philadelphia, April 6
For Australian basketball fans and fans of Ben Simmons, this is just about the hottest ticket in the US in April. It does mean you'll have to get to Philly, but as it's only a one-hour train ride from New York, it shouldn't be a problem. Plus, you'll get to check out the Rocky Steps, Reading Terminal Market and more. Get in quick – these tickets aren't cheap! Get tickets here.
They were in town for a 76ers game, but they stopped in to check out @RdgTerminalMkt…

And @shut_up_sarah and @juicefizzle definitely recommend it for visiting sports fans! 🥧pic.twitter.com/x2MW64J902

— Sports Where I Am (@sportswhereiam) February 16, 2018
New York Yankees vs Toronto Blue Jays: New York, April 20
Friday night baseball in the Bronx? Sign us up! After the Yankees nearly made it to the World Series last season, they'll be hoping to perform even better in 2018, so make sure you get up to Yankee Stadium on April 20 to sing some Sinatra, eat a hotdog and drink some beer! Get tickets here.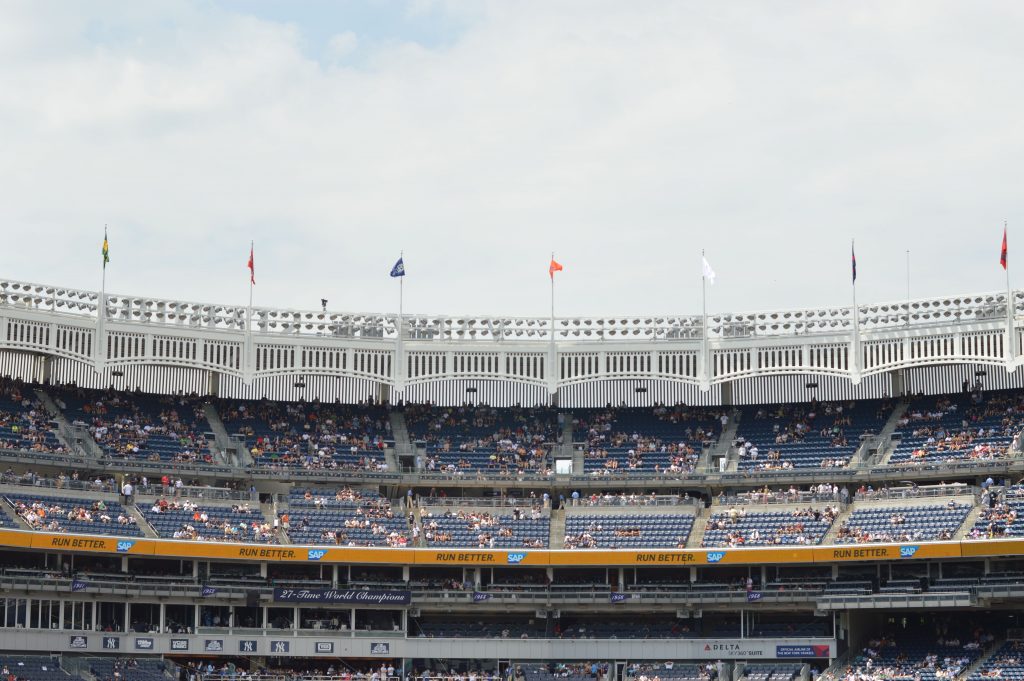 Yankee Stadium in the Bronx, NY
Best value games
Houston Astros vs New York Yankees: Houston, April 30
Homer Simpson's brain once said that "$20 can buy many peanuts", but it can also buy you a seat to watch the defending World Series champs take on the young and exciting Yankees in Houston. Texas' largest city is just a short drive down the highway from Dallas and Austin, and has many of its own domestic and international connections. Get tickets here.
Pittsburgh Pirates vs Detroit, St Louis: Pittsburgh, April 26 and 27.
Pittsburgh is a beautiful weekend away from major cities New York, Washington and Chicago, and the locals – also known as Yinzers – LOVE sport. Whether it's the Steelers, Penguins or Pirates, the locals are always passionate and very opinionated. PNC Park – where the pirates play – is one of the most picturesque ballparks in the world, so why not double-up and go on the stadium tour as well as seeing a game? April 26 is an afternoon game, while April 27 is a night game. Get tickets here.
Can confirm. Most picturesque sporting venue I've seen. pic.twitter.com/i1ZSV5RiBl

— Matt Walsh (@MattWalshMedia) November 11, 2016
LA Clippers vs New Orleans Pelicans: Los Angeles, April 9
If spending $20 isn't doing it for you, or you're down to your last handful of cash before your flight home, then why not spend around $10 to go and see the Clippers' final home game for the regular season? Lou Williams and DeAndre Jordan will be in action, as will the Pelicans' Anthony Davis and Rajon Rando. In terms of bang-for-buck, this can't be beaten! Get tickets here.
For something different
The Masters Golf Tournament: Augusta, GA, April 6-8
If you're thinking that you might pop by Augusta next month to catch the world's best battle it out on some of golf's most hallowed greens, you'd want to have a lot of money set aside. A lot. Last minute tickets are still available to those who are keen enough… Get tickets here.
Fans of Golf will appreciate this photo from the #USMasters. Dan has been twice – here are his tips for attending: https://t.co/uEUge8XJSA pic.twitter.com/ldsGRI9W2q

— Sports Where I Am (@sportswhereiam) October 21, 2017
Anything we missed?
Let us know your thoughts on our Facebook page.
The post Sports Calendar: April in USA appeared first on Sports Where I Am Blog.