Sports on in Australia in April
Ah, April. Arguably the best month of sport in Australia. Yes, the weather is getting cooler (especially in the southern states), but it's not that bitter, mid-July chill… and the action on the field, court, rink and oval is as hot as ever! The A-League, AFL and NRL are in full swing, the Super Rugby is on, the Australian Ice Hockey League returns, and there's something called the Commonwealth Games taking place on the Gold Coast.
So, if you – or someone you know – are looking for something to do in this great land of ours, make sure you take note of what's on the April edition of the Australian Sports Calendar.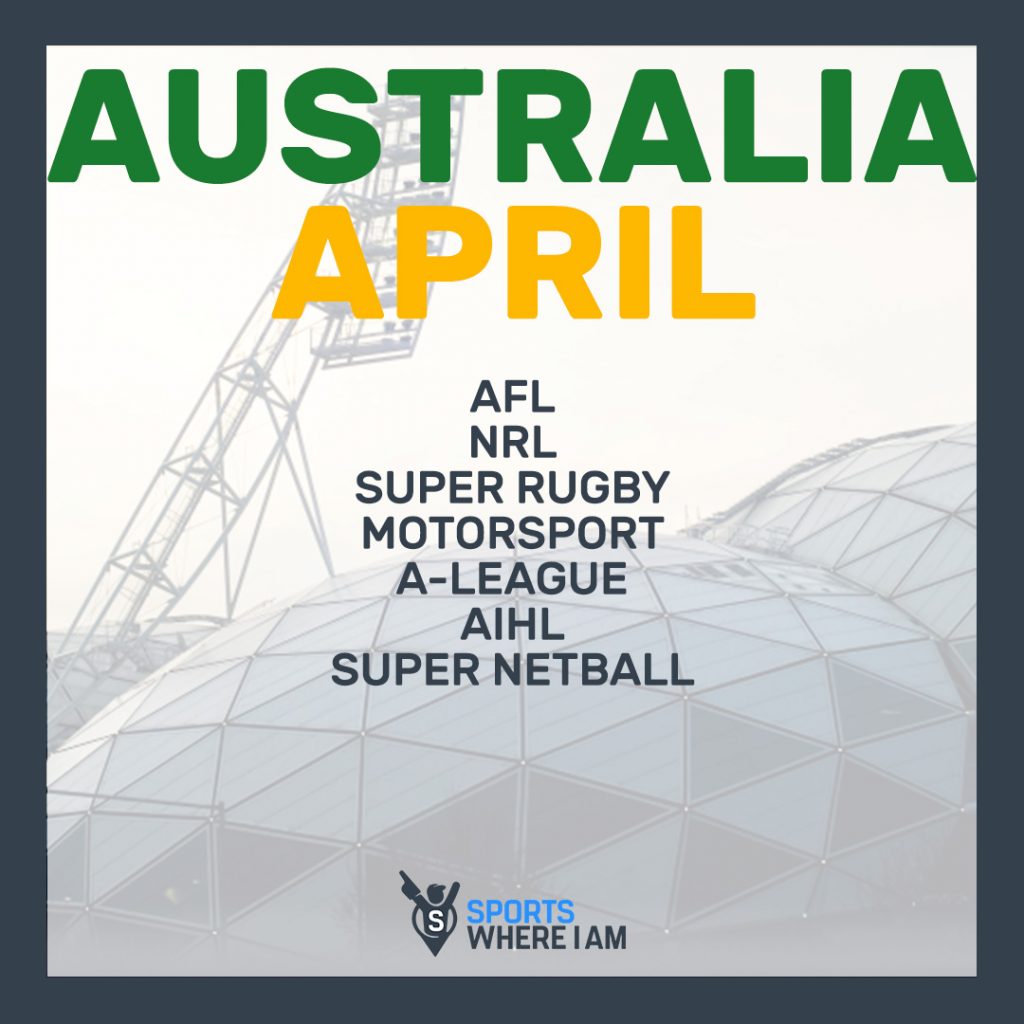 As always, make sure you visit Sports Where I Am, the best site to buy sports tickets & get fan advice for venues you're attending.
Top sports picks for Australia in April
Collingwood vs Essendon: Melbourne, April 25
Footy in April doesn't get much bigger than Anzac Day – an annual sellout at the MCG which acts both as a respectful memorial for Australia's involvement in wars, and as a showcase of the best of Aussie rules football. Collingwood and Essendon are two of the AFL's fiercest rivals, and with so much on the line in this match, it's always a hard-fought contest and well worth the price of admission… if you can find a ticket!
Brisbane Broncos vs Melbourne Storm: Brisbane, April 20
Suncorp Stadium is a hard place for opposition teams to visit, but somehow, the all-conquering Melbourne Storm have it all figured out. They've won the last seven in Brisbane dating back to 2009, and the Brisbane locals are just about fed up. This will be a cracker – two of the NRL's biggest clubs battling it out on a Friday night.
Sydney FC vs Melbourne Victory: Sydney, April 14
Australia's domestic football competition, the A-League, might be hurtling towards another finals series, but the Big Blue, as this fixture is affectionately called, will be as hotly-contested as ever. Both Sydney FC and Melbourne Victory are finals-bound, but both will want to be in winning form heading into the postseason. Sit back and enjoy the fireworks.
Melbourne vs Richmond: Melbourne, April 24
If Anzac Day footy between Collingwood and Essendon is unmissable, this fixture held the night before is almost as big. It's only been a regular feature on the AFL calendar for a few years, but the drawing power is almost as good as the 'main event' held the next day. Tickets might be easier to come across for this one, but the pre-game show will be just as good.
Get all the game day information for Monday night's Anzac Day eve match against @melbournefc at the @MCG – https://t.co/ZXKWXFKvFQ pic.twitter.com/j0Ivoos9Ri

— Richmond FC (@Richmond_FC) April 18, 2017
Fremantle vs West Coast: Perth, April 29
New stadium, old rivalry. Without being unfair to Perth, which is a lovely city, it's remoteness is probably its biggest downfall. But if you find yourself across the Nullabor in late April, there's no bigger event at which to be seen than the Western Derby (pronounced derr-by, not dah-by). Optus Stadium – the city's new crown jewel – is also a cracker!
NSW Waratahs vs Queensland Reds: Sydney, April 14
Super Rugby can often become the forgotten code once everything else kicks off, but mark this one in your calendars, ladies and gents. These two Aussie teams and bitter rivals will be duking it out (on the SCG of all places) for Super Rugby bragging rights on April 14.
The Commonwealth Games: Gold Coast, April 4-15
While many people choose to visit the Gold Coast for its weather and party scene, April brings with it a different reason to hit the beach: The Commonwealth Games. Some of the world's best athletes will be in action from April 4 until April 15. Our picks: April 9 athletics (the men's and women's 100m finals) and April 6 swimming (a number of great gold medal events).
Geelong vs Sydney: Geelong, April 28
In years gone by, Cats fans have felt ripped off at the quality and drawing power of teams down at GMHBA Stadium in Geelong, but since the incredible renovations, there has been no such issue! Geelong vs Sydney will make for some excellent viewing in what really is Australia's best regional stadium. Do yourselves a favour.
5 Places to Stay and Walk to Simonds Stadium. Go cats!https://t.co/s5cyXmebdM pic.twitter.com/sfzei6qh9p

— Vst GeelongBellarine (@GeelongBella) September 28, 2017
Canberra Brave vs Sydney Bears: Canberra, April 21
The Canberra WHO against the Sydney WHATS? If you've never checked out the Australian Ice Hockey League (AIHL), make sure you get down to see your local team in 2018. There are two franchises in Melbourne, two in Sydney, and teams in Adelaide, Canberra, Newcastle and Perth. The crowd in Canberra gets pretty rowdy, and the home arena of Braves is nicknamed "The Brave Cave" accordingly. If you're ever in the nation's capital – check them out!
@melbourneice open the scoring and lead @CBRBrave 1-0 with 7.42mins remaining #AIHLFinals pic.twitter.com/vKyHtAPkMK

— AIHL (@AIHL) September 3, 2017
Something different
The Harlem Globetrotters: Various, April 13-22
No, they're not Team USA, and no, these matches aren't for points or premierships, but hasn't a little part of you always wanted to see what all of the fuss is about? Well, the Harlem Globetrotters are coming down under in April, hitting up a number of metro AND regional centres with their family-friendly and incredibly entertaining show. You know you want to…
High-flying dunks, four-pointers and fun for the whole family! Our 2018 World Tour begins and is coming to a city near you!
https://t.co/xaOy5LcQde pic.twitter.com/12oidhjfg1

— Harlem Globetrotters (@Globies) December 26, 2017
Anything we missed?
Let us know your thoughts on our Facebook page.
The post Sports Calendar: April in Australia appeared first on Sports Where I Am Blog.