Sports on in Europe during April
Here. We. Go. Forget March Madness in America, April is the time of year Football fans cherish! We enter the home stretch of the respective European Leagues in April. We will see clubs crowned champions of their national leagues, and the Semi-Finalists will be decided for the European Champions and Europa Leagues. The sports calendar for this month also sees European tennis season and summer sports begin.
There's plenty on this month… especially for sports-mad Aussies in the North of England!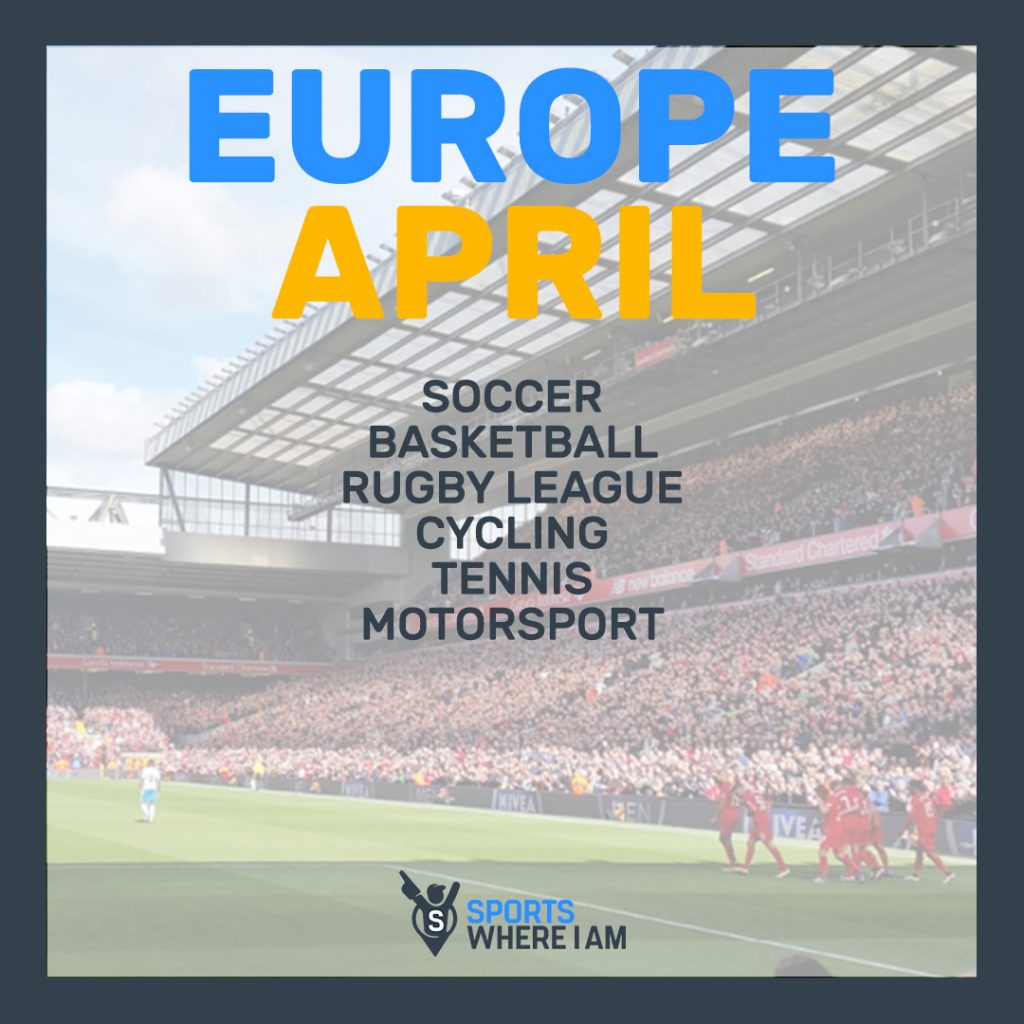 As always, make sure you visit Sports Where I Am, the best site to buy sports tickets & get fan advice for venues you're attending.
Top sports picks for Europe in April
Liverpool v Manchester City – 1st and 2nd Legs of the Champions League Quarter Finals: Anfield (Liverpool) and Etihad Stadium (Manchester), England, April 4 and 10
The five-time champions of Europe, Liverpool, take on the soon-to-be-English League champions, Manchester City, who are attempting to establish themselves as a force in Europe. Liverpool are the only team to beat Manchester City domestically this season and a famous European night awaits at Anfield on April 4. If you're in the North of England, you'll want to be in Liverpool for this first leg. Tens of thousands of fans are expected to line the streets to welcome the team bus, a truly breathtaking experience that occurs once or twice every couple of years (I was lucky enough to see it twice in 2016 – see video below!). The winner over the 2 legs will progress to the semi finals, and with loads of goals expected, it is not to be missed for football fans! Get tickets here or here.
Thursday was insane. #lfc #ynwa #nopyronoparty
Manchester Derby – Manchester City v Manchester United: Etihad Stadium, Manchester, England, April 7
Manchester City have been irrepressible this season and a win over their biggest rivals could see the "Noisy Neighbours" crowned Champions of England for the third time in 6 years. Notorious for their quiet atmosphere, this match will not be the case and 'the Etihad' will be absolutely jumping. The word on the street is that there are tickets still available for this clash, so if you're in Manchester this is the place to be!
El Derbi Madrileño – Real Madrid v Atletico Madrid: Bernabeu, Madrid, Spain, April 8
It's the biggest game in Spanish football behind El Clásico – and some in Spain argue it's even bigger. The two teams vie for bragging rights in one of the biggest footballing cities in the world and at one of the most historic stadiums in world football, the Santiago Bernabeu. The best thing about this fixture? It's not as much of a tourist event like El Clasico, so it's mainly for the football purists. If you manage to find a ticket to this fixture expect a very fiery and hostile encounter. Even if you can't get a ticket, it will be worth soaking up the atmosphere in the city! Get tickets here.
ATP World Tennis Tour – Monte Carlo Rolex Masters 1000: Roquebrune-Cap-Martin, France, April 16-22
It's April so that means we swing into the clay season as the tennis tour begins preparation for Roland Garros. First stop is the Monte Carlo Masters. If you've never been to Monaco you simply have to experience the lifestyles of the rich and the famous around the iconic Grand Prix circuit. Funnily enough, the event is actually held in France at the Monte Carlo Country Club, which is right on the border of Monaco. With Rafa Nadal due back from injury he will be chasing his 11th title, this is a fantastic opportunity to explore one of the most stunning principalities and watch some of the world's best tennis players on clay.
Note: The closest listed city on SWIAM to this event is Nice, so you can search there or through the official site if you're looking for tickets.
The Village!!! #rolexmcmasters #Comingsoon #mccc
Juventus FC v SSC Napoli – Serie A: Turin, Italy, April 22
Juventus, the winner of the past six Serie A titles, are up against Napoli, a club that has not won the league in 29 years. Only 2 points separates the sides heading into April, and with around a month left of the season, this could be the game that decides the league. If you can snag a ticket to this one you could be in for the experience of a lifetime as there will surely be a spine-tingling atmosphere in Turin! General sale seats aren't available on the Juventus website, yet, but you can find tickets on SWIAM.
Value picks for the month
Grand National Horse Race: Aintree (Liverpool), England, April 12-14
Apologies for the North-West England bias in this article – but this is where all the action is this month! The Grand National is the most valuable horse jumps race in Europe and 10th richest horse race in the world at an estimated purse of £1million. Raced annually since 1839, more than 150,000 punters attend the the 3-day event with up to 600 million viewers around the world. Tickets are still available to the big day with the main race on the Sunday evening. So if you want to dress up, have a punt and experience the British equivalent of the Melbourne Cup then this carnival of racing is for you!
London Marathon: London, England, April 22
Now here's an event you can take part in! The world's best marathon runners will descend on London to run one of the most famous road races around the historic streets of England's capital. Over thirty thousand serious (and not so serious) runners get involved in this race, including some Olympic champions and other incredible athletes. This is listed in the 'value' section because if you don't want to run, you can watch from the streets for free!
For something different
Formula-E Rome E-Prix: Rome, Italy, April 14
It's Formula 1's cleaner, quieter and more energy-efficient little brother. Formula-E is gaining popularity in Europe for its stunningly quick electric-powered cars. For the first time Formula-E will take to the historic streets of Rome, which will be a stunning sight for those motor-racing and history enthusiasts. Boasting some quality ex-Formula 1 drivers such Kamui Kobayashi, Nick Heidfeld and Nick Prost, the son of four-time world championship legend (and Ayrton Senna's biggest rival) Alain Prost, there is sure to be some fantastic race craft on offer.
Anything we missed?
Let us know your thoughts on our Facebook page.
The post Sports Calendar: April in Europe appeared first on Sports Where I Am Blog.